If you're looking for a last minute holiday cookie to serve to your family and friends, or to give as a gift, try these Chocolate Ginger Cookies. Spiced up with your favorite holiday spices with a hint of chocolate, these cookies are sure to be a crowd pleaser.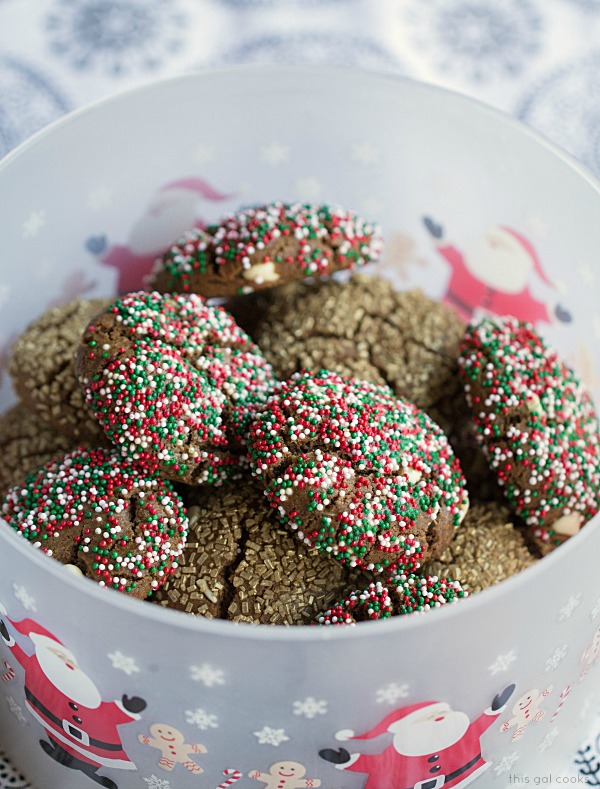 Cookies. Cookies. Cookies. I'm such a sucker for cookies. I know I've said it before, but I just can't stress enough how much I like love cookies. Unfortunately, I'm sort of taking a break from cookies right now. And other sweets. But that doesn't stop me from making them. Especially for a holiday! But I'll admit, I did taste a couple of the cookies that I made yesterday. And maybe I had a couple bites of cookie dough. But a gal has to taste test her food before she shares it with others, right?
Cause who wants to give out treats that end up tasting awful?
These cookies passed the test, though. They are oh so good. And oh so perfect for Christmas. The little gold sugars and red, white and green sprinkles SCREAM Christmas, don't they?
Chocolate Ginger Cookies
Saturday afternoon I had this spur of the moment idea to make cookies to bring to work on Monday. Then I thought, why don't I make more than one type of cookie. I'll take some to work and to Ken's family's house on Christmas. That is if any are left on Christmas. These cookies are da bomb so they may disappear pretty quickly. Oh wait. You're probably asking what the other cookie I made was. Salted Caramel & Chocolate Shortbreads. Yeah, you know you want some of those babies. And you'll get some. You'll just have to wait patiently like good little cookie eaters. That second recipe may not go up until after the new year.
But for now, enjoy these delicious Chocolate Ginger Cookies.
Chocolate Ginger Cookies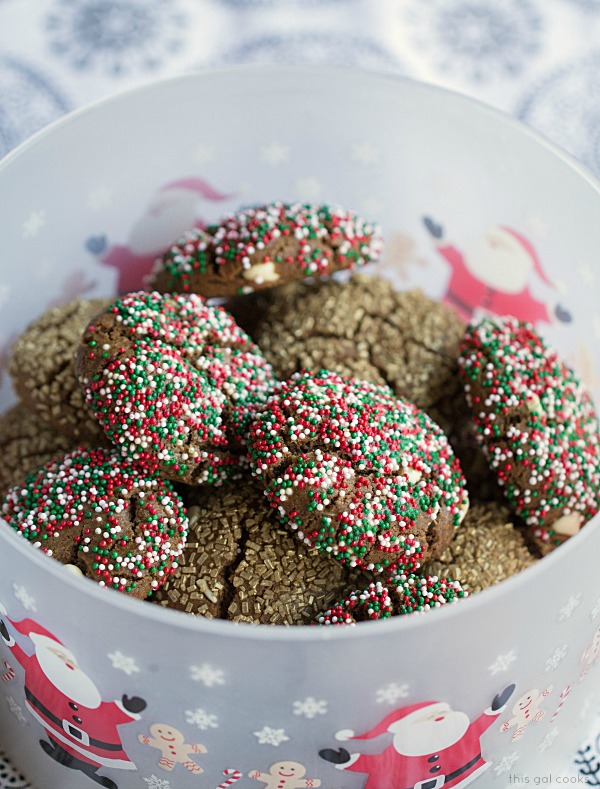 Ingredients
2 1/2 C all purpose flour
1 1/2 tsp ground ginger
1 tsp baking soda
1/2 tsp ground cinnamon
1/4 tsp ground cloves
1/4 tsp salt
2/3 C canola oil
1 C packed dark brown sugar
1/3 C molasses
1 large egg, beaten
1 egg white
2 tbsp unsweetened cocoa powder
1/3 C gold sugar (the sugar I used was found by the sprinkles at my grocery store.)
1/4 C Christmas sprinkles
1/2 C white chocolate chips
Instructions
In a mixing bowl, whisk together the flour, ground ginger, cinnamon, baking soda, salt and cocoa powder.
In the bowl of a stand mixer, combine the molasses, canola oil, brown sugar, beaten egg and beat until well blended. Add the flour and beat until blended. Fold in the white chocolate chips.
Roll the dough into 1 inch sized balls. Brush with the egg white and then roll in the gold sugar or the Christmas sprinkles. I did about half the batch in gold sugar and half of the batch in the Christmas sprinkles.
Place the cookies on parchment lined baking sheets. bake at 325 for 15-18 minutes or until the tops start to crackle.
Cool for 10-15 minutes before serving.
Notes
Adapted from the Willliams Sonoma Baking Book.
http://www.thisgalcooks.com/2013/12/23/chocolate-ginger-cookies/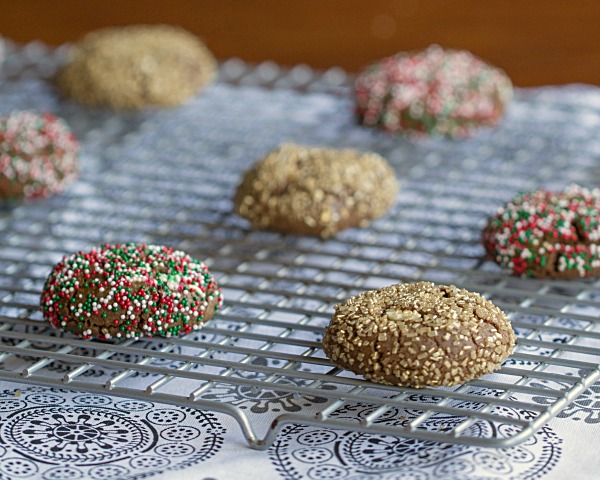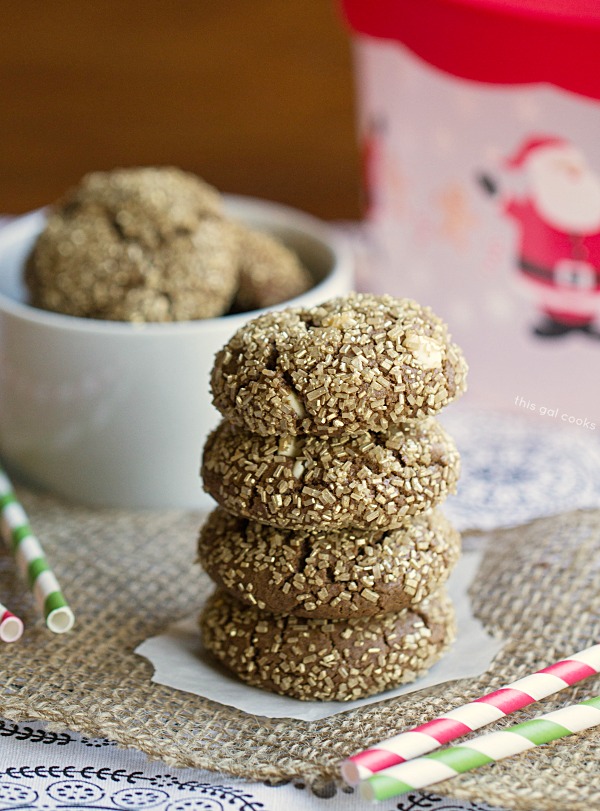 More cookie love from This Gal Cooks 
{click Images for recipes}