Vanilla Almond Granola
Today I'm serving up breakfast for ya, Vanilla Almond Granola style.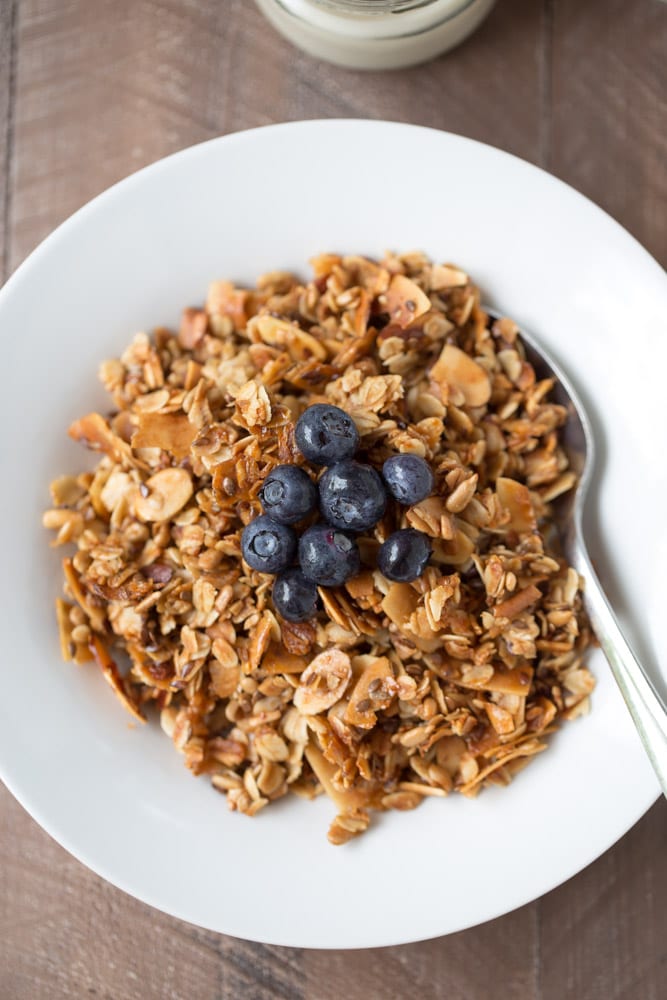 Or perhaps you'd rather have this slightly sweet and tempting granola for a snack? Guess what? You can have it both ways! For breakfast, enjoy the granola with almond milk, cereal style. Or enjoy it in a fresh fruit parfait. Next week, I'll be sharing a Roasted Nectarine Greek Yogurt Parfait that's filled with this vanilla almond granola. I think you will totally swoon over it! For snacking, pack some of the granola in a small reusable container or a sealable bag and take with you to work, on a shopping trip or on a road trip. Or you can do like I do and just eat it straight from the storage jar.
Only ONE type of sugar in this Vanilla Almond Granola
I grew up eating granola bars and store-bought packages of granola. They're easy to grab and take along with me wherever I'm going. But recently, I decided to ditch the store-bought granolas and bars and make my own (or if you asked Ken, he'd say they were ditched for homemade smoothies). Have you ever read the labels of the store bought granolas? They're LOADED with sugars, most of them with 3-4 different types of sugar. Over the past few months, I've greatly reduced my intake of all things loaded with added sugars. I much prefer to sip on smoothies sweetened via the natural sugars that come from fresh and frozen fruits. If I'm adding sugar to any of my recipes, I opt for maple syrup, honey or coconut sugar. This vanilla almond granola is sweetened with 100% maple syrup. ♥︎

Vanilla Almond Granola
Author: This Gal Cooks
Recipe type: Breakfast or Snack
Serves: 6-7 C
Ingredients
2 C old fashioned oats
½ C unsweetened coconut flakes
½ C sliced almonds
½ C shelled sunflower seeds
¼ C flax seed
½ C maple syrup
⅓ C coconut oil, melted
Pinch salt
½ tsp vanilla extract
Instructions
Preheat your oven to 350. Line a baking sheet with foil. Spray lightly with cooking spray.
Combine all of the listed ingredients in a large mixing bowl. Mix well. Pour onto the prepared baking sheet and distribute evenly.
Bake for 30-35 minutes or until golden. 15 minutes into baking, stir the mixture and then continue to bake for the remaining 15-20 minutes.
Pour the granola onto a cool, foil lined surface. Allow the granola to cool completely and then break apart.
Store in an airtight container for up to 6 months.
Notes
Adapted from the Better Homes and Gardens New Cookbook, 1996.

When the granola is done baking, it will seem soft and sticky. However, as it rests and cools, it will become crunchy.
Nutrition Information
Serving size: ½ C Calories: 242 Fat: 16g Saturated fat: 8g Unsaturated fat: 4g Trans fat: 0g Carbohydrates: 22g Sugar: 9g Sodium: 17mg Fiber: 4g Protein: 5g Cholesterol: 0mg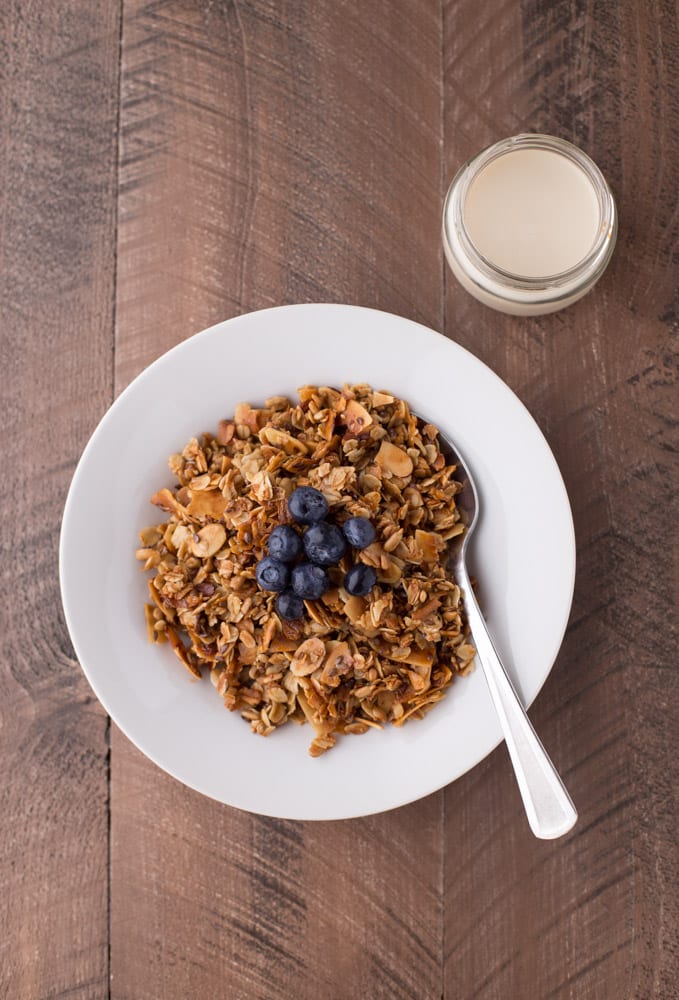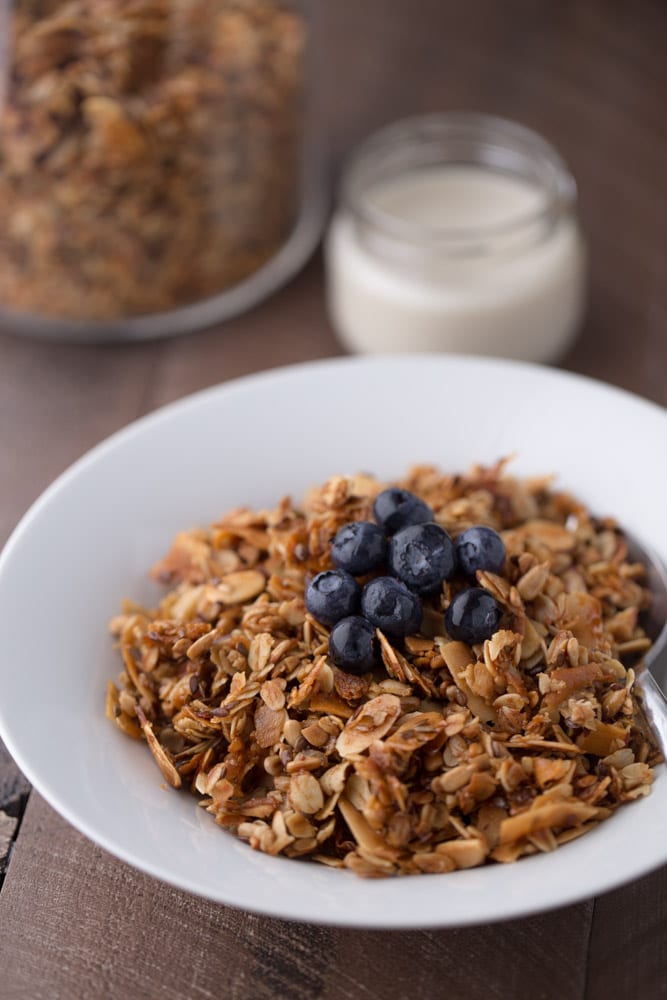 Let's be friends on INSTAGRAM, FACEBOOK, TWITTER and PINTEREST!