Mediterranean Veggie Rice Bowls
Today we're celebrating Meatless Monday by digging into these Mediterranean Veggie Rice Bowls.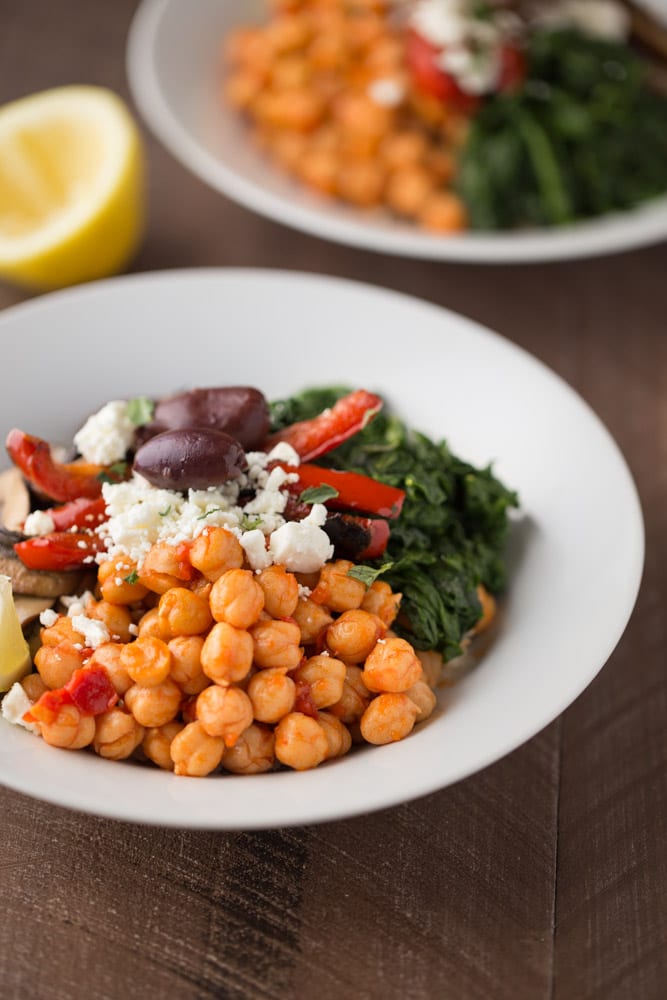 What will you get with these Mediterranean Veggie Rice Bowls?
When you dig into one of these Mediterranean Veggie Rice Bowls, you'll scoop up harissa chickpeas, fresh spinach, sauteed mushrooms and pan roasted red peppers. Feta cheese and kalamata olives will cling to all of that goodness to give it even more flavor. The lemon seasoned basmati brown rice will finish everything off nicely. You'll get a plethora of vitamins, minerals and fiber from the brown rice, spinach and mushrooms in these Medeyerranean Veggie Rice Bowls.
Turning to a diet that includes more vegetarian dishes has brought out my creativity in the kitchen. I don't want to simply eat platefuls of steamed, grilled or sauteed veggies. I want to make delicious, flavorful meals using veggies and grains. Lately, the rice bowl has made it's way onto my dinner table or into my lunch box.
Tips for making rice bowls:
Limit the amount of rice used in each bowl to 1/2 C. Measure – it's easy to go overboard.
Use brown rice to increase nutrients and aid in digestion. Nutrients (including fiber) are stripped from white rice during processing.
Keep cooked rice stocked in your refrigerator for easy use during the work week. I usually cook about 2 cups of rice in my rice cooker on Sunday so I can easily use it during the week for quick rice bowl dinners.
Season your rice with salt, pepper, lemon or lime juice, spices and/or herbs.
Pack them with your favorite veggies. The idea is to have more veggies than rice.
If you eat meat, I recommend using lean meats, such as fish, chicken or shrimp.
Use your favorite meals as inspiration for creating rice bowls – tacos, burritos, salads and even casseroles.
Garnish with fresh herbs, cheese, lemon or lime or olives.
Always enjoy. ♥︎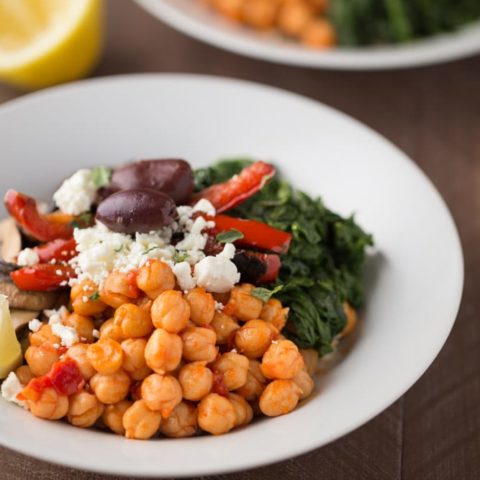 Mediterranean Veggie Rice Bowls
Yield: 2 servings
Prep Time: 20 minutes
Cook Time: 10 minutes
Total Time: 30 minutes
Ingredients
For the rice
1 C cooked brown basmati rice
1 tbsp lemon juice
1/4 tsp extra virgin olive oil
salt and fresh ground pepper, to taste
For the veggies
2 tbsp extra virgin olive oil, divided
8 oz baby bella mushrooms, sliced
1 small red bell pepper, sliced
1 C of cooked chickpeas. I used reduced sodium, organic canned chickpeas
1 tbsp Harissa*, plus more for garnish
3 C fresh baby spinach
Feta, kalamata olives, lemon wedges and fresh chopped oregano for garnish
Instructions
Toss the cooked rice with the lemon juice, 1/4 tsp olive oil, a pinch of salt and ground pepper. Taste and add more salt and pepper, if desired.
Sprinkle the mushrooms with a a pinch of salt and pepper and toss with 1 tbsp of olive oil. Toss to coat. Cook in a medium skillet over medium-high heat until tender, stirring often. Remove from the skillet and set aside.
Toss the sliced red pepper with olive oil and place in the skillet. Cook over medium-high heat until tender and slightly charred, tossing with tongs often. Remove from the heat and set aside.
Place the spinach in the skillet over low heat and saute until wilted, about 1-2 minutes. Remove the skillet from the heat and set aside (you may turn off the stove now as you are done cooking at this all veggies).
Toss the chickpeas with 1 tbsp of Harissa.
Assemble the veggie rice bowls. Divide the rice between two serving bowls (1/2 C each). Divide the chickpeas, spinach, red pepper and mushrooms between the bowls. Garnish with feta, olives, lemon wedges and fresh chopped cilantro.
Notes
The nutrition information does not include olives or feta, as the amount used will vary by person.
Nutrition Information:
Amount Per Serving:
Calories: 417
Total Fat: 17g
Saturated Fat: 2g
Trans Fat: 0g
Unsaturated Fat: 12g
Cholesterol: 0mg
Sodium: 187mg
Carbohydrates: 49g
Fiber: 12g
Sugar: 5g
Protein: 14g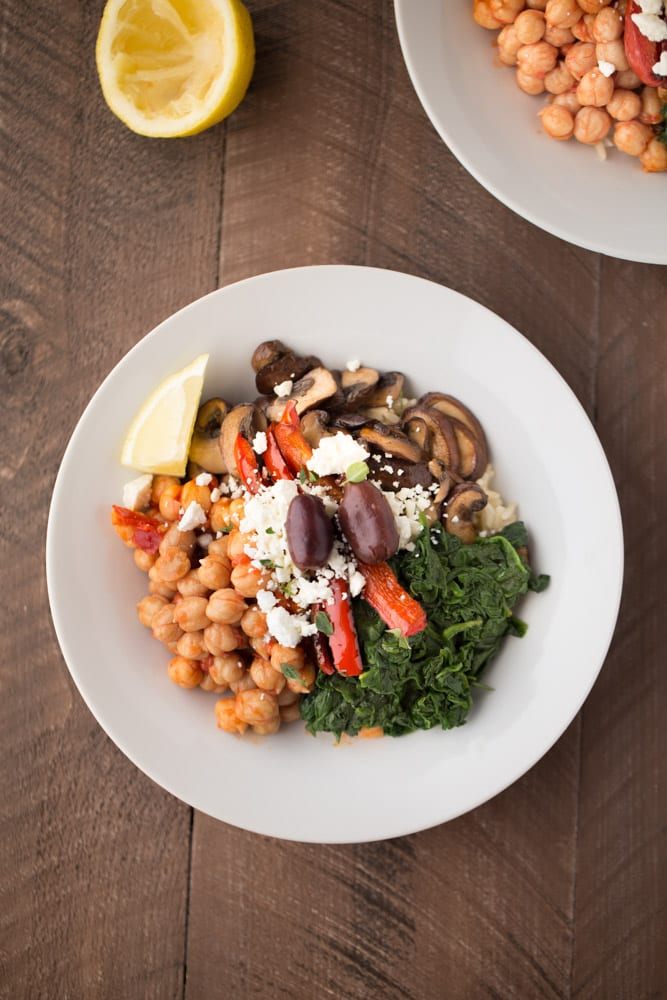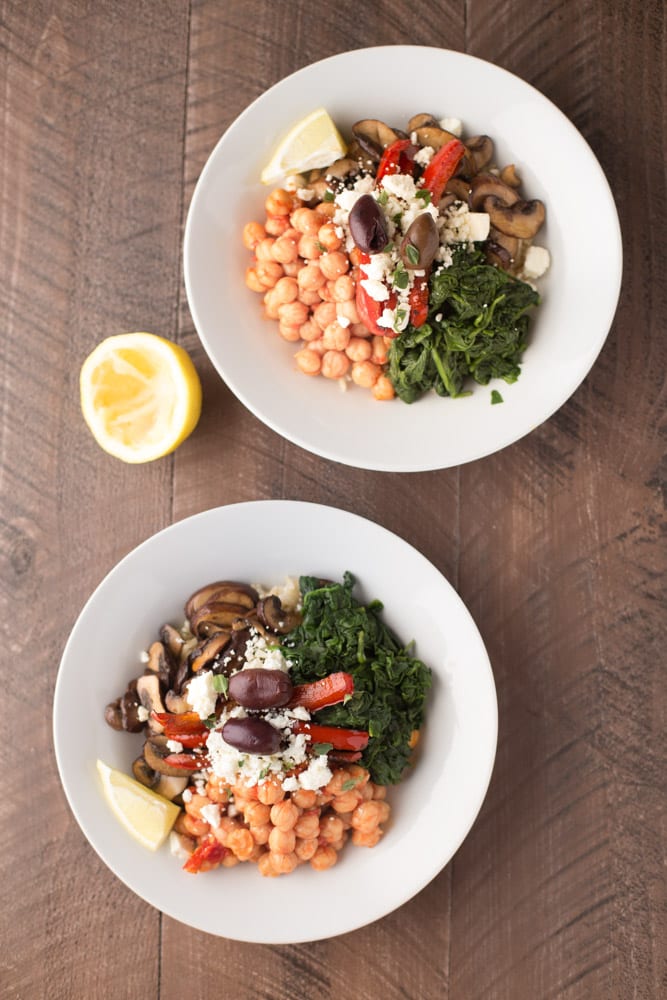 Let's be friends on INSTAGRAM, FACEBOOK, TWITTER and PINTEREST!