Blackened Portobello Burger (dairy free + vegetarian)
Today we're talking about this mouthwatering Blackened Portobello Burger.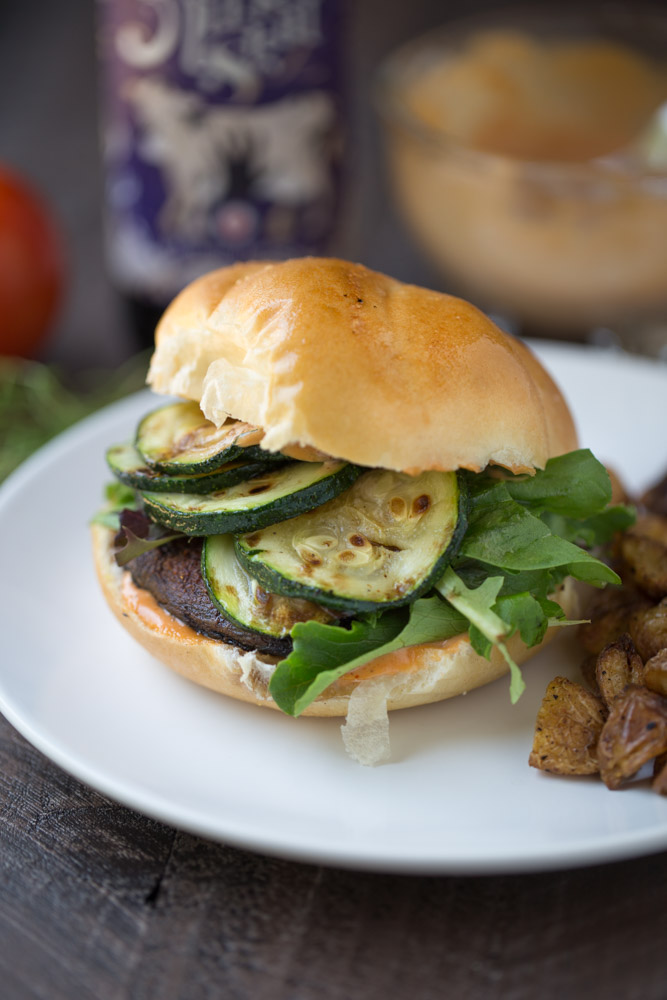 This blackened portobello burger is slathered with BBQ mayo, seasoned grilled zucchini and healthy baby greens. The fillings are sandwiched between soft and fluffy kaiser roll slider buns. ♥︎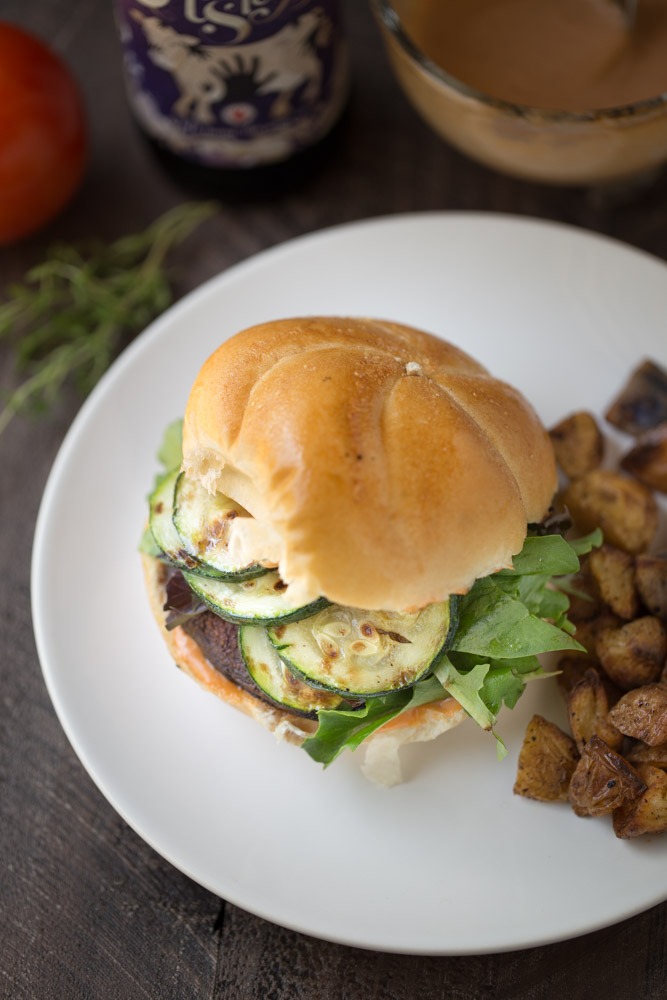 Blackened Portobello Burger
The key flavor ingredient in this blackened portobello burger is the blackened seasoning. You can use store bought, if that's what you have. But I highly recommend making it homemade. I used this blackened season recipe from abc.com and Mario Batali. It's an excellent blackened seasoning and pairs well with a variety of foods.
I did all of the grilling on a grill pan on my stove. However, the portobellos and the zucchini can be grilled on a gas grill. We've grilled them on a gas grill many times but the grill pan is great for rainy days.
Use egg free and dairy free buns to make this blackened portobello burger vegan. Kaiser rolls are typically made using eggs so my burgers weren't vegan. For toasted buns, coat the inner buns with olive oil and grill inside down for a couple of minutes. Assemble. Enjoy.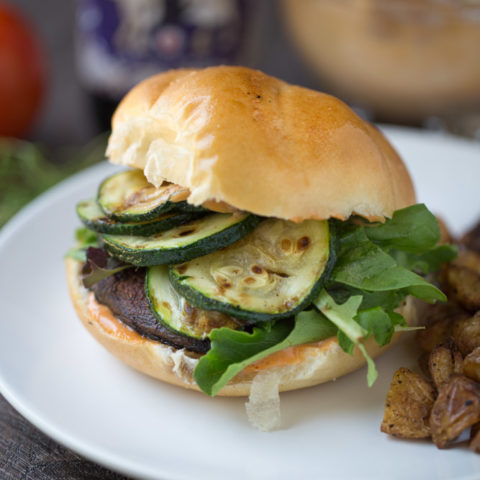 Blackened Portobello Burger (dairy free + vegetarian)
Yield: 2 burgers

Prep Time: 15 minutes

Cook Time: 20 minutes

Total Time: 35 minutes
Ingredients
2 large portobello mushrooms, washed and stems removed
2 tsp extra virgin olive oil, divided
3tsp blackened seasoning, divided
1/2 zucchini, sliced 1/4 inch thick
Salt & pepper
1 tsp extra virgin olive oil
For the BBQ mayo:
1/4 C mayo
2 tbsp BBQ sauce
1 clove of garlic, minced
Instructions
Coat each mushroom with 1 tsp of olive oil. Then sprinkle top and bottom of each mushroom with 1 1/2 tsp blackened seasoning. Cover and refrigerate for 2-3 hours. You can skip this part of you don't have time but I highly recommend it for maximum flavor.
Toss the sliced zucchini with pinch of kosher salt and ground pepper. Drizzle with1 tsp of olive oil and toss to coat.
Heat a grill pan over medium high heat. Place the zucchini slices on the pan and cook 2-3 minutes per side. Remove from the pan and set aside.
Place the portobellos on the grill pan. Cook 5-10 minutes or until tender, flipping 2-3 times while cooking.
Make the mayo. Whisk together the mayo, BBQ sauce and garlic. Set aside.
Slice the burger buns in half (if not already sliced). Lightly brush the inner burger buns with olive oil. Place olive oil side down on the grill pan and grill for 1-2 minutes or until toasty.
Assemble the burgers. Spread the BBQ mayo on the inside of each burger slice. Top with the portobello, baby greens and zucchini.
Notes
Nutrition information includes 1 tbsp BBQ mayo per burger. Nutrition content will be altered if different buns are used and if any other condiments are used.
Nutrition Information:

Amount Per Serving: Calories: 354 Total Fat: 19g Saturated Fat: 1g Trans Fat: 0g Unsaturated Fat: 17g Cholesterol: 0mg Sodium: 1486mg Carbohydrates: 37g Fiber: 3g Sugar: 4g Protein: 8g
RELATED POSTS
Zucchini Noodles with Shiitakes
Mediterranean Veggie Rice Bowls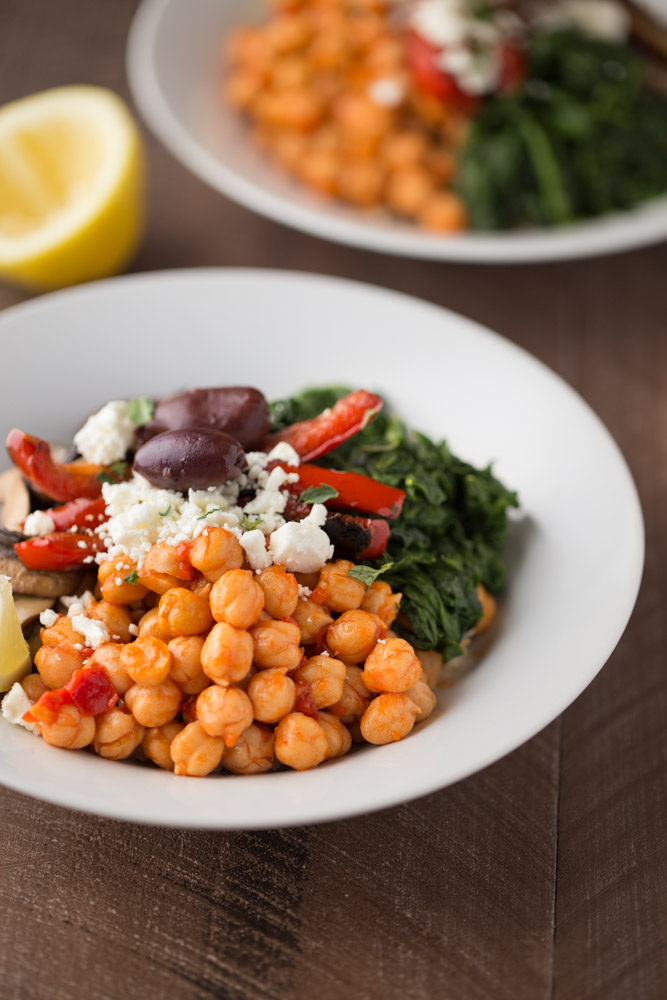 Let's be friends on INSTAGRAM, FACEBOOK, TWITTER and PINTEREST!