Grilled Nectarine Flatbread with Mascarpone
Let's celebrate our love of stone fruit by enjoying a slice of this Grilled Nectarine Flatbread.
Whole grain flatbread naan is topped with creamy mascarpone cheese, grilled juicy nectarines, tangy balsamic reduction, sweet honey and fresh flavorful basil. What's not to love?
But before we get to the recipe, let's talk about tea and coffee.
Because most of us love a hot cup of tea or coffee in the morning. And because this grilled nectarine flatbread wants you to enjoy it with a cuppa hot tea or coffee. Which will it be for you, my friend?
I'll take a cuppa hot green tea with mint and lemon, please.
I used to be one of the worlds biggest fans of coffee. And before that, I was one of the worlds biggest fans of not drinking coffee. When I was in high school, the only way I'd take my coffee was loaded with Irish Cream coffee creamer and multiple packs of sugar. Why yes, I'll take a few drops of coffee with my Irish Cream coffee creamer. My friends and I would meet up at IHOP during the weekends to chat, goof off and drink coffee. Wait, drink coffee? But I do not like coffee. My coffee loving friends suggested I load up on the flavored coffee creamers and sugar. I took their advice. The coffee was tolerable. But it wasn't something I completely enjoyed or even slightly craved. Fast forward 10 or so years to when I met Ken, who happens to be one of the worlds biggest fans of coffee. His magical powers turned me into a coffee lover. Just kidding. He doesn't really have magical powers but he did teach me the tricks of the coffee ordering trade. Soon I was taking trips on my own to Starbucks or the local coffee shop and ordering my favorite hot coffee beverages, the creamy caramel macchiato or the simple and delicious cafe latte.
I still love a good cup of coffee, and I will never get over the enjoyable aromas that coffee emits, but now my heart belongs to hot tea. It's delicious. It comes in 721653156 flavors. It's okay to take it decaf. I don't need to add milk or sugar to it in order to enjoy it. It doesn't bother my stomach.
Grilled Nectarine Flatbread with Mascarpone
The idea for this Grilled Nectarine Flatbread was born from my love for stone fruit, specifically nectarines and peaches. Nectarines have been winning lately, making it into my shopping cart on more than one occasion.
This isn't necessarily a healthy recipe, but it's made with fresh fruit and ingredients. I consider it a better appetizer option than meat and cheese filled appetizer trays, fried foods and cookies and cakes.
To make this grilled nectarine flatbread, you'll want to start off by preparing the balsamic reduction. I recommend turning on the oven and ceiling fans as preparing balsamic reduction will make your house smell like vinegar. This step takes around 15-20 minutes to complete, which is perfect because during this time, you'll grill the nectarines, warm the flatbread and chop the basil. Once your done prepping everything, spread the mascarpone on the flatbreads and top with the grilled nectarines, honey, balsamic and basil. Then it's time to devour and enjoy.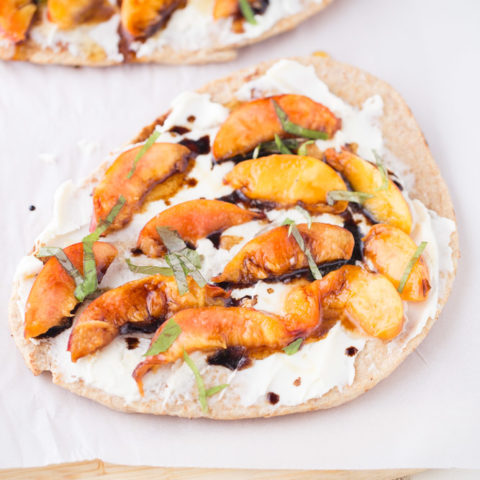 Grilled Nectarine Flatbread with Mascarpone
Yield: 10 slices

Prep Time: 25 minutes

Total Time: 25 minutes
Ingredients
1 C balsamic vinegar
2 flat breads (I used whole grain naan)
2 nectarines, halved and pitted
4 oz Mascarpone cheese, divided
Honey
2 tbsp Basil cut into thin strips
Instructions
Preheat your oven to 400.
Place the balsamic vinegar in a small sauce pan and bring to a boil. Reduce heat to medium-low and simmer 10-15 minutes or until reduced by half to 3/4, depending on your consistency preference.
Heat a grill pan over medium heat. Spray lightly with cooking spray. Place the nectarines cut side down and cook for 5 Minutes. Remove from grill pan and allow to cool for a few minutes. Then slice into wedges.
Place the flat bread directly on oven grate of the preheated oven. Bake 2-3 minutes. Remove from oven and place on a cutting board or serving plates.
Spread 2oz of mascarpone cheese on top of each flatbread. Top with the sliced nectarines, distributing evenly. Then drizzle with balsamic reduction and a little honey. Sprinkle with the chopped basil.
Cut each flatbread into five slices.
Nutrition Information:

Amount Per Serving: Calories: 308 Total Fat: 15g Saturated Fat: 7g Trans Fat: 0g Unsaturated Fat: 0g Cholesterol: 33mg Sodium: 346mg Carbohydrates: 40g Fiber: 4g Sugar: 18g Protein: 6g



RELATED POSTS
Roasted Nectarine Greek Yogurt Parfait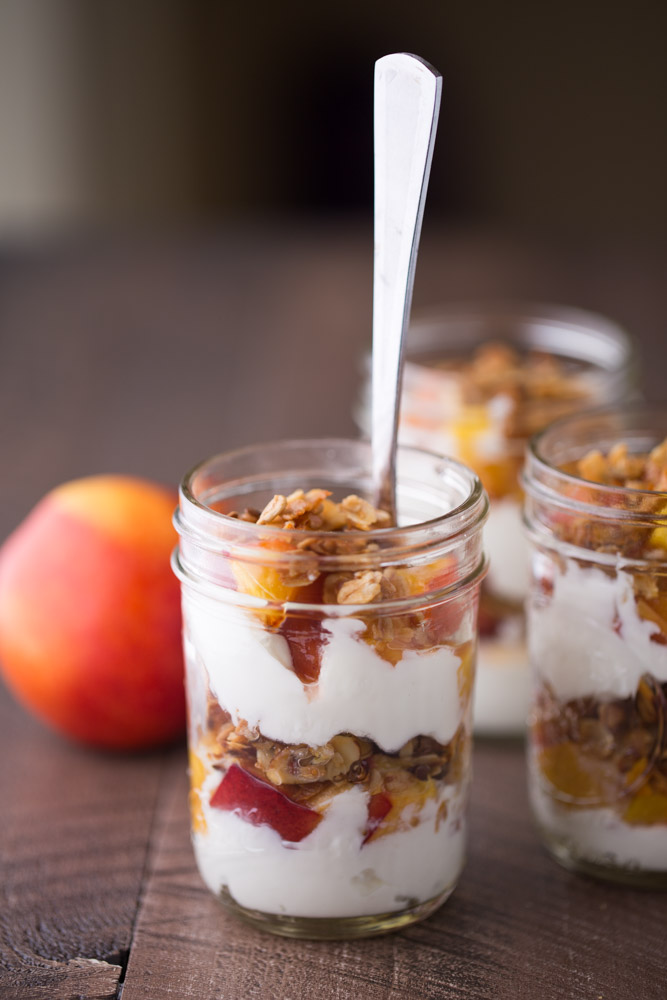 Let's be friends on INSTAGRAM, FACEBOOK, TWITTER and PINTEREST!