Roasted Nectarine Greek Yogurt Parfaits
Today we're celebrating the season of the nectarine by digging into these Roasted Nectarine Greek Yogurt Parfaits.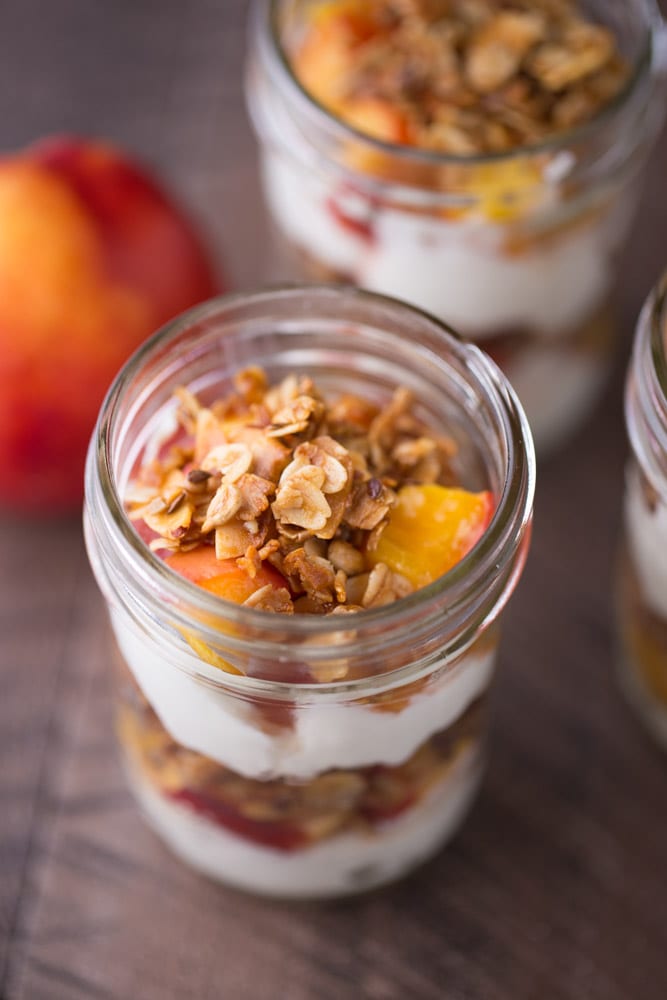 And while we are digging into these delicious Roasted Nectarine Greek Yogurt Parfaits, I want to talk about life, something I don't do too often within my blog posts. However, after reading posts on negative emotions and social anxiety from Julie from Willow Bird Baking, I've been inspired to open up a little more about myself and share some of my trials and tribulations with you.
Growing up, my parents always encouraged me to think and live a positive, happy life. Look at the glass as being half full rather than almost empty. Don't dwell on negative, unsatisfactory situations that have happened in the past; instead, turn the negative into a positive and move towards the future. Easier said than done, right? Wait, am I being negative in that statement?
I've always felt that I've taken a positive approach to life. I suggest positive thinking to others. I take the "glass is half full" approach to many less than desirable situations. I received a C on a test, next time I need to spend more time studying and strive to receive a better grade. This isn't the end of the world. I'm not going to fail this class. But when I look at the big picture, I realize that I am quite negative when it comes to certain aspects of my life. And that negativity does have an affect on those around me. For example, I'd be lying if I said I was 100% happy with my day job. In fact, I often voice my distaste with my day job to fellow co-workers and to Ken. When voicing my dislike of the job, I often do so with a very poor attitude. I grumble, I grunt, I sit at my desk, angrily completing my tasks, mumbling about how much I hate what I'm doing. Why do I do this, I ask myself? I make decent money at my job. I like my supervisor and my co-workers. I work 4 short miles from my house. I have a 401k plan, with company match. If I want to learn something new, I'm able to.
The answer is simple. I look at all of the negative, less than desirable aspects of my job and focus on those, rather than focusing on the positive aspects, which far outweigh the negative aspects.
The solution to negativity is quite simple, when it's put on paper. However, it takes willpower and determination to overcome it.
I've created a goal for myself. The goal is to eliminate all negative thinking from my life. I will strive to reach this goal by trying to keep a smile on my face at all times. When negative thoughts begin to creep in, I will think of the positive aspects of the situation and feed off of them. If the negative thoughts come from something I cannot control, such as when someone does something that annoys me, I won't let it bother me. I have no control over it. Getting angry and annoyed over something as simple as multiple exclamation points in an email (I'm serious – I get mad over this) is silly and completely uncalled for.
Please, send me all of your excessive exclamation points and I will strive to turn them into happy little exclamation points!
Roasted Nectarine Greek Yogurt Parfaits
You thought I wouldn't get to these today, didn't you? I wouldn't dare forget to share the recipe for these delicious little Greek yogurt parfaits with you.
These Roasted Nectarine Greek Yogurt Parfaits are made with fresh, juicy nectarines, my homemade Vanilla Almond Granola and plain Greek yogurt. I roasted the nectarines at 350 for about 20 minutes. Then I layered the Greek yogurt, nectarines and granola in 6 oz mason jars. You may layer the ingredients in small glasses, if you wish. I chose mason jars because 1) I had them. 2) I can place a lid on them and take the parfaits with me to work, a picnic or to share with a friend.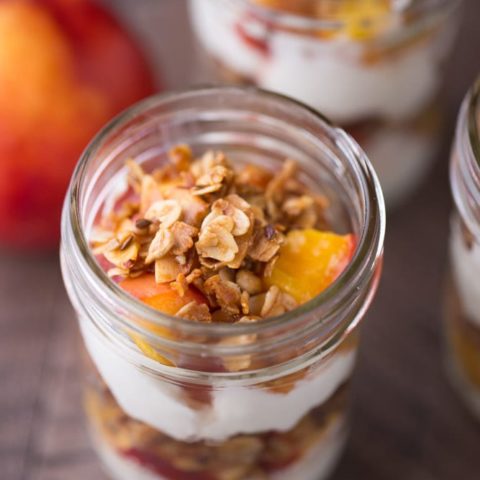 Roasted Nectarine Greek Yogurt Parfaits
Yield: 3 jars

Prep Time: 10 minutes

Cook Time: 20 minutes

Total Time: 30 minutes
Ingredients
3 ripe nectarines, pitted and chopped
3/4 C plain Greek yogurt
3/4 C Vanilla Almond Granola (can use granola you have on hand, too)
3 6 ounce mason jars, glasses or small bowls.
Instructions
Preheat your oven to 350. Line a baking sheet with aluminum foil or parchment paper. Place the chopped nectarines on the baking sheet and roast for 20 minutes. Remove from the oven and allow to cool to room temperature or slightly warm.
Assemble the parfaits. Place 2 tbsp of Greek yogurt in the bottom of each mason jar (or whichever type of bowl or glass you are using). Then place 1 heaping tbsp of the roasted nectarines into each jar. Follow by placing 2 tbsp of granola in each jar. Repeat this process one more time. The final top layer should be granola.
Store covered in a refrigerator for up to 2 days.
Nutrition Information:

Amount Per Serving: Calories: 213 Total Fat: 7g Saturated Fat: 2g Trans Fat: 0g Unsaturated Fat: 0g Cholesterol: 11mg Sodium: 58mg Carbohydrates: 36g Fiber: 3g Sugar: 24g Protein: 5g