Chocolate Peanut Butter Smoothie (superfoods + vegan)
For the love of chocolate and peanut butter, let's sip on a Chocolate Peanut Butter Smoothie for breakfast.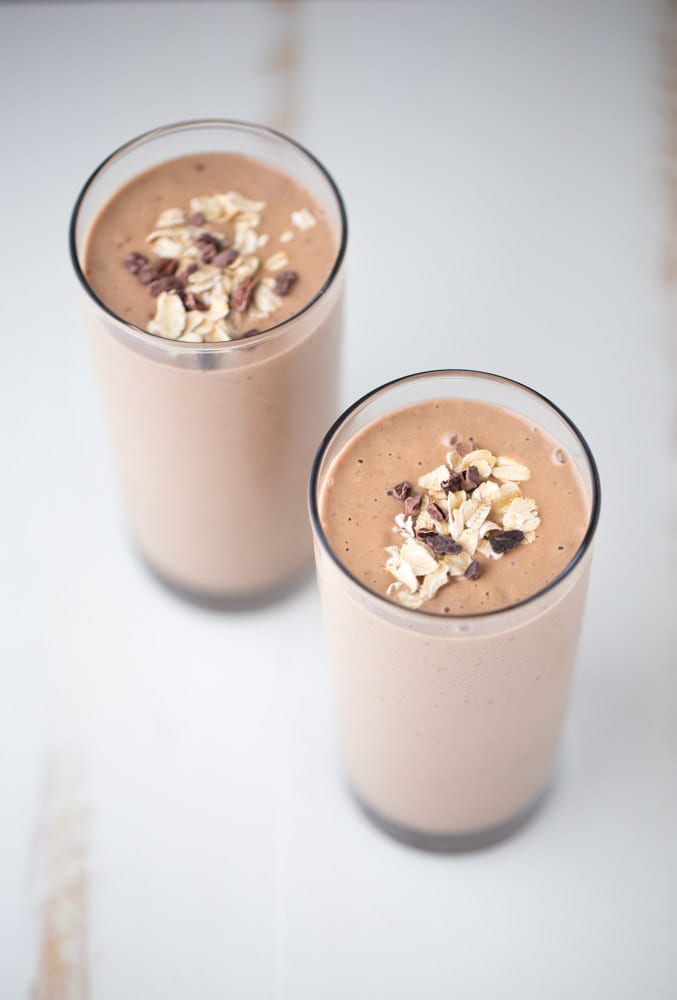 Considering the amount of smoothies I drink, I'm shocked that I haven't shared a smoothie recipe on this blog yet. But alas, I can let the lack of smoothie recipes slide this time. After all, I've only had this blog up and running for 3 short weeks. Could there be a better way to introduce the inaugural smoothie recipe to this blog than to introduce it with a Chocolate Peanut Butter Smoothie that's both vegan and made with superfoods?
I think not.
Before I share the Chocolate Peanut Butter Smoothie recipe with you, do you mind if I tell you a funny story? Of course you don't. ♥︎
I'm a girl who doesn't like to fly. It's something that completely terrifies me. Oddly enough, I'm slightly fascinated with airplanes. My mom said that I have been since before the times I could remember anything for very long. She said I used to point at anything in the sky and say "bird." Not airplane but I think "bird" was the beginnings of my airplane fascination. Whenever we would drive to my grandparents house, we would drive past Orlando International Airport. Every time we drove past, I scoured the sky for incoming or outgoing flights. To this day, anytime I'm driving past an airport, I look for incoming or outgoing planes.
I don't understand my fear of flying, given my fascination with airplanes. Maybe it's the lack of control. If this airplane does something I don't like, I can't tell the pilot to stop so I can get off it. With this fear comes my urge to avoid air travel as much as possible. I've only flown twice since 2001. I've never been on a small turbo prop plane, only large commercial flights.
Which brings me to the point of my slightly humorous story.
Last week, Ken traveled to South Carolina. He flew from West Palm Beach to Charlotte and then from Charlotte to Greenville. I was nervous and anxious. Anytime someone I am close to flies, I go into sort of a panic mode. He sent me a pic of his connecting flight to Greenville (which was delayed due to MECHANICAL issues), a small turbo prop plane. To which I responded that I would just rent a car and drive four hours rather than flying on that. After he boarded, he sent a text to me and said they gave everyone parachutes.
I believed it.
Then he said parachutes depolyed mid-flight.
I believed it.
Told some friends. Said I would never fly on a plane that does that.
After Ken got home, I told him it was insane the parachutes deployed mid-flight. Then he laughed and was completely amused. He said he was being silly. Commercial flights would never expect people to parachute out of a plane. Then I broke down laughing. I couldn't believe that I bought into the joke. But as a girl who rarely flies, how was I supposed to know?!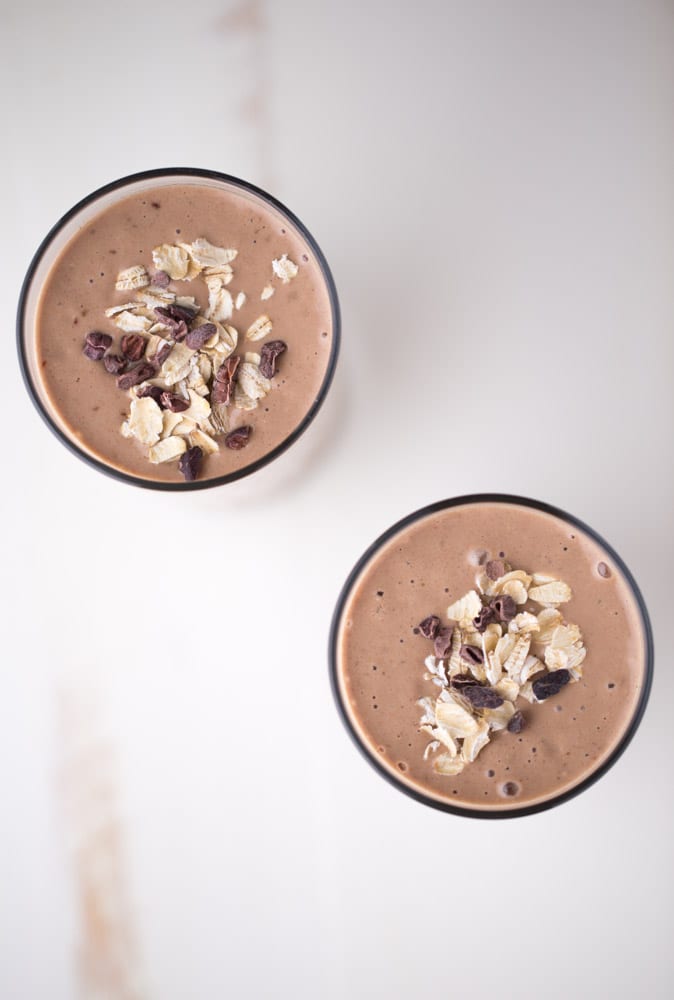 Chocolate Peanut Butter Smoothie
I'm in love with this Chocolate Peanut Butter Smoothie and as of today, I've made this it three times. It's smooth. It's creamy. It's thick. It's delicious., This smoothie gets its superfood boost from cacao and hemp seed. You can purchase both from Vitacost or Amazon. A little goes a long way. If you don't have cacao powder, you may replace it with cocoa powder. However, it will lose some of it's superfood benefits. Don't have hemp seed? No worries, you can leave it out. I've made this smoothie with and without it. Leaving it out won't affect the flavor.
Regarding the dates, make sure they're pitted. And I don't mean assuming a package of pitted dates is pitted. Because that isn't always the case. I've found pits in pitted dates. And when a date pit ends up in a smoothie, 1. your blender will screech. 2. Your smoothie will have hard, non-chewable chunks in it. It's no fun, my friends.
What is fun is this Chocolate Peanut Butter Smoothie. It's delicious. It's vegan. It's full of protein. It contains superfoods. I hope you enjoy it as much as I do!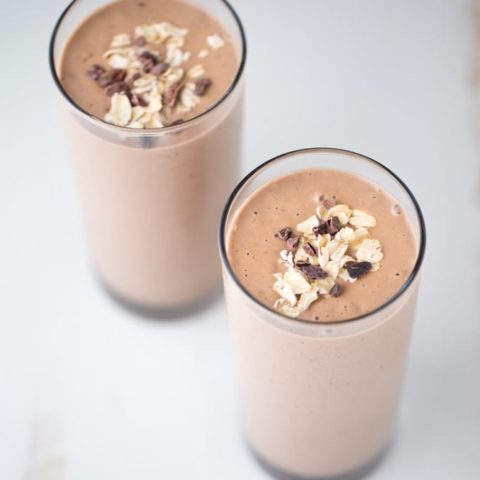 Chocolate Peanut Butter Smoothie (superfoods + vegan)
Yield: 32 oz

Prep Time: 5 minutes

Total Time: 5 minutes
Ingredients
1 1/2 c unsweetened almond milk
2 frozen bananas
4 pitted medjool dates
3 tbsp peanut butter
2 tbsp cacao powder
1/2 C old fashioned oats
2 tbsp hemp seed
1 1/4 C ice
Instructions
Place all ingredients except for the ice into a blender and blend until smooth. Add the ice and blend until smooth and frosty.
Notes
Makes four 8oz servings or 2 large 16oz servings.
Nutrition Information:

Amount Per Serving: Calories: 285 Total Fat: 11g Saturated Fat: 2g Trans Fat: 0g Unsaturated Fat: 1g Cholesterol: 0mg Sodium: 113mg Carbohydrates: 44g Fiber: 6g Sugar: 23g Protein: 8g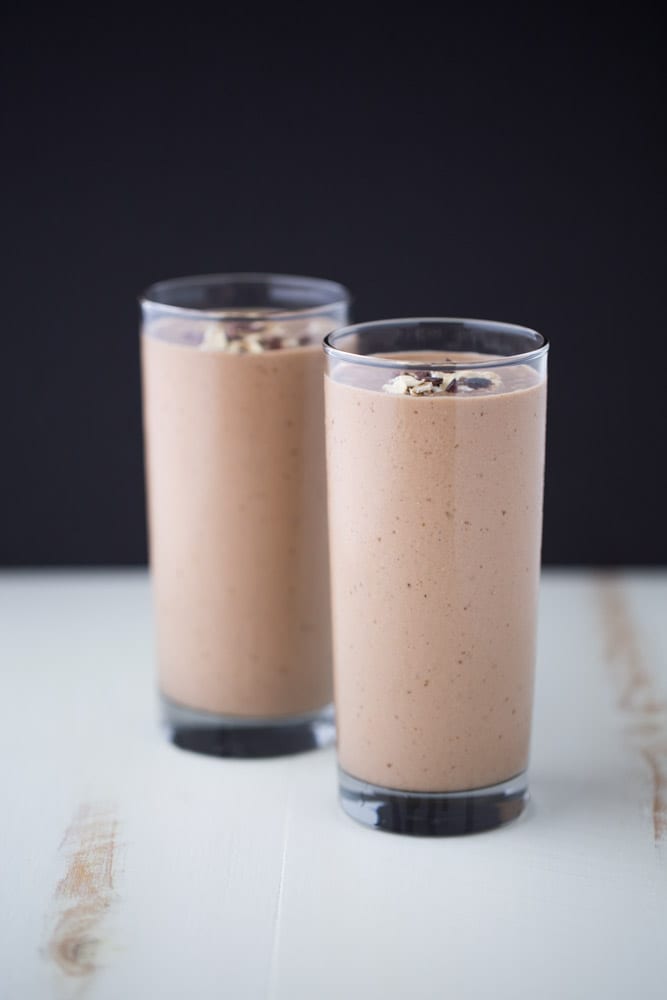 RELATED POSTS
Roasted Nectarine Greek Yogurt Parfaits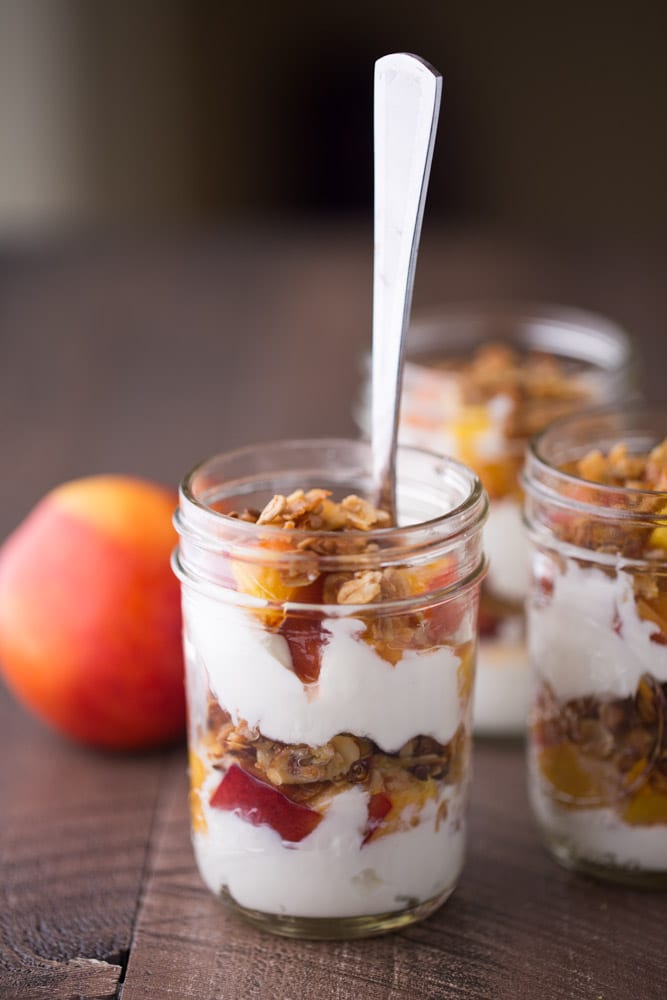 Let's be friends on INSTAGRAM, FACEBOOK, TWITTER and PINTEREST!