Tropical Sweet Potato Burrito Bowls
These tropical sweet potato burrito bowls will make you shout from rooftops with joy.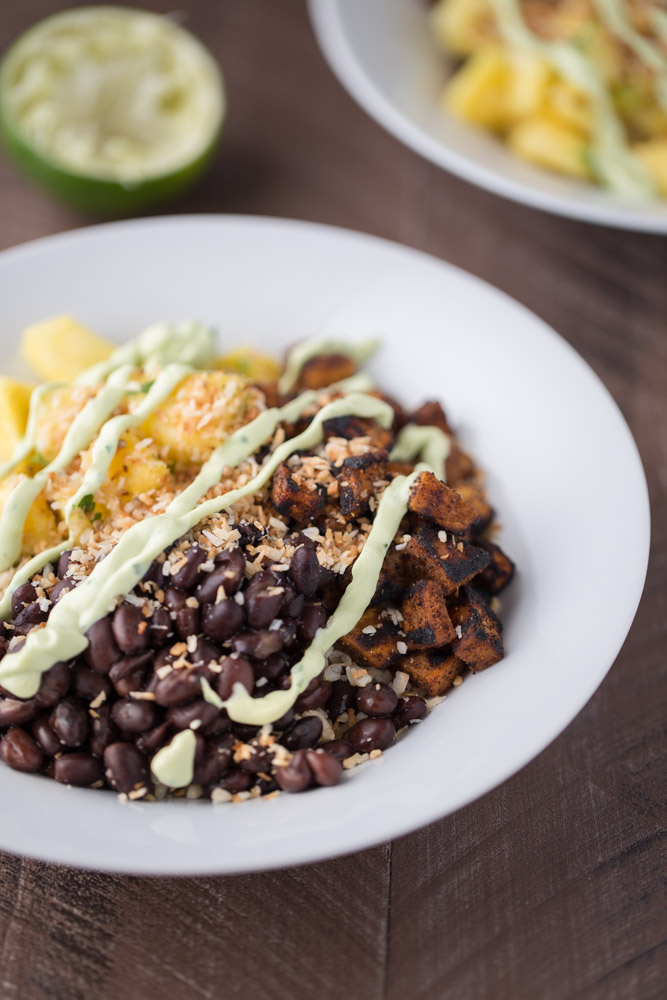 Cumin seasoned sweet potatoes and black beans lay upon a bed of cilantro lime brown basmati rice. Pineapple salsa, toasted coconut and Greek yogurt avocado crema garnish this flavorful vegetarian meal.
You will swoon over the flavors. You will want to eat them all the time. The tropical sweet potato burrito bowls will visit you in your dreams, giving you the best dreams of your life. You will wake up desperately looking for the sweet potato bowls that were right there in your dreams. But alas, it was just a dream. But you can make it a reality by following my easy recipe.
That was sort of silly, wasn't it? Tropical sweet potato burrito bowls visiting you in your dreams; who dreams about stuff like that.
*raises hand*
Do any of you have weird dreams? I often have weird, vivid dreams. Sometimes they are scary, often they are funny. I've woken up many times to find myself laughing out loud in response to something I was dreaming about. One time, I had a dream that my co-workers and I were riding flying mailboxes to work. I woke up laughing. I told my coworkers about it and they all laughed, too. I know I have had many more that are funnier than that; some that could be the script to a movie. Sadly, I often forget them. I should keep a notebook beside my bed so I can jot them down while they are fresh in my memory. Do you keep a journal of your dreams?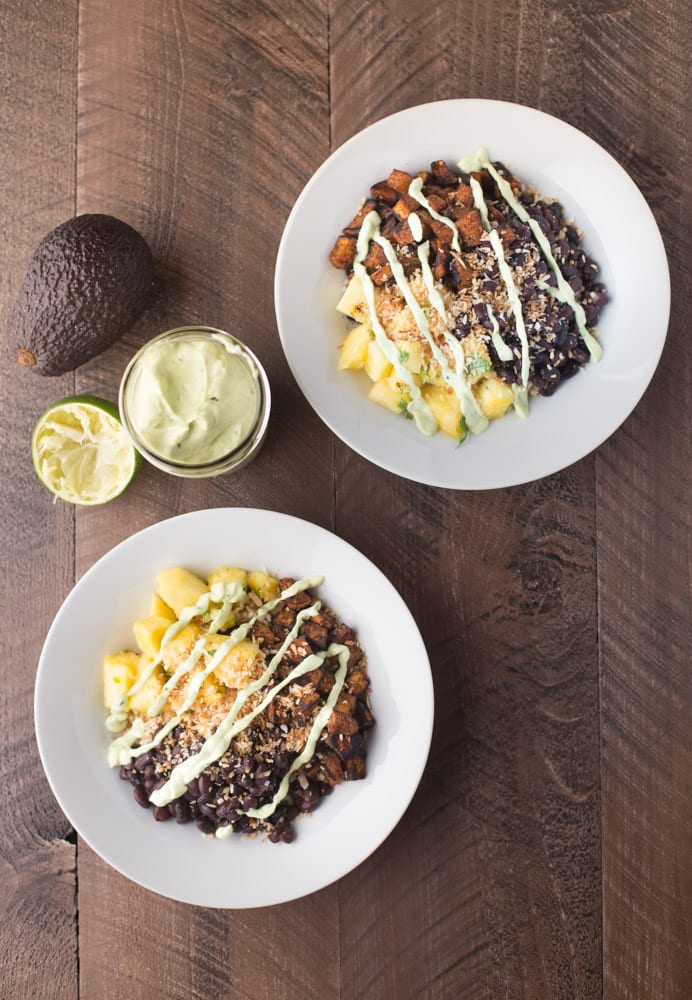 Tropical Sweet Potato Burrito Bowls
I'm going to talk a little more about these tropical sweet potato burrito bowls. Surely you'll be dreaming about them tonight. ♥︎
The ingredients list and instructions are lengthy but I promise these are very easy to make.
They start off with cilantro lime brown basmati rice. I used leftover rice from a huge batch I had made a couple days prior. You can cook a fresh batch of rice, if you prefer. Sweet potatoes are seasoned with cumin, salt and pepper and sauteed until tender. Fresh pineapples are tossed with lemon juice, jalapeno, cilantro and red onions to create a flavorful salsa. Unsweetened shredded coconut is lightly toasted in a skillet. Then a delightful Greek yogurt avocado crema is whipped together for a final garnish. Place everything in serving bowls and then you're ready to enjoy these tropical sweet potato burrito bowls!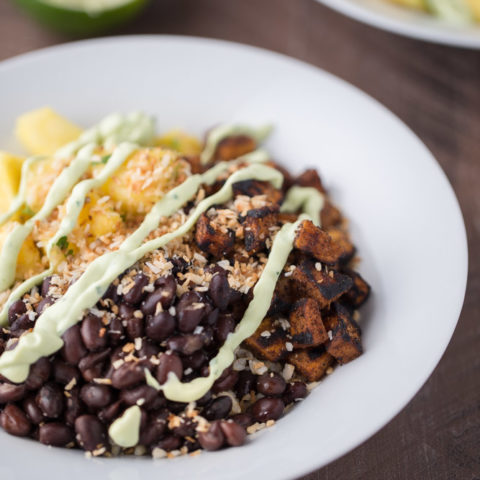 Tropical Sweet Potato Burrito Bowls
Yield: 4 servings

Prep Time: 30 minutes

Cook Time: 10 minutes

Total Time: 40 minutes
Ingredients
for the potatoes
2 medium sweet potatoes, peeled and diced
1 tbsp ground cumin
Pinch of ancho chili powder
1 tbsp extra virgin olive oil
for the pineapple salsa
2 C diced fresh pineapple
1/2 small jalapeno, seeded, membrane removed and chopped
1 tbsp red onion, chopped
Juice from one lime
for the avocado crema
1 ripe avocado, peeled and pitted
3/4 C plain low fat Greek yogurt
2 tbsp fresh cilantro
1 clove of garlic, peeled
2 tbsp fresh lime juice
for the cilantro lime brown rice
2 C cooked brown basmati rice (cook 1/2 C uncooked rice to yield approximately 2 C cooked rice)
1/4 C fresh lime juice (about 1 lime)
Pinch of ancho chili powder (can use chipotle chili powder or omit)
2 tbsp fresh cilantro
for the toasted coconut
1/4 C unsweetened shredded coconut
1/2 tsp mustard seed (can omit if you don't have it)
1 C cooked black beans (can use canned)
salt and ground pepper
4 serving bowls
Instructions
For the sweet potatoes. Toss the diced sweet potatoes with the cumin, ancho chili powder, extra virgin olive oil and 1/4 tsp each of salt and pepper. Drizzle with the olive oil and toss to coat. Saute in a preheated skillet over medium high heat for 5-10 minutes or until tender. The potatoes may become slightly charred in some areas. That's ok. Once the potatoes are done cooking, turn off the stove and set aside the skillet.
For the pineapple salsa. Place the pineapple, jalapeno, red onion and lime juice in a small mixing bowl. Mix well. Then cover and refrigerate until ready to use.
For the avocado crema. Place the avocado, Greek yogurt, cilantro, garlic clove, lime juice and 1/4 tsp of salt into a food processor. Process until the mixture is smooth and creamy. Cover and refrigerate until ready to use.
For the cilantro lime brown rice. Place the rice, lime juice, ancho chili powder, cilantro and a pinch of salt and ground pepper in a mixing bowl. Mix well.
For the toasted coconut. Whisk together the unsweetened coconut and mustard seed. Place in a preheated saucepan or skillet and toast for 3-5 minutes or until golden. Stir often so it doesn't burn.
Heat the black beans in a microwave safe bowl in your microwave for about 1 minute.
Assemble the bowls. Place 1/2 C of rice into each bowl. Divide the black beans, sweet potatoes and salsa among the four bowls. Then garnish each bowl with 1 tbsp of the toasted coconut. Drizzle each bowl with 2 tbsp of the avocado crema.
Notes
Nutrition data is approximate and is based on the measurements that I used for each bowl.

Store unused avocado crema in an airtight container in your refrigerator for up to 3 days.

If serving less than 4 people, store unused ingredients in your refrigerator. The pineapple salsa is good for up to 2 days. All other ingredients will last up to a week (other than the crema, as noted above).
Nutrition Information:

Amount Per Serving: Calories: 383 Total Fat: 10g Saturated Fat: 5g Trans Fat: 0g Unsaturated Fat: 4g Cholesterol: 2mg Sodium: 259mg Carbohydrates: 58g Fiber: 10g Sugar: 16g Protein: 10g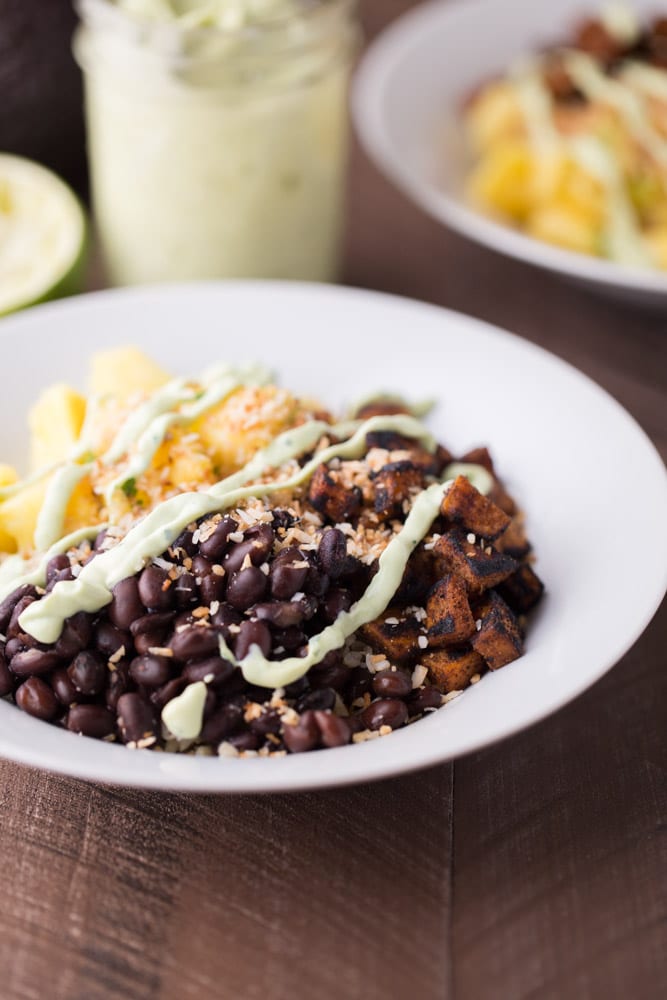 RELATED POSTS
Roasted Nectarine Greek Yogurt Parfaits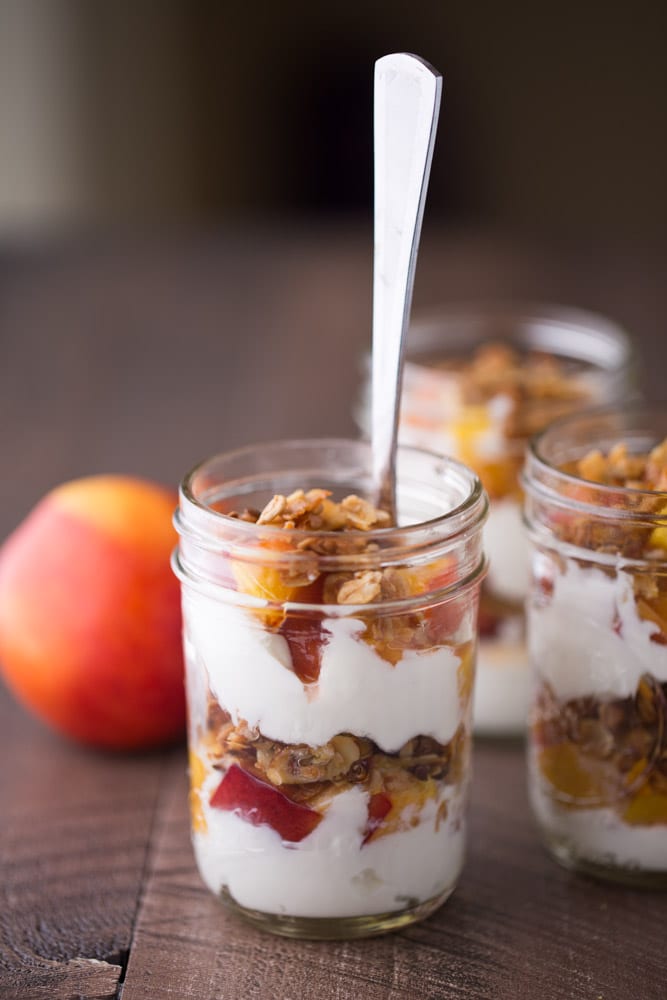 Mediterranean Veggie Rice Bowls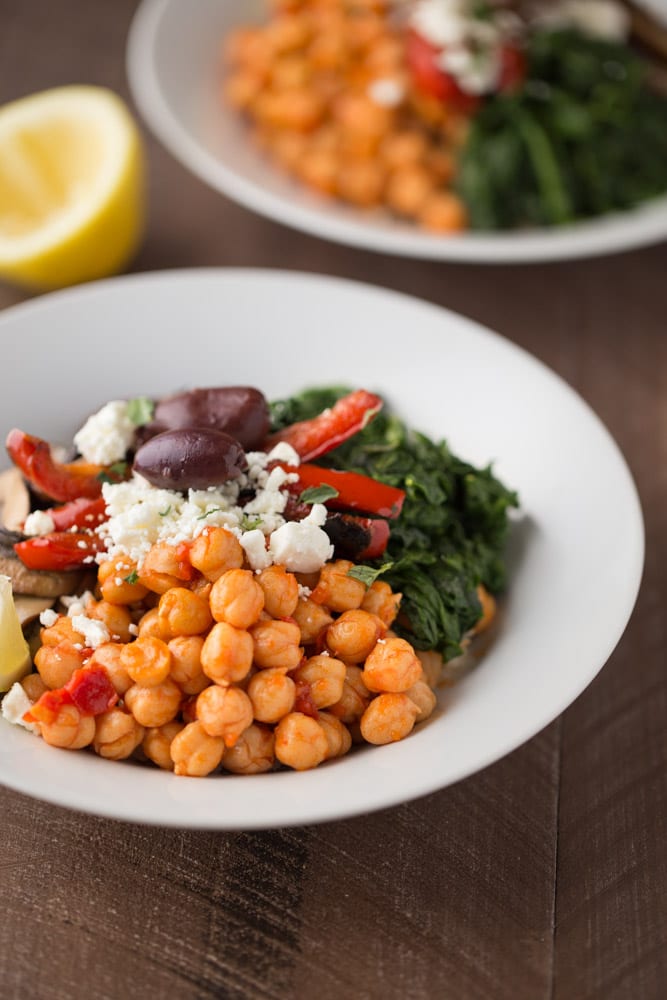 Let's be friends on INSTAGRAM, FACEBOOK, TWITTER and PINTEREST!