Zucchini Noodles with Shiitakes and Tomato Sauce
Today we're talking about zucchini noodles.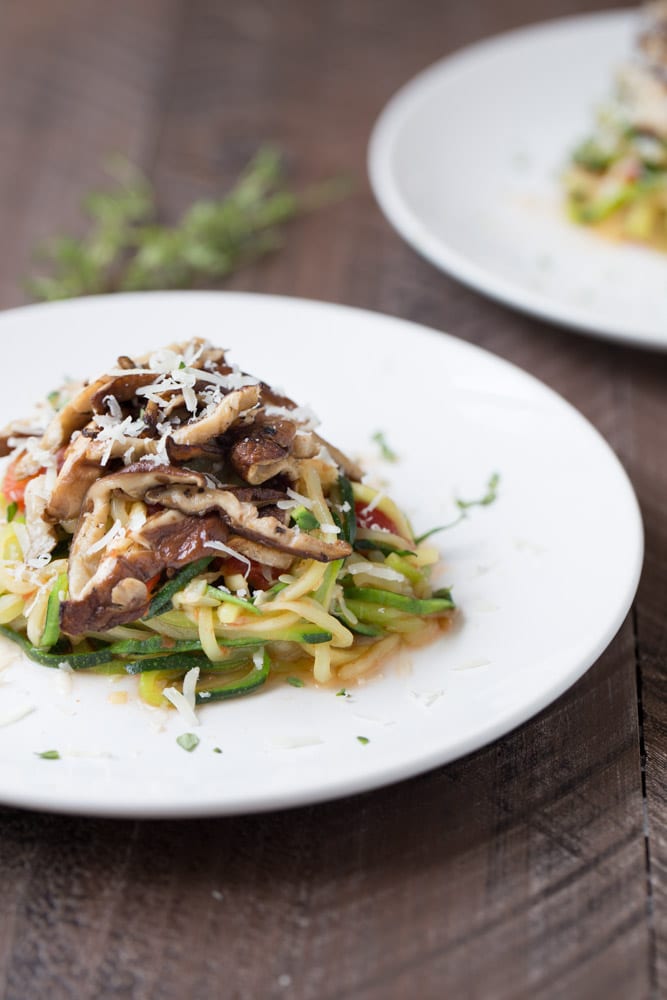 Because they're all the rage right now, thanks to their low carb, low calorie noodly little selves. Who doesn't want to get their hands on a big ol' plate of zucchini noodles? Especially a plate of the zucchini noodles we're talking about today. They're tossed with an incredibly flavorful homemade tomato sauce and served with meaty shiitake mushrooms. Drools.
Can I tell you about the dumb thing I did over the weekend? You may laugh. You may cry. You may exclaim "I can totally relate to that!" because you may have at one time done the same dumb thing that I did.
I was baking. I was cooking. I thought I was being the world's best pro at multitasking. But I was wrong. After I took a baking pan full of phyllo shells out of my oven, I quickly whisked together the BBQ mayo I was also making. After whisking together the BBQ mayo, I grabbed the HOT baking pan in an attempt to move it to a different counter. A few seconds later, I dropped the pan and screamed a few obscenities when I realized my hand was BURNING. I ran it under cold water, with no relief. I was squealing in pain. I tried getting ice cubes from the freezer, but I was shaking too much to be able to get any. Ken realized I was in distress and came over to help. He got some ice cubes for me and said to keep them on my hand. Then he went to the store to get aloe and Neosporin. When he got home, he played Nurse Ken (he will probably hate that reference!) He disinfected my hand, put Neosporin on it and wrapped it in a bandage. Then he gave me the ice pack and said "keep it on your hand." I had to keep it on my hand until I went to bed. Whenever I took the ice pack off my hand, the pain was incredible and intolerable. Ken kept my ice pack full for the rest of the evening. I think the only reason I was able to fall asleep was thanks to the beer I had, at the suggestion of Ken.
Luckily, when I woke up Monday morning, the pain was gone. Life will go on and my hand will be ok.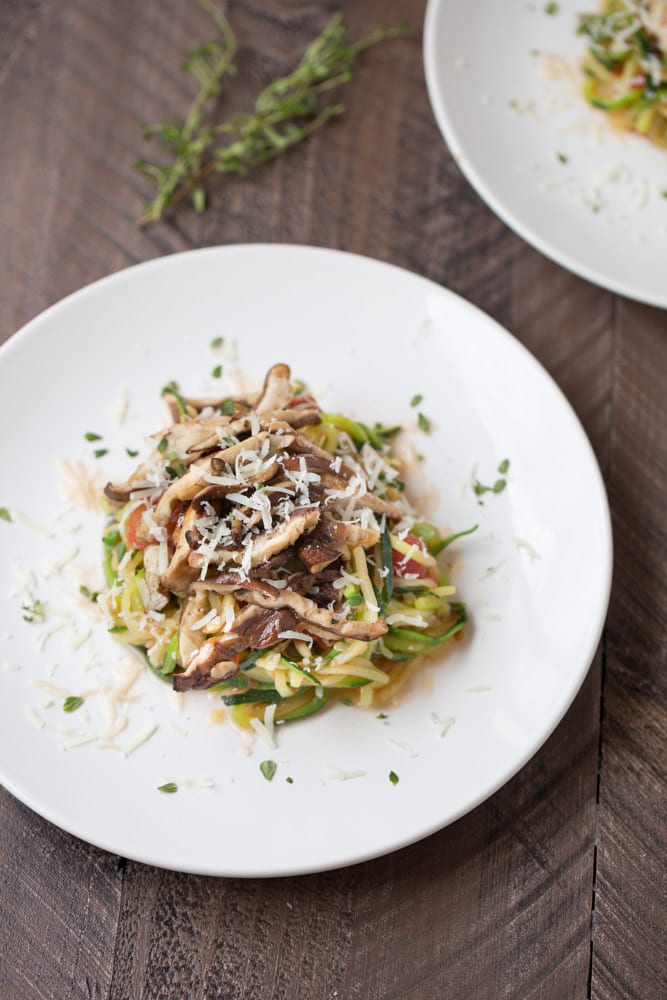 Zucchini Noodles with Shiitakes and Tomato Sauce
Back to this amazing zucchini noodles dish. A dish I made without hurting myself, I might add. The tomato sauce recipe was adapted from the Food 52 Genius Recipes cookbook. I've made the sauce twice – the first time, I followed the recipe exactly. The second time, I replaced the butter with olive oil in order to make the sauce vegan. I tossed the zucchini noodles with the tomato sauce.
My favorite type of mushroom is Shiitake and that's why I used them in this recipe. They're meaty and tender and they have great flavor. I sauteed shiitakes and topped the zucchini noodles with them. Then I garnished the meal with freshly shredded parmesan cheese and fresh thyme. To easily make this a vegan meal, skip the parmesan garnishment.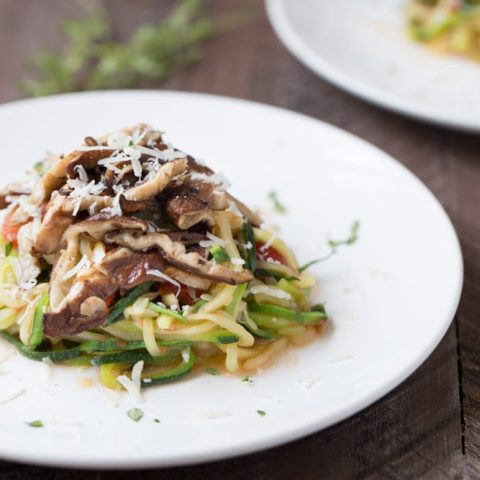 Zucchini Noodles with Shiitakes and Tomato Sauce
Yield: 2 servings

Prep Time: 10 minutes

Cook Time: 40 minutes

Total Time: 50 minutes
Ingredients
1 28oz can peeled whole tomatoes, chopped
3 tbsp extra virgin olive oil
1 sweet Vidalia onion, peeled and cut in half
1/4 tsp salt
2 medium zucchini
1/2 tbsp extra virgin olive oil
3.5 oz shiitake mushrooms, stems removed and sliced
1 tsp extra virgin olive oil
Salt, pepper
freshly shredded or grated parmesan cheese and fresh thyme for garnish
Instructions
Place the tomatoes, 3 tbsp olive oil, onion and 1/4 tsp salt in a large saucepan. Bring to a rapid boil over medium low heat then reduce heat to low. Simmer 30-40 minutes. Once done simmering, remove the onion. Then mash the tomatoes with a potato masher or a wooden spoon. Taste and add more salt, if desired.
Spiralize the zucchini and place in a large mixing bowl. Drizzle with 1/2 tbsp of olive oil and set aside.
Toss the shiitakes with salt and pepper and then drizzle with 1 tsp evoo.
Heat a skillet over medium high heat. Sauté the shiitakes until tender. Remove from heat and set aside.
Heat a large pot or skillet over medium heat. Add the zucchini noodles and cook until tender, 3-5 minutes. Stir often. Once the zucchini is done cooking, transfer to a colander and drain. Place the zucchini in a mixing bowl and toss with 1/2 C of the tomato sauce. Place on plates or in bowls and top with mushrooms. Garnish with fresh thyme and shredded parmesan cheese.
Notes
Tomato Sauce adapted from Food52 Genius Recipes.

My photos took a lot of time to set up as the sauce is quite messy. I suggest serving this recipe in bowls rather than on plates.

Store unused sauce in an airtight container in your refrigerator for up to one week. Use it with more zucchini noodles. It's also great on flatbread pizzas, with pasta and as a dip for grilled zucchini!
Nutrition Information:

Amount Per Serving: Calories: 150 Total Fat: 8g Saturated Fat: 1g Trans Fat: 0g Unsaturated Fat: 6g Cholesterol: 0mg Sodium: 429mg Carbohydrates: 17g Fiber: 6g Sugar: 13g Protein: 6g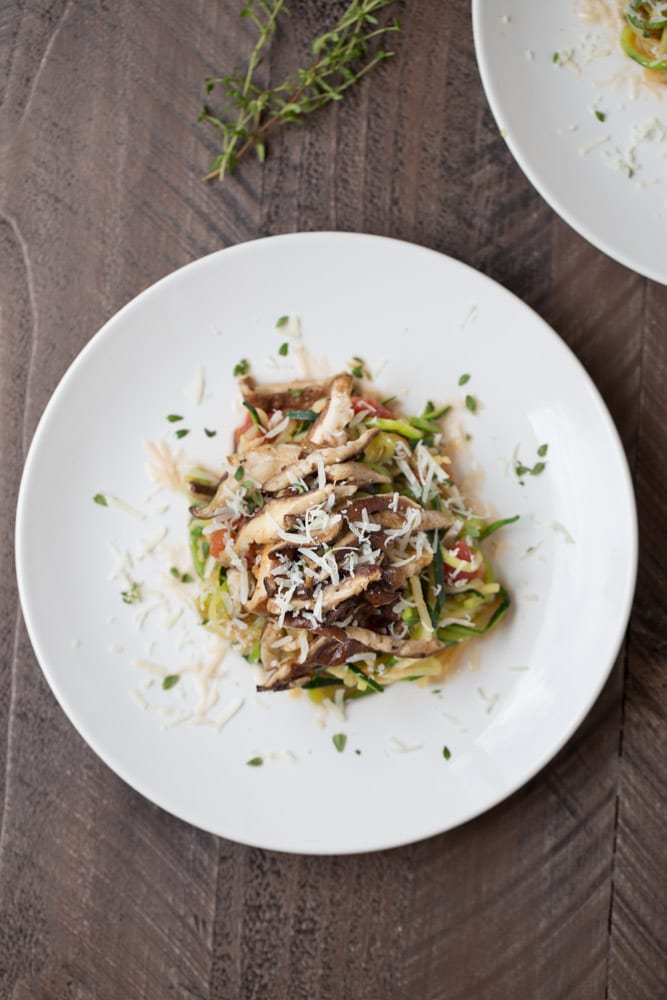 RELATED POSTS
Cucumber Noodle Bowls with Sesame Shrimp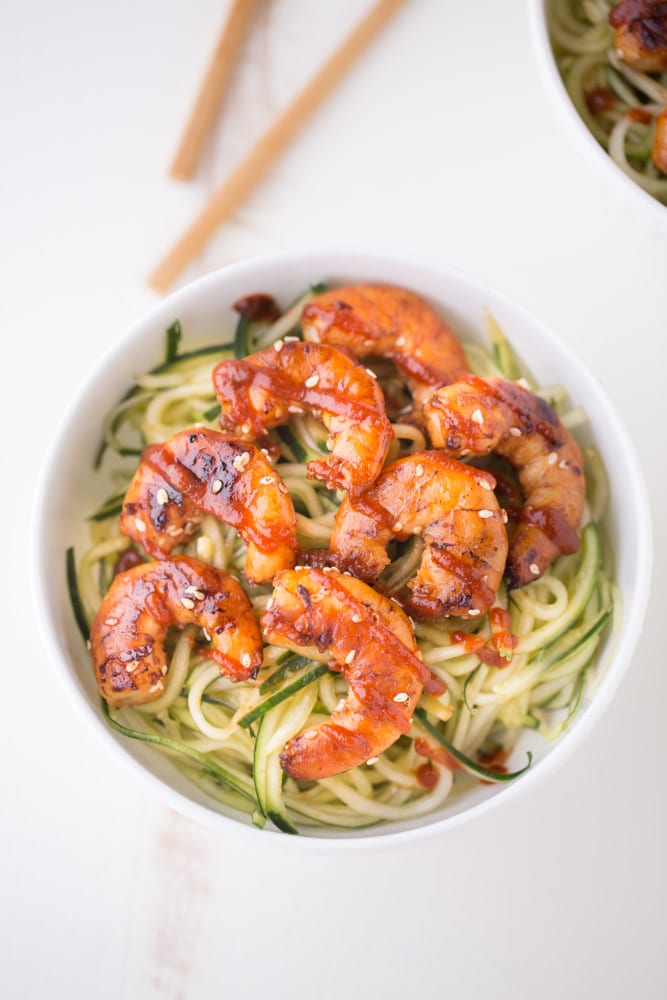 Mediterranean Veggie Rice Bowls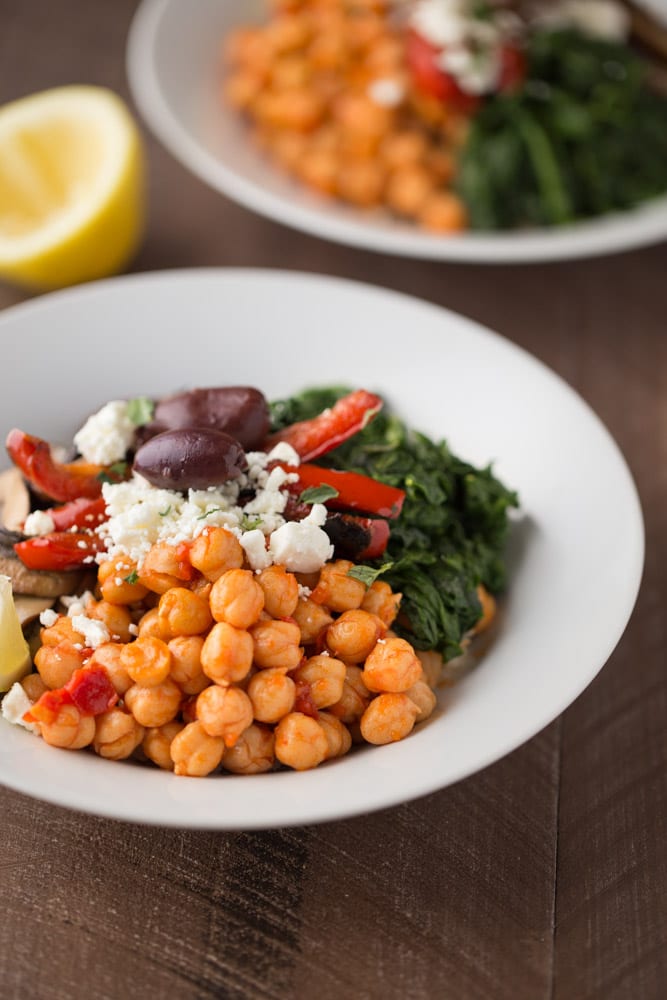 Let's be friends! FOLLOW ALONG ON FACEBOOK, INSTAGRAM, PINTEREST and TWITTER to receive updates, delicious recipes and behind the scenes sneak peeks!