About
Welcome to my blog This Gal Cooks. I'm Julie. Let me tell you a little bit about my blog and about me!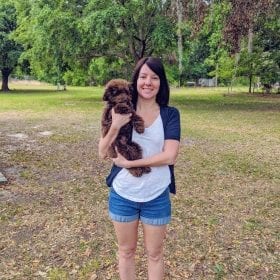 I began this blog in 2012 when my love for cooking recipes and my love for surfing the web intertwined. "This Gal Cooks" was born as a way for me to save and share recipes with family and friends and creatively express my love of cooking. On this blog you'll find a variety of recipes including easy dinners, sweet treats, delicious breakfasts, smoothies, small bites and appetizers. The inspiration for my recipes comes from cookbooks, blogs, and things I've tried at restaurants or seen on menus.
I try to eat healthy whole foods and quality proteins. I'm totally hooked on grass-fed meat, pastured chicken and pork and free-range eggs. Me and veggies are becoming good friends, too. Especially if their names are broccoli, asparagus, sweet potatoes or brussels sprouts. I try to eat foods that follow the paleo guidelines and sometimes eat keto meals as well. I also try to stay away from dairy (although I do eat it sometimes) and lately I've cut out gluten (with the exception of a beer or two on occasion) because I feel better both physically and mentally without it.
About Me
I'm a Florida native, a wanderlust, a dark chocoholic, online shopping enthusiast, health and nutrition nerd, and craft beer aficionado. I live with my boyfriend Ken and our new pup McFluff. RIP to our beloved dog Kahlua.
I began my life in Gainesville, FL during the wee hours of the morning on a most likely hot September day. I was adopted when I was 5 weeks old and grew up in Lakeland, FL.  I currently live in South East Florida in the small town of Stuart. I'm an accounting assistant Risk Manager by day, blogger by night. I love traveling – my favorite state to visit is North Carolina but I fell in love with Minnesota when I vacationed there, even though it was during the bitter, snowy cold of December. One day I'd love to visit Montana, California, Oregon and Arizona.
I love all of these things, in no particular order:
dogs
coffee
music, art, television
the outdoors
mexican food
mountains
cooking
chocolate
traveling
Game of Thrones
photography
Not a fan of these things:
loud noises
running
long movies
pop-style country music
spiders
heat
Thank you so much for taking the time to visit my blog!
Let's Connect!
Pinterest // Instagram // Twitter // Facebook
Contact Me
thisgalcooks[at]gmail[dot]com
I hope you enjoy my blog. Thanks for stopping by.