Vegetarian Enchilada Casserole
Today we're celebrating the love of Tex-Mex, casseroles and Meatless Monday by talking about this Vegetarian Enchilada Casserole.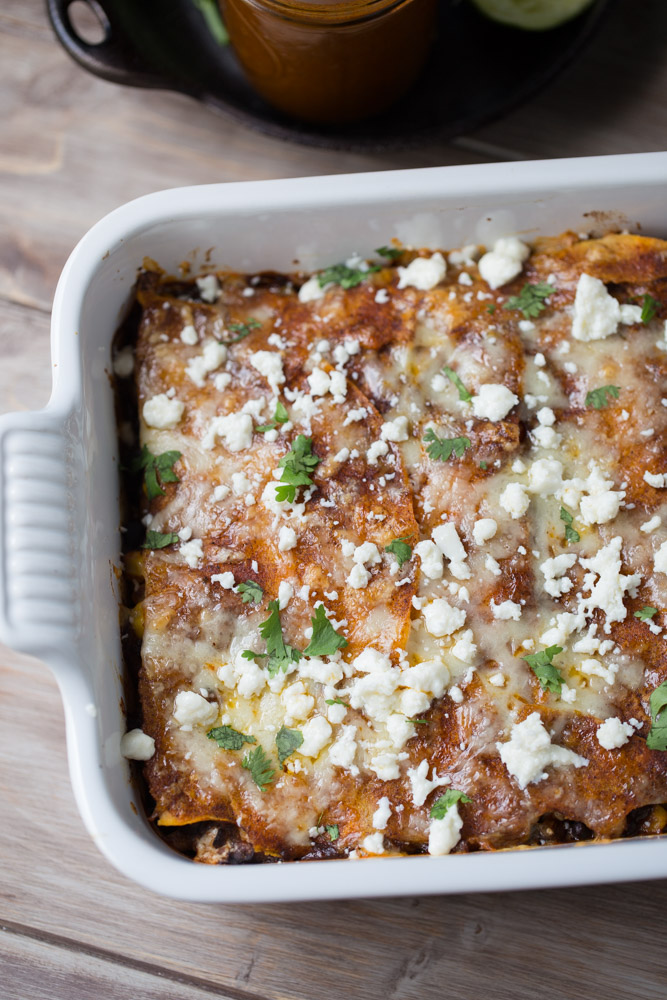 Which happens to be both a casserole and a Tex-Mex meal . It's healthy. It's vegetarian. It's filled with meaty mushrooms, walnuts, zucchini, black beans, corn and my Homemade Enchilada Sauce. This vegetarian enchilada casserole is a vegetarian Tex-Mex lover's dream. ♥︎
Do you mind if I talk about the weather?
The weather here in South Florida has been a mixture of normal and completely crazy. Normal summer weather in Florida is hot and humid with a medium to high chance of afternoon thunderstorms. We've experienced that every day since the beginning of June. Florida heat is clockwork. It's pleasant from late October until the end of May but once June 1st hits, the giant sky heaters turn on and blast the state with hot, sauna-like heat. What's completely crazy, though, is the slight coolness that I've felt in the air the past few mornings; a coolness that I don't usually feel until the end of October. I can only speculate what this means and I haven't speculated too much. I hope that it means cooler weather will arrive earlier this year.
Did I mention we've had back to back stormy days all week?
It seems there are two types of people in this world – those who love stormy days and those who despise them. I fall into the "love stormy days" category. I love watching the dark, dramatic storm clouds roll in. I adore watching the leaves and limbs of trees sway in the wind. I enjoy listening to the rumbles of thunder. I find comfort in the raindrops thumping against the windows of my house. It's a wonderful experience for a lover of stormy days.
Vegetarian Enchilada Casserole
Eating this Vegetarian Enchilada Casserole is a wonderful experience, too. It's flavorful. It's meatless. It's full of fresh veggies. It's even a little crunchy, thanks to the walnuts used in the recipe.
I baked this vegetarian enchilada casserole in a 2.5 quart baking dish. The dimensions of the dish are 10.25″ long x 7.5″ wide x 2.75″ high. I feel that is important to share with you because the length, width and depth of the dish you use will determine whether or not your able to follow my recipe exactly as presented. if you use a bigger dish (wider or longer), you're not going to have enough ingredients to assemble two layers of the casserole.  If you use a smaller dish (smaller in width and length but deeper) you'll have to assemble more layers in order to use all ingredients. My suggestion is to use a dish similar in capacity and dimensions to what I used. You may use a oval or rectangle dish. Both will work as long as they are similar in capacity and dimensions.
I used super size corn tortillas in this vegetarian enchilada casserole. If you use smaller corn tortillas, you will need to use more than six tortillas. If you have any questions, please feel free to comment below or send an email to me, via my contact page. :)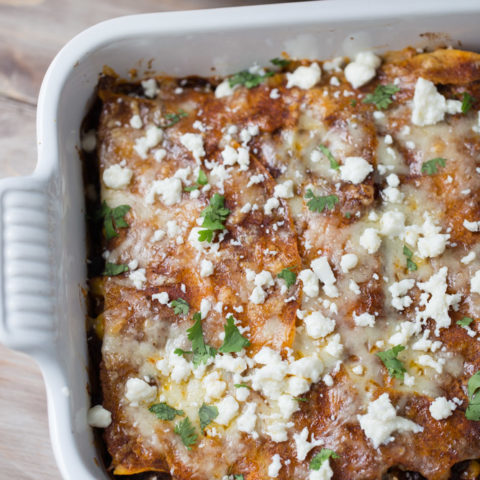 Vegetarian Enchilada Casserole
Yield: 6 servings

Prep Time: 20 minutes

Cook Time: 20 minutes

Total Time: 40 minutes
Ingredients
2 C cooked black beans (I used canned organic and rinsed before using)
1 tbsp extra virgin olive oil
8 oz sliced baby bella mushrooms
2 small zucchini, diced (about 2 cups)
1 small sweet onion, thin sliced
1 C frozen sweet corn
Pinch of salt and pepper, plus more, if desired
1/2 C chopped walnuts
2 tbsp fresh lime juice
6 super size corn tortillas, halved (you may use smaller tortillas however, you will need to use more than 6)
1 C shredded cheddar cheese
1/2 C queso fresco (optional)
fresh cilantro for garnish
Instructions
Mash one cup of the black beans. Set aside.
Heat 1 tbsp of olive oil in a skillet over medium high heat. Add the mushrooms, zucchini, sweet onion, frozen corn and a pinch of salt and pepper. Cook until tender, 5-7 minutes. Drain any excess liquid. Mix in the mashed black beans, whole black beans, 1/2 C of the enchilada sauce, walnuts, lime juice and a pinch of salt and ground pepper. Taste and add more, if desired.
Spread 1/4 C of enchilada sauce in the bottom of a 2.5 quart baking dish. Place three tortillas in the bottom of the dish. Spread the veggie mixture over the tortillas. Layer with the remaining tortillas** and then the remaining enchilada sauce, spreading the sauce over the top of the tortillas with the back of a spoon. Sprinkle with the shredded cheddar cheese.
Bake at 400 for 15-20 minutes.
Remove from the oven and sprinkle with the queso fresco. Garnish with fresh cilantro.
Notes
**for the final layer of tortillas, tear them and place them as needed in order to cover the entire top of the casserole.

Make this recipe vegan - skip the cheese. Bake at 400 for 15 minutes. Top with sliced fresh avocado instead of cheese.
Nutrition Information:

Amount Per Serving: Calories: 475 Total Fat: 24g Saturated Fat: 8g Trans Fat: 0g Unsaturated Fat: 9g Cholesterol: 32mg Sodium: 946mg Carbohydrates: 45g Fiber: 9g Sugar: 9g Protein: 21g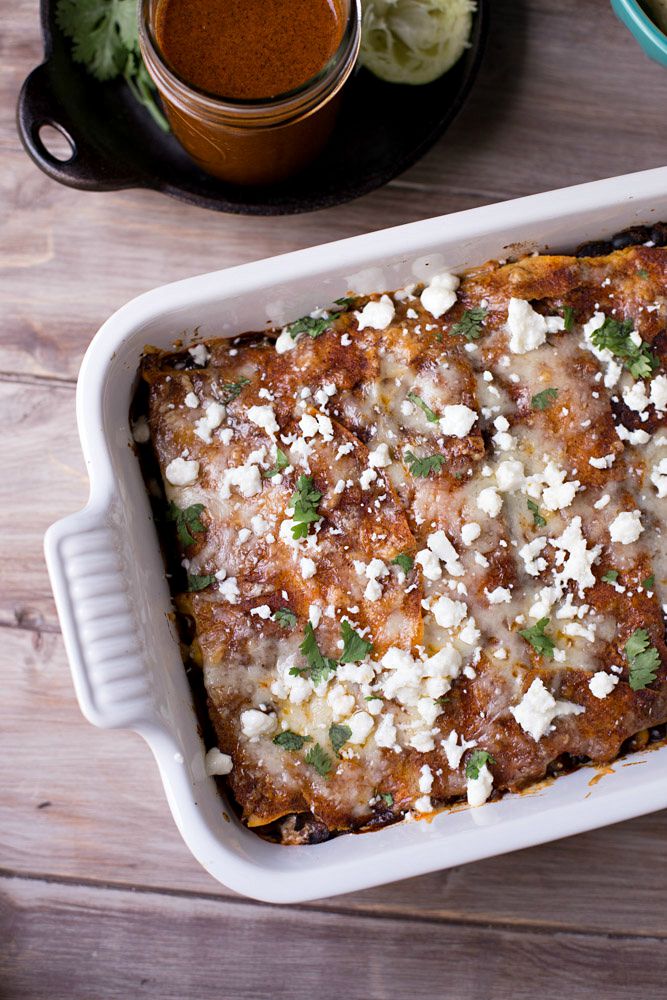 RELATED POSTS
Tropical Sweet Potato Burrito Bowls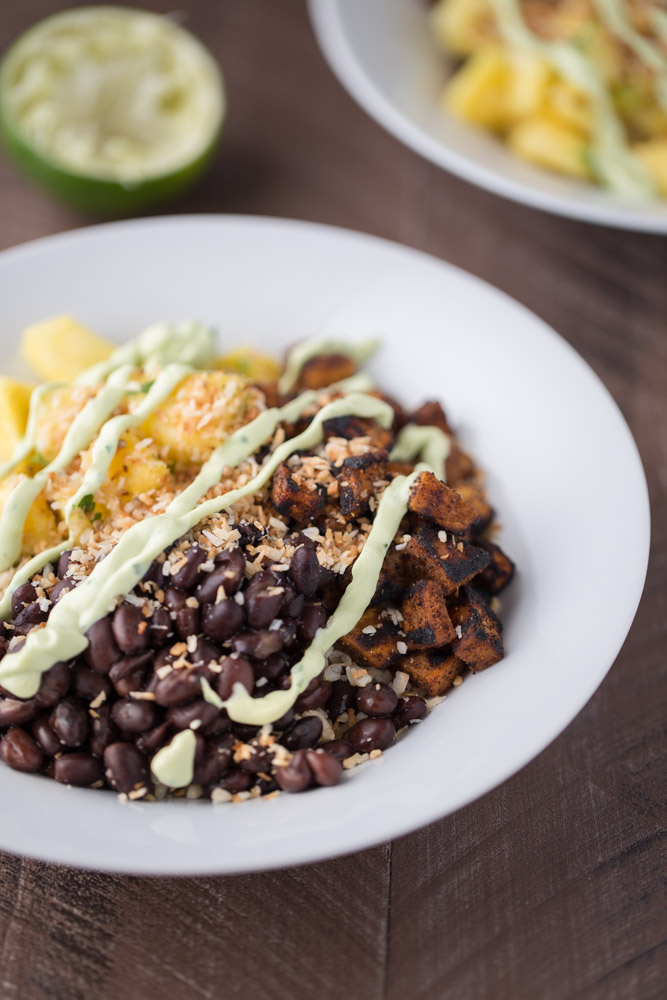 Homemade Enchilada Sauce (gluten free, vegan)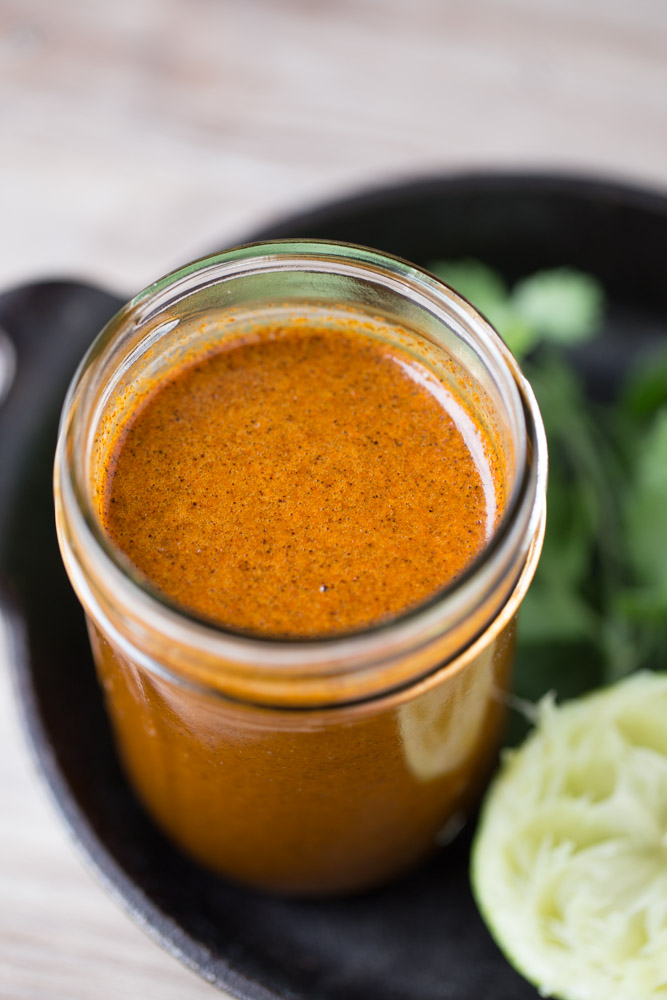 Let's be friends on INSTAGRAM, FACEBOOK, TWITTER and PINTEREST!