Homemade Enchilada Sauce (gluten free + vegan)
Today we're talking about this gluten free, vegan, and vegetable-oil free Homemade Enchilada Sauce!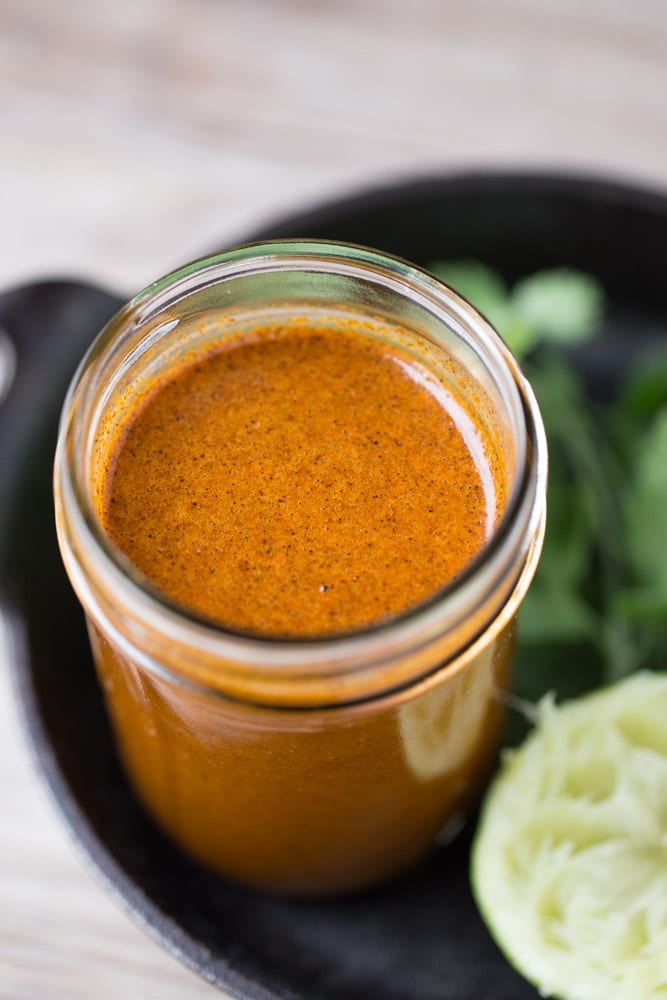 It's an essential recipe, considering on Monday, I'll be sharing the delicious vegetarian enchilada casserole that I made with the sauce. Homemade enchilada sauce + homemade casserole = a whole lotta love. ♥︎
Let's talk Christmas vacation. Because it's July and we can pretend it's Christmas in July.
December Christmas vacation flight is booked. Can you guess where I'm going? It's a place where no sane Florida person would ever travel to during the winter months. Especially a Florida person who has never experienced temps below 18 degrees and who has only seen snow once in her 33 years on Earth.
Did you guess Minnesota? If so, you nailed it!
Ken's from Minnesota. His mom and mom's side of the family live in Minnesota. He hasn't visited them in over 7 years. I've never been up there and we haven't seen his mom or stepdad since they visited Florida in 2010. A visit is well overdue. Ken wants to visit them during Christmas, which is understandable. I hear they have an awesome, fun-filled Christmas gathering on Christmas Day. This year, we will be gracing the guests with our presence!
I'm excited and a little nervous about the trip. I'll be flying up there by myself. Ken is driving up there a couple days before I leave. He'll be taking the dog and my luggage with him. Then after I leave work on Christmas Eve, I'm driving to Orlando and catching a direct flight to Minneapolis. I don't like flying but luckily, I'll only be flying up there. We'll be road tripping on the way home, hopefully stopping in Asheville for a beer run and to soak in the beautiful winter scenery!
What are your 2015 Christmas plans?
Homemade Enchilada Sauce
This homemade enchilada sauce recipe was born from my desire to create a vegan enchilada sauce that didn't contain chemically processed ingredients. At the time, I had never made an enchilada sauce recipe; I always used canned sauce. I didn't know where to start so I turned to fellow food bloggers for inspiration. Gimme Some Oven's Red Enchilada Sauce recipe was the winner and I adapted my recipe from hers.
I made a batch of homemade vegetable broth to use in this recipe but if you're in a hurry, you can use canned or boxed broth. I suggest going with an all natural brand, such as Pacific Foods. But it's SO easy to make your own. Here's a tutorial from The Kitchn that will show you how to make homemade vegetable stock.
You may use this enchilada sauce in enchilada recipes, burrito bowls, tacos and Mexican style casseroles. It would be great used in quesadillas, too.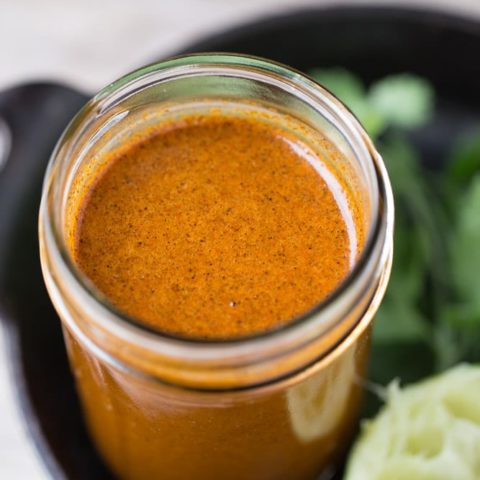 Homemade Enchilada Sauce (gluten free + vegan)
Yield: 1.5 Cups

Prep Time: 5 minutes

Cook Time: 15 minutes

Total Time: 20 minutes
Ingredients
2 tbsp coconut oil (use refined as it has no flavor)
2 tbsp masa harina (corn flour)
4 tbsp ancho chili powder
½ tsp garlic powder
½ tsp salt + more, according to taste
¼ tsp cumin
¼ tsp oregano
2 C vegetable stock
Instructions
Heat the coconut oil in a small sauce pan over medium high heat. Once melted, add the masa harina and stir. Add the remaining spices and mix well. Then gradually add the vegetable stock, whisking until smooth. Reduce heat to low and simmer 10-15 minutes or until slightly thickened. Taste test and add more salt, if desired. Allow to cool for a few minutes and then blend with an immersion blender.
Notes
The sauce will thicken as it cools. Once you refrigerate it, it will become much thicker. Reheat in a sauce pan or microwave.

Store in an airtight container in your refrigerator for up to two weeks.

Adapted from Gimme Some Oven.
Nutrition Information:

Amount Per Serving: Calories: 37 Total Fat: 3g Saturated Fat: 2g Trans Fat: 0g Cholesterol: 0mg Sodium: 251mg Carbohydrates: 3g Fiber: 1g Sugar: 1g Protein: 0g
Let's be friends on INSTAGRAM, FACEBOOK, TWITTER and PINTEREST!