Chocolate Coconut Chia Pudding
Today we're breaking out the spoons and digging into a jar of Chocolate Coconut Chia Pudding.
Of course, you could enjoy this delightful Chocolate Coconut Chia Pudding for breakfast, too. I'll leave that up to you.
But first things first, I'd like to talk about a little thing called motivation.
And I'd like to thank you for all of the positive feedback and vibes that you expressed in response to my post about negative thinking. I think the Roasted Nectarine Greek Yogurt Parfaits played a part in all of your positivity, am I right? ;)
Do you lack motivation? Or are you a go-getter? Are you someone who is easily motivated and who does not procrastinate? I fall into the category of "lacks motivation". I'm a procrastinator. Often, I do not feel motivated enough to begin projects. Of course, I do have moments where I'm bursting with motivation. Whenever I have something to work on that is of interest to me, such as cooking or planning a vacation, I'm bursting with motivation. However, sometimes I even lack motivation when it comes to doing something I enjoy. Sometimes I do not want to cook or create recipes for the blog. I procrastinate stepping into my kitchen. I procrastinate opening my refrigerator or pantry to gather ingredients. However, since this is an activity that I enjoy doing, I am usually able to muster up enough motivation to outweigh the procrastination.
Another area I lack motivation in is exercise. Sometimes I'm able to easily motivate myself to exercise after work. Sometimes I moan, groan and make excuses as to why I can't exercise. Why do I do this? I'm not really sure. I enjoy going for walks and short jogs. It gives me time to think and clear my mind. I feel great after going for a walk or jog. Yet I still find myself saying I don't have time to do it. I still find myself looking for clouds in the sky so I can tell myself that it's going to rain, no exercise today.
I believe lack of motivation can be overcome with willpower and determination. Go into something with a positive attitude; tell yourself you can do it. Tell yourself that if you begin now, rather than procrastinate, you will be done sooner, giving yourself more time to spend on other more enjoyable things. At first, it may be difficult to change your mindset, but with willpower and determination it can be done.
I need to take my own advice.
Chocolate Coconut Chia Pudding
Do you need another jar of this Chocolate Coconut Chia Pudding yet? That was lengthy commentary on motivation, wasn't it?
This chocolate coconut chia pudding is a simple dairy free dessert option. You could consider it a super foods dessert recipe since it's ingredients include chia seeds and cacao, which are packed with nutrients and antioxidants. In addition to chia seeds and cacao, coconut milk, maple syrup and unsweetened shredded coconut are the only other ingredients you will need to make this Chocolate Coconut Chia Pudding.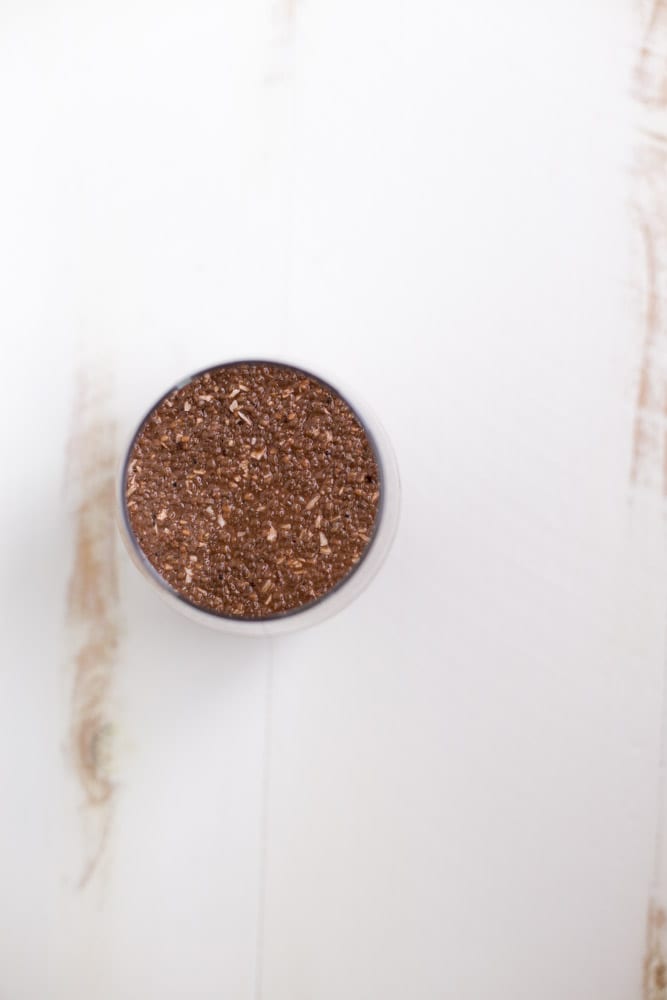 Did I mention that this pudding is EASY to make? It's as simple as whisking together the coconut milk, chia seeds, cacao, shredded coconut and maple syrup. After that, pour the mixture into glasses, ramekins or small bowls and refrigerate for 2-3 hours or until set. Then the Chocolate Coconut Chia Pudding is ready to enjoy.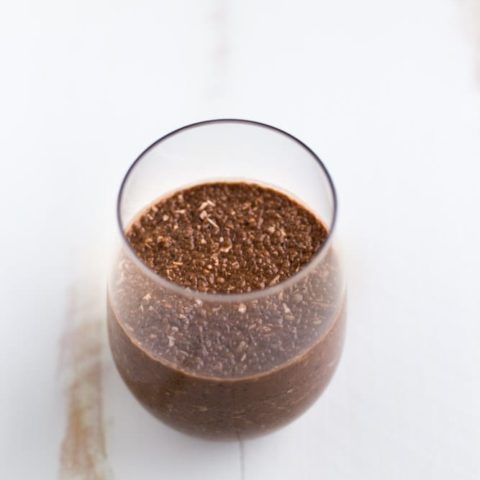 Chocolate Coconut Chia Pudding
Yield: 4-5 servings

Prep Time: 5 minutes

Total Time: 5 minutes
Ingredients
2 C unsweetened vanilla coconut milk (boxed variety)
1/2 C + 2 tbsp of chia seeds
3 tbsp cacao powder (you may use cocoa powder if you do not have cacao)
3 tbsp unsweetened shredded coconut
3-5 tbsp maple syrup (the amount used will depend on sweetness preference)
Instructions
In a large mixing bowl, whisk together the coconut milk, chia seeds, cacao powder and shredded coconut. Then gradually add the maple syrup, tasting after each 1-2 tbsp to test the sweetness. I used 3 tbsp. Once your desired sweetness is reached, give the mixture one more whisk and then pour into glasses, ramekins or small bowls.
Refrigerate for 2-3 hours or until set.
Nutrition Information:

Amount Per Serving: Calories: 269 Total Fat: 13g Saturated Fat: 5g Trans Fat: 0g Unsaturated Fat: 6g Cholesterol: 0mg Sodium: 14mg Carbohydrates: 30g Fiber: 15g Sugar: 12g Protein: 9g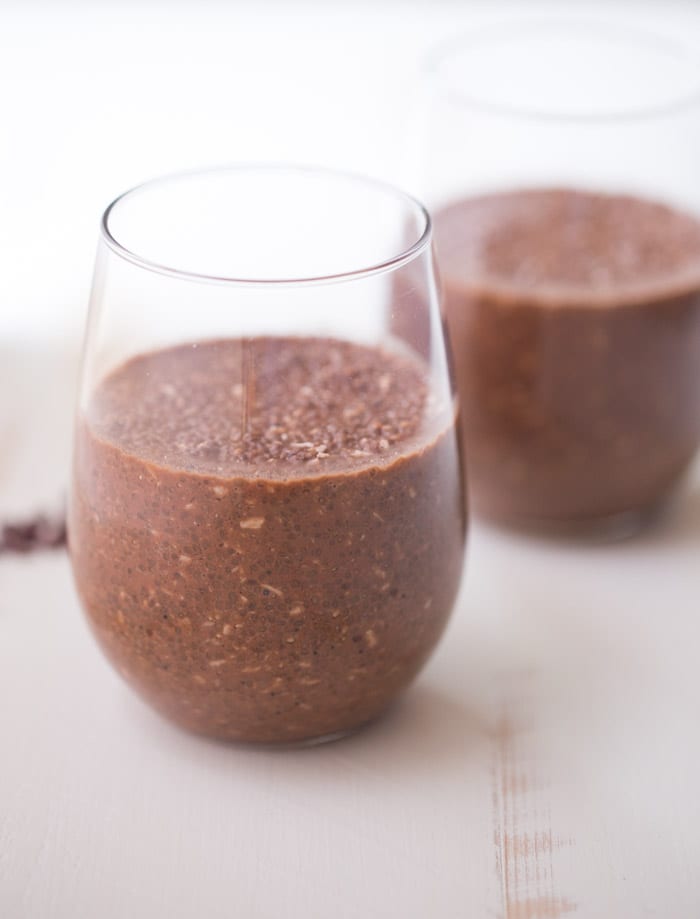 Let's be friends on INSTAGRAM, FACEBOOK, TWITTER and PINTEREST!