Garlic Parmesan Herb Zucchini
Today we're talking about this delicious and healthy Garlic Parmesan Herb Zucchini.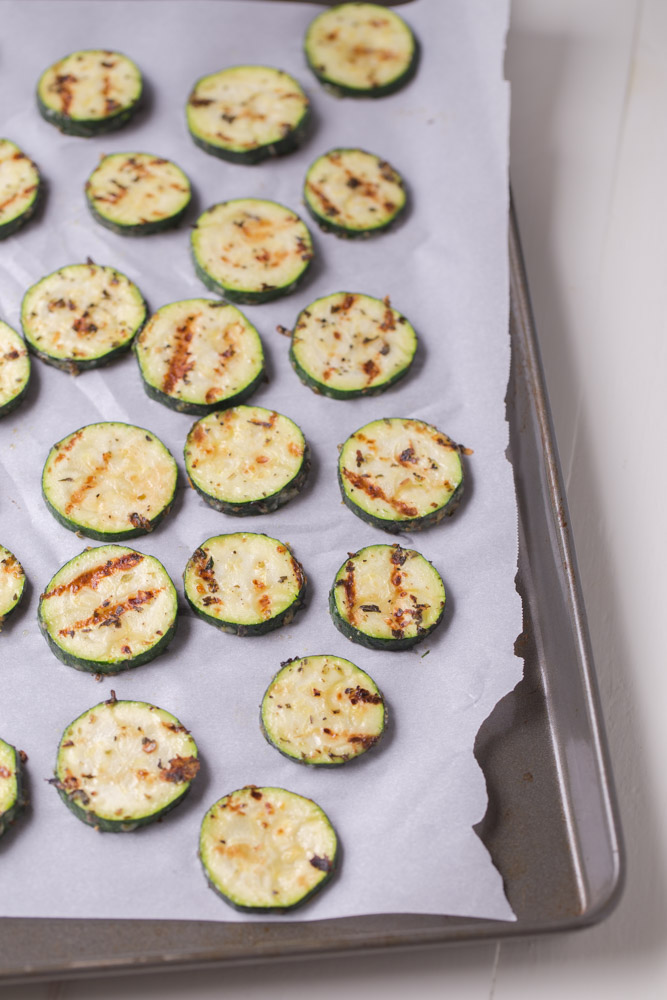 This Garlic Parmesan Herb Zucchini is a great healthy side dish option that is ready to serve in only 15 minutes. Fresh sliced zucchini is tossed with flavorful herbs, garlic powder, freshly grated parmesan cheese and olive oil. Then it's grilled on a stove-top grill pan until tender and delicious.
What's your favorite side dish?
My favorite side dish is macaroni and cheese. There. I said it. My favorite side dish is far from healthy but I absolutely love it. I always make it for special occasions and holidays. I always request it whenever it's a side dish option at a restaurant. Whenever Ken and I visit a BBQ j0int, I scour the side dish menu. If macaroni and cheese isn't listed, well then that BBQ place doesn't live up to my standards. Hello. Doesn't everyone in the world know that macaroni and cheese is a must have side dish with BBQ?
Although my love for macaroni and cheese is strong, I try not to make it too often because whenever I do make it, I eat a ton of it. I'll sneak spoonfuls of cold mac and cheese right from the refrigerator. No heating necessary when you're one of the world's biggest fans of mac n cheese. On the average day, I make healthy side dishes for Ken and I. Our favorites include baked or grilled sweet potatoes, roasted brussels sprouts, and grilled or sautéed zucchini.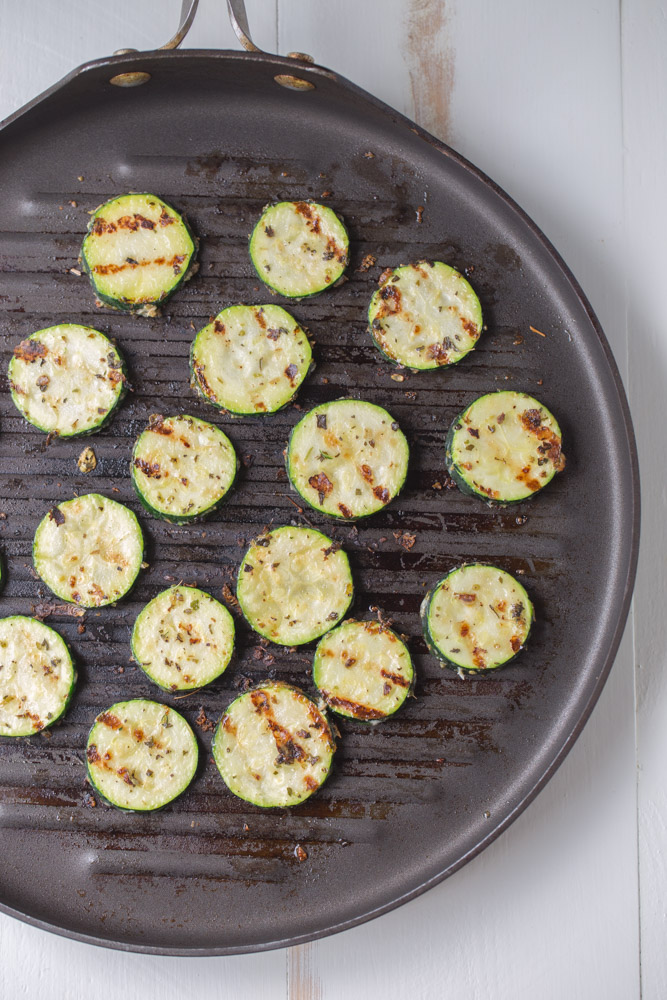 Garlic Parmesan Herb Zucchini
This zucchini boasts flavor to the max. The combination of dried basil, dried oregano, freshly grated parmesan cheese and a hint of salt and pepper boosts it over the moon in taste comparison to any other zucchini dish I've ever tried. I made it twice over the weekend, if that gives you an idea of how much I love it.
It's easy to make – all you need is a grill pan, a stove and about 5 minutes of your time for cooking purposes. You could cook the zucchini on a gas grill by using a non-stick shallow grill topper. We grill zucchini on the gas grill all the time but lately, due to the rain, I've been using my stovetop grill pan.
Serve this garlic parmesan herb zucchini as a side dish to any weeknight or weekend meal. Serve it as a healthier side dish option during your favorite holiday dinner. This one will be making it to Thanksgiving dinner this year. So will macaroni and cheese. ♥︎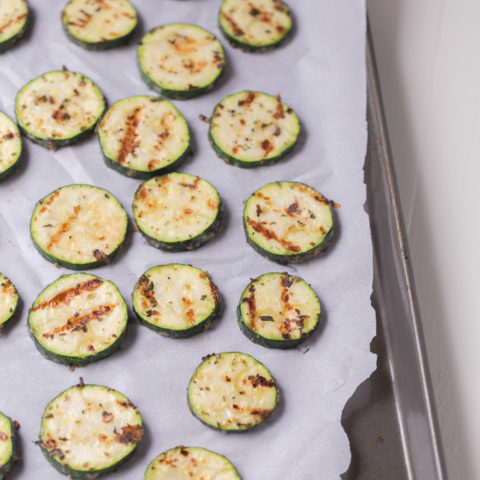 Garlic Parmesan Herb Zucchini
Yield: 4 C

Prep Time: 10 minutes

Cook Time: 5 minutes

Total Time: 15 minutes
Ingredients
1 lb zucchini (about 2 medium), sliced 1/4 inch thick
1 tsp Dried oregano
1 tsp Dried basil
1/2 tsp Garlic powder
1/4 C grated parmesan cheese
1 tbsp extra virgin olive oil
1/2 tsp each Kosher salt and pepper
Instructions
Heat a grill pan over medium heat.
In a mixing bowl, toss together zucchini, oregano, basil, garlic powder, parmesan cheese and salt and pepper. Drizzle with olive oil and toss to coat.
Place the zucchini on the grill pan and cook 2-3 min per side. Cook in batches, if needed.
Remove from the pan and place in a serving bowl for serving.
Nutrition Information:

Amount Per Serving: Calories: 83 Total Fat: 6g Saturated Fat: 2g Trans Fat: 0g Unsaturated Fat: 4g Cholesterol: 5mg Sodium: 118mg Carbohydrates: 5g Fiber: 1g Sugar: 0g Protein: 5g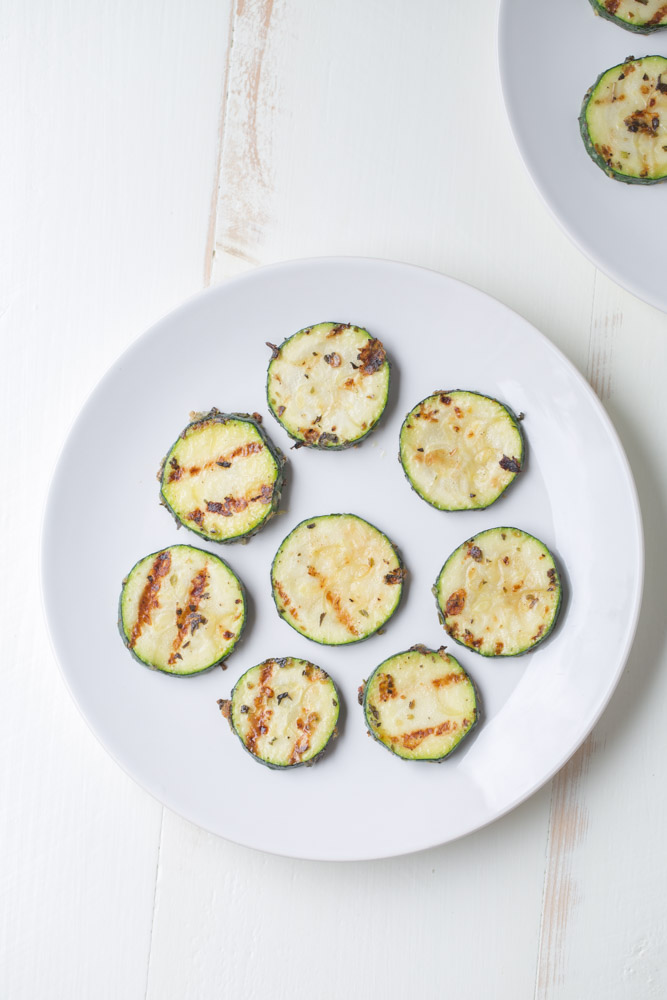 RELATED POSTS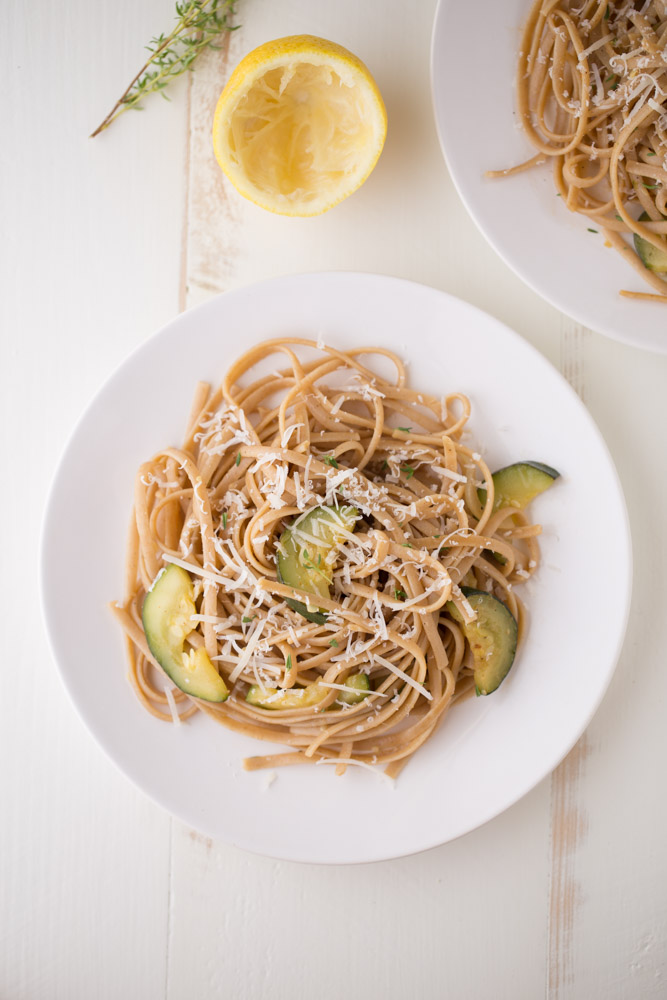 Let's be friends on INSTAGRAM, FACEBOOK, TWITTER and PINTEREST!