Peanut Butter Frozen Yogurt
Just in time for the Fourth of July, this cool and refreshing Peanut Butter Frozen Yogurt is the perfect healthy treat for your get together!

Who doesn't love peanut butter? I for one am a huge fan. I can eat it by the spoonfuls right out of the container. And I often do.
Recently I had been pondering making my very own batch of ice cream or frozen yogurt. I opted for frozen yogurt. It's a little healthier than ice cream. Don't get me wrong, ice cream still triumphs frozen yogurt but if you want a delicious, healthier snack, frozen yogurt is definitely a great choice.
This peanut butter frozen yogurt is pretty simple to make. Just 5 simple ingredients combined, loaded into your ice cream maker and churned for barely 20 minutes provides you with a creamy treat that won't make you feel guilty for eating it. If you don't have an ice cream maker, just pour the peanut butter frozen yogurt mixture into an air tight container, cover and place in your freezer for a few hours.
Now I'm somewhat picky about what goes into my ice cream. While I love chocolate chips, I feel that they can be a little overpowering in ice cream. I opted to top my fro-yo with chocolate chips but you can definitely add them to your batch during the last 5-10 minutes of churning.
What kind of goodies do you like to add to your ice cream and frozen yogurt?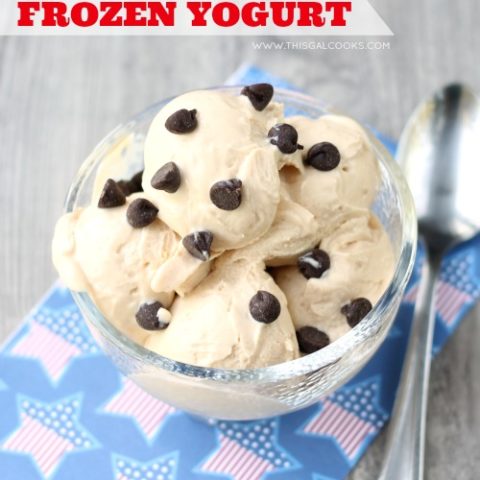 Peanut Butter Frozen Yogurt
Yield: 3 Cups

Prep Time: 5 minutes

Cook Time: 20 minutes

Total Time: 25 minutes
Ingredients
2 C Greek yogurt (I used Chobani 0%)
3/4 C creamy peanut butter
1/2 tsp vanilla extract
1/4 C milk
1/2 C granulated sugar
Chocolate chips for topping (or mixing in, if you prefer)
Instructions
Mix together the yogurt, milk, sugar, vanilla extract and peanut butter until everything is combined well.
Cover and refrigerate for about 1/2 hour.
Pour the mixture into the bowl of your ice cream maker. Churn for about 20 minutes or until the mixture freezes well.
Place the frozen yogurt into an air tight container and store in your freezer. This frozen yogurt is pretty firm so you will have to let it thaw a little before serving once you place it in the freezer.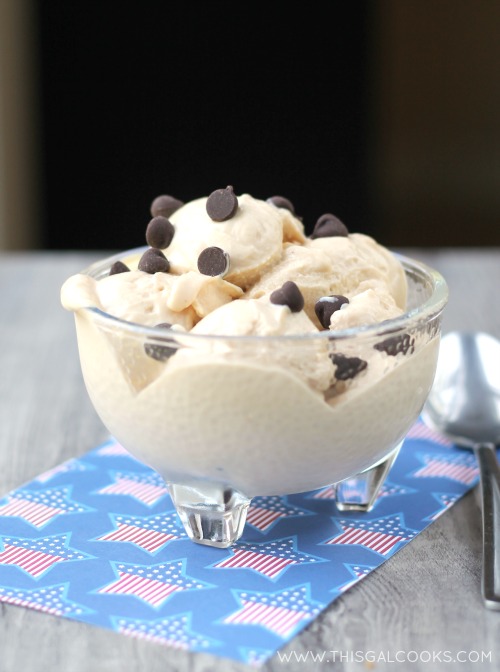 More peanut butter recipes from This Gal Cooks