Stir Fry Vegetable Lo Mein
Even if you aren't a vegetarian you're going to love this Stir Fry Vegetable Lo Mein!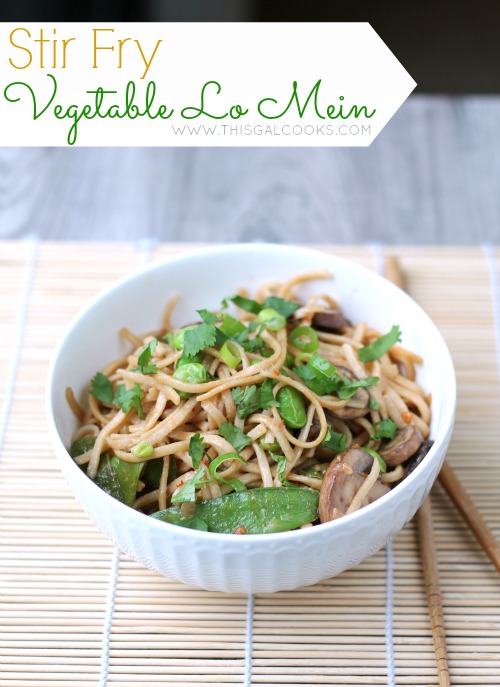 Sometimes I go through phases where I want to eat little to no meat. I'm sort of going through one of those phases right now. Poultry and seafood are ok this time but red meat and pork are something I just don't want right now. Now that could all change the minute a juicy burger is put in front of me but for now, the meals I cook at home are either vegetarian or full of chicken or seafood.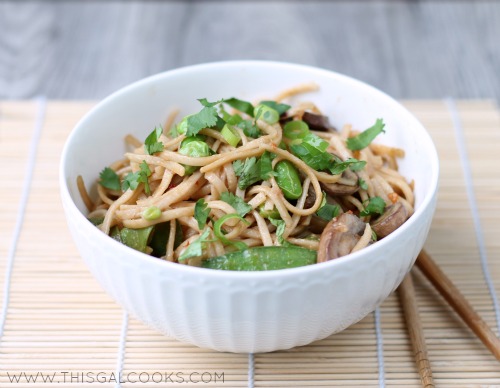 I'm quite the sucker for Chinese food. Lo Mein, steamed dumplings (yes, I'd probably jump all over some pork steamed dumplings if they were in front of me too) vegetable fried rice, chicken with broccoli and crab rangoon are some of my favorite Americanized Chinese dishes. Chinese food is pretty simple to make. I've made quite a few Chinese dishes ranging from fried rice to crab rangoon. And you can too!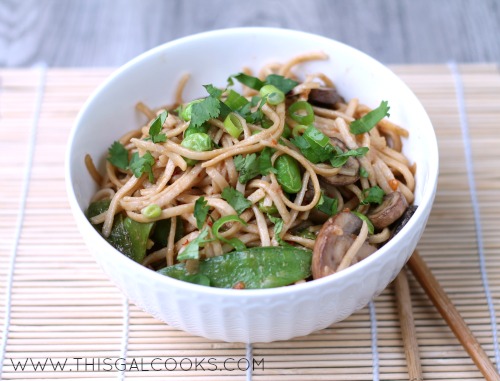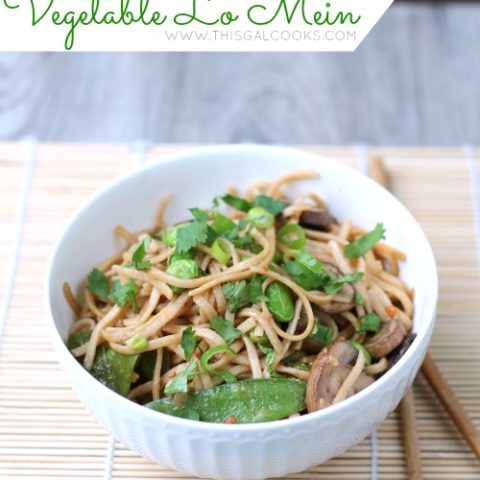 Stir Fry Vegetable Lo Mein
Yield: 4-6 servings

Prep Time: 10 minutes

Cook Time: 15 minutes

Total Time: 25 minutes
Ingredients
12 oz lo mein noodles
8 oz sliced, fresh mushrooms
1 C fresh snow peas
1/2 C edamama
2 tbsp peanut oil
1 C red onion, chopped
Chopped fresh cilantro for garnishing
Sliced green onion for garnishing
For the Sauce:
4 tbsp soy sauce
2 tbsp peanut butter
1 tbsp honey
2 tsp sesame oil
1 clove garlic, minced
1 tbsp chili garlic sauce
2 tsp rice vinegar
1/2 tsp fresh ginger, minced
Instructions
Cook the noodles until tender. Drain and set aside.
Meanwhile, prepare the sauce (source). Whisk together the soy sauce, peanut butter, honey, sesame oil, garlic, chili garlic sauce, rice vinegar and fresh ginger. Set aside.
Heat the peanut oil over medium high in a large pan. Add the onion, mushroom, sugar snap peas and saute until tender.
Reduce the heat and add the noodles. Gradually stir in the sauce.
Stir in the edamama.
Top each serving with fresh chopped cilantro and green onion.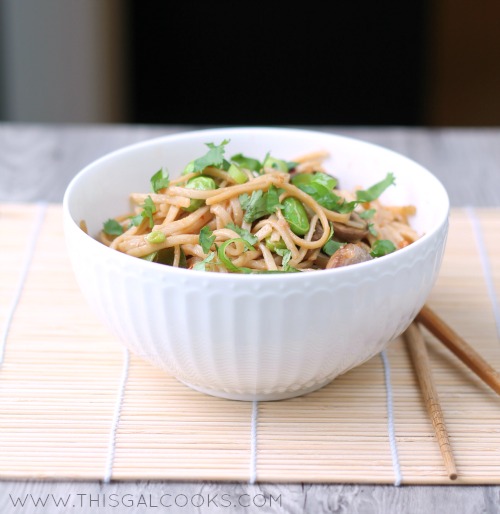 See how easy that was to make? What are some of your favorite Chinese dishes to cook and/or eat?
More recipes from This Gal Cooks that you may enjoy: