Best Ever Banana Pudding Pie
Let's all stop what we're doing and eat some Banana Pudding Pie.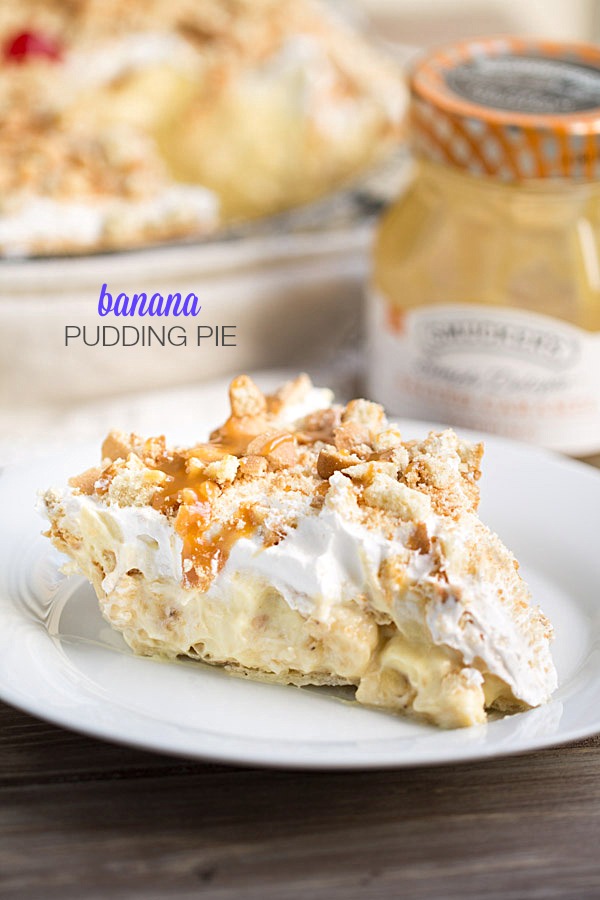 I know I say this a lot but seriously, this pie, it's pretty freaking amazing.
I took one of my favorite childhood desserts and made it into a pie. A flaky pie crust is filled with a mixture of vanilla pudding, Cool Whip, vanilla wafers and sliced bananas. I topped it all off with more Cool Whip, crushed vanilla wafers and salted caramel sauce.
I'll give you a minute to swoon.
Oh, need another minute to clean up that drool? Take your time.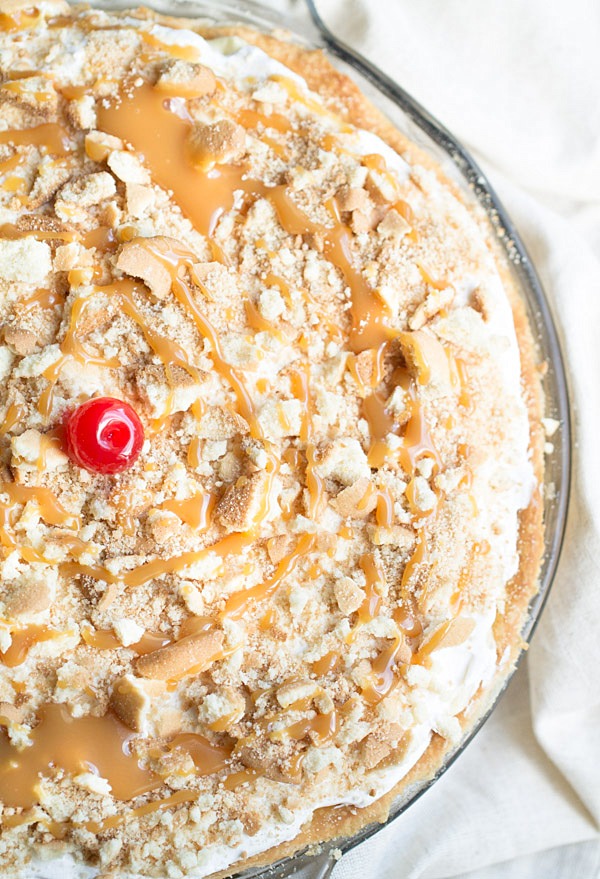 After sharing some of this Cookies and Cream Chocolate Pudding Pie with co-workers, and ultimately regretting it after eating the last slice, I decided to be selfish with this Banana Pudding Pie. Ken and I devoured this pie within three days of me making it. We kept it all to ourselves.
Luckily, this pie is super easy to make so making another one really won't take up too much time. It's basically ready to devour in under 30 minutes. You probably have some of the ingredients on hand or can easily pick them up on your way home from insert activity here.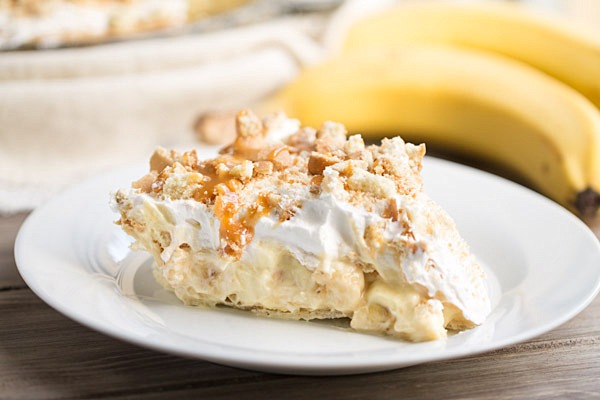 This is another non-made-from-scratch homemade pie. I made it at home but I used prepackaged ingredients. If you turn your nose up to that, well then this pie isn't for you. BUT, the bananas are fresh, so there's that. If you're a pro at making from scratch pudding and pie crusts, you could always go that route. If you do, be sure to let me know how it turns out.
Ya know, sometimes I feel like one of those food snob people that shuns prepackaged foods. Because sometimes I'm like ewww gross. But other times, I'm like meh. If you're like meh when it comes to recipes made with prepackaged ingredients, you may like these Chocolate Pudding Pies in Jars or these Mini Chocolate Bundt Cakes with Coffee Glaze.
If you're like ewww gross to recipes made with prepackaged ingredients, you may like these Chocolate Coconut Pudding Cakes or these Nutella Stuffed Peanut Butter Cookies.
For those who love all things sweet, prepackaged or not, I hope you enjoy the recipe.
Banana Pudding Pie
Print
Best Ever Banana Pudding Pie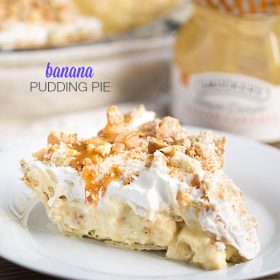 Author:
Prep Time: 20 mins
Total Time: 20 mins
Yield: 8
Category: dessert
Ingredients
1 9 pinch pie crust, prepped, baked and cooled
2 C chopped vanilla wafers
2 small bananas
1 8oz tub Cool Whip, divided
1 1/2 C milk
1 5.1oz box instant vanilla pudding
juice from one lemon
Caramel sauce for drizzling
Instructions
Slice the bananas into thin slices and then toss with the lemon juice. The lemon juice will prevent them from turning brown as fast as they normally would.
Prepare the filling. Whisk together the 1 1/2 C milk and pudding mix. Mix in half of the cool whip. Mix in 1 C of the vanilla wafers and then the bananas. Scrape into the cooled crust. Refrigerate for 10-15 minutes or until set.
Top with the remaining Cool Whip, using a rubber spatula. Sprinkle with the remaining vanilla wafers and then drizzle with the caramel sauce.