S'mores Peanut Butter Chocolate Pudding Pie
Let's take a moment to devour a slice of this S'mores Peanut Butter Chocolate Pudding Pie.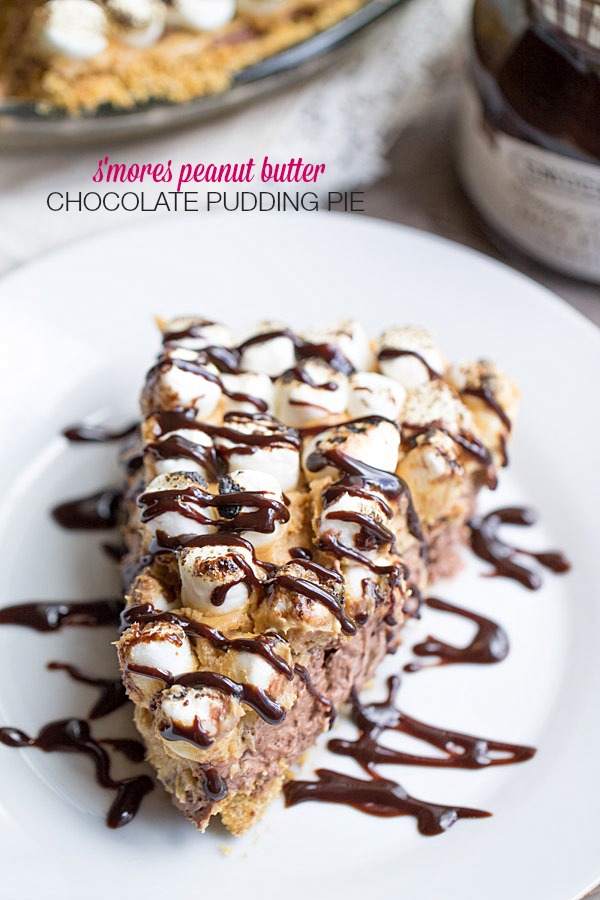 Yep, there's peanut butter in there, along with chunks of chocolate, toasted marshmallows and fudge drizzle.
And it's no bake. Do I have your attention now?
Let me tell you about my weekend.
I had a meltdown this weekend.
As in my A/C broke Friday night and I felt like I was going to melt away into a huge puddle of sweat. Despite the ginormous fan that blasted air into our room that night, the night was filled with disturbed sleep, humid air and sticky skin.
Luckily, an A/C repairman was at our house by 10 Saturday morning so our suffering didn't last long.
Air conditioners in Florida ALWAYS go out in the midst of Summer, typically on a hot evening in the middle of July or August. The particular day of the week typically falls on the weekend, which results in the homeowner frantically searching for a repair company that is open during the weekend. Thank cheesus we had our choice at a number of repair companies that provide services during the weekend hours. And to top it all off with a cherry, which always makes things better, our A/C is still under warranty so it cost us a measly $89 to repair our A/C. WIN!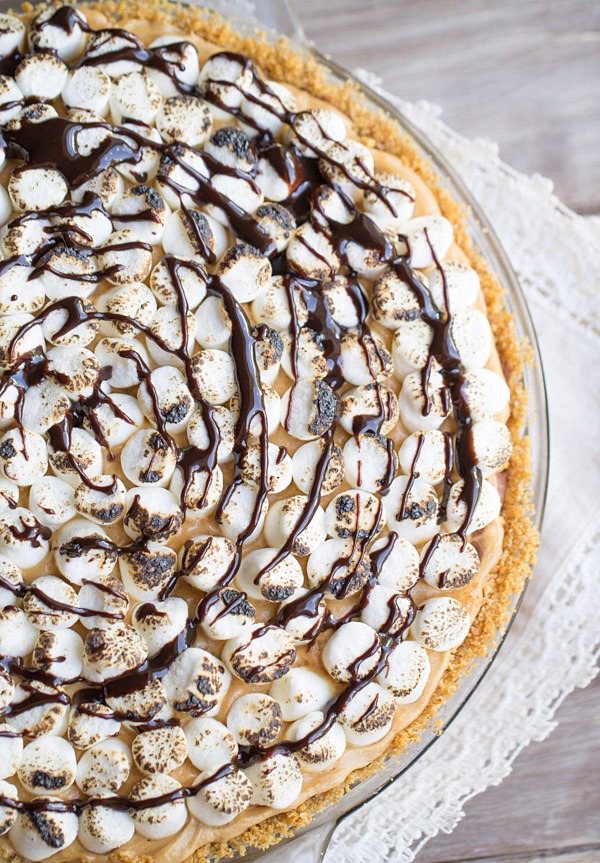 Speaking of meltdowns, my oven makes me feel like I'm going to have a meltdown. I've been trying to use it as little as possible lately, but it hasn't totally been neglected. However, it was neglected when it came to this S'mores Peanut Butter Chocolate Pudding Pie. No oven required if you purchase a pre-made pie crust or make your graham cracker crust using the throw it in the fridge to firm it up method.
This is another pie made with boxed pudding. I think I'm having too much fun with boxed pudding. It's easy to use. It aids in whipping up quick recipes. It's cheap. It tastes good. If you missed this Cookies and Cream Chocolate Pudding Pie or this Best Ever Banana Pudding Pie, you totally need to check them out. Drooling may proceed so you may want to have a napkin handy.
The graham cracker crust of this pie is filled with a chocolate pudding, Cool Whip and chopped Hershey bar filling. It's topped with a layer of peanut butter Cool Whip and then topped with mini marshmallows. I toasted the marshmallows with a torch and then drizzled them with hot fudge sauce.
Can you say swoon-worthy?
S'mores Peanut Butter Chocolate Pudding Pie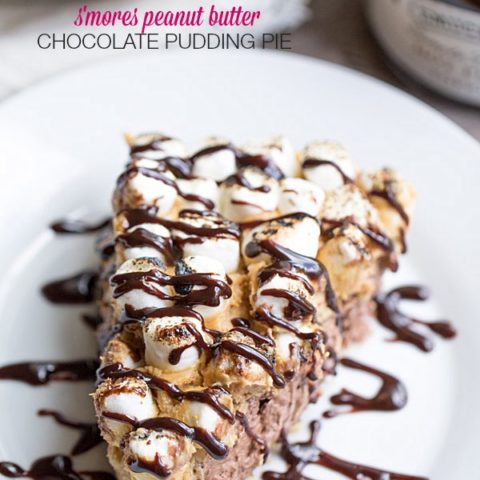 S'mores Peanut Butter Chocolate Pudding Pie
Yield: 8

Prep Time: 25 minutes

Total Time: 25 minutes
Ingredients
1 prepared 9 inch graham cracker crust
1 5.9oz package of instant chocolate pudding
1 8oz tub of Cool Whip
1 1/2 C milk
1 C chopped Hershey bars (about 3 1.55oz bars)
1/2 bag mini marshmallows
1/2 C peanut butter
2 tbsp powdered sugar
hot fudge sauce for drizzling
Instructions
Whisk together the pudding and the milk. Mix in half of the Cool Whip and then mix in the chopped Hershey bars. Scrape into the pie crust and then smooth evenly. Refrigerate for 20 minutes or until firm.
Meanwhile, whisk together the peanut butter, remaining Cool Whip and powdered sugar. Once the pie is firm, spread over the top of the pie. Top with mini marshmallows in a circular pattern, starting from the outer edge of the pie. Repeat the process until the entire top of the pie is covered in marshmallows. Toast the marshmallows with a torch. A creme brûlée torch will work perfect.
Drizzle the marshmallows with the hot fudge sauce.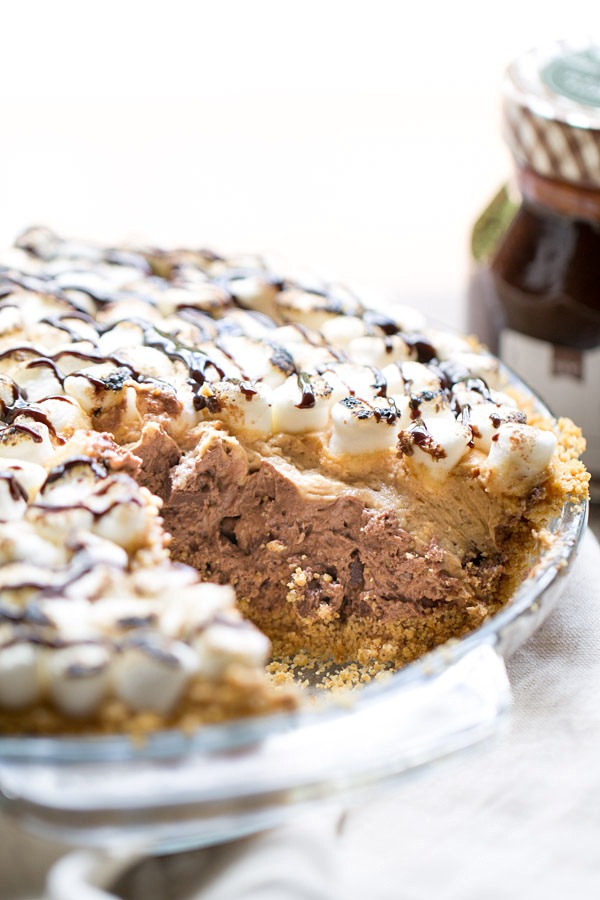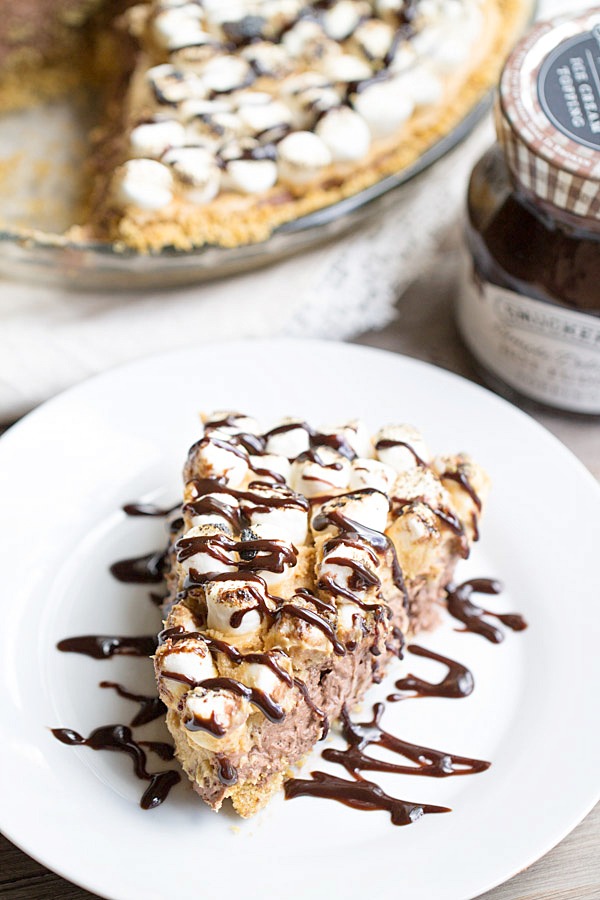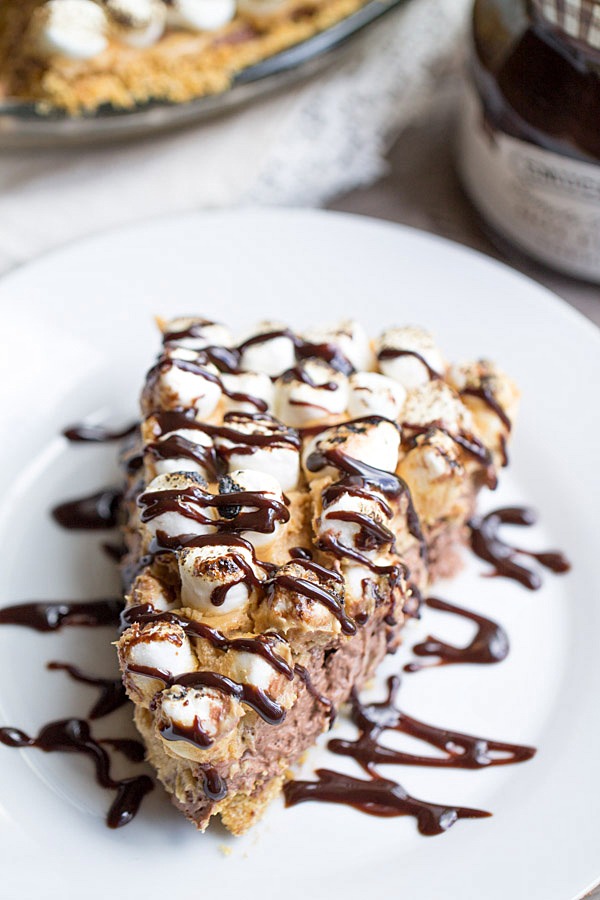 Check out these S'mores treats from other fabulous bloggers
Peanut Butter S'mores Cups by Blahnik Baker
No Bake S'mores Granola Bars by Spoonful of Flavor
S'mores Crepes by House of Yumm