Strawberry Peach Smoothie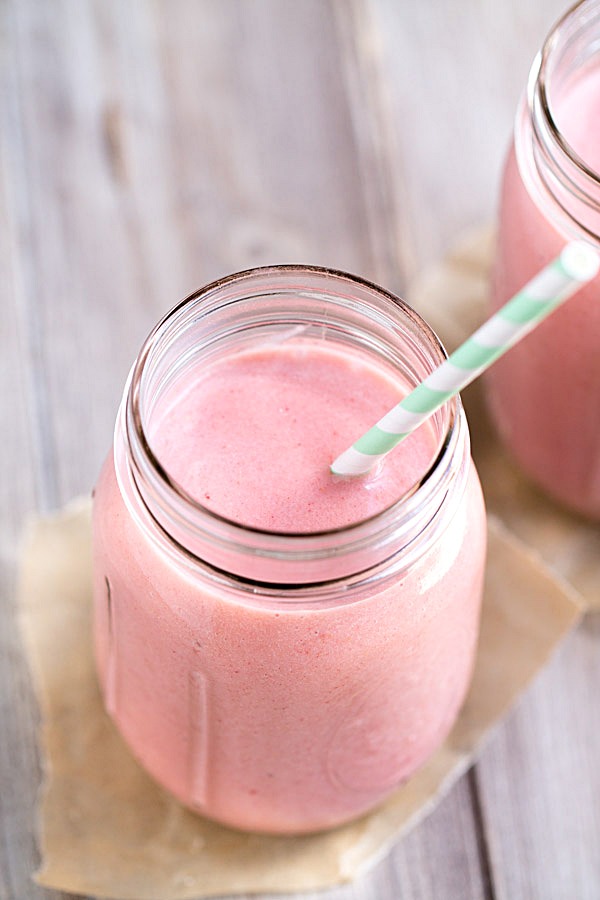 I'm dreaming of cool drinks, drier air, mountains and tons of great food.
All of those things I'm dreaming of will become reality once I start vacation next week.
Great food and cool drinks happen often in Florida. But dry air is a treat whenever it decides to grace us with its presence. The only mountains you'll find in Florida are the grand landfill mountains. If you've ever driven on I-95 or the Florida Turnpike in south Florida, you know exactly which mountains I speak of.
Speaking of mountains, it's been 12 years since I last saw real mountains. The last mountains I saw were the same mountains I will see again next week. Las Vegas mountains, here I come.
I won't actually be going to the mountains. But I will be able to see them. If you've never been to Vegas before, I'll let you in on a little secret: the city is surrounded by mountains. Even though the mountains are off in the distance, they can be seen from just about any high floor hotel, if not all of them. First mission of the trip: requesting a mountain view room once we check into the hotel.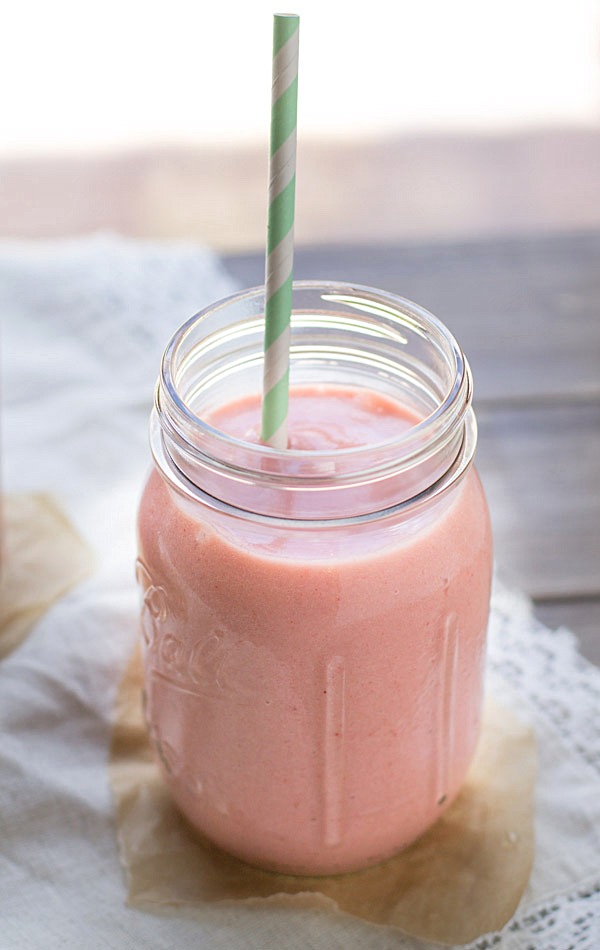 Strawberry Peach Smoothie
All of this talk of the land of heat and dry air has me craving an ice cold, fruity drink. This Strawberry Peach Smoothie would hit the spot. If I wanted to be a little daring, I could even add a splash of rum or vodka to the mix.
Coconut milk makes this smoothie dairy free but if you love the almonds, or don't have the coconut milk, you can still achieve the level of dairy free smoothie master by using almond milk. If you're a dairy milkaholoic, go ahead, use up that dairy milk that's sitting on the top shelf of your fridge.
Frozen fruits work best in this smoothie. They'll keep your smoothie cold without having to add ice. I added a frozen banana into the mix to kick up the creamy-ness factor. Cause who doesn't love a creamy smoothie?
Adjust the liquids to alter the smoothie thickness to suit your preference. For a thinner smoothie, you can increase either the water or the coconut milk. Give it a splash of extra coconut milk if you want to boost the coconut flavor. If you're more of the mellow type and don't want your smoothie bursting with coconut flavor, just add more water. Whatever you choose to do, I hope you enjoy the recipe.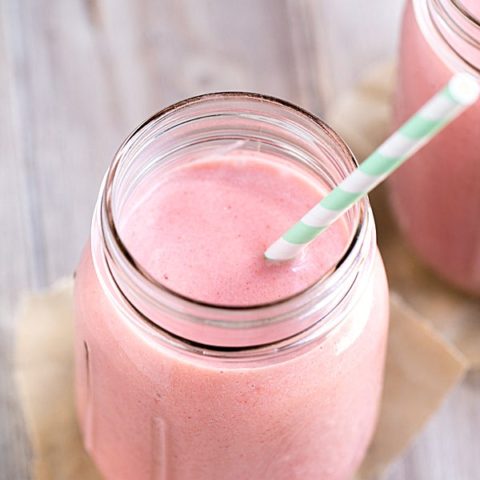 Strawberry Peach Smoothie
Yield: 2

Prep Time: 5 minutes

Total Time: 5 minutes
Ingredients
2 C frozen strawberries
1 1/2 C frozen peaches
1/2 frozen banana, peeled
1-2 tbsp maple syrup
1 C coconut milk
1/2 C water
Instructions
Place all ingredients into a blender. Pulse a few times and then blend on medium speed until smooth, about 1 minute.
Notes
subbing the coconut milk with another type of milk will alter the nutrition content.
Nutrition Information:

Amount Per Serving: Calories: 390 Total Fat: 21g Sodium: 37mg Carbohydrates: 52g Sugar: 35g Protein: 4g