Best Ever Fresh Peach Buckle
Grab a spoon, a scoop of vanilla ice cream and a big ole glass of iced tea. It's Best Ever Fresh Peach Buckle time!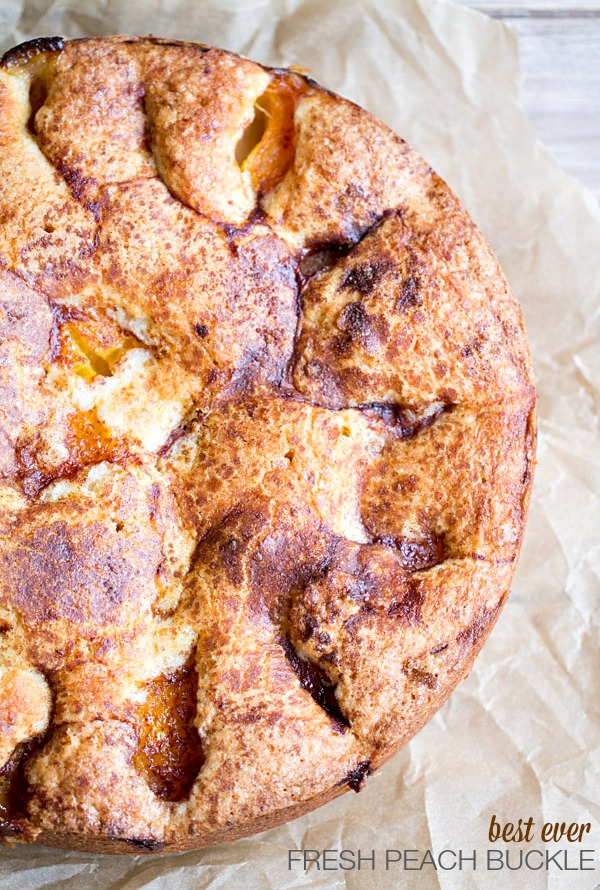 Somehow, four pounds of peaches made it into my grocery cart a few weeks ago. Those peaches came home with me. Some were used in this peach buckle recipe. Some found a new home in my freezer. Because let me tell you, four pounds of peaches is A LOT of peaches.
A while back, I was flipping through the pages of the Williams Sonoma Baking Book and stumbled upon a recipe for a Plum Buckle. Interesting, I thought to myself. I'd never seen a recipe for a plum buckle. Instead, all of the buckle recipes I'd stumbled upon previously involved blueberries. Plums have never been on the list of Fruits Julie Loves, so plums were totally out of the question. But the recipe was not. Fast forward a few weeks and I have four pounds of peaches that need to be used. A little voice inside my head softly said plum buckle. Then that voice shouted PEACH BUCKLE! And this gal went to work making one of the best buckles she's ever tasted in her life.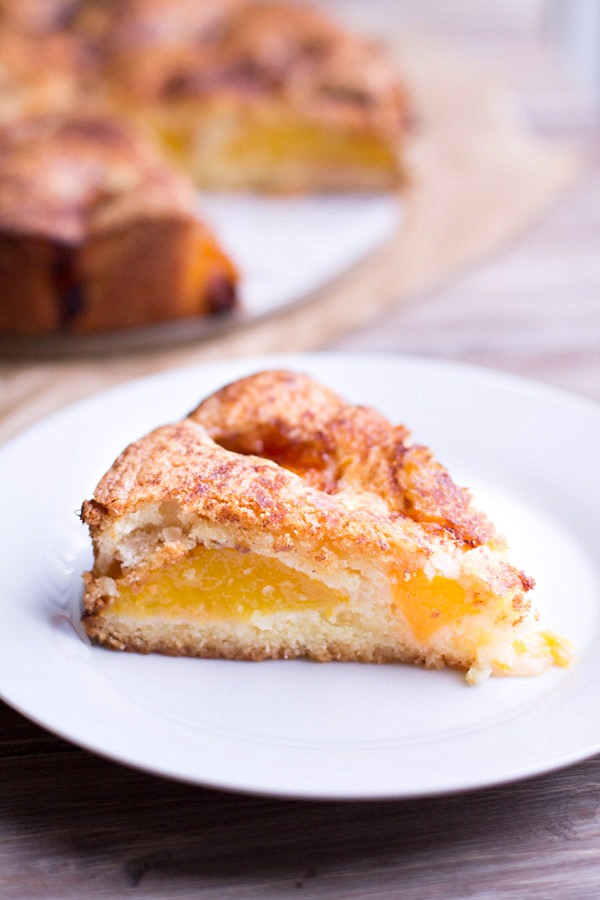 The B-E-S-T way to enjoy this Best Ever Fresh Peach Buckle is to slightly warm a slice and then plop a scoop of vanilla bean ice cream right on top.  No joke, this buckle tastes almost exactly like peach cobbler. My little motto for this buckle is all the taste of peach cobbler without the mess. Cause we all know that peach cobbler can be a little messy, right?
I suggest using fresh peaches for this buckle. After all, it is a fresh peach buckle. I found a great peach peeling tutorial on the Williams Sonoma website. You can view it here. Use this method and you'll never again have a hassle with peeling peaches.
Best Ever Fresh Peach Buckle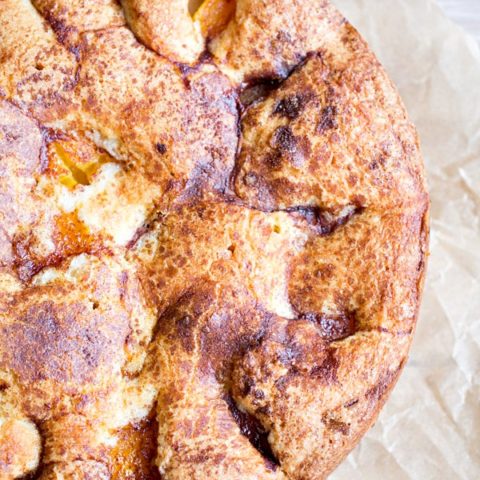 Best Ever Fresh Peach Buckle
Yield: 8

Prep Time: 15 minutes

Cook Time: 55 minutes

Total Time: 1 hour 10 minutes
Ingredients
1 1/2 C all purpose flour
1 tsp baking powder
1/4 tsp salt
1 C unsalted butter, room temp
1 C granulated sugar
2 large eggs
1 tsp ground cinnamon
1 tbsp brown sugar
Instructions
Preheat your oven to 350
Line the bottom of a 9 inch springform pan with parchment paper. Spray the parchment paper and the sides of the pan with cooking spray and wipe away any excess.
In a mixing bowl, whisk together the flour, baking powder and salt. In the bowl of a stand mixer, beat together the butter and granulated sugar, until smooth. Beat in the eggs, one at a time. Add the flour mixture and beat on low until smooth.
Scrape the batter into the springform pan and carefully distribute evenly. Poke the peach slices into the batter.I went around the edges in a circular pattern and continued this until the entire top of the buckle had peaches.
Whisk together the cinnamon and brown sugar. Sprinkle over top of the buckle.
Bake at 350 for 50-60 minutes. If the top starts to brown too much during the baking process, cover with aluminum foil. Allow to cool for 30 minutes before serving.
Notes
Adapted from Williams Sonoma Baking Book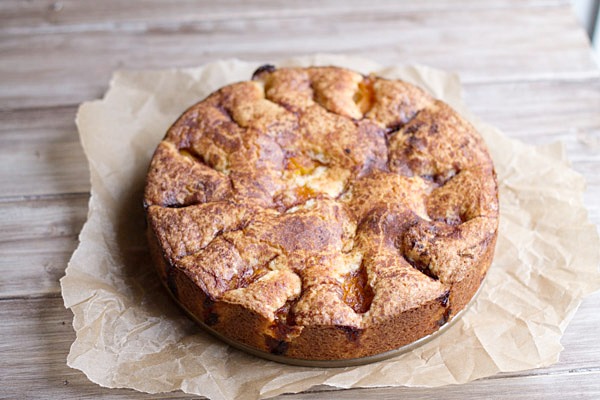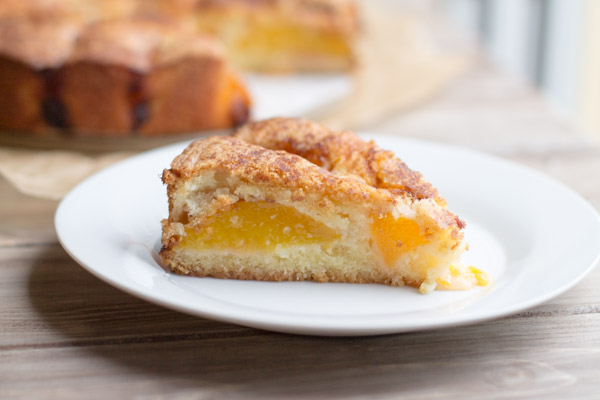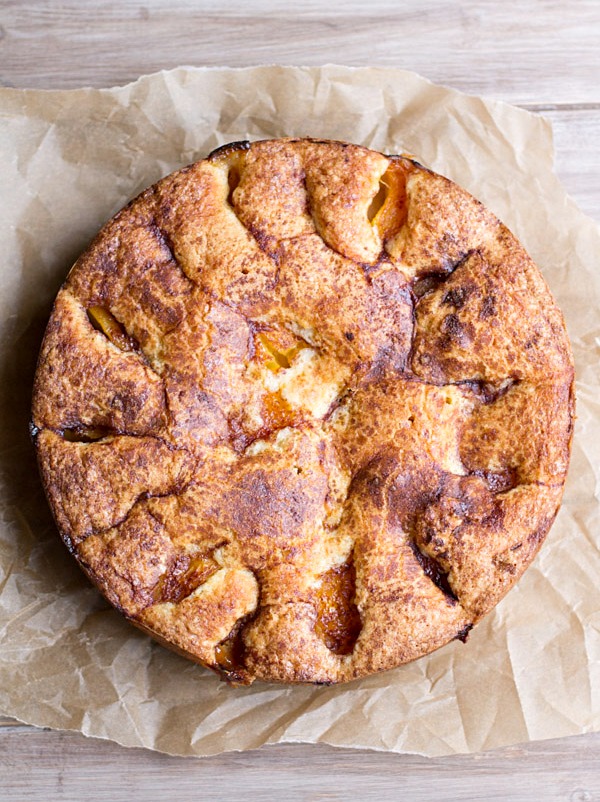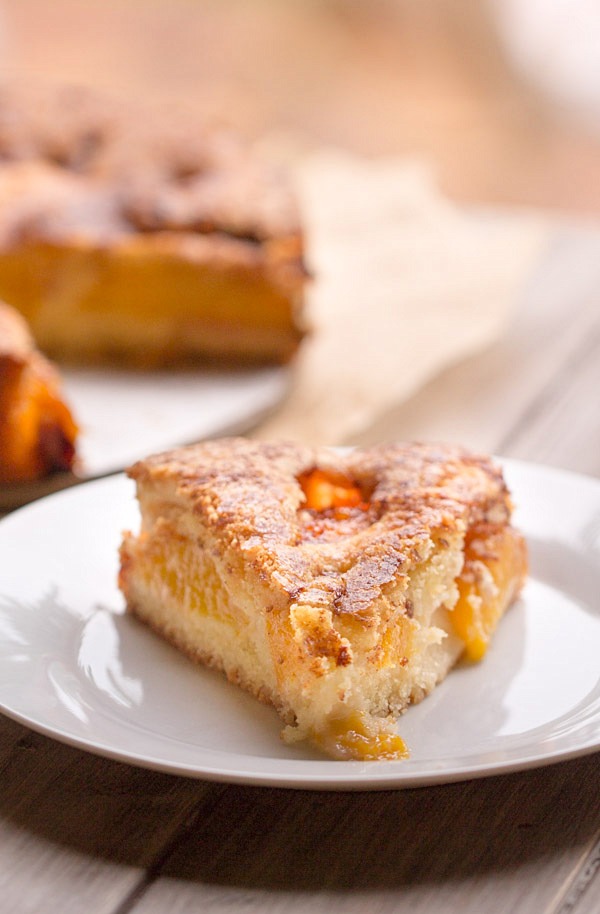 More Peach Recipes from Around the Web
Grilled Peaches with Whipped Mascarpone by Bites of Brie
Peach Blueberry Bourbon Cake by Blahnik Baker
Peach Raspberry Breakfast Cake by Spoonful of Flavor
More Peach Recipes from This Gal Cooks
Dairy Free Vanilla Peach Ice Cream