Fresh Fruit and Cream Tarts
Perfect for a hot summer day, your next gathering or just for the heck of it, these Dairy Free Fresh Fruit and Cream Tarts will put a smile on everyone's face!
Dairy Free Fresh Fruit and Cream Tarts
I love fresh berries. Strawberries are my favorite. The funny thing about that is that I used to hate strawberries.  When I was a kid I used to love them. Then one day I ate too many of them, got sick and associated getting sick with eating them. I didn't touch them again for many years. Then about 3 years ago, I started to grow fond of them again.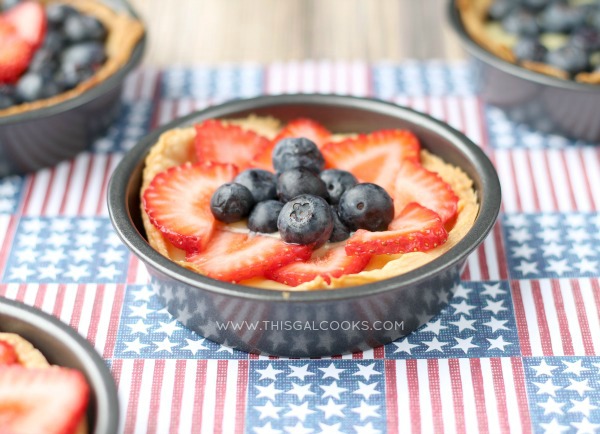 Now let me make it clear. My aversion to strawberries only included fresh strawberries. Jam, jelly, ice cream, glaze; those items were ok to eat. I know, I'm a weird one, aren't I?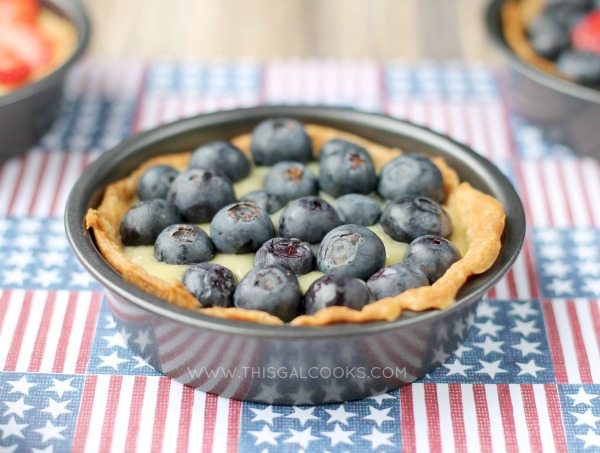 Blueberries are pretty good as well but I am kind of picky about them. I prefer cooked over raw but I do like them raw in salads. I haven't tried one of these tarts with the blueberries yet but I did try one topped with strawberries only. It was oh so good. Dairy free and oh so good! I'll admit, I was a little skeptical to make this type of recipe with coconut milk rather than dairy milk. I never made tarts before.  These were my first attempt. I was worried that the recipe wouldn't turn out well. The worries were over once I tasted the cream filling. Seriously, I was scraping the leftovers out of the bowl after I filled the tart cups. It was that good! I hope you enjoy this recipe!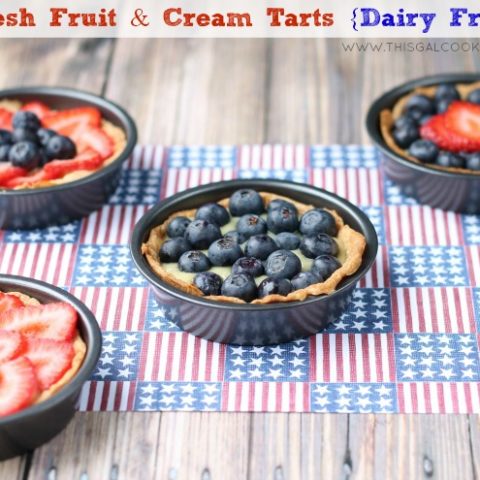 Fresh Fruit & Cream Tarts (Dairy Free)
Yield: 4 servings

Prep Time: 5 hours 15 minutes

Cook Time: 13 minutes

Total Time: 5 hours 28 minutes
Ingredients
1 refrigerated pie crust. I cheated and used store bought. Don't worry, it's a dairy free crust!
1/2 C granulated sugar
2 tbsp cornstarch
1 3/4 C coconut milk (full fat, canned)
2 egg yolks, beaten
1/2 tsp vanilla extract
Blueberries and sliced strawberries
Instructions
Mix together the cornstarch and sugar. Place in a medium saucepan. Turn on the heat to medium and gradually add the coconut milk, continuously stirring. Heat until thickened and bubbly and then cook for 2 more minutes.
Remove the pot from the heat and pour about 1 C of the mixture into the egg yolks. Whisk together and then add the egg/cream mixture back into the mixture in the pot. Bring to a slow boil and stir for 2 minutes.
Remove from the heat and add the vanilla. Mix well.
Pour the cream mixture into a glass bowl, cover and refrigerate for 4-5 hours.
When the cream mixture is about done chilling, roll out the pie crust and cut into 4 5 inch circles. I used a small bowl to do this. I was only able to cut out 3 so I took the dough left after cutting the circles, rolled it out and cut one more circle.
Place the dough circles into 4 inch mini tart pans.Poke holes in the bottom and side with a fork. Line each tart with aluminum foil and then place the tarts on a baking sheet. Bake at 450 for 8 minutes. Remove the foil and then bake for 5 more minutes or until the crust is golden.
Allow the crusts to cool to room temperature and then fill them with the cream filling. Top with fresh berries.
Notes
Adapted from Better Homes & Gardens New Cookbook, 1997.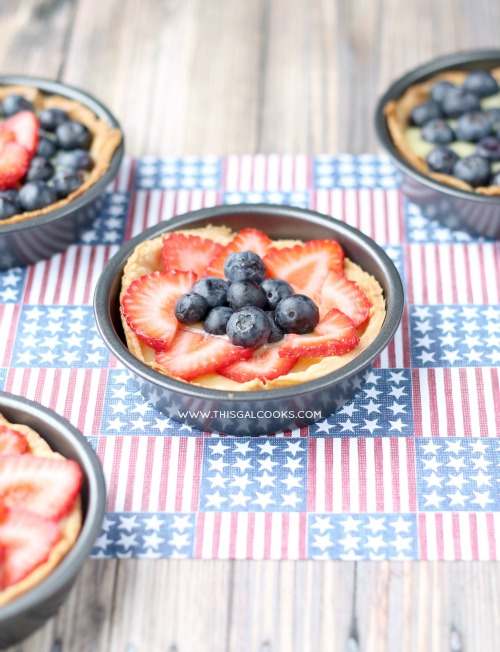 I often link up to these fabulous parties!