No Bake Cookie Butter Cream Pie
No Bake Cookie Butter Cream Pie: This creamy, full of cookie butter tasty pie is made dairy free by using coconut milk and vegan cream cheese.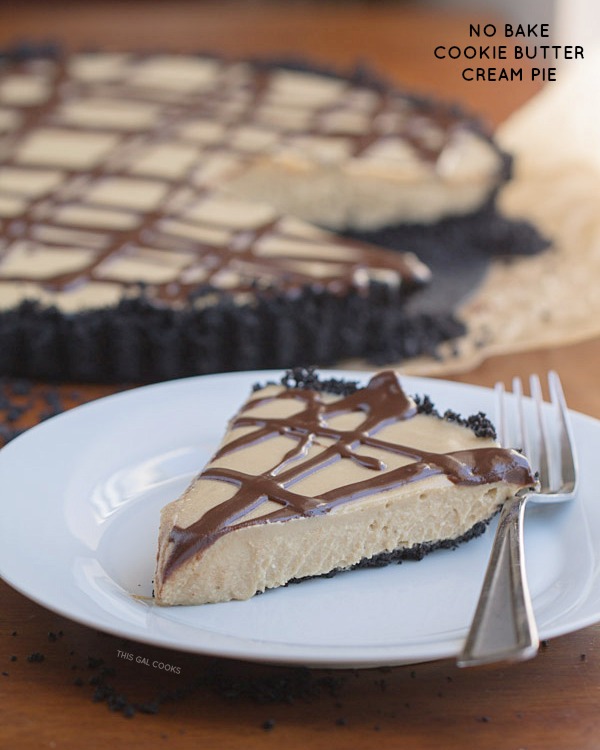 This pie is amazeballs.
No joke, it's freaking delicious and it's dairy free. Which means I can enjoy it without feeling like I'm going to explode after eating it. TMI? Maybe so. But my fellow lactose intolerant peeps know what I'm talking about, right?
Not only do I think this pie is totally scrumptious, the boyfriend has been enjoying it as well. It's man approved – man approved by the man who drinks milk and eats cheese with no icky consequences.
No Bake Cookie Butter Cream Pie
So how the heck did I make this dairy free? Well, I was browsing peanut butter pie recipes, cause I was initially going to make a dairy free peanut butter pie but then I realized I was out of peanut butter, and I stumbled across this Skinny Frozen Peanut Butter Pie by Sally's Baking Addiction. Instant droolification. Cause droolification is a word, right?
Anywho, I used Sally's recipe as a guideline for my pie. Here's what I did different: I used cookie butter instead of peanut butter. I subbed dairy milk with almond milk. I ditched the cool whip and opted for coconut whipped cream. I used vegan cream cheese instead of the Philly stuff. I made the crust with organic Newman's Own Chocolate Alphabet Cookies and Earth Balance vegan spread.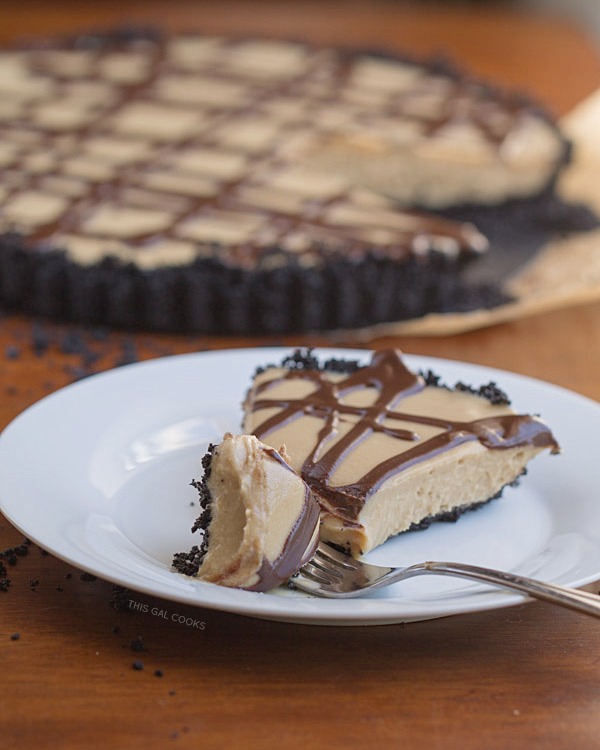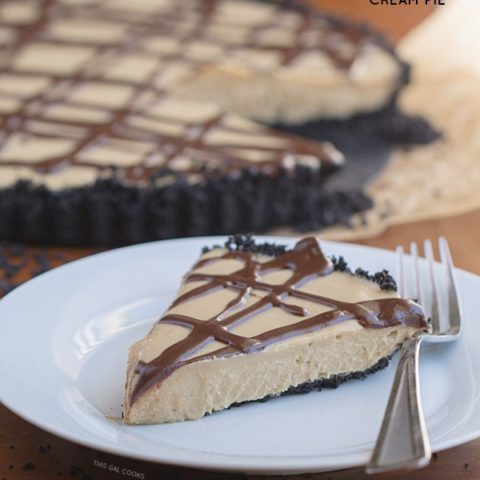 No Bake Cookie Butter Cream Pie
Yield: 8

Prep Time: 20 minutes

Cook Time: 2 hours

Total Time: 2 hours 20 minutes

No Bake Cookie Butter Cream Pie. This creamy, full of cookie butter, tasty pie is made dairy free by using coconut milk and vegan cream cheese.
Ingredients
For the crust
2 C dairy free chocolate cookies, crushed (I used Newman's Own Organic Alphabet Cookies)
2 tbsp Earth Balance vegan butter, melted
For the filling
3/4 C cookie butter (I used Biscoff - it's dairy free and vegan)
1 13oz can of coconut milk, refrigerated so the solids and liquids separate.
8oz of vegan cream cheese, softened
1/4 C vegan cream cheese, softened
1/2 C granulated sugar
1/2 C silk unsweetened vanilla almond milk
2 tbsp confectioners sugar
For the chocolate Sauce
1/2 C unsweetened vanilla almond milk
1/4 C semi sweet chocolate, chopped (plus more if your sauce doesn't get thick enough)
Instructions
Combine the crushed cookies and the Earth Balance. Mix until the cookies are moist. Press into a 10" tart pan and place in the freezer until ready to use.
Beat together the sugar, vegan cream cheese, cookie butter and almond milk. In another bowl, beat together the solids from the coconut milk, the confectioners sugar and the remaining 1/4 C of vegan cream cheese. Fold into the cookie butter mixture.
Remove the pie crust from the freezer and pour the cookie butter mixture into the crust. Carefully smooth with a rubber spatula.
Place in the freezer and freeze for 2-4 hours.
Meanwhile, make the chocolate sauce. Using the double boiler method, melt the chocolate over medium heat. Whisk in the remaining almond milk. Add more chocolate if your sauce isn't thick enough and whisk until smooth. Remove from the heat and allow to slightly cool. Drizzle over the finished pie.
To serve the pie, allow to sit out for a few minutes to soften. Or enjoy it like an ice cream pie - eat it right out of the freezer!
Store any leftover pie in the freezer.