Baked Peaches with Cherries and Pecans
Today we're talking about these juicy Baked Peaches.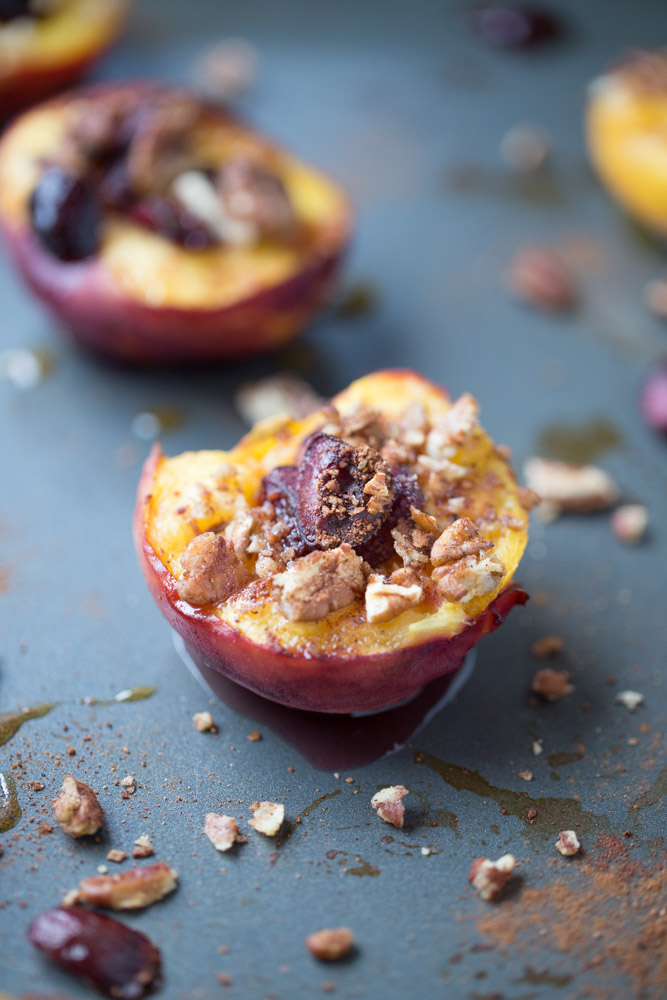 They're baked with sweet cherries, pecans, cinnamon, nutmeg and honey. They're a great healthier option for dessert, clocking in at under 100 calories per serving!
I'm one of those people who prefers most fruits cooked. Strawberries, pineapples, cherries and melons are typically the only fruits I'll eat raw. Peaches. Nope, I don't really like to eat them raw. I think it's because of the texture of the peel. But bake them, grill them or make a cobbler with them and I'll gobble them up.
Lately I've been dying to get my hands on some peaches. They aren't in season here so they are pretty scarce. I did stumble across some a few weeks ago at a produce stand but they were so tiny it was laughable. Last Thursday I was browsing the sales ad for the grocery store and OMG PEACHES. Peaches, listed right there in the produce section of the sales ad! This means the store will have a bin loaded with peaches. The grocery store I shop at strives to keep the shelves stocked with items they have on sale. Hooray for Publix! I bought some peaches on Saturday and then made these baked peaches yesterday.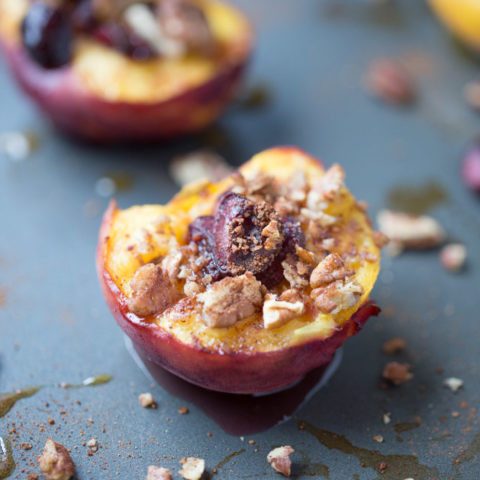 Baked Peaches with Cherries and Pecans
Yield: 8 servings

Prep Time: 10 minutes

Cook Time: 20 minutes

Total Time: 30 minutes

These delicious baked peaches are baked with sweet cherries, pecans, cinnamon and nutmeg and honey. Then they're topped with baked brie cheese. SO good and a healthier option for dessert, too! Under 100 calories per serving.
Ingredients
4 medium peaches
8 sweet cherries, stems removed and pitted
4 tbsp chopped pecans
1/4 tsp ground cinnamon, plus more for sprinkling
1/4 tsp ground nutmeg, plus more for sprinkling
8 1/2 tsp raw honey
Instructions
Preheat your oven to 350 degrees.
Cut each cherry into four quarters.
Combine the pecans, nutmeg and cinnamon. Mix well.
Halve each peach and remove the pit. This will be a little tricky because sometimes the peaches don't want to split apart. I cut around the peach and then try to split from the top. Then I remove the pit with either a spoon or a cookie scoop. A melon baller would work, too.
Place the peach halves on a large baking sheet, inside facing up. place four cherry quarters in the cavity of the peaches where the pits were. Sprinkle each peach with 1/2 tbsp of chopped pecan mixture. Then sprinkle each peach with a little more cinnamon and nutmeg. Drizzle each peach with 1 tsp of honey.
Bake the peaches for 20 minutes. Once done baking, remove from the oven and cool for a few minutes before serving.
Store in an airtight container in your refrigerator for up to 2 days.
Nutrition Information:
Yield: 8 Serving Size: 1
Amount Per Serving: Calories: 81 Total Fat: 3g Saturated Fat: 0g Trans Fat: 0g Unsaturated Fat: 2g Cholesterol: 0mg Sodium: 0mg Carbohydrates: 15g Net Carbohydrates: 0g Fiber: 2g Sugar: 14g Sugar Alcohols: 0g Protein: 1g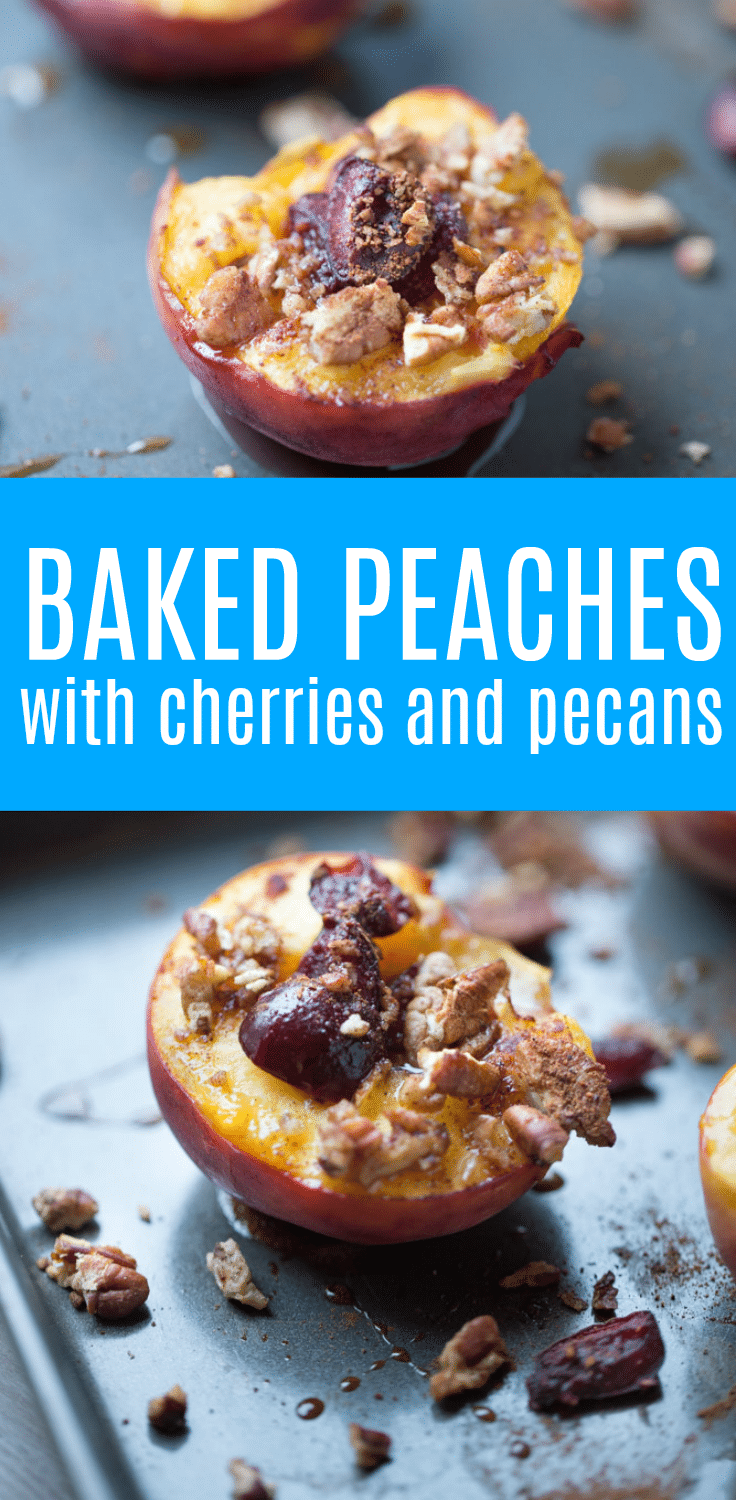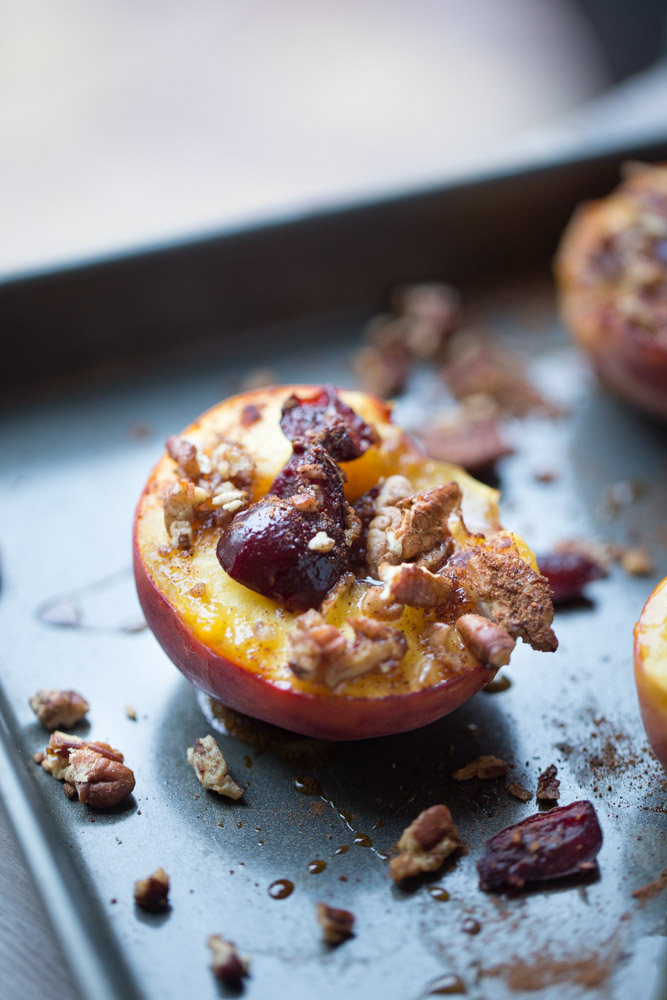 RELATED POSTS
Peach Crostata | Spoonful of Flavor
Skinny Peach and Cream Milkshake | Will Cook For Smiles
Baked Oatmeal with Peaches | Heather's French Press