20 Minute Easy Vegan Lentil Chili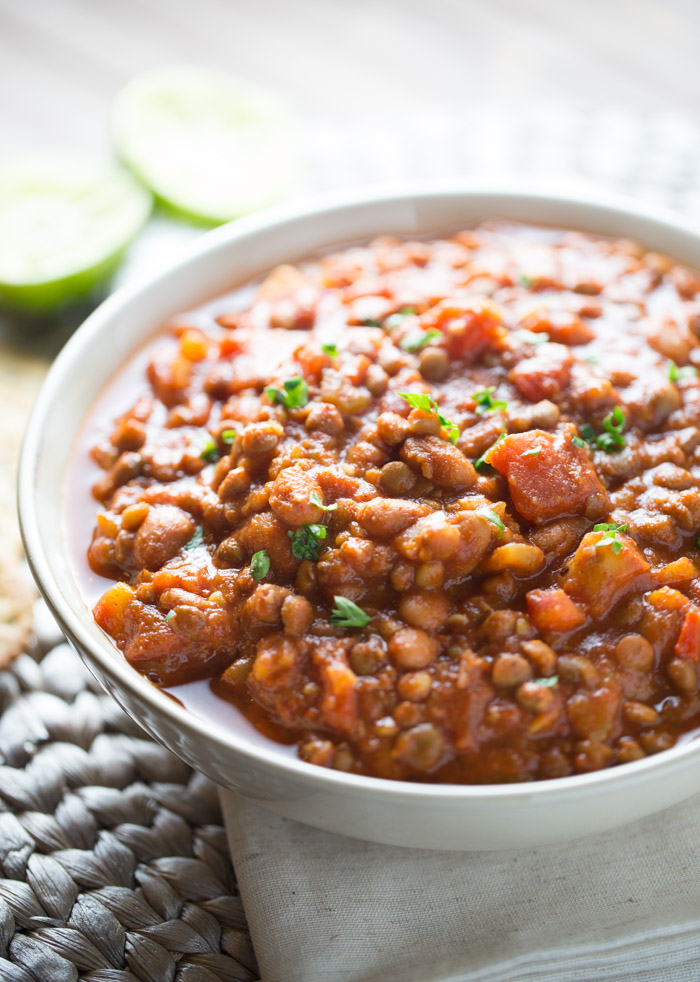 Here's to being lazy and not wanting to do anything at. all. after work. That's exactly how I felt last night. I managed to take my dog for a walk around the neighborhood but after that, I laid around on the couch. I finally made myself something to eat around 8pm. Such a slacker I am. I really had no motivation to do anything last night, not even to write this post. But I gave myself a little internal pep talk so I could write this post and share this lentil chili with you.
So let's talk about danger in the kitchen. Haha. I could make a TV show about that. DANGER…In the Kitchen. Catchy. Of all the minor injuries I've received in the past few months, most of them occurred while I was in my kitchen. Who the heck burns themselves on a slow cooker? ME. I burned myself on my slow cooker on Thanksgiving while I was making sweet potatoes. Who the heck almost chops off the side of their finger while trying to cut a lime in half? ME. I gave myself a pretty nasty cut over the weekend while trying to cut a lime in half. A freaking lime. That little sucka rolled when I tried to slice it and instead of slicing it, I sliced my index finger. Expletives ensued. Bandaids and Neosporin were sought out. I had to endure the uncomfortable feeling of trying to complete tasks while wearing a bandaid on my index finger.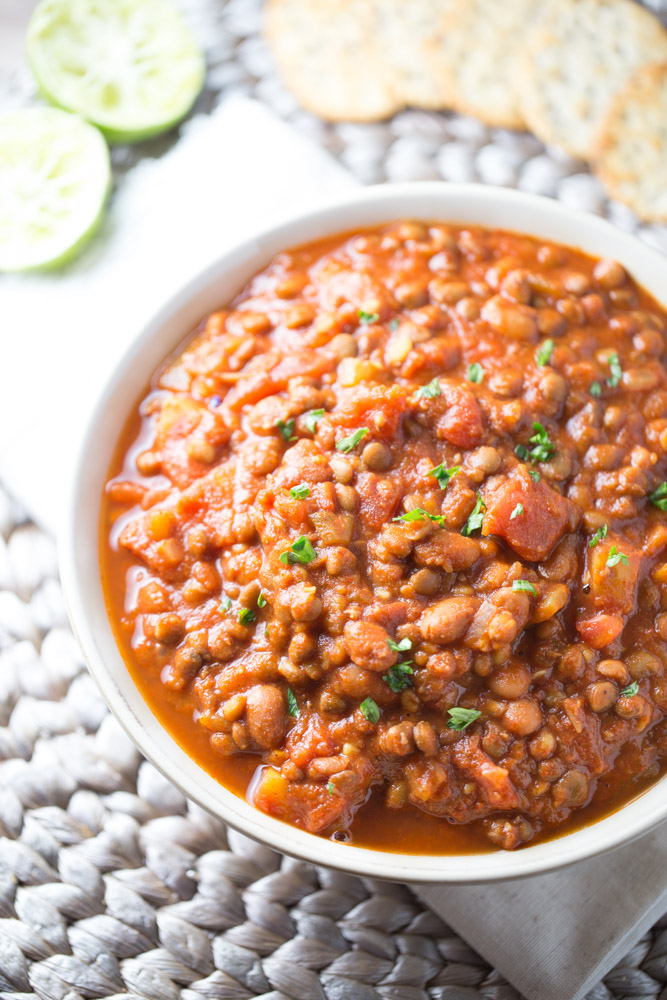 Easy Vegan Lentil Chili
But enough about kitchen disasters. Let's talk kitchen wins. This lentil chili is a total kitchen win. It was born on a night that I was almost too lazy to write down the recipe and take the photos. All I wanted to do was throw stuff in a pot, cook and then eat. But a little pep talk happened and I made myself write down the recipe and take some photos. I'm so happy that I did. This lentil chili is delicious and it only took 2o short minutes to make! It's healthy and vegan, too.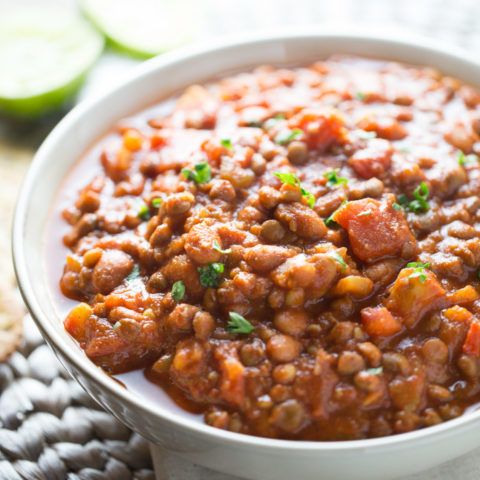 20 Minute Easy Lentil Chili
This simple and delicious vegetarian lentil chili is ready to devour in 2o short minutes. Make it your own by topping with your favorite cheese, low fat sour cream and herbs!
Ingredients
2 15oz cans of lentils, drained and rinsed
1 16oz can of pinto beans, drained and rinsed
1 14.5oz can of spicy red pepper diced tomatoes
1 15oz can of tomato sauce
1 4 oz can of diced green chilis
1 small sweet red pepper, chopped
1 small orange pepper, chopped
1/3 C diced sweet onion
2 cloves of garlic
1 tbsp olive oil
Instructions
In a large pot, heat the olive oil over medium heat. Add the onion, peppers and garlic and saute until tender, about 2-3 minutes. Add the remaining ingredients and mix well. Simmer for 10 minutes, stirring occasionally.
Serve in bowls and top with your favorite toppings.
Nutrition Information:

Amount Per Serving: Calories: 230 Total Fat: 0g Sodium: 1213mg Carbohydrates: 42g Sugar: 8g Protein: 14g