Baked Pears with Honey, Cranberries and Pecans
Today we're talking about delicious Baked Pears with Honey, Cranberries and Pecans.
They're the type of dessert that you can stuff your face with guilt-free. They're slightly sweet, spicy and come with a little crunch, thanks to the pecans.
Before we get to the recipe, can I tell you a little secret?
When I was a kid, I was the pickiest eater in the world.
There were 374561 different foods I would not eat or that I had to alter before I would eat them. Do you remember those Little Debbie fudgy brownies that were topped with chopped peanuts? I LOVED those brownies, minus the nuts. I would pick every single nut off of the top of those brownies before ate them. I was the same way with cookies, cakes and breads. If someone served cake, bread or cookies that contained nuts, I would pick out the nuts before I would eat the goodies. If I missed one and bit into it, I would quickly spit it out. I didn't hate nuts. I just hated the texture. Much like I hated (and still do) the texture of fruit peels. Apples, pears and peaches, I do not like your peels. I never did and I don't think I ever will. Ok, I can tolerate pear and peach peels when they're cooked. They're so thin it's like they aren't even there!

Baked Pears with Honey, Cranberries and Pecans
These baked pears are a great healthy dessert option to serve after Thanksgiving and Christmas dinner. Cinnamon, pecans and cranberries are traditional ingredients that are found in many holiday dishes. Their flavor profiles pair nicely with juicy pears.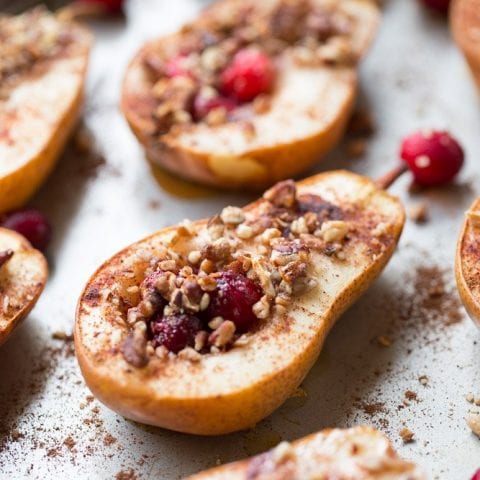 Baked Pears with Honey, Cranberries and Pecans
Yield: 8 servings
Prep Time: 15 minutes
Cook Time: 30 minutes
Total Time: 45 minutes
Baked Pears with Honey, Cranberries and Pecans is a super simple and healthy dessert recipe. These delicious pears are seasoned with cinnamon and nutmeg for an extra boost of guilt free flavor!
Ingredients
4 pears, such as bosc, bartlett or anjou (I used bartlett)
24 fresh cranberries
4 tbps chopped pecans
1/4 tsp ground cinnamon, plus more, if needed
1/4 tsp ground nutmeg, plus more, if needed.
4 tsp raw honey
Greek yogurt for pairing, if desired
Instructions
Preheat your oven to 375 degrees.
Halve the pears and then core. I cored the pears with a cookie scoop but you can use a melon baller, too. Slice a small part off of the backside of each pear half to create a flat surface so the pear sits flat when laid on the pan.
Place the pear halves on a large baking sheet or baking pan, cored side up. Place three cranberries into the cored part of each pear half. Sprinkle each pear half with about 1/2 tbsp of the pecans and then sprinkle each pear half with the cinnamon and nutmeg. Drizzle each pear half with 1/2 tsp of honey. I did this by squeezing the honey into a 1/2 tsp measuring spoon and then drizzling over each pear half.
Bake at 375 for 25-30 minutes or until the pears are tender.
Serve with Greek yogurt, if desired.
Notes
Nutrition content does not include Greek yogurt.
Nutrition Information:
Amount Per Serving:
Calories: 90
Total Fat: 3g
Carbohydrates: 16g
Sugar: 11g
Protein: 1g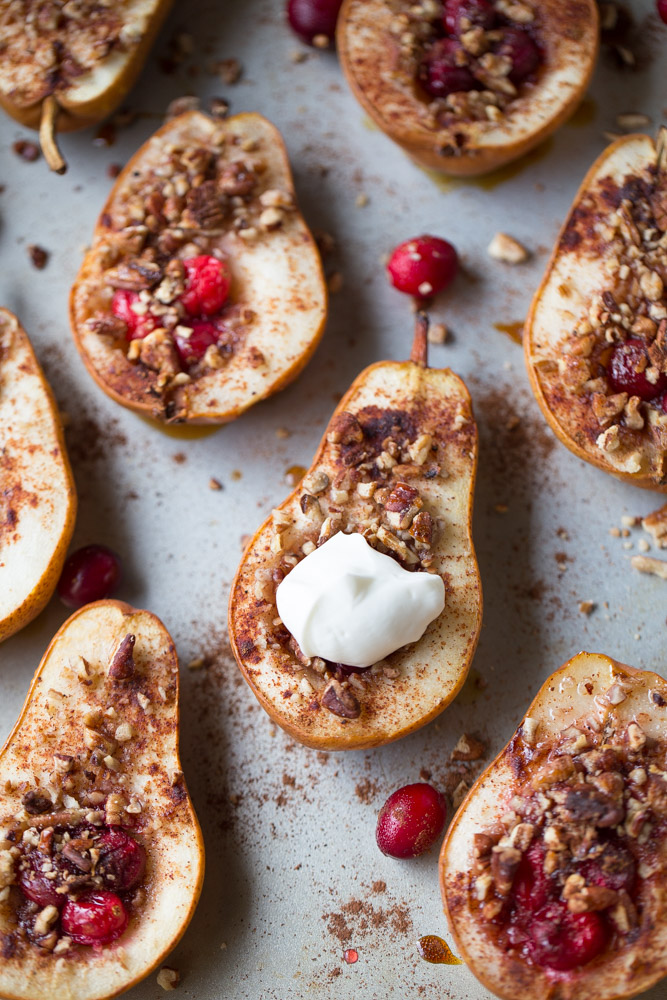 RELATED POSTS
Spiced Poached Pear Crumble | Blahnik Baker
Baked Pears with Walnuts and Honey | Skinny Taste
Roasted Pears with Maple Ricotta Cream | Baked Bree