Homemade Snack Bars with Cashews, Dates and Almonds
Don't hate. I found the recipe for these healthy snack bars in the It's All Good cookbook by Gwenyth Paltrow. Some people find her cringe-worthy. I don't. Some of her recipes are good, like these snack bars. I changed a few things, such as using almonds in addition to cashews. They're delightful and they taste so much better than store bought snack bars.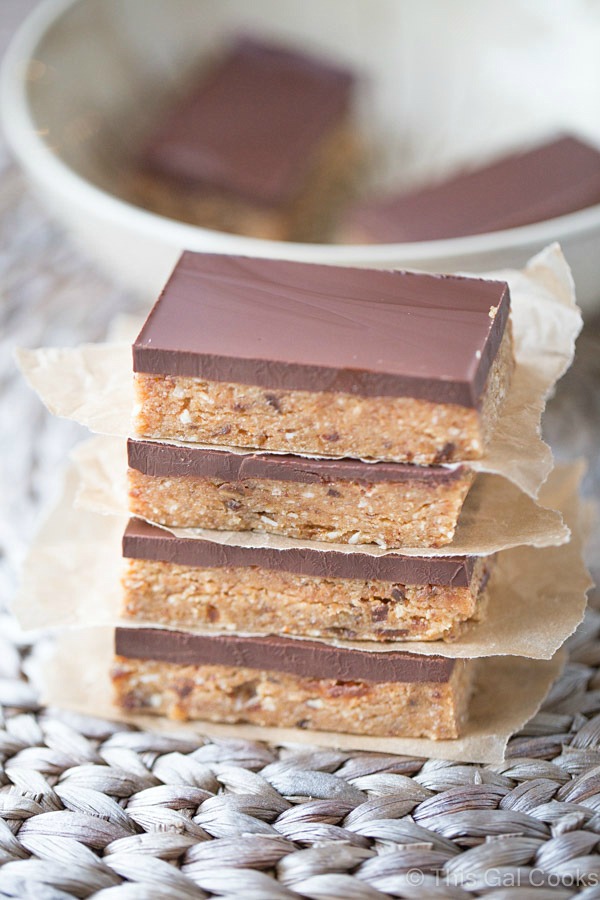 Hey hey hey. Happy Monday! Did you enjoy the nice long New Years weekend? Did you have a long weekend? I did and I totally enjoyed it. I was a totally lazy couch potato on Thursday. On Friday, Ken and I went to Palm Beach Gardens to shop at my favorite kitchen store Sur La Table. I actually left empty handed. But then we went over to Whole Foods, which is right next door, and I did not leave empty handed. Hello tons of granola bars, coconut milk products and fresh broccoli. Weird combo, right? I also bought some peanut and almond butters, which started with me loitering around the peanut butter isle. Of course, Ken had to make jokes – we've been here forever, looking at peanut butter. It wasn't really forever but to a guy, 5 minutes in an isle of a grocery store can seem like forever.
Saturday and Sunday were just like every other Saturday and Sunday – a combination of cleaning, grilling and enjoying a few beers.
Did you make any New Years Resolutions? I typically don't make any resolutions – if I want to do something, I start doing it. However, I have a problem with cleaning my house. The problem being that I HATE doing it. So, being the silly gal that I sometimes can be, I said my resolution was to clean my house. I started doing that over the long weekend, too. Friday I tackled some dusting (OMG, some things were horribly covered in dust!) and my kitchen. We can find stuff in our pantry again and we now have a little more room in our cabinets. Yay! Now I just have to do the rest of the house.
Let's talk Homemade Snack Bars. These homemade snack bars are the first I've ever made. And they are so SO good. I took some to work and everyone liked them. Ken even liked them, too! The recipe is a simple recipe. You can throw all of the ingredients in your food processor and pulsate until blended. Then all you do is press the bar batter into a pan, top with melted dark chocolate and refrigerate until firm.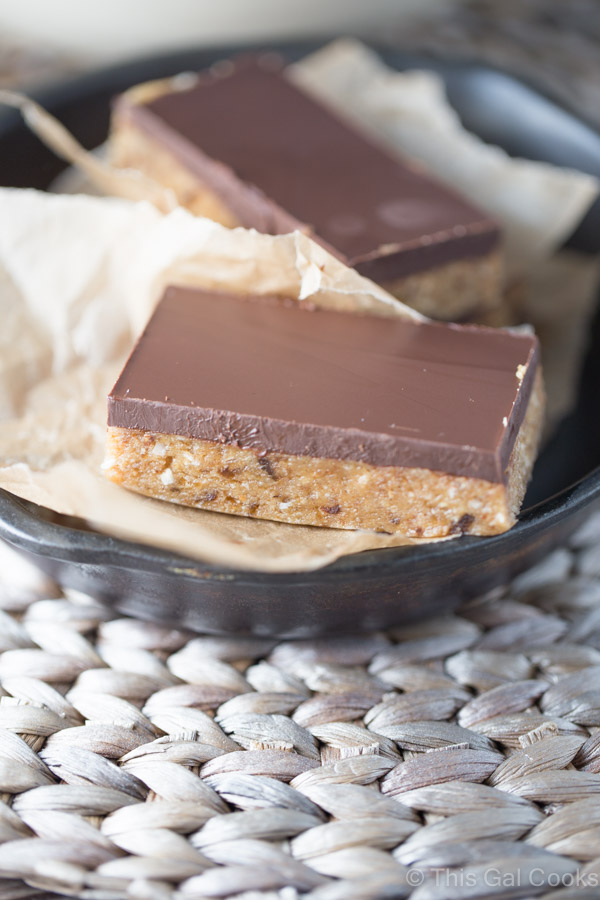 I wouldn't totally call these bars healthy homemade snack bars. They are gluten free, so I filed them under Healthy Recipes. They aren't low sugar, nor are they low fat. BUT, they are under 300 calories per bar and they are pretty filling. You can reduce the amount of maple syrup and honey used to reduce the sugar. You could also cut back on fat and calories by drizzling the bars with chocolate or creating a thinner layer of chocolate rather than topping them with a thick layer of chocolate. I made these snack bars again and just drizzled with a little chocolate and they were still just as good! If you decide to drizzle with chocolate or create a thinner layer of chocolate, just reduce the chocolate to about 1/2 C and the coconut oil to 1 tsp.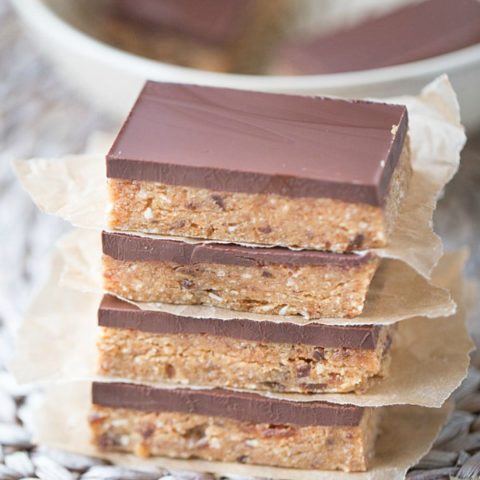 Homemade Snack Bars with Cashews, Dates and Almonds
Yield: 15 bars

Prep Time: 1 hour 15 minutes

Total Time: 1 hour 15 minutes

These gluten free Homemade Snack Bars are packed with raw cashews and almonds, dates and coconut flour. They're sweetened with honey and maple syrup. And for an extra boost of flavor, they're topped with a delicious layer of dark chocolate!
Ingredients
1 C raw cashews
1/2 C sliced raw almonds
1/2 C pitted dates, chopped (I chopped mine in a food processor but you can chop with a knife, too)
1/2 natural creamy peanut butter
1/4 C maple syrup
1/4 C honey
1/2 C coconut flour
1/2 C unsweetened shredded coconut
1/2 tsp vanilla extract
1/4 tsp ground cinnamon
1 1/2 C 60% cacao chocolate baking chips (I used Ghirardellis)
1 1/2 tbsp coconut oil
Instructions
Line a 9x9 baking dish with aluminum foil. Over lap the sides of the dish with the foil for easy removal once the bars are ready. Lightly coat with coconut oil cooking spray (or regular, if that's all you have.) Wipe away any excess cooking spray with a paper towel.
Place the cashews and almonds in a large capacity food processor or high power blender. Pulsate until ground up fine. Add the dates, cinnamon, peanut butter, maple syrup, honey, coconut flour, shredded coconut and vanilla extract. Pulsate until a sticky ball forms.
Scoop the mixture into the prepared baking dish. Press into the dish until the mixture is even and against all sides of the dish. I used the bottom of a glass to press the mixture into the dish. Cover and refrigerate for 1-2 hours or until firm. My batch was firm within an hour.
Once the batch is firm, place the baking chips and coconut oil in a microwave safe dish. Microwave in one minute increments until melted, stirring between each increment. It took about 11/2 minutes for the chips to melt for me. Once the chips are melted, pour over the batch of bars. Refrigerate for 5-10 minutes or until the chocolate is hard.
Remove the batch from the refrigerator and lift from the pan by pulling up on the aluminum foil overlaps. Cut into bars with a knife.
Store in a refrigerator for up to 3 weeks.
Notes
Adapted from It's All Good by Gwyneth Paltrow.
Nutrition Information:
Yield: 15 Serving Size: 1
Amount Per Serving: Calories: 230 Total Fat: 12g Saturated Fat: 4g Trans Fat: 0g Unsaturated Fat: 6g Cholesterol: 0mg Sodium: 21mg Carbohydrates: 27g Net Carbohydrates: 0g Fiber: 4g Sugar: 13g Sugar Alcohols: 0g Protein: 6g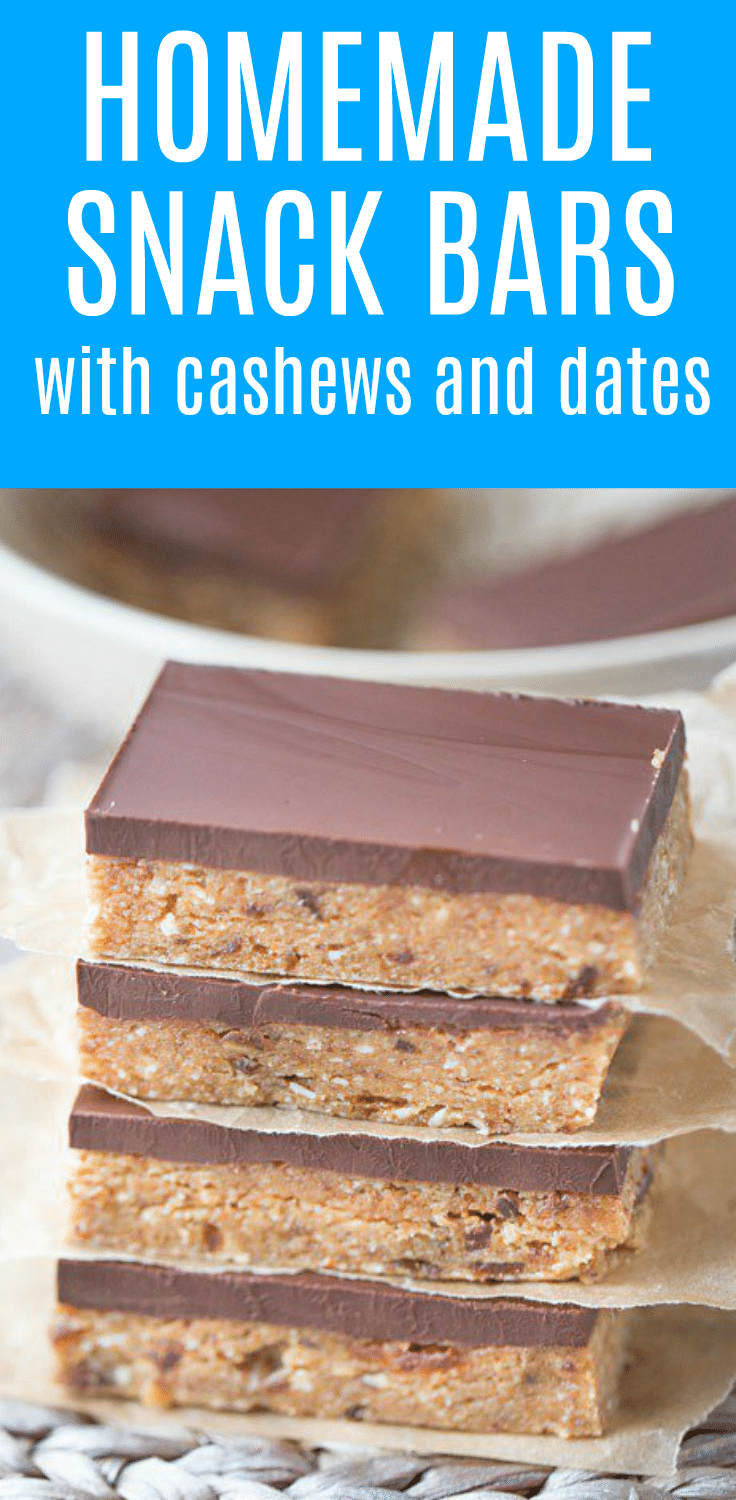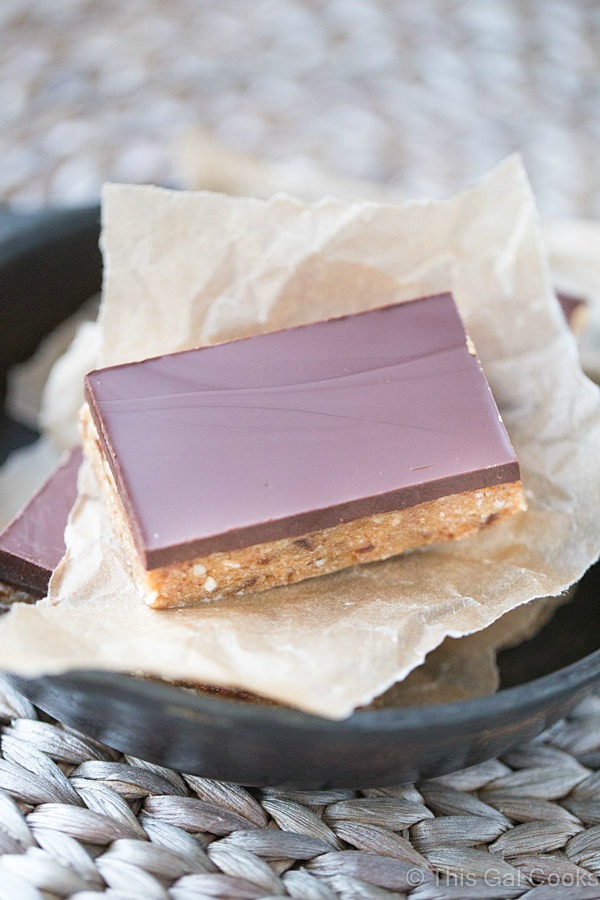 RELATED POSTS
Homemade Energy Snack Bars | Call Me PMc.
Mango Coconut Snack Bars | Spoonful of Flavor.
Easy No Bake Granola Bars | Yummy Healthy Easy.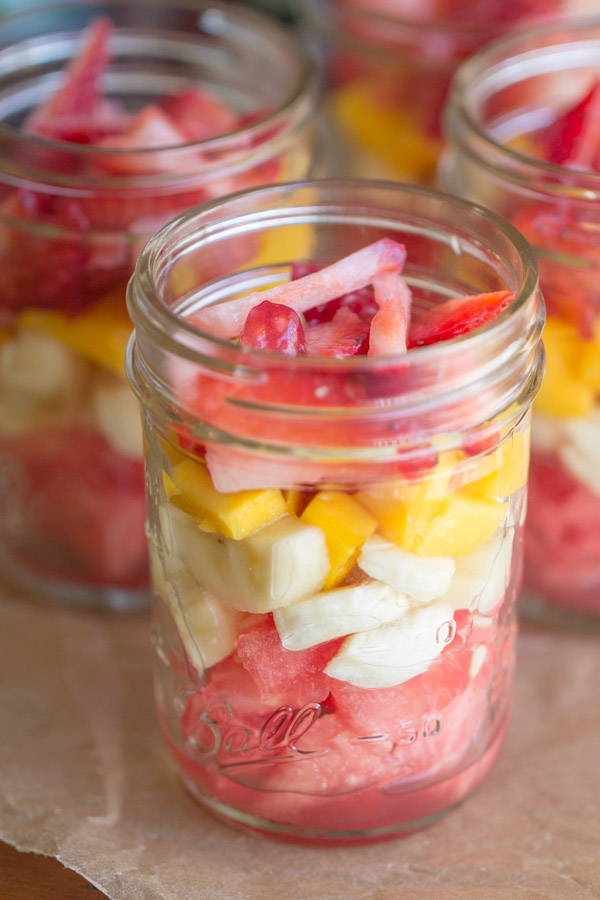 Chocolate Fruit and Pecan Granola