Shrimp Pasta with Spicy Tomato Cream Sauce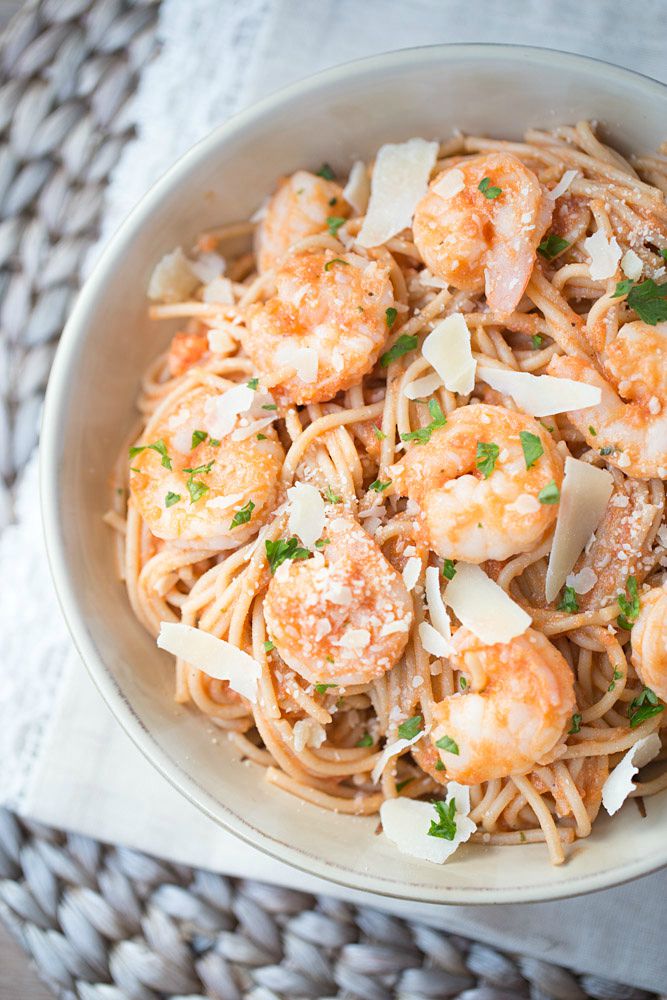 Plump shrimp are seasoned, sauteed and placed upon a bed of whole grain spaghetti that's tossed with a simple and flavorful spicy tomato cream sauce. Parmesan and fresh parsley finish the dish off deliciously.
But first, here's a little background of how this recipe and recipe post came to be.
This post comes from my This Gal Cooks blogging days.
I posted this recipe a month after I started blogging in 2012. Those were the days that my photos were meh and my story-lines were even more meh. The below excerpt is the entire content I created for the original post. And below that is one of the photos I used in the post. No wonder this delicious recipe was only pinned 47 times since 2012!
If you haven't already figured it out, shrimp and other seafood are one of my favorite types of food (of course, it comes in for a close tie with Mexican food) to eat and cook with.  I had some shrimp leftover from a previous recipe that I made so on Sunday, I decided to thaw them out and use them for an excellent recipe. "What type of excellent recipe would I make?" I asked myself. I checked my pantry and my refrigerator and determined that I had some cream, spicy diced tomatoes and pasta so browsed some recipes on Pinterest to get some inspiration. What I decided to make was a Shrimp Pasta with Spicy Tomato Cream Sauce. And boy oh boy was it scrumptious! Please enjoy the recipe.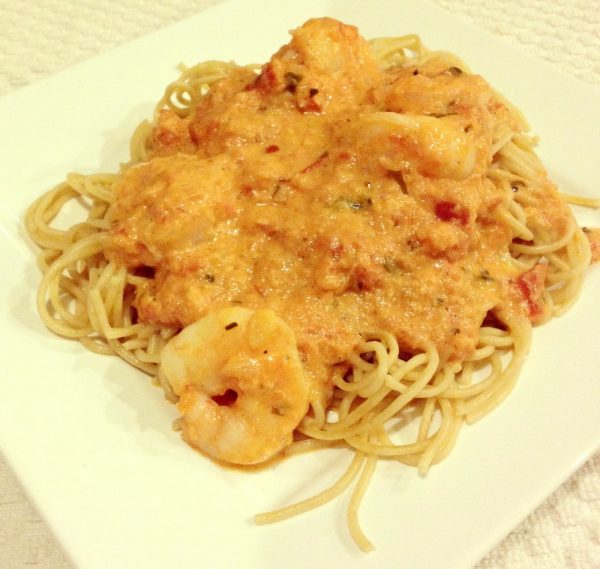 I've learned so much since I started blogging, such as how to use a camera, how to take good photos and how to edit those photos. I've also become more comfortable with writing and sharing stories with all of you. When I first started blogging, my writing content was limited to a couple of un-engaging paragraphs, briefly covering the recipe I was sharing. I was hesitant to open up and share stories about myself and my experiences, out of fear that people wouldn't enjoy reading them. But I've realized that reading those types of posts are enjoyable, for me and many others. I also realized that getting over my fears of what others think is a step towards becoming a better me and living a happier life.
Shrimp Pasta with Spicy Tomato Cream Sauce
This shrimp pasta is a great solution for weeknight meals because it's easy to make and ready to serve in under 30 minutes. Each serving is under 400 calories, contains 16 grams of protein and is full of nutrients that come from whole grains.
Whole wheat pasta is cooked until al dente. Plump, juicy shrimp are seasoned with freshly minced garlic and sauteed in olive oil until tender. The simple spicy tomato cream sauce is prepared in minutes by combining ingredients in a sauce pan, heating and pureeing until smooth and creamy. Half and half gives the sauce an extra boost of creaminess with minimal added calories. Once the cooked pasta is tossed with the sauce, the meal is ready to hit the serving bowls. Top each bowl with the delicious shrimp, parmesan cheese and fresh parsley. Then it's time to enjoy.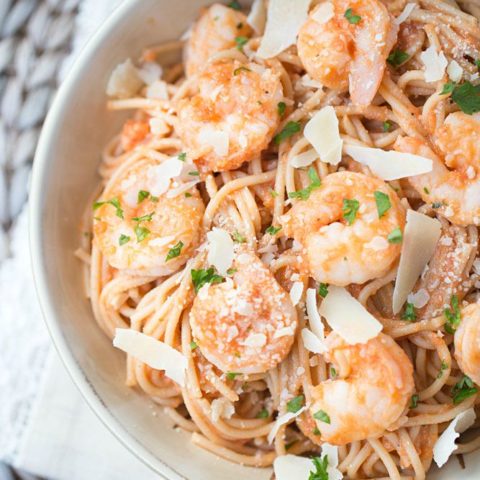 Shrimp Pasta with Spicy Tomato Cream Sauce
Yield: 4 servings
Prep Time: 5 minutes
Cook Time: 15 minutes
Total Time: 20 minutes
Simple and economical, this Shrimp Pasta is tossed with a spicy tomato cream sauce. Ready to serve in under 30 minutes!
Ingredients
8oz of whole wheat pasta
1/2lb of large shrimp, peeled and deveined
2 tbsp of extra virgin olive oil
1/2 C sweet onion, chopped
2 cloves of garlic, minced
1 15oz can of spicy red pepper diced tomatoes
5-6 fresh basil leaves
3/4 tsp of white sugar
1/2 tsp of oregano (can use dried or fresh)
1/2 cup of half and half
1/4 tsp of salt
1/8 tsp of ground black pepper
Chopped parsley for garnish
Shredded or grated parmesan cheese for garnish
Instructions
Bring a large pot of water to a boil. Add the pasta and cook until tender. Once the pasta is done cooking, set aside in a large mixing bowl.
In a mixing bowl, combine the shrimp, 1 tbsp of olive oil and 2 cloves of minced garlic. Saute in a large sauce pan for 3-5 minutes per side. Once cooked, remove from the pan and set aside on a plate.
Add the onion and 1 tbsp olive oil to the sauce pan. Cook until the onion is tender, stirring often to prevent it from scorching.
Add the tomatoes, basil leaves, sugar, oregano, salt and pepper and mix well. Cook for one minute and then remove from heat. Puree with an immersion blender until the mixture is smooth.
Add the half and half to the pan and mix well. Taste and add more salt and pepper, if desired. Pour the sauce over the pasta in the mixing bowl and toss to combine. I used tongs to toss the pasta and the sauce together.
Place the pasta in serving bowls and top each serving with some of the shrimp. Garnish with parmesan cheese and fresh parsley, if desired.
Notes
Cooking time includes cooking the pasta and the sauce.

This recipe makes 4 1.5 C servings or 6 1 C servings.

Addition of parmesan cheese will alter the nutrition content of this recipe.
Nutrition Information:
Amount Per Serving:
Calories: 390
Total Fat: 11g
Sodium: 607mg
Carbohydrates: 59g
Sugar: 8g
Protein: 16g