Slow Cooker Spaghetti Sauce
Slow Cooker Spaghetti Sauce is great for pasta, pizza and as a dipping sauce for bread sticks and fried cheese because it's thick and full of flavor. No pots to watch over – just place the ingredients in your slow cooker and let the slow cooker do the cooking.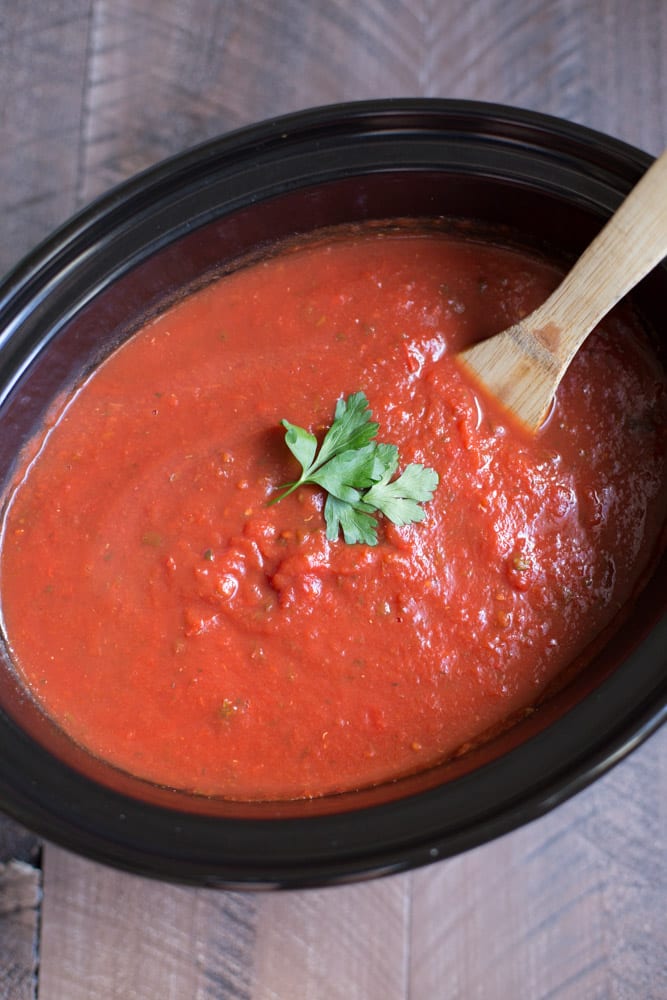 Original post 9/3/13.
Did you enjoy the nice long weekend? I sure did. It's the calm before the storm. Work is going to be crazy for the next few weeks. With this week being a short week and the implementation of a new accounts payable system next week, we definitely won't run out of things to do. Not that we ever do. But it will be exceptionally busy for a while.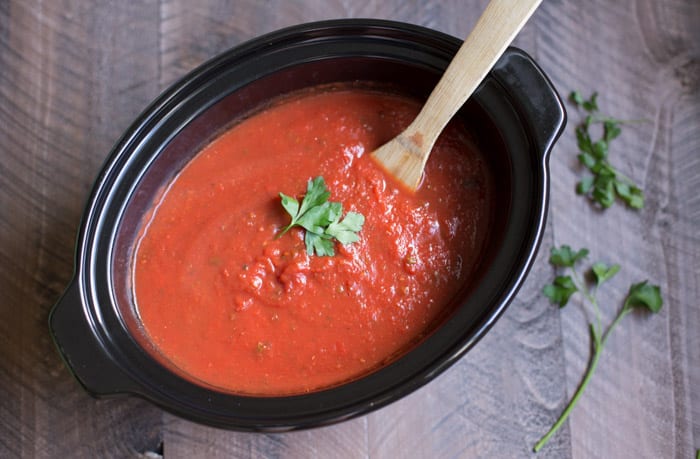 Slow Cooker Spaghetti Sauce
Updated 10/31/16.
About this super simple sauce. You may know that all slow cookers do not cook the same. Some get hotter than others. My old 6.5 quart slow cooker ran hot. When I set my old slow cooker on low, it got hot enough to boil liquids. Boiling spaghetti sauce for multiple hours isn't a good thing because the sauce can become burnt tasting or lose its flavor; the sauce should simmer. To cook this sauce in my old slow cooker, I set the slow cooker to low while I was getting ready for work and then before I left for work, I turned the setting to warm. Since there isn't any meat in this sauce, cooking it on low worked perfectly.
My new 3.5 quart slow cooker cooks normally – low setting cooks low, high setting cooks high and warm setting keeps the food warm after it's done cooking. To cook the sauce in my new slow cooker, I set the slow cooker to low for 4-5 hours.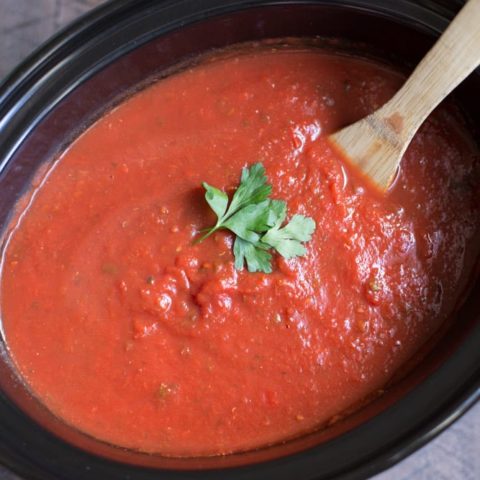 Crockpot Spaghetti Sauce
Yield: 8 cups

Prep Time: 10 minutes

Cook Time: 5 hours

Total Time: 5 hours 10 minutes
Ingredients
1 tbsp extra virgin olive oil
1 28oz can of crushed tomatoes
1 28oz can of tomato sauce
1 15oz can of diced spicy red pepper tomatoes
1 6oz can of tomato paste
3 tbsp of chopped fresh basil
2 tbsp chopped fresh oregano
2 tbsp brown sugar
2 cloves of garlic, minced
Salt to taste
Instructions
Pour 1 tbsp of olive oil into the slow cooker. Coat the sides and bottom of the slow cooker with the oil.
Add the remaining ingredients, minus the salt, and mix well.
Cover and cook for 4-5 hours on low.
Notes
You may freeze unused portions of this sauce for up to 3 months.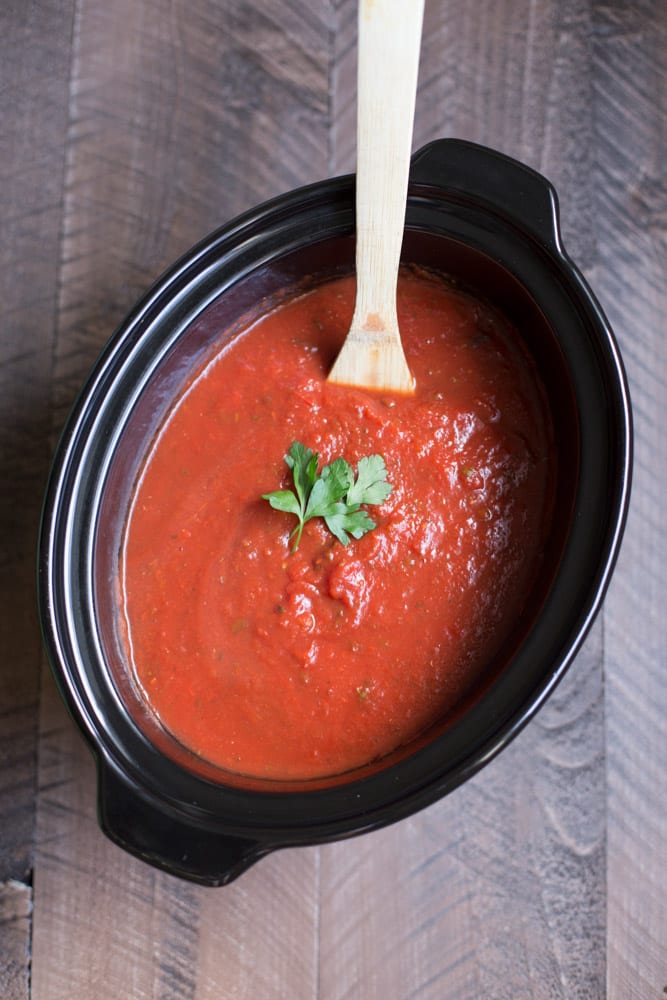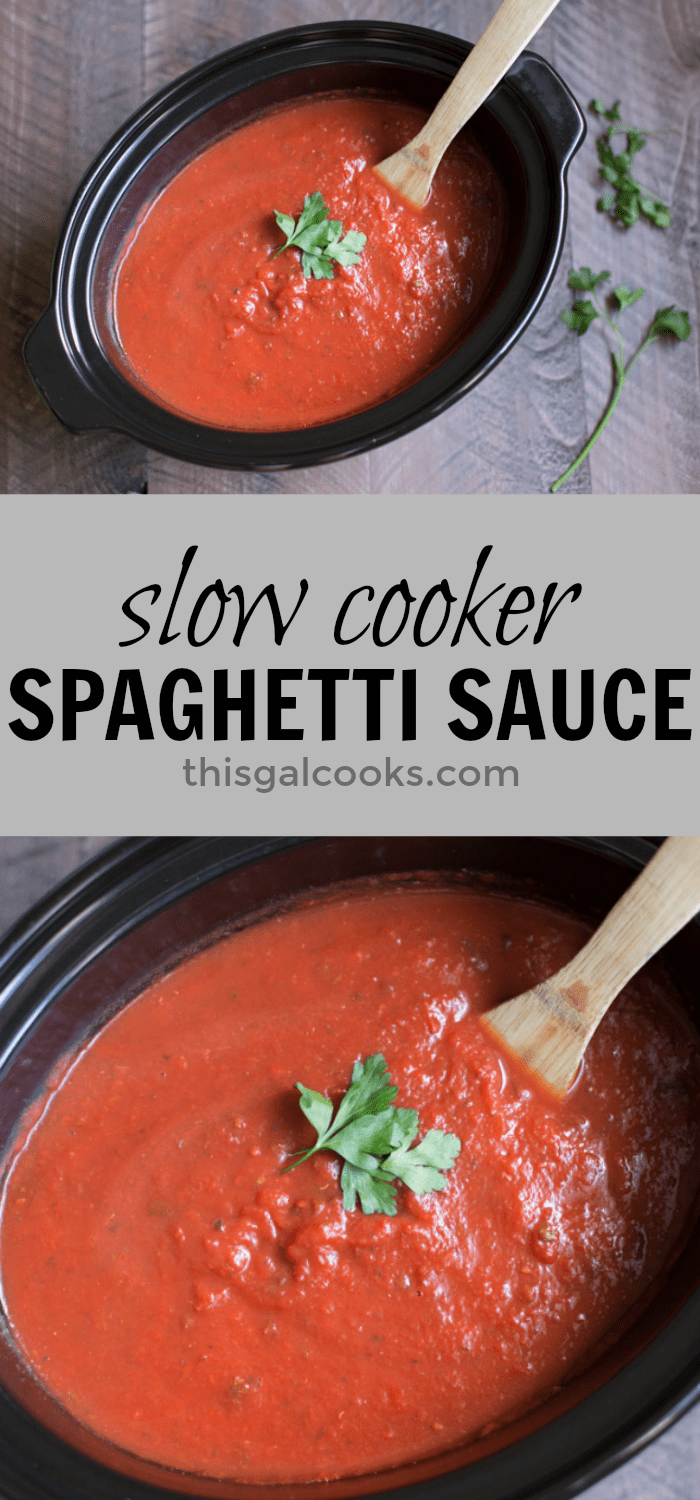 You may also like: