Easy Italian Shrimp Tortellini Bake
I went a little overboard with the sweets this week so I figured it was time to share an easy to make savory dish.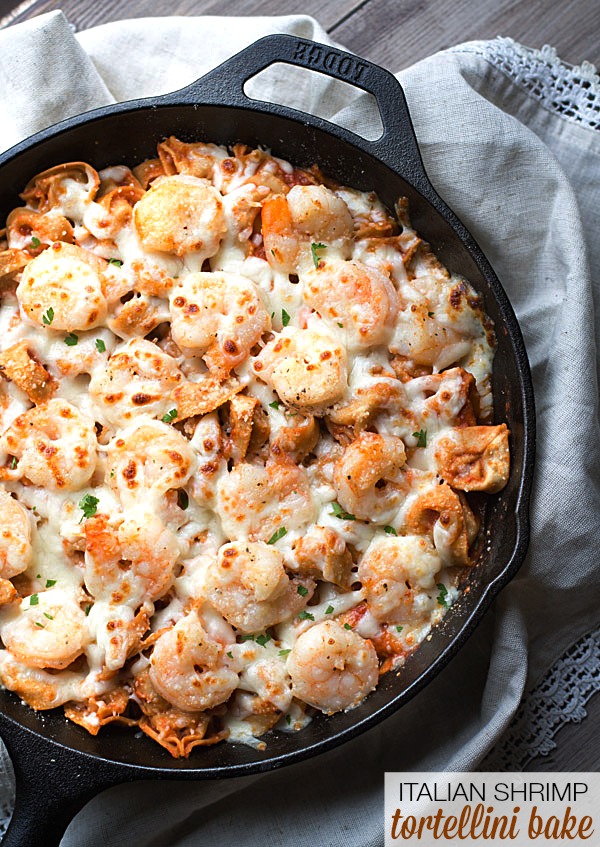 This Italian Shrimp Tortellini Bake is equally as easy to make as this Twenty Minute Easy Tortellini Bake and this Skillet Pizza Pasta Bake. It's on the table in 30 minutes so there's no reason to spend hours in the kitchen after a long day at work.
True story – I didn't think I was going to be able to share this recipe with you today. I couldn't find the notebook that I jotted it down in. I may have been panicking just a little because I knew there were other recipes in that notebook that I hadn't shared yet. Luckily, after running around my house like a crazy person, I found it.
I really need to get my blog things a little better organized. On the outside, it looks organized. But when you dig into everything, it's a total mess. I call it organized chaos. That's so cliche, isn't it?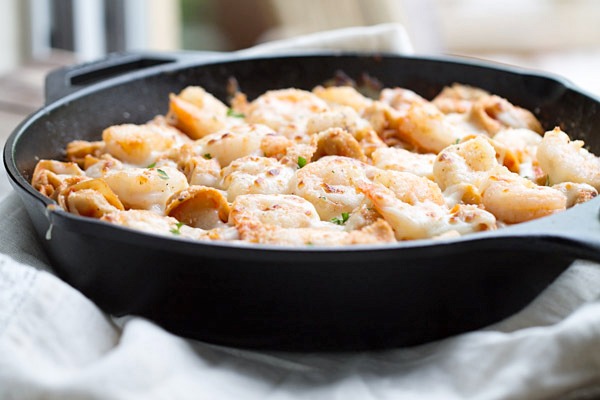 When I make an easy pasta dish, a few simple ingredients go into it. Pasta, cheese, sauce and sometimes meat.
I like to sprinkle the top of my pasta dishes with fresh herbs such as basil, oregano or parsley. They make the dish much more pleasing to the eye. And if I use strong herbs, such as oregano or basil, they make the dish much more pleasing to the palate.
I used my own sauce in this recipe. I made this easy to make Slow Cooker Spaghetti Sauce. I made a few changes that you may want to take note of.  I used a 28oz can of plum tomatoes in place of the crushed tomatoes and skipped the tomato paste. These changes produced a marinara type sauce. It was crazy good. I think I may prefer it to my original recipe.
Using my sauce recipe? If you prefer thick sauces, use the original recipe. If you prefer marinara sauces, use my original recipe using the changes I noted. If you don't want to make the sauce, feel free to use your favorite store bought sauce.
If you're a cheese fanatic like me, then you'll want to load up on Mozzarella and parmesan cheeses.  If you're trying to cut back on calories or cheese, reduce the amounts to suit your preference. Enjoy the recipe.
Easy Italian Shrimp Tortellini Bake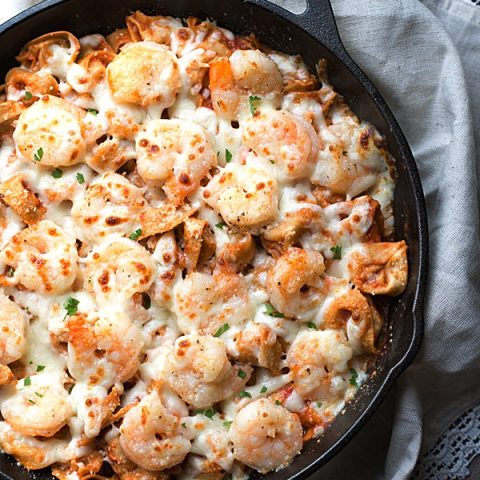 Easy Italian Shrimp Tortellini Bake
Yield: 6
Prep Time: 15 minutes
Cook Time: 5 minutes
Total Time: 20 minutes
Ingredients
3/4 lb jumbo shrimp, peeled and deveined
2 9oz packages of whole wheat cheese tortellini (use regular if you're not a fan of whole wheat)
2 - 2 1/2 C marinara or spaghetti sauce
1/2 - 3/4 C shredded mozzarella cheese
1.5 tbsp parmesan cheese
2 tbsp extra virgin olive oil
salt and pepper to taste
fresh chopped parsley for garnish
Instructions
Set your broiler to high.
Cook the tortellini according to package directions and then set aside. Season the shrimp with salt and pepper and then toss with olive oil. Saute in an oven-safe skillet on medium heat for 3-5 minutes per side or until pink. Remove from the skillet and set aside. You are now done with the stove so you may shut it off.
Toss the cooked tortellini with the marinara sauce and then place in the skillet. Top with the shrimp and then sprinkle with parmesan cheese and then the mozzarella cheese.
Broil until the cheese is bubbly and slightly browned.
Notes
Use homemade or all natural tortellini to make it healthier.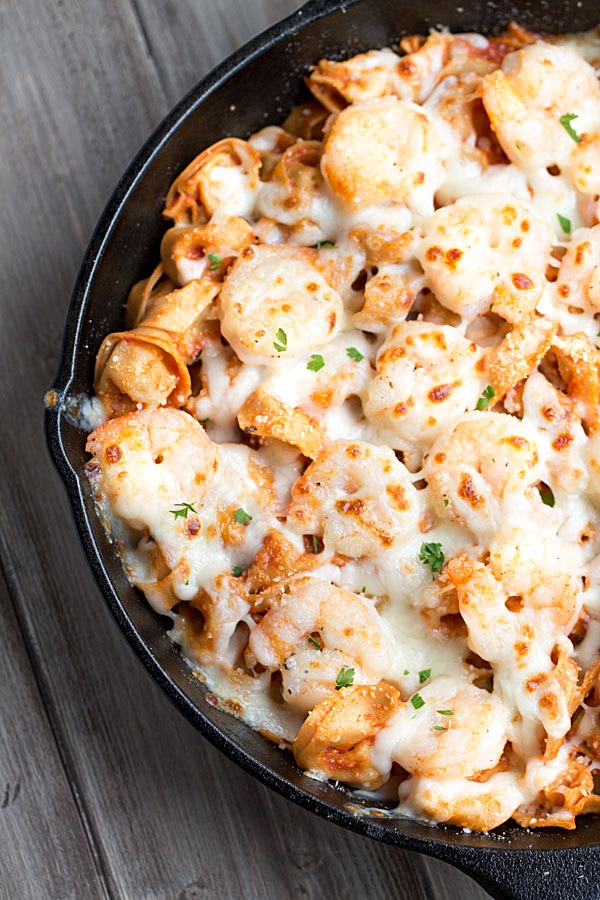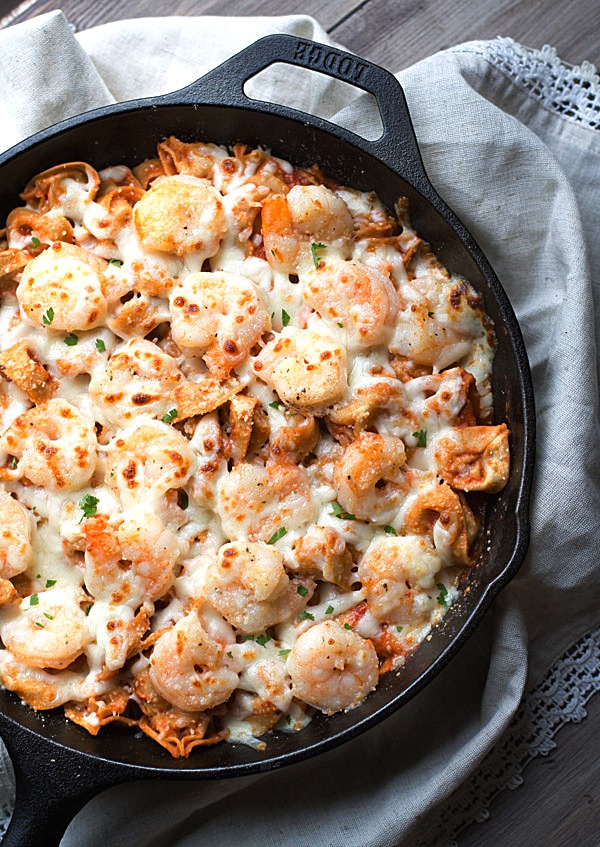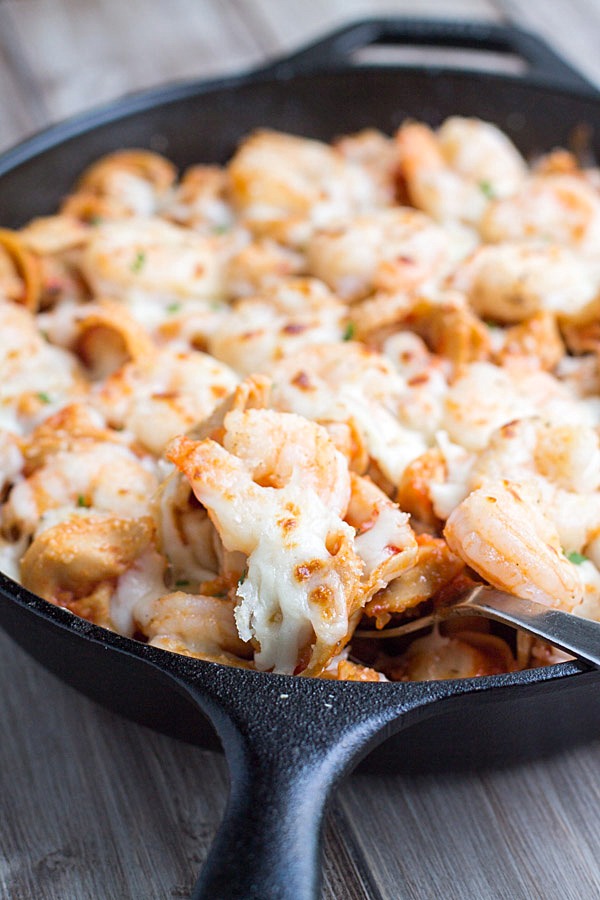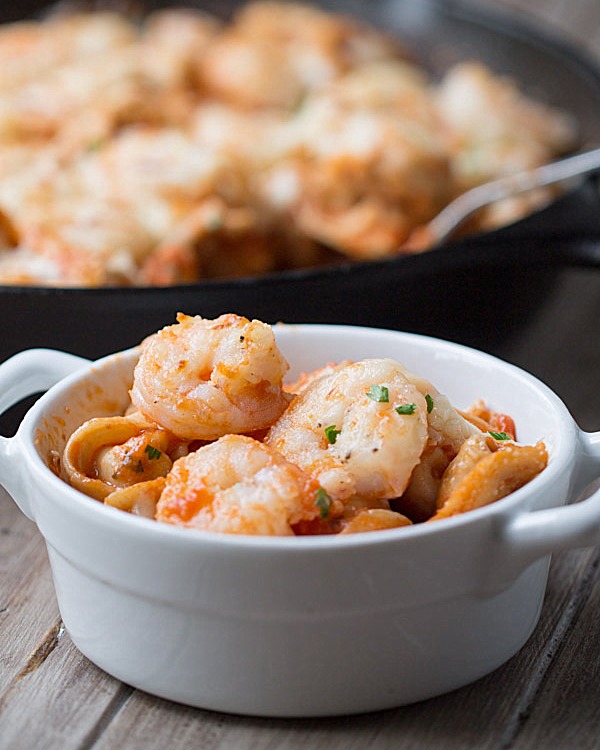 HUNGRY FOR MORE?
Try this Cajun Shrimp and Quinoa Casserole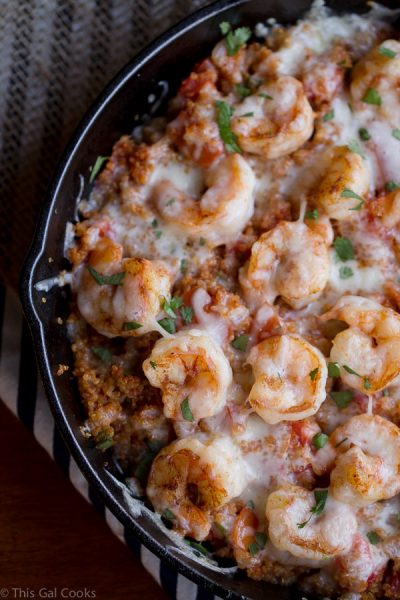 Or this Seafood Enchilada Pasta Bake