$300 Amazon Card or Grill Giveaway + Grilling Recipes
Good morning and Happy Monday Morning. Right about now I am probably sleeping…at least I hope I am! But snoozing away won't prevent me from sharing this fun little giveaway with you.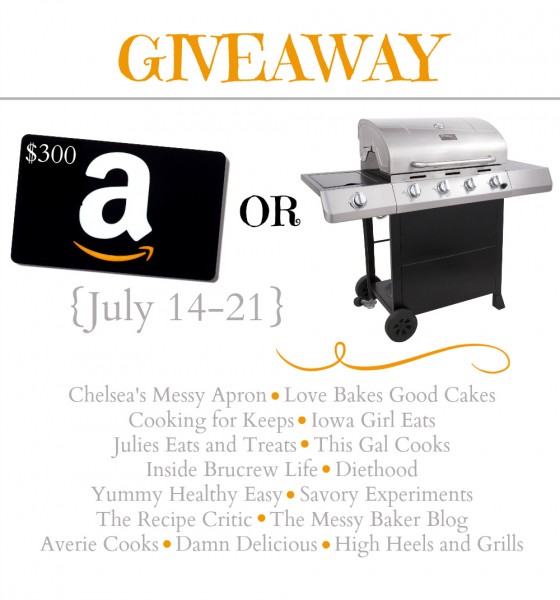 One of my favorite bloggers, Chelsea from Chelsea's Messy Apron, put together this fun little giveaway and I'm so happy to be a part of it! This week we are giving away your choice of a $300 Amazon gift card or a fancy grill. Which would you choose?
Choosing the grill? Need some grilling inspiration? Here are a few of my own grilling recipes that I think you'll enjoy! Just click the images to view the recipes. Then enter to win via the entry form below.
ENTER THE GIVEAWAY HERE!
DISCLAIMER
Eligible to one (1) winner residing in one of the 48 contiguous states. Must be 18 years of age to enter giveaway. Starts 12 am 7/14/2014 (EST time) and ends 12 am 7/21/2014 (EST time). To enter the giveaway, you must participate in at minimum, one of the listed entries in the widget and an email address must be provided. Winner will be announced via email and must respond within 24 hours of deliverance. Failure to respond will forfeit your chance in winning and a new winner will be chosen. Please be advised items may appear different from the photo shown. The persons participating in this giveaway are not held responsible for missing/broken items received by the winner. Good luck and thank you for your entries.