Cookies and Cream Chocolate Pudding Pie
I told you about my current sweets craze/obsession when I shared this Twix Ice Cream Pie yesterday. Now I'm going to talk about an equally crazy good, sinfully delicious no bake pie: Cookies and Cream Chocolate Pudding Pie.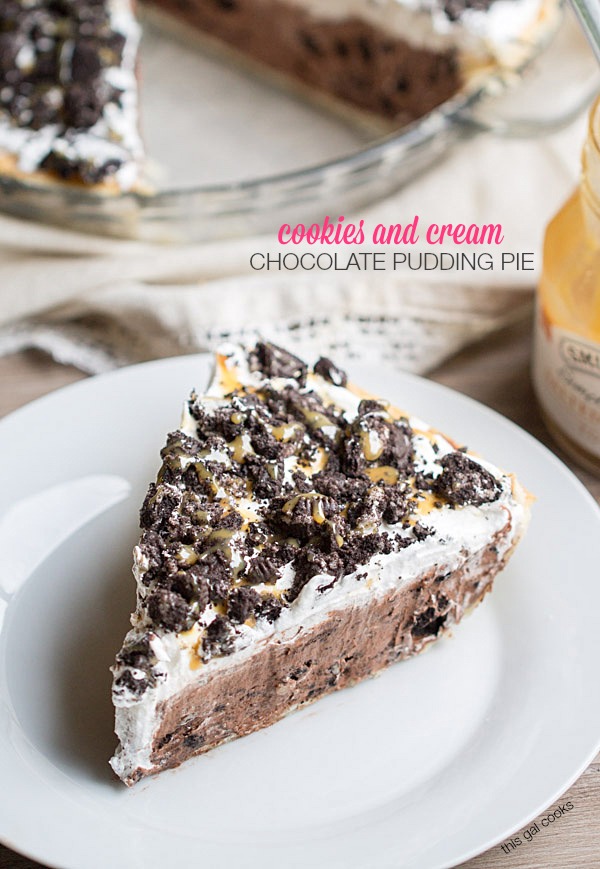 What was your favorite type of ice cream when you were a kid? Mine –  COOKIES AND CREAM! I remember when we were at my grandma and pop's house, my grandma always used to make my brother and I milkshakes. Hands down, my request was always a cookies and cream milkshake. What kind of ice cream do you want, Julie? Cookies and cream. What kind of milkshake do you want, Julie? Cookies and cream. To this day, cookies and cream is sill my favorite type of ice cream.
Oreo cookies are what makes cookies and cream ice cream so special. Those two little crunchy chocolate sandwich cookies separated by that creamy cream cream make one of the best things the habitants of this planet have ever tasted.
So anyways, about this pie. I know I said a lot of stuff about ice cream at the beginning of this post. But there isn't any ice cream in this pie. There are six simple ingredients in this Cookies and Cream Pudding Pie: pie crust, Cool Whip, chocolate pudding, chocolate sandwich cookies, milk and salted caramel sauce.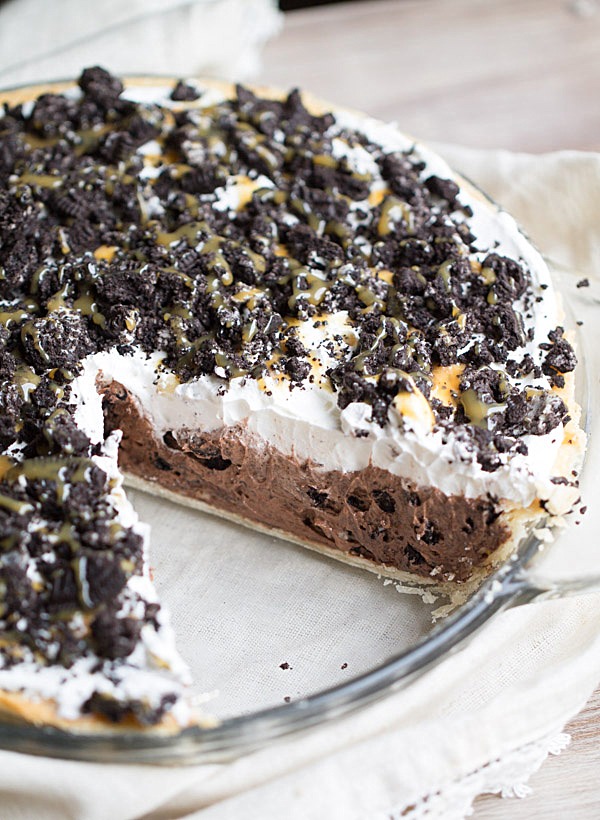 Notice I said chocolate sandwich cookies. I didn't use Oreo cookies. I used the Back to Nature chocolate sandwich cookies, which taste just like Oreo cookies. No joke, there weren't any regular sized packs of Oreo cookies in the grocery store I was shopping in and I wasn't going to purchase a ginormous package of them. Things could get dangerous with giant packag of Oreo cookies in my house. As if they weren't dangerous enough with this pie just sitting around, waiting to be devoured.
A few things you should know about this pie. It isn't made from scratch. It uses boxed pudding mix and a store-bought pie crust. Gasp. If boxed mixes or pie crusts aren't your thing, then this recipe probably isn't for you. There are a ton of great made from scratch pudding and pie crust recipes on the internet and in cookbooks so if only eating foods made totally from scratch is your thing, I'd suggest checking out some of those recipes.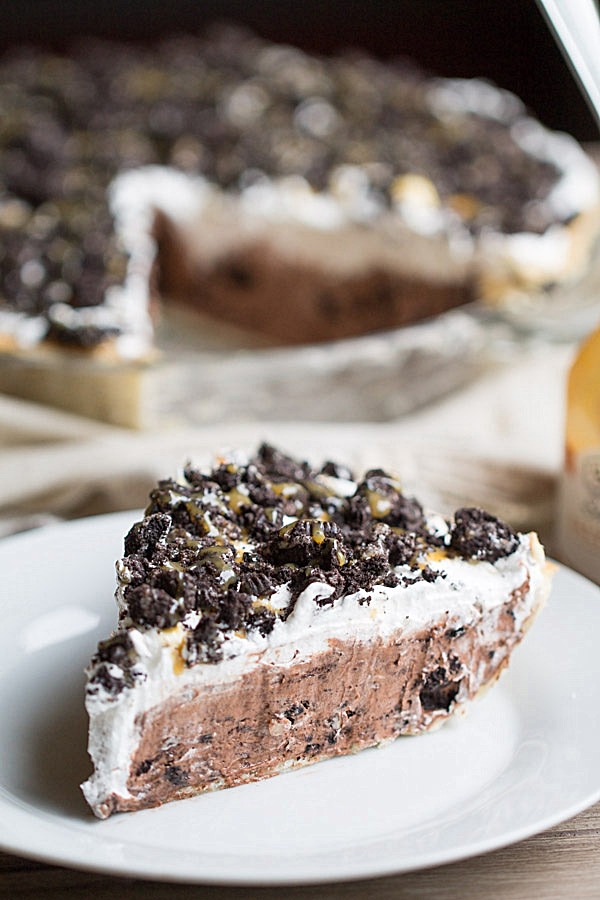 While I love making things from scratch, I'm a pretty busy gal and just don't feel like slaving away in my kitchen all the time. So sometimes I'm lazy. And when I'm lazy, I don't mind cutting corners and using boxed mixes to make some of my sweet treats. If it means that I will have time to spend on other things, then it's for me. I know a lot of you are the same way so that's why I like to share some of these quick and easy, not made from scratch recipes on my blog.
For those of you who are like "woohoo hooray for easy recipes that take less than 30 minutes to make" I present to you one of the best semi-homemade pies ever: the Cookies and Cream Chocolate Pudding Pie. Enjoy!
Cookies and Cream Chocolate Pudding Pie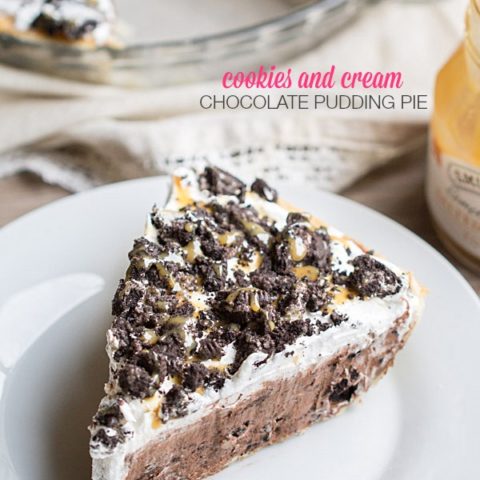 Cookies and Cream Chocolate Pudding Pie
Yield: 8

Prep Time: 20 minutes

Total Time: 20 minutes
Ingredients
1 9 inch pie crust, baked in a pie dish according to package directions and cooled
1 5.9oz box of instant chocolate pudding
1 8oz container of Cool Whip, divided
1 1/2 C milk
2 C chopped chocolate sandwich cookies (about 22 cookies)
Caramel sauce for drizzling
Instructions
In a mixing bowl, whisk together the pudding mix and the milk. Stir in half of the Cool Whip and mix well with a spoon. Mix in half of the cookies. Scrape the mixture (it will be thick) into the pie crust and refrigerate for about 20 minutes or until firm.
Spread the remaining Cool Whip over the pie with a rubber spatula. Sprinkle with the remaining cookies and then drizzle with the caramel sauce.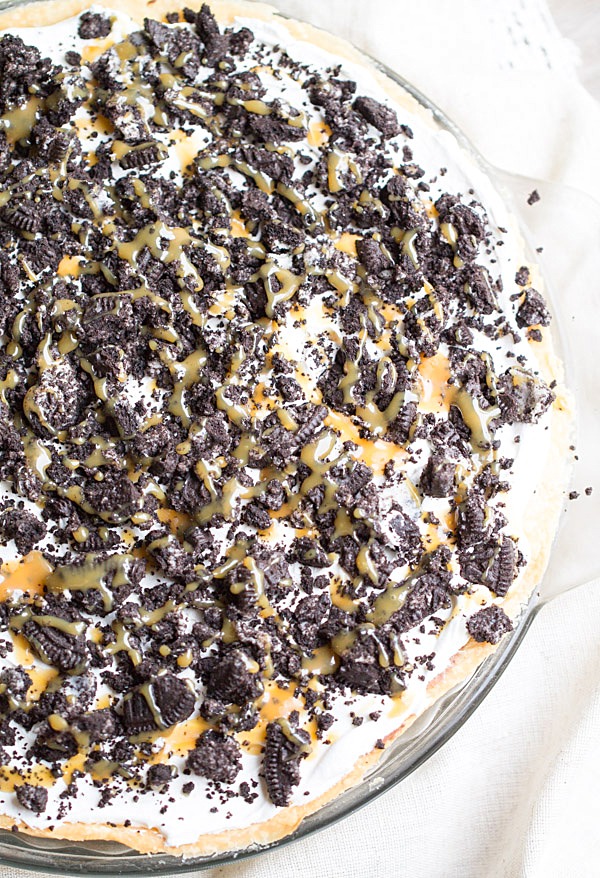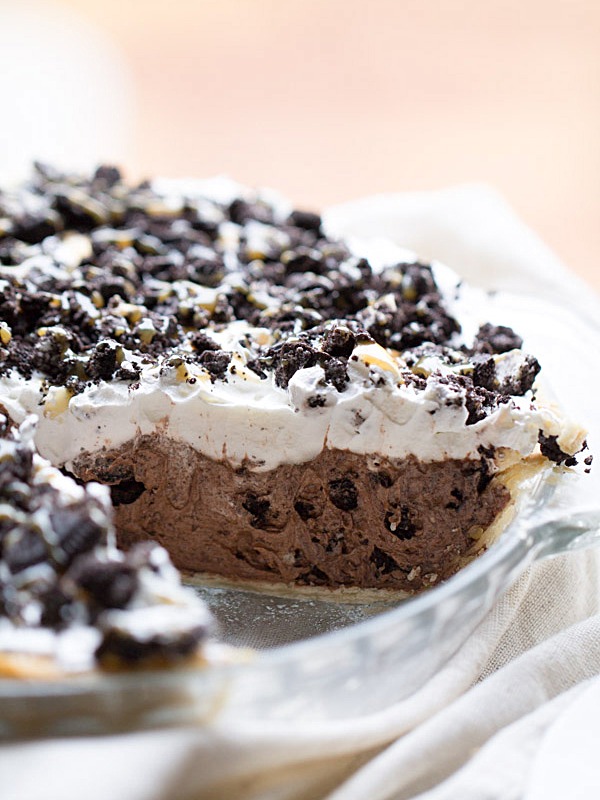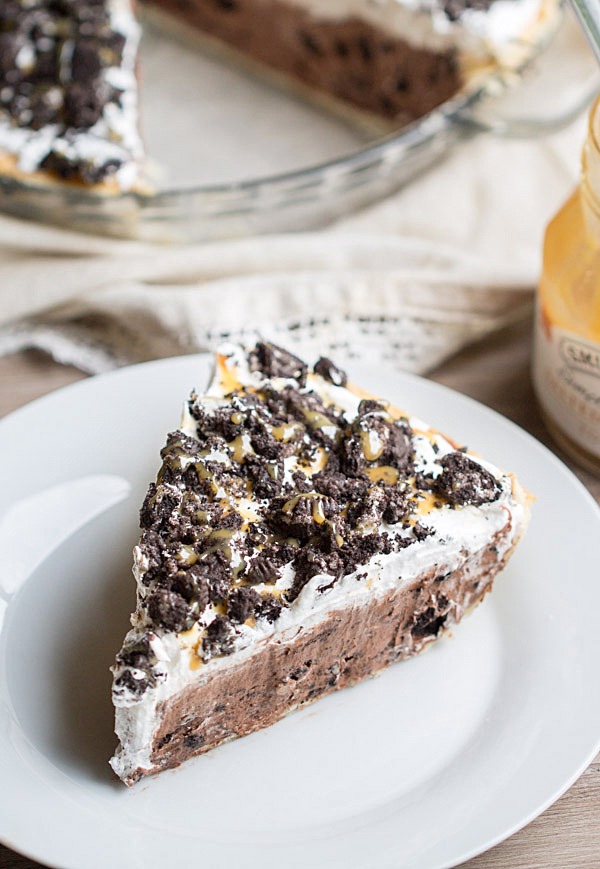 HUNGRY FOR MORE?
Try these Chocolate Pudding Pies in Jars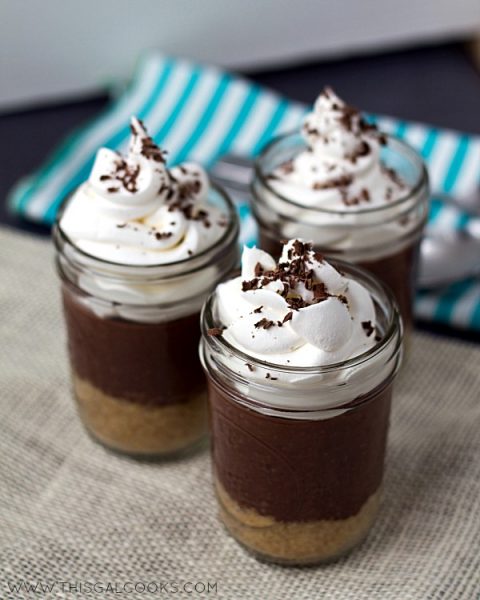 Or these dairy free, from scratch Chocolate Coconut Pudding Cakes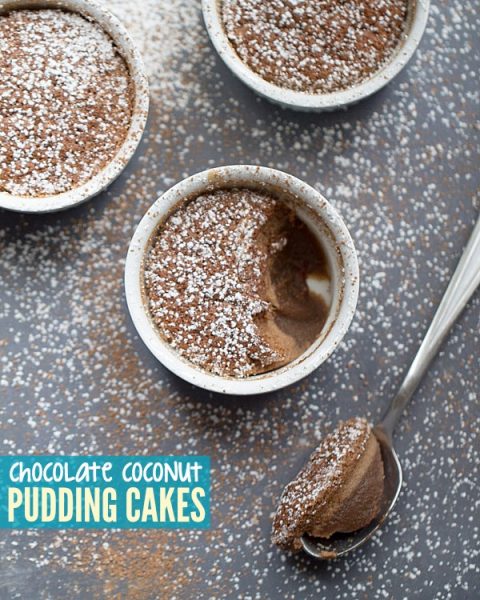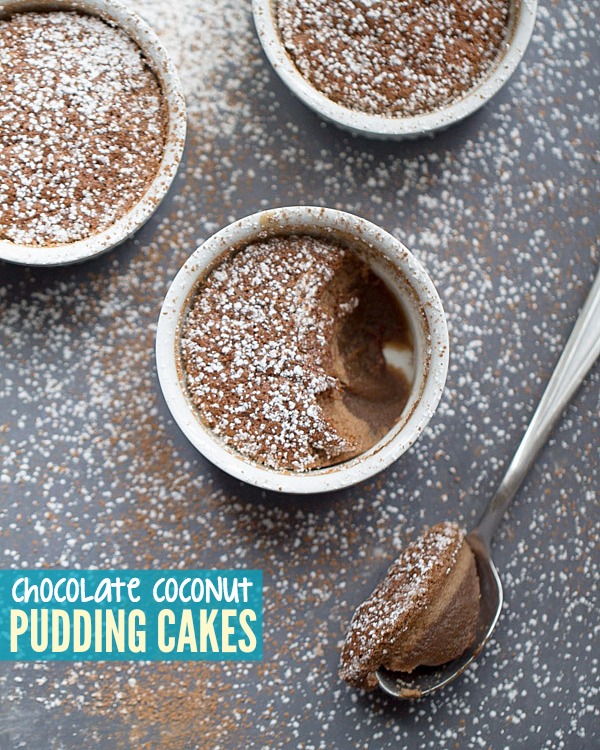 Not a fan of chocolate? Try these Lemon Coconut Pudding Cakes