Twix Ice Cream Pie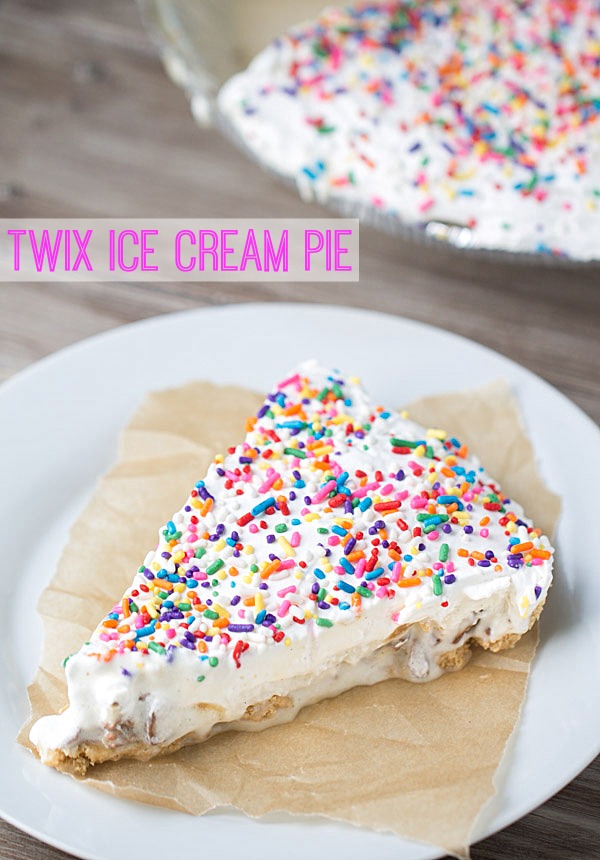 This pie. Crazy freaking good.
Ken's birthday was last week. He likes ice cream. A lot. He also likes carrot cake but this post isn't about carrot cake, it's about ice cream. So we're gonna talk about ice cream today and we'll talk about carrot cake another time.
Once day I was walking around the grocery store and I get this text message from Ken: "Cold Stone Birthday Cake Explosion Ice Cream." No joke, that's all the text message said. Of course, after I replied with a "what are you talking about?", I didn't get a response. But I figured he wanted birthday cake ice cream. And I wasn't going to head over to Cold Stone. After all, I was in the middle of grocery shopping. And our grocery store just happens to have a mad selection of ice cream, including birthday cake ice cream.
So I picked up a carton of birthday cake ice cream and went on my way. Ken was happy. I think he dug into that carton shortly after I got home. It may or may not have made it into our freezer before he got himself a big ole bowl of it.
Fast forward a couple weeks and you have Ken's birthday. I made him these crazy good carrot cake bars by Averie Cooks but the real highlight of the day was the ice cream pie.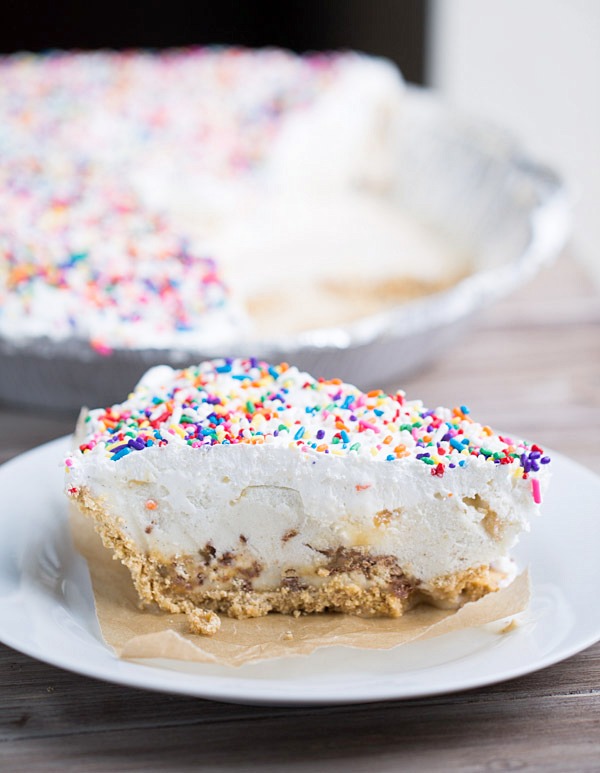 For some reason, my sweet tooth has gone into full fledge GIVE ME NOW mode. On this particular ice cream pie making weekend, I picked up a package of mini Twix, a jar of salted caramel sauce and an organic version of OREO cookies from the grocery store. The organic OREO-ish cookies didn't go into this ice cream pie but I threw them in that list to give you an idea of how crazy for sweets I've been lately.
A while back I saw this Chocolate Candy Bar Ice Cream Pie by Chocolate Chocolate and More and I was like WHOA! I gotta make that! Or something like that. Ken isn't into chocolate ice cream so I made a pie with vanilla ice cream. Vanilla ice cream, Twix and salted caramel sauce. Twix Ice Cream Pie. I bet you're starting to drool right about now, aren't you?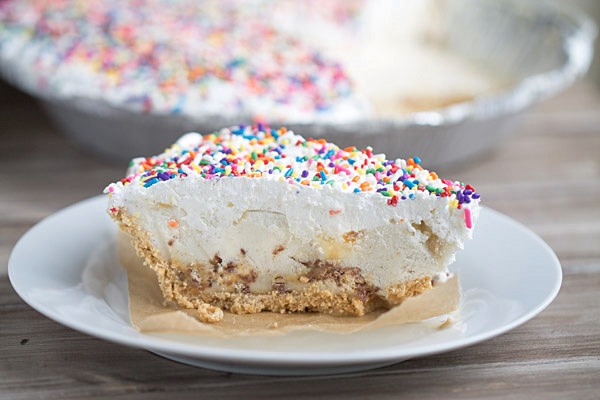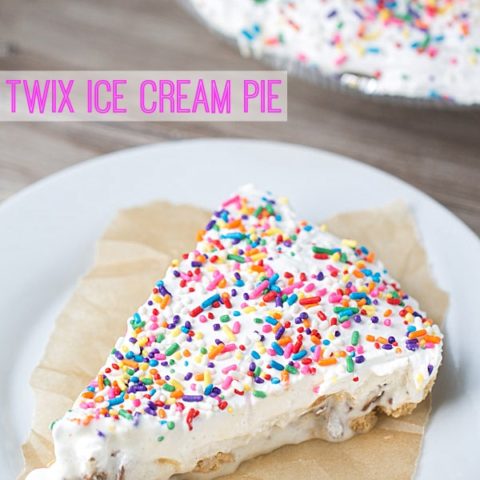 Twix Ice Cream Pie
Yield: 8

Prep Time: 10 minutes

Cook Time: 4 hours

Total Time: 4 hours 10 minutes
Ingredients
1.5 quart container of vanilla ice cream
1 10 inch graham cracker pie crust
1 package of bite sized Twix bars, chopped
1 8oz container of cool whip
3 tbsp salted caramel sauce
Sprinkles for topping
Instructions
Set the ice cream out on the counter until has softened and is easy to stir. Pour into a bowl and then mix in the chopped Twix bites.
Drizzle the bottom of the pie crust with 1 tbsp of the salted caramel sauce. Pour half of the ice cream mixture into the crust and then drizzle with 1 tbsp of caramel sauce. Pour the remaining ice cream mixture into the pie crust and then drizzle with the remaining caramel sauce. Place in the freezer for 10-20 minutes.
Remove from the freezer and carefully top with the cool whip. Top with sprinkles and then return to the freezer and let freeze for 4-5 hours.
Serve and you shall receive smiles.
Notes
"Cook time" is actually freeze time. While the freeze time is 5 hours, the time spent prepping this recipe is only about 10 minutes!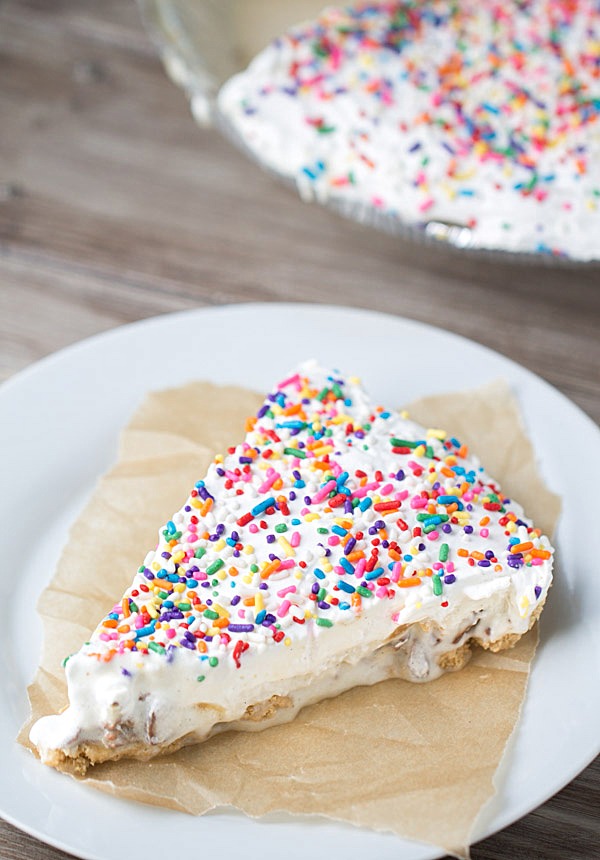 HUNGRY FOR MORE?
Try this crazy good Fluffernutter Peanut Butter Cup Ice Cream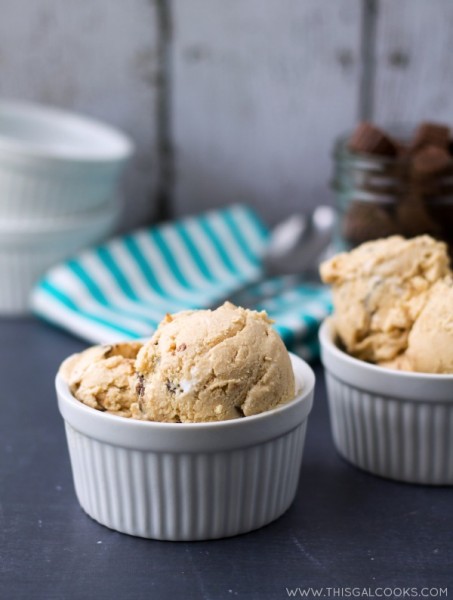 Love cherries? Try this no churn Cherry Cobbler Ice Cream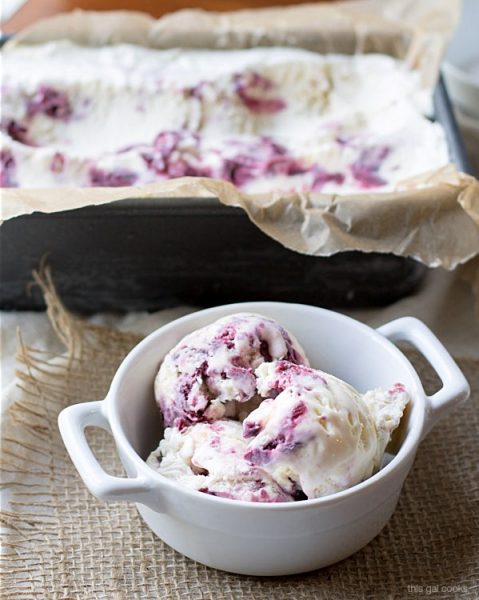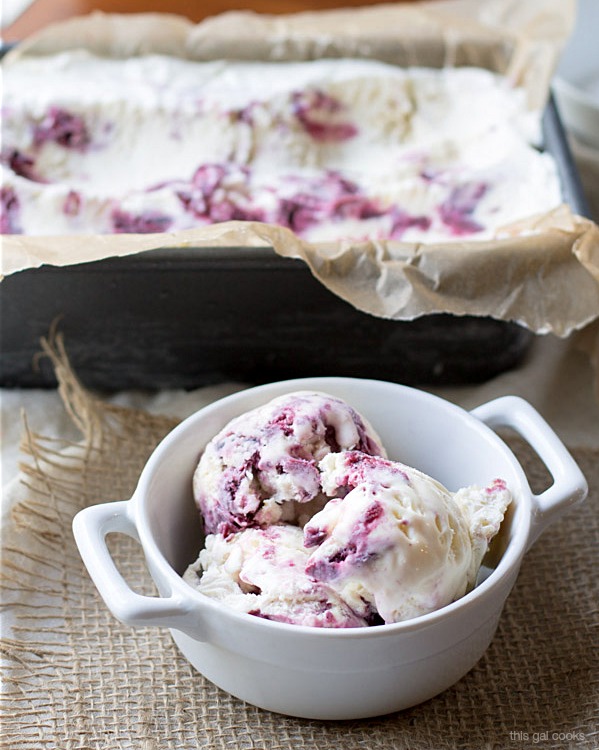 For a lower fat option, indulge in this Peanut Butter Frozen Yogurt