Banana Oatmeal with Maple and Walnuts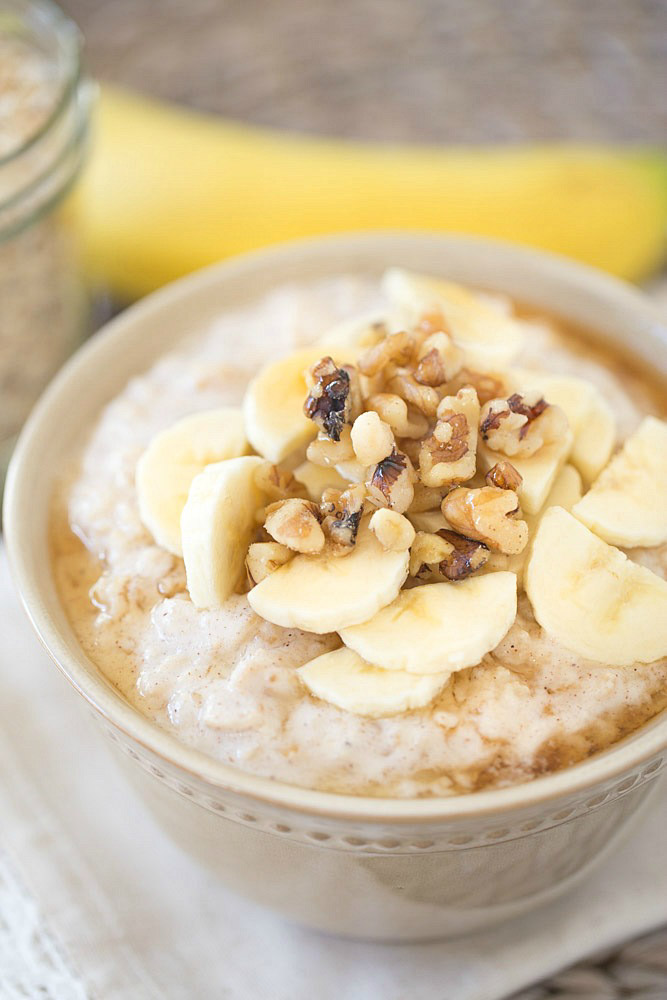 Happy 2015! Did you have a great New Years Eve and 1st day of 2015? I did. Maybe a little too much fun on New Years Eve. We actually stayed up until 2am so New Years Day was a pretty lazy, full of laying around and watching college football bowl games kind of day. I even took a nap during the day. Which isn't all that odd. I take naps a lot on the weekend. I love naps.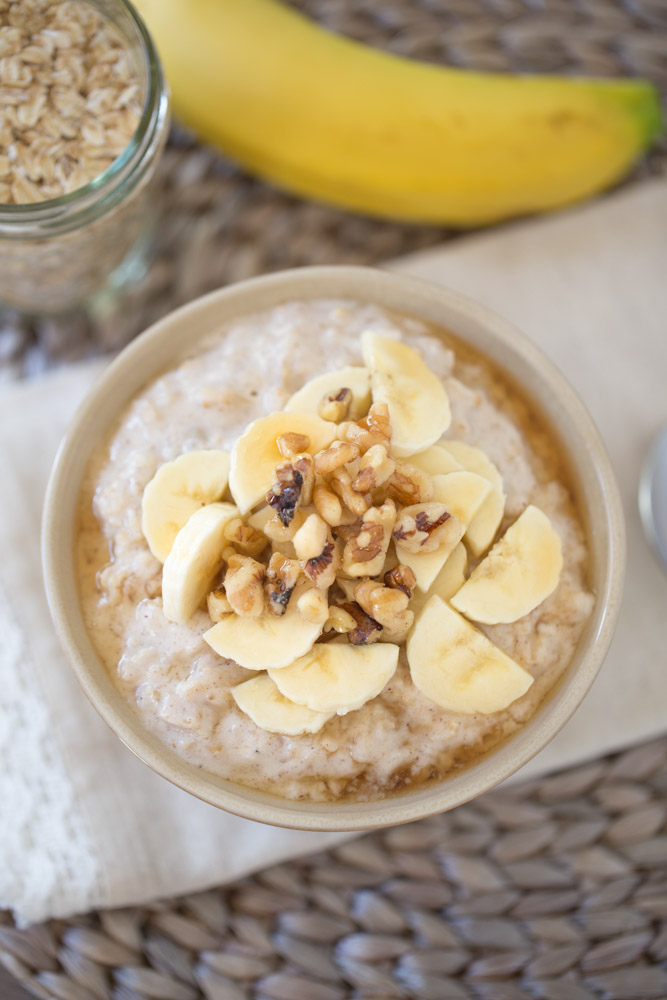 Now let's talk oatmeal. I love making my own homemade oatmeal. I can control the amount and type of sugar, spices and ingredients when I make my own. Sure, instant oatmeal is easy when you're in a hurry but did you know that you can make your own oatmeal ahead of time? All you have to do is heat it up when you're ready to eat it. It's really that simple. You can do that with this banana oatmeal recipe. When I make homemade oatmeals, I usually add a little coconut oil to the recipe. It keeps the oats from becoming clumpy once they cool off.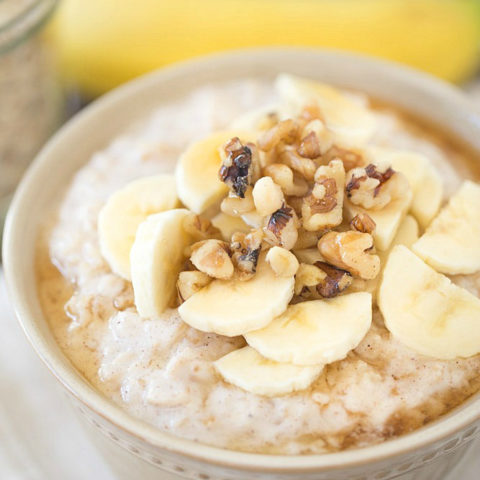 Banana Oatmeal with Maple and Walnuts
Yield: 2 cups

Prep Time: 5 minutes

Cook Time: 5 minutes

Total Time: 10 minutes

Smooth, creamy and slightly tangy Banana Oatmeal is sweetened with maple syrup and topped with crunchy walnuts. Greek yogurt gives this heartwarming, healthy oatmeal a creamy texture and tangy flavor!
Ingredients
1 C old fashioned oats (use gluten free, if desired)
1 3/4 C water
1/4 tsp salt
2 1/2 tbsp maple syrup, plus more for drizzling
1/2 C Greek yogurt
1 1/2 tbsp coconut oil
1/4 tsp ground cinnamon
1/4 tsp ground nutmeg
2 tbsp walnuts, divided
1 banana halved and sliced, sliced divided
Instructions
Bring the water and salt to a boil in a medium saucepan. Add the oats and reduce the temperature to medium heat. Cook the oats for 5 minutes, stirring occasionally.
Once the oats are done cooking, remove them from the burner (and don't forget to turn off the burner) and stir in the Greek yogurt, maple syrup, cinnamon, nutmeg and coconut oil.
Pour or spoon the oatmeal into bowls. Sprinkle each bowl of oatmeal with 1 tbsp of walnuts and the sliced bananas. Drizzle with maple syrup, if desired.
Nutrition Information:

Amount Per Serving: Calories: 440 Total Fat: 20g Sodium: 314mg Carbohydrates: 58g Sugar: 27g Protein: 12g