Flourless Fudgy Brownies
Flourless Fudgy Brownies. These gluten free fudgy brownies are made with almond butter, cocoa powder and agave nectar. 
These brownies. Fudgetastic.
Fudgetastic. Is that a word? Not according to the English language. But that's okay. Cause we're talking food and brownies right now. And brownies this good deserve cutesy made-up words to describe them.
In my quest to reduce sugar consumption, or simply put – cookie eating, I went on a mission to find a good cake or brownie recipe that was free of flour and granulated sugars. I went with brownies because well, simply put,  I am quite fond of them, more-so than cake. In fact, brownies and cookies are in a fierce competition to win my heart over with both equally coming out on top.

I settled on this Easy Paleo Brownie Recipe that I found on Cook Eat Paleo. I basically followed the recipe exactly as notated but I subbed out a couple of ingredients. Since I wanted to go dairy free, I replaced the ghee with coconut oil. Since I wanted live on the edge and try Agave nectar, I subbed the honey with agave nectar. You could also sub the honey with maple syrup. Or just use the honey. The choice is yours.

Flourless Fudgy Brownies
These gluten free fudgy brownies are made with almond butter, cocoa powder and agave nectar.
Author: This Gal Cooks
Recipe type: dessert, gluten free
Cuisine: American
Serves: 12
Ingredients
½ C cocoa powder
½ tsp instant coffee powder
¼ tsp baking soda
⅛ tsp salt
½ C almond butter
¼ C coconut oil, melted
2 eggs
1tsp vanilla
½ C agave nectar, or more if you prefer super sweet brownies
Instructions
Preheat your oven to 325.
Line an 8x8 baking dish with parchment paper.
Add all of the ingredients to a blender or large food processor and process until combined. I used my little cheapo blender and it worked just fine.
Spoon the mixture into the baking dish and smooth out with rubber spatula.
Bake for 20-25 minutes or until the center is set. A toothpick should come out clean.
Remove from oven and place on a wire rack to cool before serving (10-15 minutes)
Cut into squares. I cut mine into 12 squares. Or rectangles. Some were squares, some were rectangles.
Nutrition Information
Serving size: 1 brownie Calories: 170 Fat: 12g Carbohydrates: 15g Sugar: 11g Sodium: 13mg Protein: 3g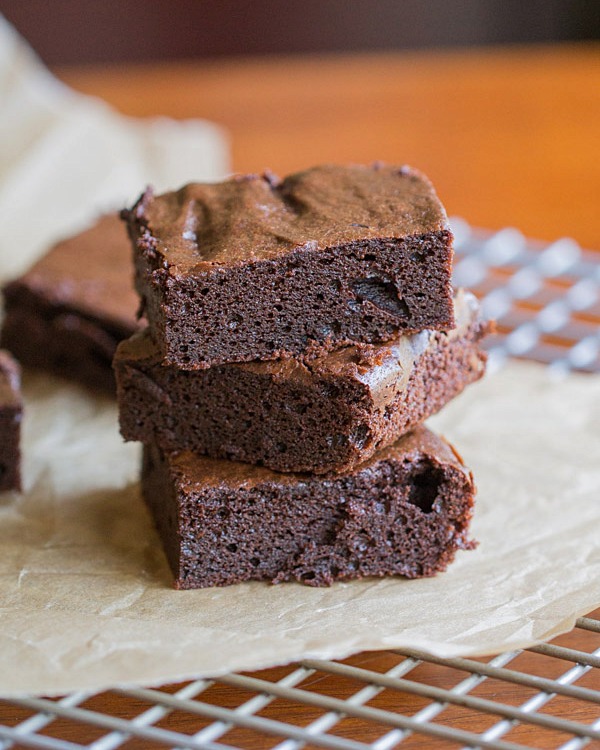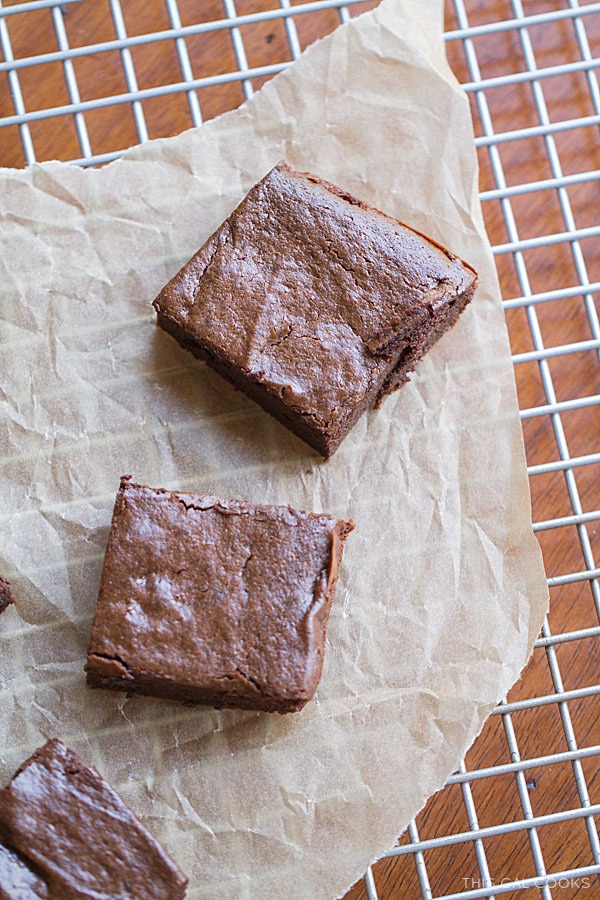 I think I am going to make these flourless fudgy brownies again, subbing the almond butter with peanut butter. I puffy heart peanut butter so I know these brownies will be da bomb when made with peanut butter. Not that they weren't da bomb when made with almond butter. But you're talking to the gal who stashes a jar of peanut butter in her desk at work so she has it on hand for those must have peanut butter moments.
More tasty recipes from This Gal Cooks
(Click images to view recipes)