Blackberry Crisp in a Jar
This Blackberry Crisp in a Jar is such a fun recipe that everyone will love. Who can resist fruit crisp?!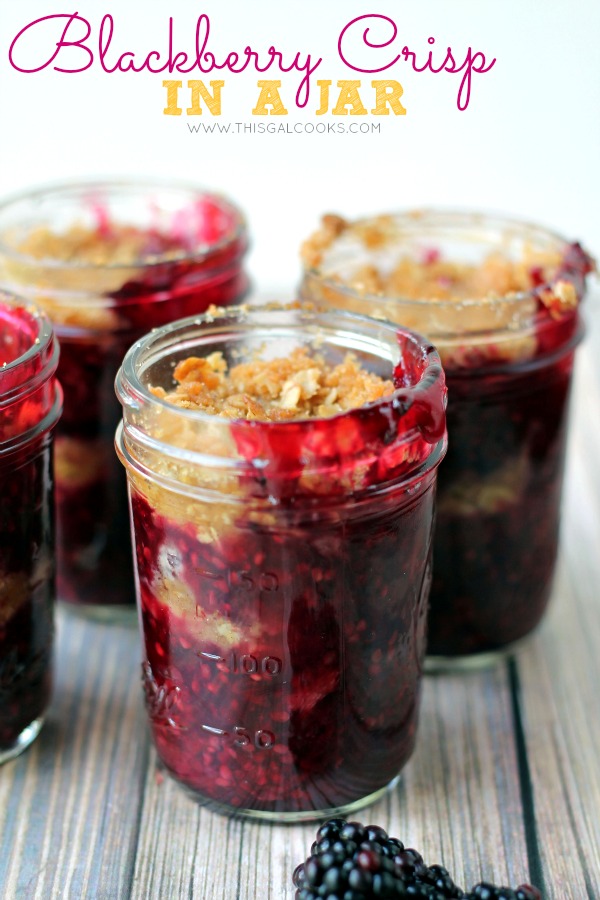 So do you know my friend Julie from White Lights on Wednesday? Yes! Another Julie. Julie's are cool people. Just ask Julie. She'll tell you the same thing! Anyways, my friend Julie and her pal Jen from Four Marrs and One Venus put together this rad recipe competition called Get Your Chef On, or GYCO. This month's ingredient: Blackberries.
In my quest to develop a tasty blackberry recipe, I eventually settled on blackberry crisp. But not any ordinary blackberry crisp. Blackberry Crisp in a Jar. In a jar. Isn't that a nifty little concept? I've seen a lot of cute parfait and trifle recipes in jars. Making a recipe in a jar had been on my to do list. I can finally scratch it off of the to do list. Well, not totally scratch it off. I will be making more jar recipes. It's so fun to do and they are so cute!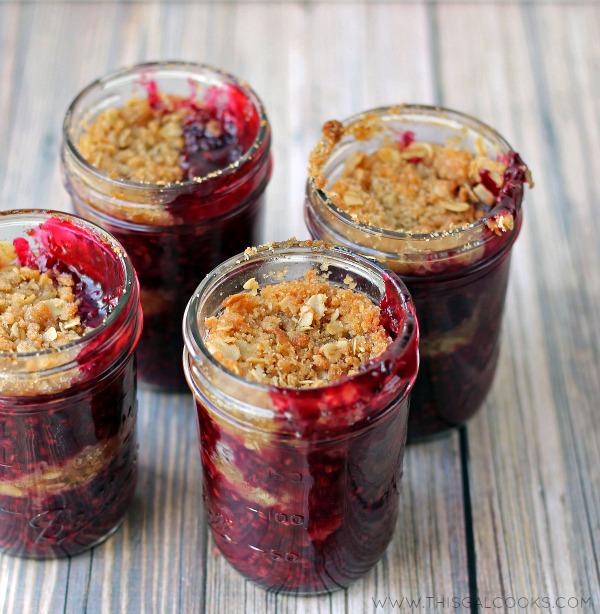 Do you want to know a secret? This berry crisp is 100% dairy free. The crisp is made with Earth Balance vegan baking sticks. Trust me, you cannot tell a difference in taste. The vegan baking sticks actually taste pretty good. I'm not affiliated with Earth Balance in any way. I just really like their product! And the crisp topping stayed nice and crispy, even after being covered overnight. Just make sure to allow the crisps to cool completely before covering.
Oh wait, do you want to know another secret? There is a layer of crisp in the middle of these jars. YES! You get twice the crisp goodness with these little treats. The only thing negative about these little gems is the abundance of blackberry seeds. You can probably see the little seeds in the jars. I am not a fan of seeds in my food. But some good news about the seeds: they are high in Omega fatty acids! And Omegas are good for you! I hope you enjoy this recipe!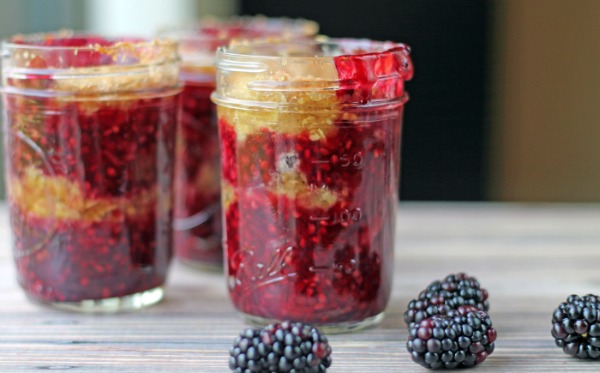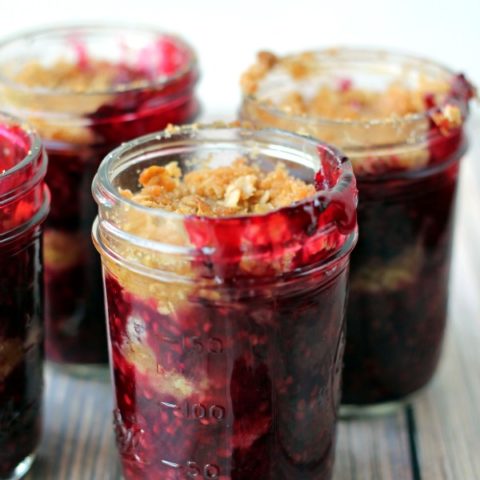 Blackberry Crisp in a Jar
Yield: 4

Prep Time: 20 minutes

Cook Time: 25 minutes

Total Time: 45 minutes
Ingredients
5 C fresh blackberries, rinsed
3 tbsp corn starch
1/2 - 3/4 C granulated sugar (I only used 1/2 C but use what suits your taste preference)
For the blackberry filling:
1/2 C all purpose flour
1/2 C brown sugar
1/4 C granulated sugar
1/4 tsp salt
1/2 C rolled oats
6 tbsp vegan butter
1/4 tsp cinnamon
1/4 tsp salt
Instructions
Combine the blackberries, 1/2 C granulated sugar and cornstarch in large pot over medium heat. Mash the blackberries as they are cooking. Cook until the mixture has thickened and is bubbly. Remove from heat and set aside.
Combine the all purpose flour, brown sugar, 1/4 C granulated sugar, oats, cinnamon and salt. Cut in the vegan butter until the mixture resembles crumbs.
Fill 4 half pint mason jars 1/3 full with the blackberry mixture. Add a layer of the crumb mixture. Then add more berries up to the beginning of the rim of the jar. Add the remaining topping to each jar.
Place the jars on a baking sheet.
Bake at 350 for 20-25 minutes or until the blackberry mixture is bubbly and the crumb topping is golden.
Allow to cool for at least 30 minutes before serving. They will be VERY hot.
Have you followed me via Pinterest yet?
More from This Gal Cooks