Blueberry Coconut Pancakes
A fun twist on pancakes: These Blueberry Coconut Pancakes are made with coconut milk and topped with coconut whipped cream!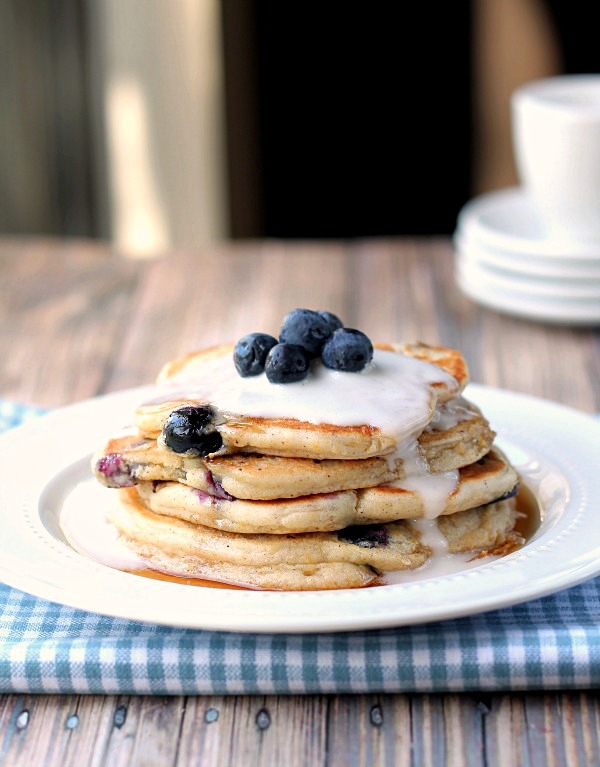 Fresh berries seem to be all the rage right now. Many of them are in season right now. In Florida, our Strawberries are in season in February but even now, you can sometimes get a good package of California strawberries. You may have to dig around, or pay an arm and a leg for the organic strawberries, but you can still find good strawberries during July in Florida.
But enough about strawberries. Today we are talking about blueberries. Fresh blueberry pancakes made with coconut milk. Ah yes, they are pretty amazing. I topped these with syrup and coconut whipped cream. As you can see, the whipped cream sorta melted. But it actually looks really cool drizzling down the slope of pancakes, doesn't it?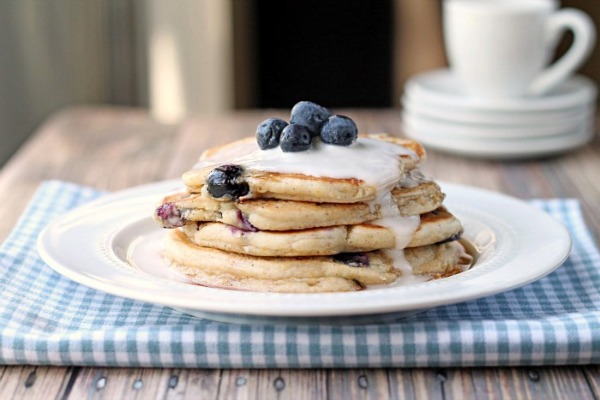 To make this recipe, I used my basic pancake recipe. I just subbed the milk with coconut milk. And I added a whole bunch of delicious, fresh blueberries to the pancake batter. It was oh so delicious.
What are your favorite items to add to pancake batter?
Whew, it has been one busy week. With school, work and blogging and more blogging (did I mention blogging?) I've been one busy gal, once again. Did I tell you I was going to Atlanta next month? I'm going there for 3 days for training for work. I'm not looking forward to flying but I am looking forward to checking out the Atlanta area. We've been talking about the idea of moving out of state sometime after I graduate next year. Ken got CCNP certified last month, which puts him in line for some great job opportunities. Right now it's just talk. You know how people love to talk about the future and what dreams and goals they have, right? If we moved though, I'd definitely miss the beaches. I grew up 45 minutes from the beach and now I live only 10 minutes from the beach. Needless to say, but I will, I love the beach.
What are some of your dreams and goals?
I hope you enjoy this recipe.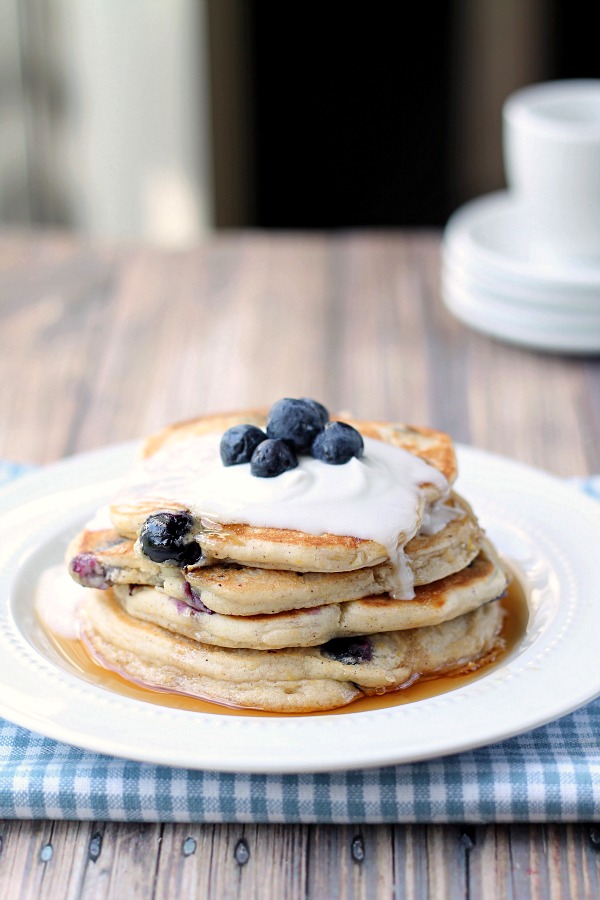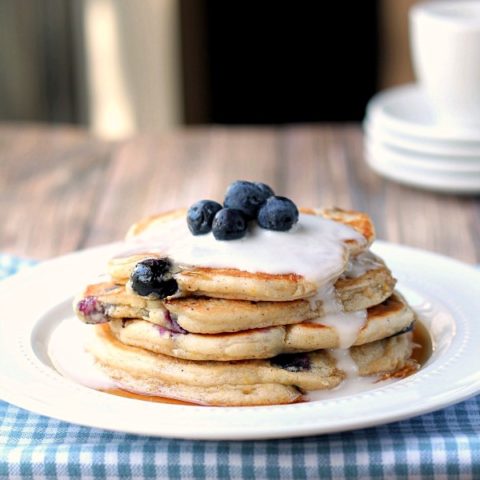 Blueberry Coconut Pancakes
Yield: 4

Prep Time: 10 minutes

Cook Time: 10 minutes

Total Time: 20 minutes
Ingredients
1 C all purpose flour
1 tbsp sugar
2 tbsp cornmeal
2 tbsp vegetable oil
1 egg, beaten (make it vegan: use egg replacer such as flax egg)
1 C coconut milk
2 tsp baking powder
1/4 tsp ground cinnamon
1 C fresh blueberries
pinch of salt
For the coconut whipped cream:
1 can of chilled coconut milk, solid part only, discard the thin liquid.
1 tbsp powdered sugar
1 tbsp granulated sugar
1/2 tsp vanilla extract
Instructions
In a mixing bowl, combine the flour, 1 tbsp sugar, cornmeal, baking powder, salt and cinnamon.
In another mixing bowl, whisk together the egg, coconut milk and oil.
Add the wet ingredients to the dry ingredients and then mix in the blueberries.
Cook on a non stick pan over medium to medium high heat for about 2-3 minute per side.
Serve with syrup and coconut whipped cream.
For the coconut whipped cream:
Beat together the coconut milk solids, vanilla and sugars until it thickens and forms light peaks.
Notes
Makes approximately 12 pancakes, depending on how much batter you use for each pancake.

Nutrition information is for pancakes only. Condiments such as syrup and the coconut whipped cream will alter nutrition content.
Nutrition Information:
Yield: 4 Serving Size: 1
Amount Per Serving: Calories: 570 Total Fat: 42g Saturated Fat: 31g Trans Fat: 0g Unsaturated Fat: 9g Cholesterol: 47mg Sodium: 317mg Carbohydrates: 46g Net Carbohydrates: 0g Fiber: 2g Sugar: 12g Sugar Alcohols: 0g Protein: 9g


So what do you think? Will you give the Blueberry Coconut Pancakes a try?
More recipes from This Gal Cooks