Roasted Fig and Ginger Ice Cream by Blahnik Baker
Hi all and happy Friday! I've been super busy lately with school, work and studying for the GRE that I was going to take this weekend (but am now postponing) so my pal Zainab from Blahnik Baker is taking over the blog today to share the crazy good Roasted Fig and Ginger Ice Cream with you. Enjoy!
A dairy-free and vegan ice cream combining the wonderful flavors of roasted figs, coconut and ginger.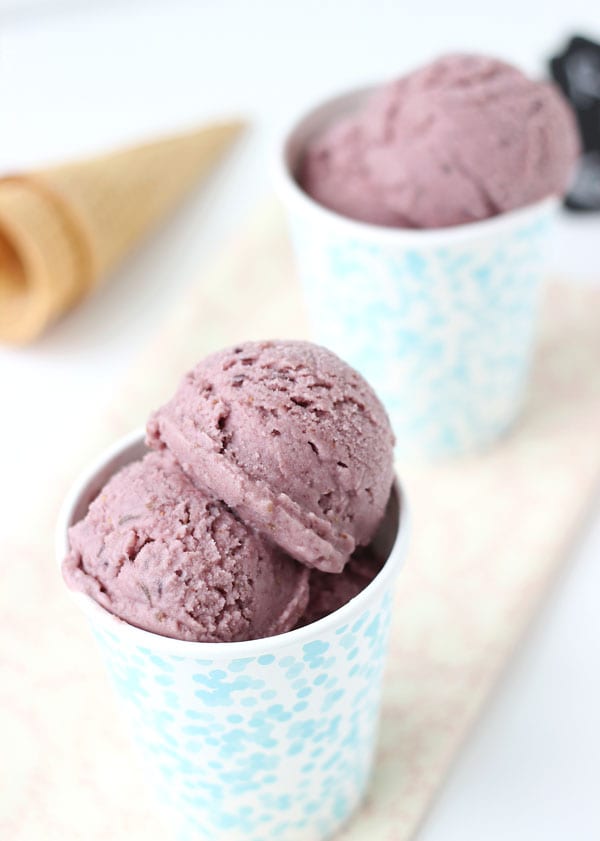 Hello This Gal Cooks fans! I'm Zainab and I write the dessert blog Blahnik Baker. I love creating and baking elegant sweet treats and enjoy taking beautiful pictures of them. I know…I do have an issue but my love for baking and blogging has brought so many great people into my life. One of these fabulous people is Julie, your host here at This Gal Cooks. She is one of my good blogging friends and a trusted adviser. When she called out for some help this week as she studies for her exam, I was so happy to come over.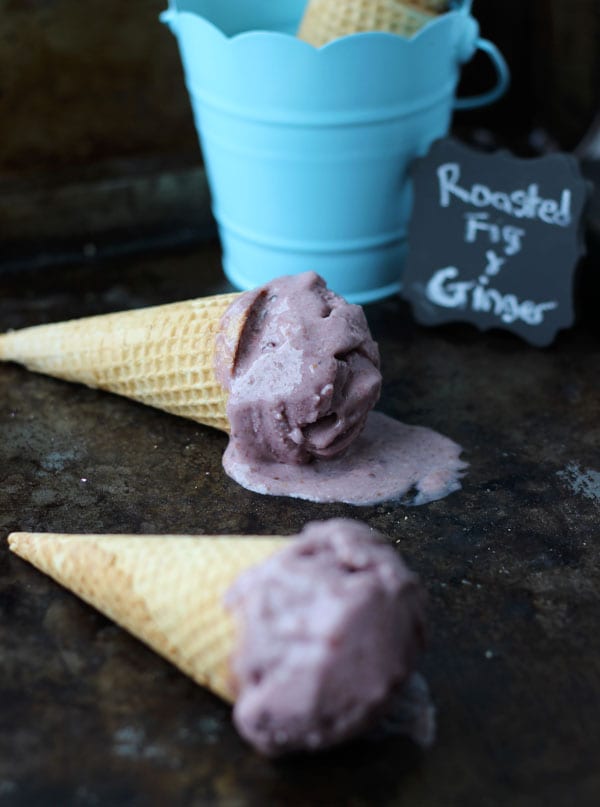 I know Julie recently changed her diet due to dairy intolerance so I created this dairy-free, vegan and GF roasted fig and ginger ice cream for her (and you!) to enjoy this summer. To be honest, given how creamy, delicious and flavorful it is, you will not miss the heavy cream that typically makes an appearance in regular ice cream. I love using coconut milk as a dairy substitute in baking as it not only makes moist cakes; it also creates creamy ice cream (double win!!).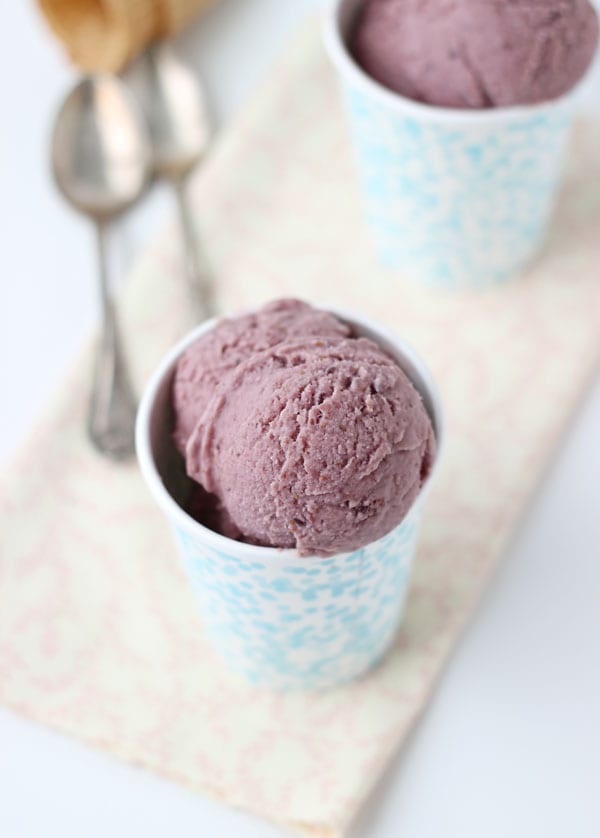 Have you had tried figs? I know they are hard to find in some places. Do you enjoy them? I love them and recently have been obsessed with them since they make the best sweet or savory dishes. For a richer flavor in this ice cream, I roasted the figs in brown sugar, honey, ginger and fresh lemon zest. This brought out the wonderful bold flavors ,which were then combined with coconut milk and honey. This ice cream is incredibly refreshing and delicious. You need to try it soon!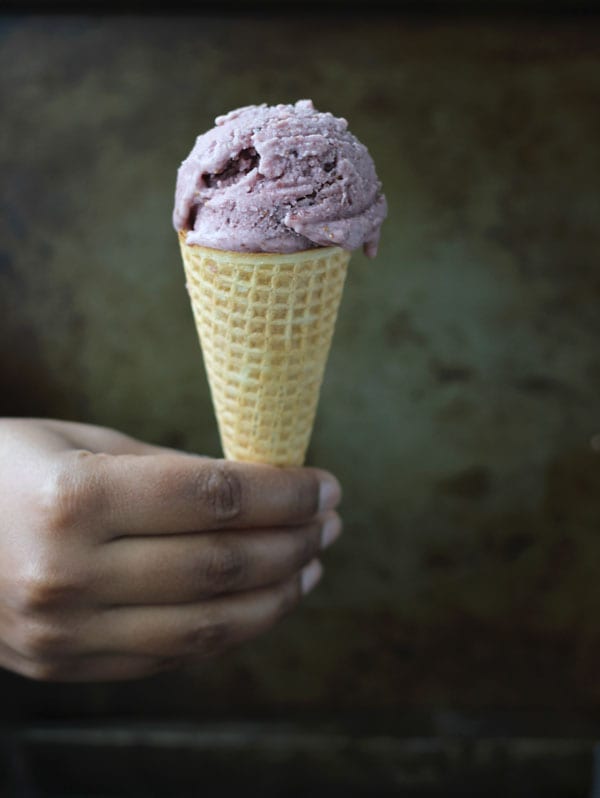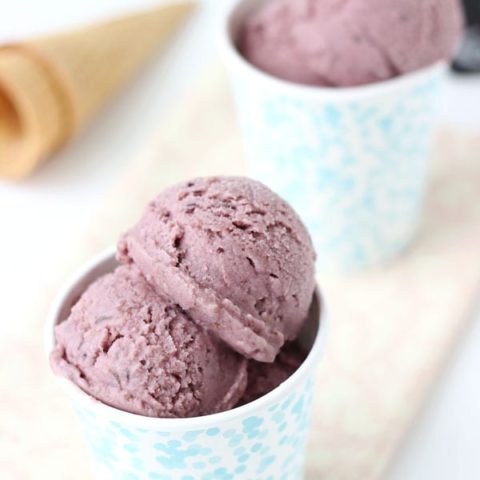 Roasted Fig & Ginger Ice Cream
Ingredients
1 pound ripe figs
1 tablespoon light brown sugar
​2 tablespoons honey
1-inch ginger, peeled and finely grated
​Zest of 1 lemon
​2 cups coconut milk
½ cup honey (use agave nectar for vegan option)
1 teaspoon vanilla extract
Instructions
Preheat oven to 400 degrees F.
Slice each fig in half lengthwise. Toss with brown sugar, honey, ginger and lemon zest. Roast figs; cut side down, in a single layer until cooked through, about 20-30 minutes. (I placed on a foiled baking sheet for easy clean up).
Transfer figs to the bowl of a food processor and blend until smooth. Leave some chunks if you like. (If you do not like seeds or chunks, strain through a fine sieve and return mixture to the food processor bowl). Add the coconut milk, vanilla extract and honey and mix until just combined.
Transfer bowl to fridge and chill for an hour or two. Pour the chilled mixture into the freezer bowl of your ice cream maker and mix about 25-30 minutes until frozen or according to your manufacturer's directions.
Serve soft or transfer to a freezer safe container and freezer for an hour or two until hard.

Thank you for having me today. I hope you enjoyed this recipe. I'd love for you to visit me over at Blahnik Baker where you will find more of my recipes. Julie, I hope your exams go well :) Good Luck!