Stout Beer Chili (with Clown Shoes Chocolate Sombrero)
Stout Beer Chili is a thick, hearty and flavorful beer chili made with Clown Shoes Chocolate Sombrero Stout. The imperial stout has bold chocolate flavor as well as hints of vanilla, cinnamon and ancho chili pepper. Coupled with the beef and chili spices, this stout lends complex flavors to my stout beer chili.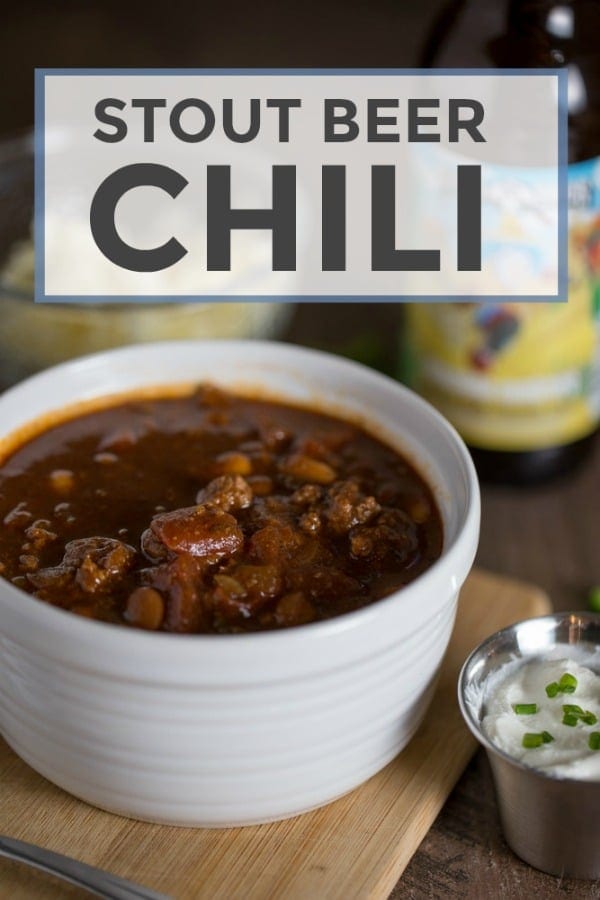 STUFF
A couple weeks ago a cold front passed through Florida. As a result, we had like two days of perfectly cool weather. It's the kind of weather that prompts Floridians to break out the sweaters, jackets, jeans and yes, even beanie hats. Trust me, it wasn't that cold outside but we will grasp at whatever we can get. Additionally, the cool weather means it's the beginning of chili season. A stroll through the grocery store and a glance at the contents of wandering grocery carts will confirm this. CHILI INGREDIENTS!
My stout beer chili is a perfect match for cooler weather.
INGREDIENT REPLACEMENTS
If you can't find Chocolate Sombrero Stout, you can use another stout or porter in place. Here are a few that will work well:
Rogue Chocolate Stout
Sierra Nevada Stout
Founders Porter
Guinness Stout
Kona Pipeline Porter
If you don't cook with or drink alcohol, I suggest trying one of these chili recipes:
CHILI TOPPINGS
After your chili is ready to devour, you can top it with your favorite toppings. My favs are shredded cheddar, sour cream, sliced jalapenos and cilantro. What are your favorite chili toppings? Let me know in a comment below!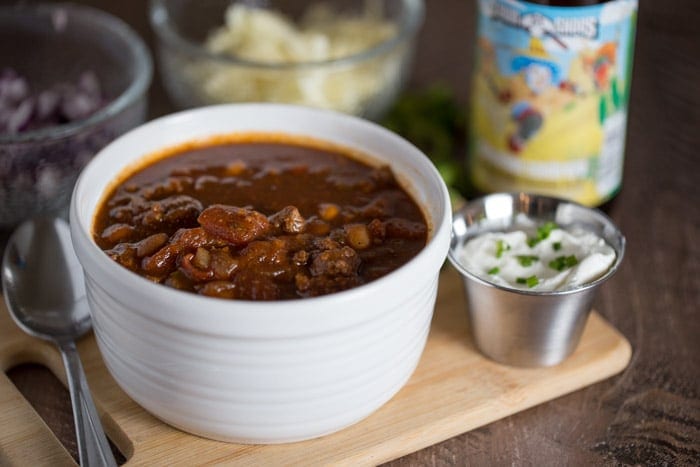 Stout Beer Chili (made with Clown Shoes Chocolate Sombrero stout)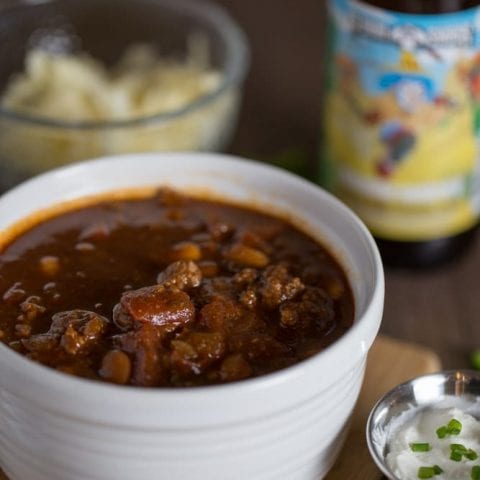 Stout Beer Chili
Yield: 6-8 servings
Prep Time: 15 minutes
Cook Time: 1 hour
Total Time: 1 hour 15 minutes
Thick and hearty chili that's full of flavor thanks to the addition of a spicy chocolate stout!
Ingredients
1 tbsp olive oil - extra virgin or extra light tasting works
1.25 lb of ground beef or ground bison
2 small onions, chopped
2 jalapenos, chopped
Chili Seasoning (see recipe below)
1 C Stout beer
1 8oz can tomato sauce
1 14.5 oz can diced tomatoes
1 6oz can tomato paste
1/2 C beef broth
1 15 oz can white chili beans (not drained)
1 15 oz can pinto beans, drained and rinsed
For the chili seasoning
For the chili seasoning
2 tbsp chili powder
1 tsp ground cumin
1 tsp paprika
1/2 tsp garlic powder
1/4 tsp cayenne pepper
2 tsp brown sugar
1/2 tsp salt
1/2 tsp ground black pepper
1/4 tsp oregano
Instructions
In a large pot, heat the olive oil over medium high heat. Add the Beef or Bison, jalapeno and onion. Cook until the meat is browned, 7-10 minutes.
Meanwhile, make the chili seasoning. Whisk together all chili seasoning ingredients.
After the meat is browned, add the chili spices. Mix well and and cook for 1 minute to toast the spices.
Add the beer, tomato sauce, diced tomatoes, tomato paste, beef broth and beans to the pot. Stir to combine everything.
Reduce heat and simmer uncovered for 1 hour.
Taste the chili and add salt to taste.
Nutrition Information:
Yield: 6
Serving Size: 1
Amount Per Serving:
Calories: 766
Total Fat: 35g
Saturated Fat: 12g
Trans Fat: 1g
Unsaturated Fat: 17g
Cholesterol: 139mg
Sodium: 2056mg
Carbohydrates: 56g
Net Carbohydrates: 0g
Fiber: 9g
Sugar: 15g
Sugar Alcohols: 0g
Protein: 56g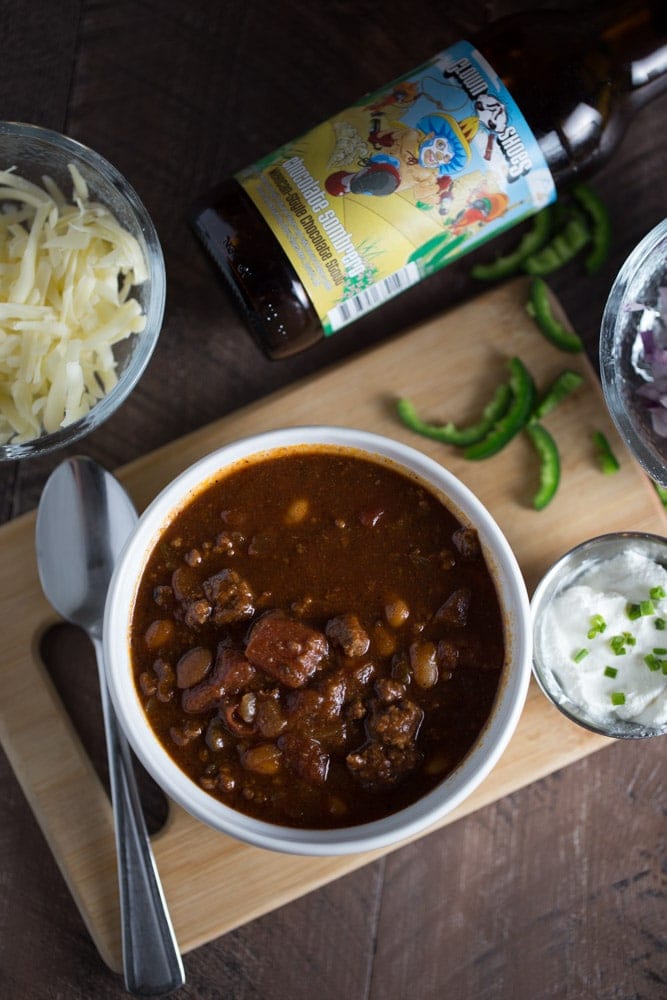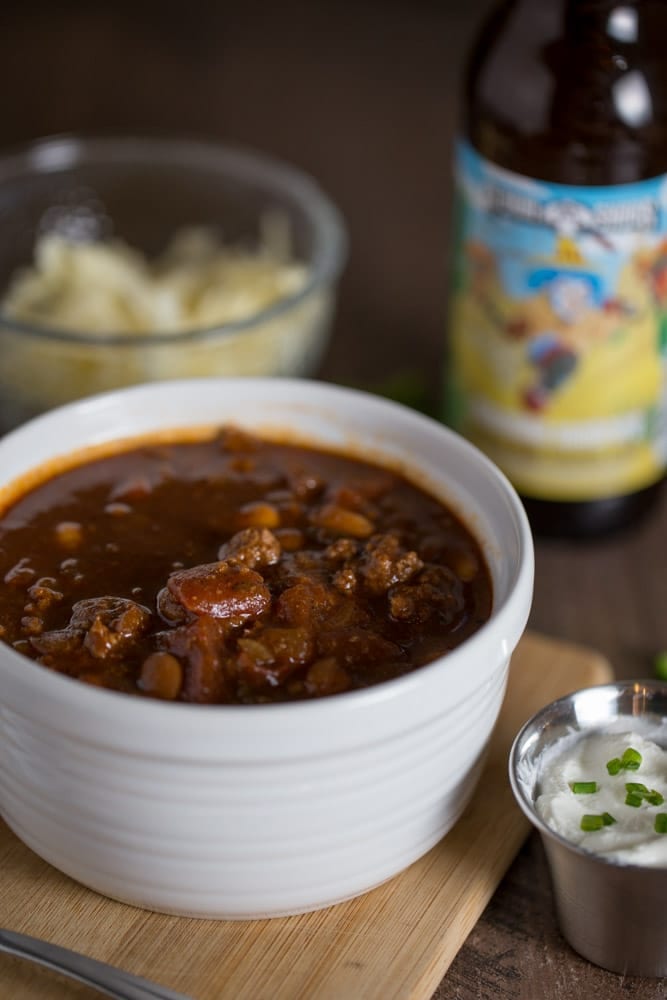 Did you make this recipe? I'd love for you to leave a comment and a rating below! 
Follow me on Instagram.