Hearty No Bean Chili Recipe
Love chili but not the beans? Then this Hearty No Bean Chili Recipe is perfect for you!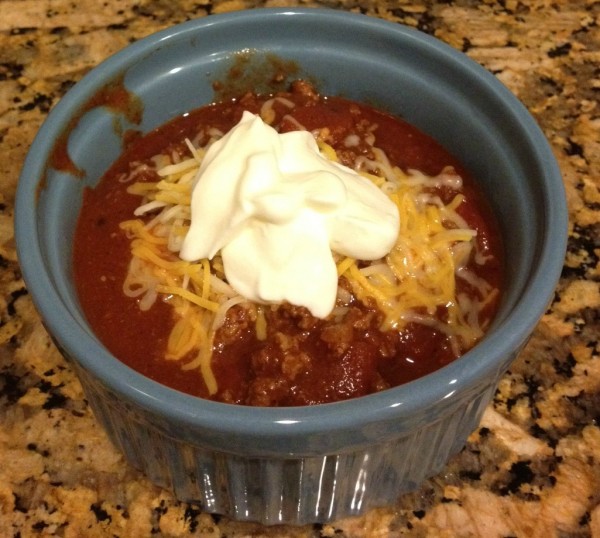 Hearty No Bean Chili Recipe

If you're like me, you love chili. I can eat chili anytime, even on hot, June days in Florida. It tastes good and it always produces leftovers which is great for during the week when you are busy with work and other projects.
I usually make my chili with beans but I've been pondering making a no bean chili because, well, sometimes I just don't like having the beans in it. So tonight I set forth and made a huge pot of no bean chili. This chili is loaded with beef, tomatoes, spices and even a few unexpected ingredients. I put this recipe together using ingredients from past recipes that I've used over the years. This chili turned out really well. It has a little spice but not too much. Please let me know if you make it and what you think!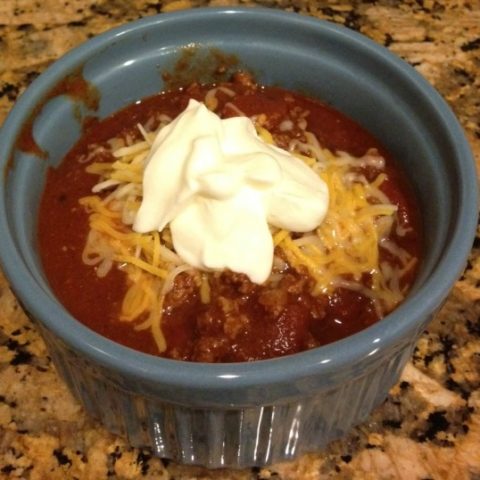 Hearty No Bean Chili Recipe
Yield: 6-8 servings
Prep Time: 20 minutes
Cook Time: 1 hour
Total Time: 1 hour 20 minutes
Ingredients
2lb of ground beef
1 small onion, chopped
1 jalapeno pepper, chopped 28oz can of diced tomatoes
1 6oz can of tomato paste
1 15oz can of tomato sauce
1 chipotle pepper in adobo sauce, seeds removed and diced
A couple of spoonfuls of the adobo sauce from the chipotle peppers
1/2 cup of water
1/2 cup of beer
2 tbsp of chili powder
1 cube of beef bullion
1 tsp of dried oregano
1 tsp of paprika
2 tsp of cumin
1 tsp of salt
1 tsp of cayenne pepper
1 tsp of white sugar
2 tbsp of apple cider vinegar
1 tbsp of unsweetened coco powder
Instructions
Over medium high heat, in a large pot, brown the meat along with the onions and jalapeno pepper. Break up the meat with a spatula into small bits.
Drain the excess grease from the meat and return it to the pot. Add the remaining ingredients.
Stir and let simmer for one hour. You may eat it before simmering but taste-wise, simmering for 1 hour is recommended.
Nutrition Information:
Yield: 6
Serving Size: 1
Amount Per Serving:
Calories: 559
Total Fat: 31g
Saturated Fat: 11g
Trans Fat: 1g
Unsaturated Fat: 15g
Cholesterol: 147mg
Sodium: 1163mg
Carbohydrates: 21g
Net Carbohydrates: 0g
Fiber: 7g
Sugar: 12g
Sugar Alcohols: 0g
Protein: 49g