Ikea Lack Coffee Table Transformed!
So we had this Lack Coffee Table from Ikea that didn't match the decor in our front room (it was espresso, the other furniture in the room is white) so I decided to do something else with it. I was going to just paint it white but I didn't think it looked right in the room as white – there was already too much white in the room. So after searching some blogs for ideas (see Ikea Hackers and Pinterest) I decided to make the table into a bench.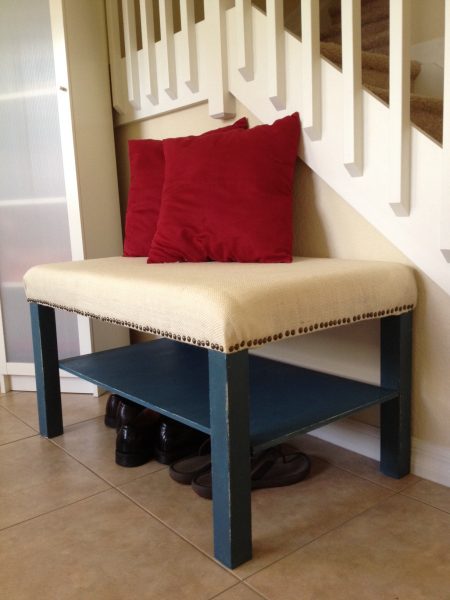 For this project, I painted the legs and the bottom shelf with one coat of ASCP Paris Grey, one coat of Old White and one coat of Aubusson Blue (I probably didn't need that many coats but this was my first project with the ACSP so I wasn't used to it yet.) I then mildly distressed the table and waxed with clear wax and a little dark wax.

For the table top (make sure to remove the legs), I used two 2″x22″x22″ foam pads. I had to cut one of the pads to fit. I hot glued them to the table. I then covered the table top with batting material (I got the cheapest pack, making sure it would be bigger than the tables dimensions) and stapled it to the bottom of the table top, making sure to pull to ensure a secure, snug fit. After applying the batting material, I covered the table top in burlap (I purchased 2 yards but 1.5 probably would have been enough as I had some leftover), stapling it to the bottom of the table top. I made sure that the burlap had a snug fit as well. I then ironed the burlap as there was a crease down the middle. After that, I added upholstery tacks for looks. Believe me, the upholstery tacks made the look of the bench.