Creamy Potato Bacon Soup
Thick and hearty Creamy Potato Bacon Soup is perfect for a cool winter day.  Top it with cheddar cheese and green onions for an extra boost of flavor!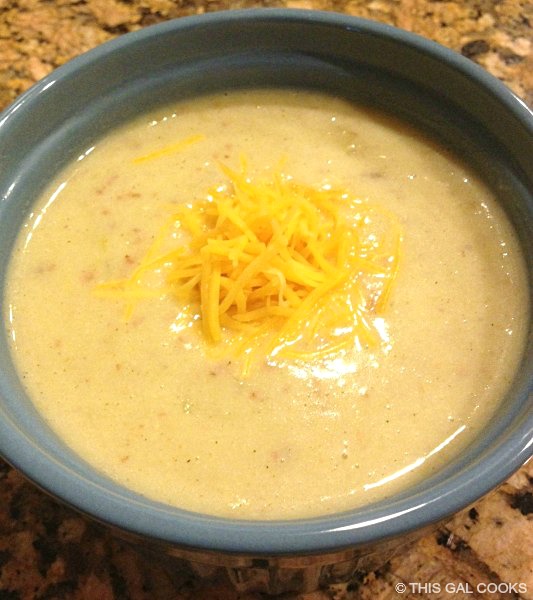 I LOVE potato soup. I mean, who doesn't? Creamy Potato Bacon Soup is hard to dislike. I have attempted many potato soup recipes and finally tweaked the recipe enough times to be able to produce an awesome batch of potato soup! This recipe is inspired by La Madeleine's Country Potato Soup Recipe. I've altered the ingredients to my liking.
Creamy Potato Bacon Soup
Creamy Potato Bacon Soup
Author: This Gal Cooks
Recipe type: soup
Serves: 6 servings
Ingredients
2.5lb of golden potatoes, peeled and diced
8oz of bacon, diced
2 leeks, sliced
⅓ cup of white wine
32oz of chicken broth
½ cup of whipping cream
3 tbsp of butter or margarine
½ tbsp of ground thyme
Garlic Powder - to taste
Salt - to taste
Instructions
Peel and dice the potatoes. Meanwhile, bring a large pot of water to a boil.
Add the diced potatoes to the water and cook until they are tender. Do not over cook. You do not want to end up with mashed potatoes.
While the potatoes are cooking, bring a large pot to medium high heat and add the bacon. Cook 5 minutes. Drain the bacon and reserve some of the bacon grease for use in the soup (about 1tbsp) Return the bacon to the pan. Add the white wine and deglaze the pot. Add the leeks, thyme and garlic powder (add a small amount, you will add more later) to the pot. Add the 1tbsp of reserved bacon grease to the pot. Stir.
Once the potatoes are done cooking, add a little more than half of them to a large mixing bowl. Add the butter, half of the broth and the bacon mixture to the bowl. With a hand-held mixer/puree device, puree the mixture.
Add the mixture back to the pot and add the remaining potatoes and broth. Mix well.
Mix in salt and garlic powder to taste. I suggest adding a little at a time, stirring, tasting and then adding more if needed.
Nutrition Information
Serving size: 1 C
HUNGRY FOR MORE?
Try this Slow Cooker Potato Ham and Leek Soup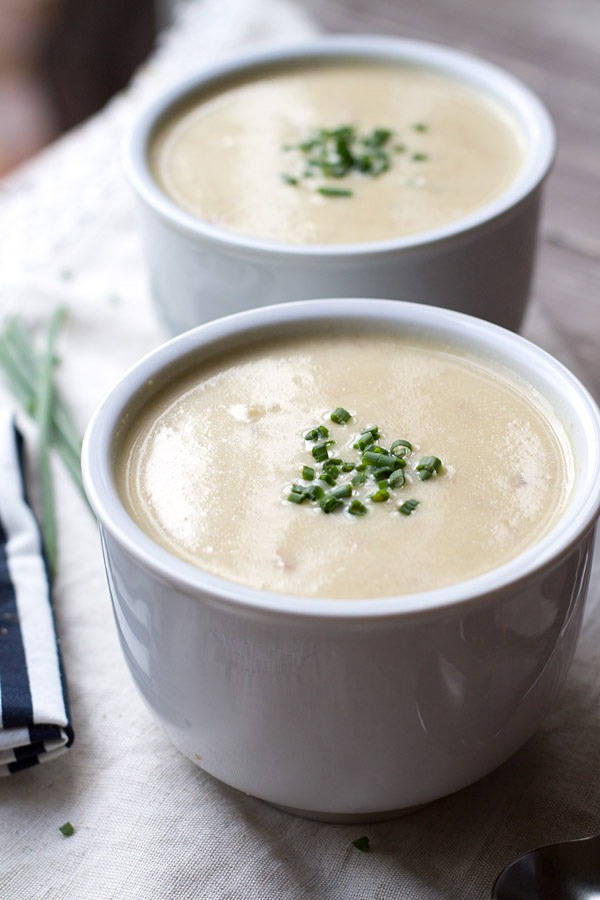 Or this Slow Cooker Thai Chicken Soup