Smoky Vegan Quinoa Chili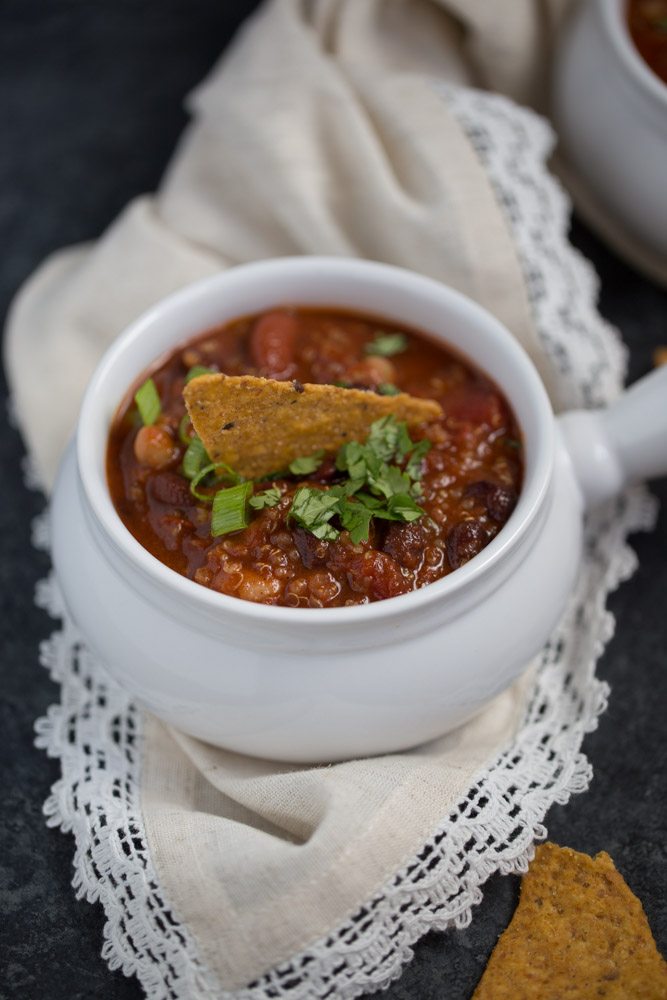 I have been holding on to this post for a long time! It would have made sense to post it during the fall but that didn't happen so here we are!
It's probably weird to post a chili recipe in April BUT I'm going to justify it by thinking about the northeast who just saw snow this past week. They would probably enjoy a big ol' bowl of chili right now. Amirite?
Heck, I enjoy a big ol' bowl of chili even when it's hot outside. ??
Vegan Quinoa Chili
This recipe is loosely adapted from Cooking Classy's Quinoa Chili recipe.
What I love about this chili recipe:
it's vegan
it's healthy
it's made with quinoa
it has a smoky flavor, thanks to smoked paprika
it's easy to make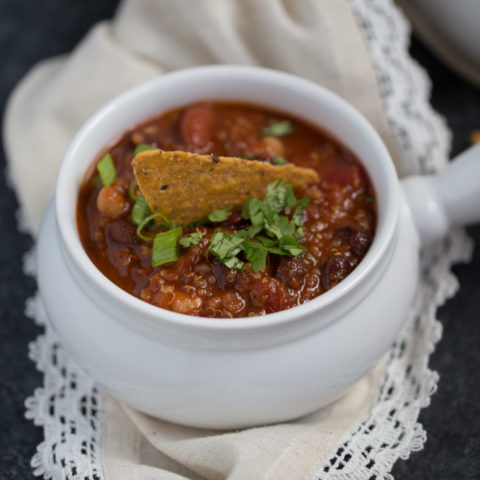 Smoky Vegan Quinoa Chili
Yield: 6-8 servings

Prep Time: 15 minutes

Cook Time: 30 minutes

Total Time: 45 minutes

A vegan quinoa chili recipe made with quinoa and chili. The recipe gets it's smoky flavor from smoked paprika.
Ingredients
1 tbsp extra virgin olive oil
1 small sweet onion, diced
4 cloves garlic, minced
1 1/2 tsp smoked paprika
1 1/2 tsp cumin
1/2 tsp cayenne pepper
2 tbsp chili powder
1/2 tsp sugar
2 C cooked quinoa
1 C vegetable broth
1 15oz can spicy red pepper diced tomatoes
1 28oz can petite diced tomatoes
1 15oz can black beans
1 15oz can light red kidney beans
1 15oz can white chili beans
1 4.5 oz can diced green chilies
1 7oz can tomato paste
2 8oz cans tomato sauce
Instructions
Heat the olive oil in a large soup pot such as a dutch oven. Add the onion and sauté until tender. Add the garlic and sauté 1 more minute. Add the smoked paprika, cumin, cayenne pepper and chili pepper to the onion/garlic mixture and mix well. Cook for 2-3 minutes in order to bring out the flavors of the spices.
Add the remaining ingredients and mix well. Cover and simmer for 30 minutes.
Nutrition Information:

Amount Per Serving: Calories: 432 Total Fat: 5g Saturated Fat: 1g Trans Fat: 0g Unsaturated Fat: 4g Cholesterol: 0mg Sodium: 1576mg Carbohydrates: 78g Fiber: 20g Sugar: 19g Protein: 19g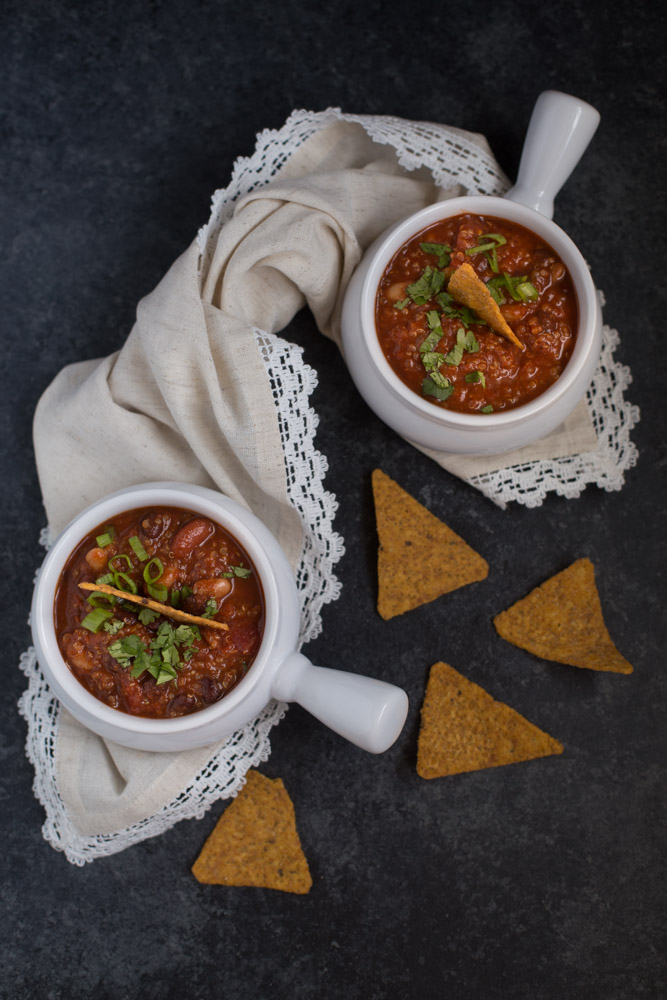 Let's be friends on INSTAGRAM, FACEBOOK, TWITTER and PINTEREST!