Turkey and Roasted Butternut Squash Chili
Thick, hearty soups are perfect for a chilly day. This Turkey and Roasted Butternut Squash Chili is thick, hearty and pleasantly delicious!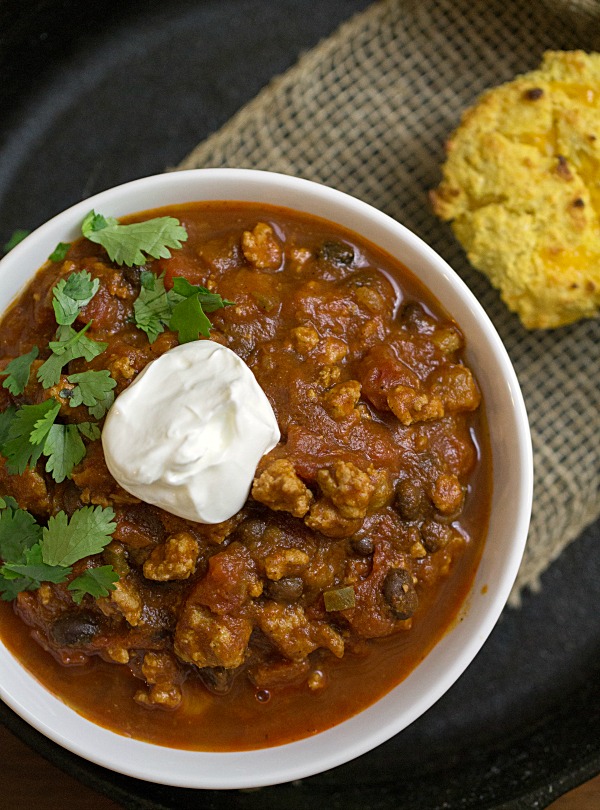 Do you ever wish you could magically pop right into your dream job so you could be totally happy with what you do during 8 hours of the day? I wish upon that quite often. I know wishing yourself into a dream job isn't reality. That's why I'm going to school. That's why I will be graduating with a bachelors degree in August. Sometimes things are brought to your attention and you realize your strengths and your weaknesses. I mean, I know what my strengths are but I guess sometimes I'm less than quick to admit all of my weaknesses. But I know I have them. And I know they affect my day job. But I'm going to work on correcting the weaknesses and work on getting into a job that let's me utilize my strengths.
I bet you're wondering what that ramble was about. Just something that was brought to my attention at work. I won't go into details on that, but I just had to get those thoughts above out there into the world. I hope you don't mind listening.
So enough about that. Let's talk about chili. I love chili. I like eating it from the bowl, topped with sour cream, cheese and cilantro. I love eating chili cheese dogs. Chili cheese nachos. Chilli cheese tacos. Are you craving chili yet?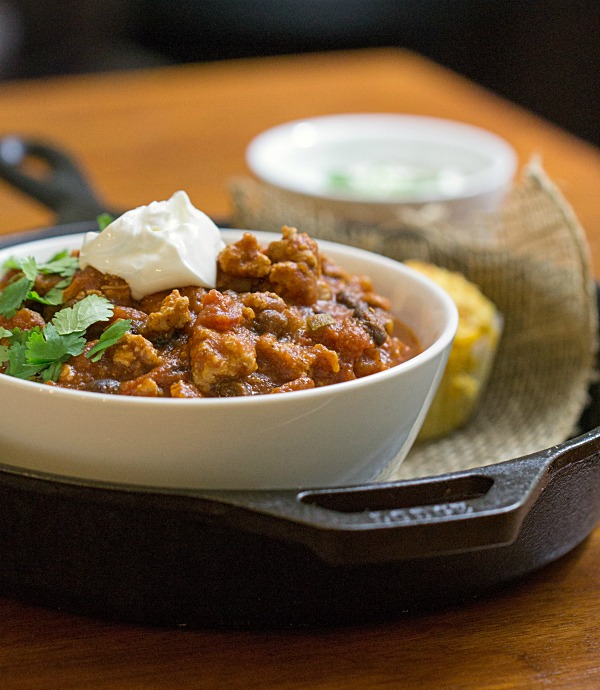 Turkey and Roasted Butternut Squash Chili
Now you are! That chili looks good, doesn't it? So thick and hearty. And just a dash of sweet. That's what the butternut squash does for this chili. It makes it slightly sweet and super thick but without the use of refined sugars.
I roasted some butternut squash in olive oil, maple syrup and cinnamon. I then pureed it. I cooked up a batch of turkey chili, filled with typical chili ingredients but I used black beans rather than kidney beans. It's all about preference, though. If you prefer the kidney beans, use those instead! After adding all of the chili ingredients to the pot, I mixed in the pureed roasted butternut squash. Um yum! Serve in a bowl and top it off with your favorite ingredients. Enjoy!
Want to easily save this recipe to your own personal recipe box? Click the SAVE RECIPE button below (and on all of my recipes) to create your own meal plans! The ingredients from your favorite recipes will be added to your own grocery list!+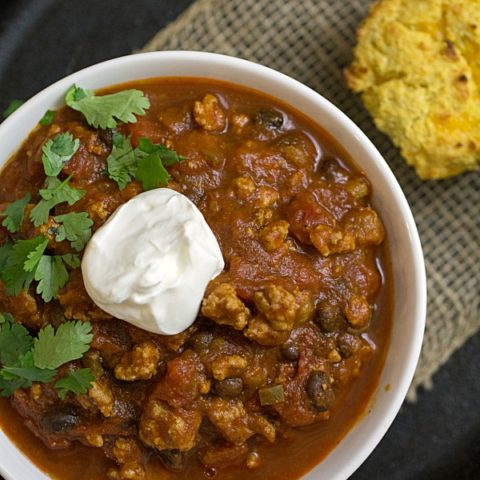 Turkey and Roasted Butternut Squash Chili
Yield: 6 servings

Prep Time: 20 minutes

Cook Time: 2 hours

Total Time: 2 hours 20 minutes
Ingredients
2 C diced butternut squash (I used frozen)
3 tbsp olive oil
1/2 tsp ground cinnamon
1 tbsp maple syrup
1/4 tsp ground chipotle pepper
1 lb lean ground turkey
1/2 C sweet onion, chopped
1 medium jalapeno, chopped
2 cloves of garlic, minced
1/2 C celery, diced
1 15oz can of black beans, drained and rinsed
1 14.5oz diced tomatoes, drained
1 tbsp olive oil
1 packet of tex mex chili seasoning (I used an all natural one that I found, use that if you can or make your own seasoning!)
2 tbsp olive oil
1 28oz can of tomato sauce
Instructions
To roast the Butternut Squash
Whisk together the 3 tbsp olive oil, cinnamon, maple syrup and ground chipotle pepper
Pour over the diced butternut squash.
Spread over a foil lined baking sheet and bake at 350 for 30 minutes.
Remove from the oven, cool a little and then puree in a blender.
For the Chili
In a large pot, saute the garlic, jalapeno, celery and onion in 2 tbsp olive oil. Add the turkey and cook until browned.
Add the remaining ingredients and mix well. Stir in the pureed roasted butternut squash.
Cover and simmer for 1-2 hours.
Serve in bowls with your favorite toppings such as sour cream, queso fresco, cheddar cheese and cilantro
More tasty recipes from This Gal Cooks