King Ranch Chicken Casserole (from The Southerner's Cookbook)
This post may contain affiliate links. Please read my disclosure policy. 
NOT a sponsored post. I just love The Southerner's Cookbook. ♥︎
Let's dive into a giant pan of King Ranch Chicken Casserole. Seriously. This recipe makes one gigantic batch of super delicious and creamy king ranch chicken casserole. It's the kind of chicken casserole you want to make over and over again. It's filling and did I mention it's super delicious?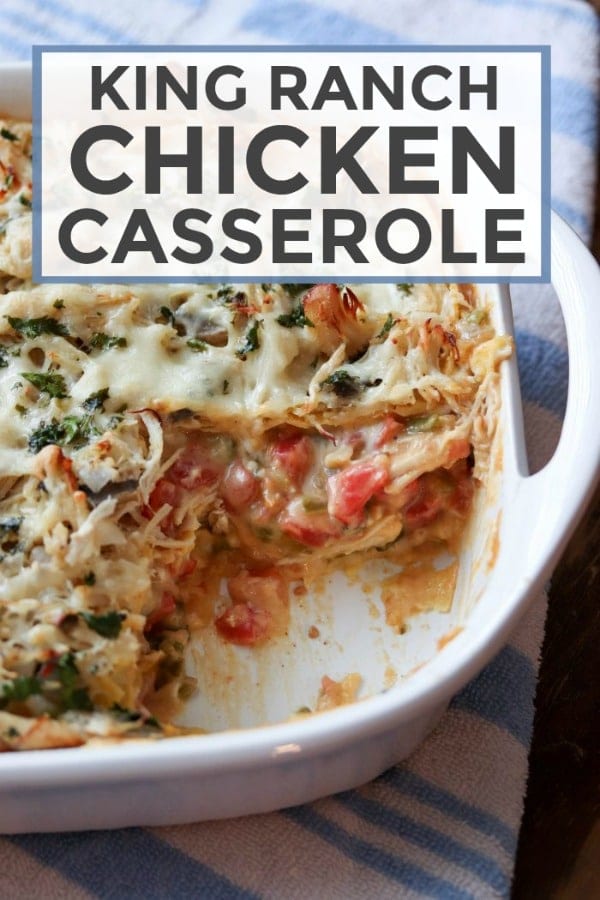 STUFF
One day I was shopping in one of my favorite stores in Lakeland, Scout and Tag. Not kidding when I say I go in there every time I'm in Lakeland. I oooh and aaaah over just about everything in the store. Lakeland is my hometown so I appreciate the homage Scout and Tag pays to it.  I also appreciate the extensive collection of craft-fully painted solid wood furniture, homemade pillows and Rafa Naturals scented wax. That stuff is da bomb, yo.
As I made my way to the checkout counter I spotted The Southerner's Cookbook. MUST HAVE.
Not a surprise: I bought the cookbook. Later that day I flipped through the pages, practically drooling over the gorgeous shots of southern inspired recipes. I made a list of the recipes I would make stat. King Ranch Chicken was on the list.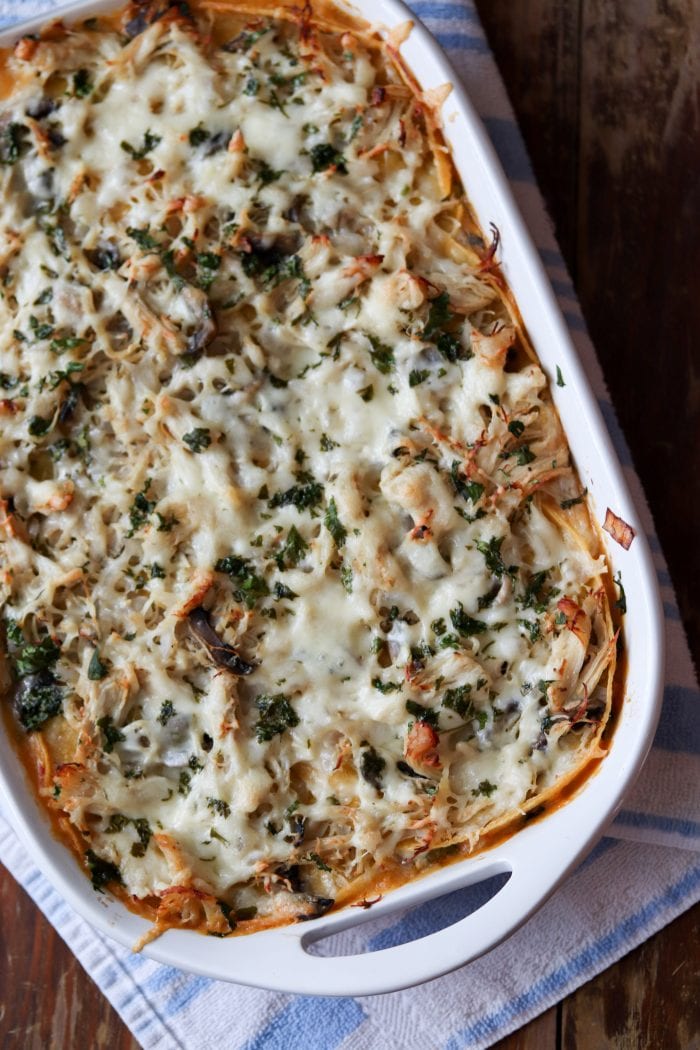 RECIPE INFORMATION
King ranch chicken is easy to make but ingredient heavy. However, don't let that deter you from making the recipe. The time and minimal effort are totally worth the resulting creamy chicken casserole. Did I mention the casserole will feed a crowd? We fed both of us plus my mom and we had leftovers for 2 days afterwards. My mom took leftovers home with her. So whether you're looking to feed a crowd for a night or feed a couple for a few days, this recipe fits the bill. :)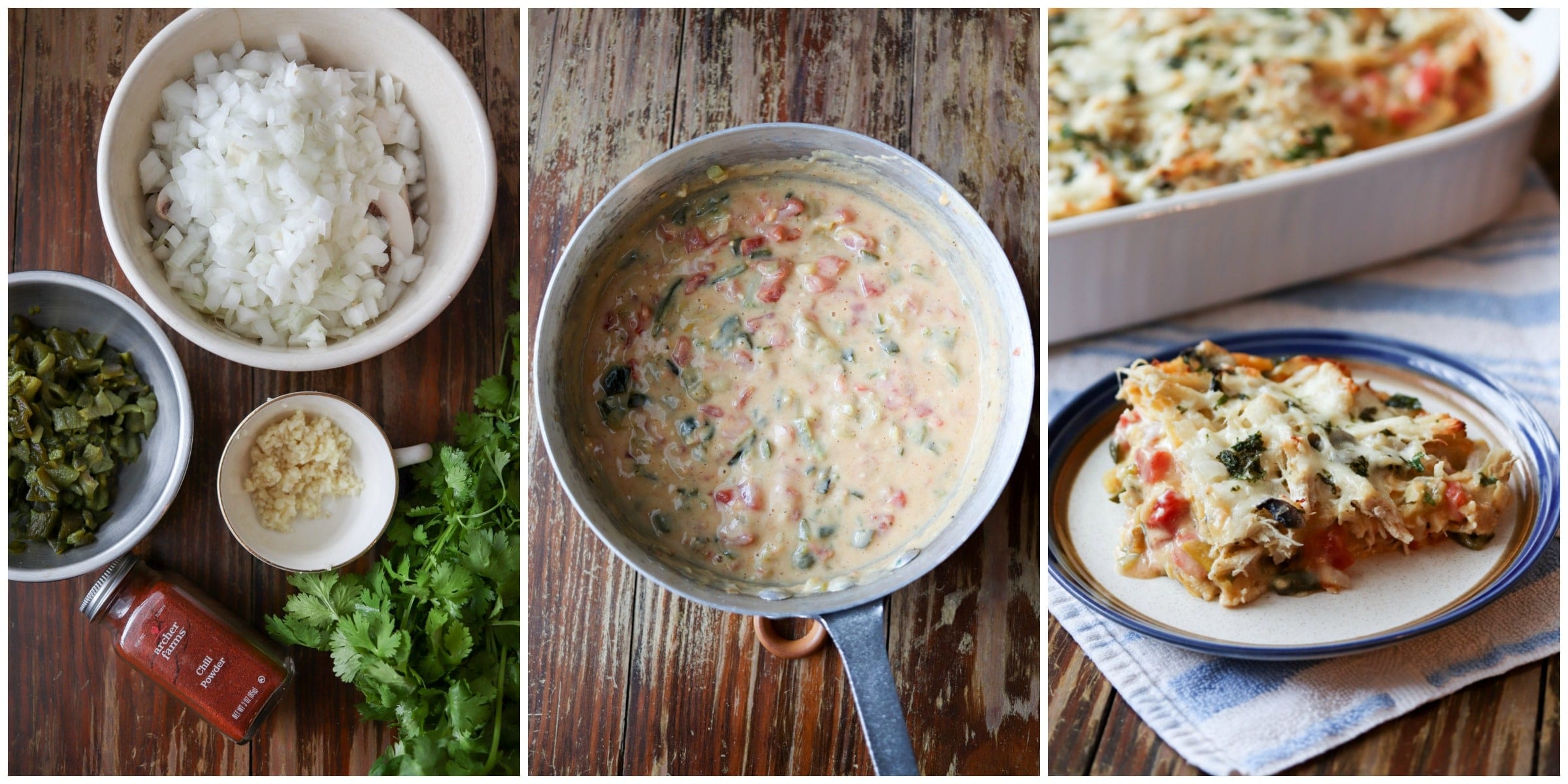 RECIPE NOTES AND CHANGES:
I used chopped garlic instead of minced garlic
I didn't use red bell pepper
I cooked the chicken in an instant pot (3 chicken breasts)
Use this tutorial for roasting the poblano peppers
Drain the Rotel tomatoes in a mesh strainer
King Ranch Chicken Casserole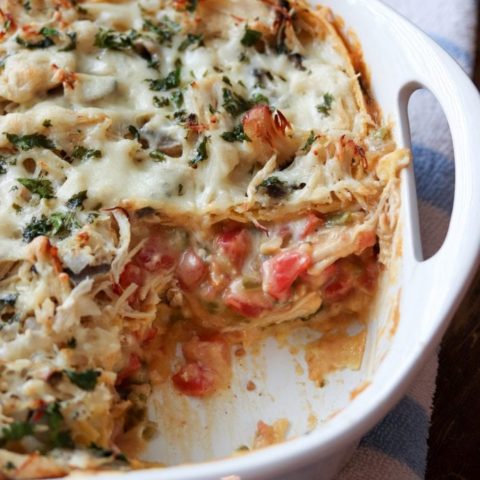 King Ranch Chicken Casserole
Yield: 10-12 servings
Prep Time: 30 minutes
Cook Time: 30 minutes
Total Time: 1 hour
Ingredients
SAUCE
1/2 C butter (divided into: 5 tbsp, 3 tbsp)
4 cloves of garlic, chopped
1/2 tsp ground cumin
1 tsp onion powder
1/2 tsp chili powder
1/4 tsp cayenne pepper
1/2 C all purpose flour
2 C milk (I used whole)
2 C chicken broth
2 4.5oz cans of diced green chilis
1 28oz can of Rotel diced tomatoes with green chilis
4 roasted poblano peppers (seeded and chopped) See tutorial here.
FILLING
2 small onions, diced
8oz sliced white mushrooms
3 shredded boneless chicken breasts (instant pot or slow cooked works best)
12 corn tortillas
3 C pepper jack cheese
1/4 C fresh cilantro
Instructions
Preheat your oven to 350. Grease a large baking dish.
MAKE THE SAUCE
Melt 5 tbsp of butter in a large saucepan over medium heat. Add the chopped garlic, cumin, chili powder, onion powder and cayenne pepper and whisk for one minute.
Whisk in the flour and then slowly pour in the milk and chicken stock, whisking constantly until smooth and not lumpy.
Cook until thickened (whisking often), about 10 minutes.
Remove from heat and stir in the green chilis, Rotel tomatoes and chopped roasted poblano peppers. Set aside.
PREPARE THE FILLING
Melt 3 tbsp butter in a large skillet over medium high heat. Add the chopped onions and mushrooms and cook for 10 minutes or until the onions and mushrooms are soft.
Remove from heat and stir in the shredded chicken.
ASSEMBLE THE CASSEROLE
Cover the bottom of the casserole dish with 1/2 C of the sauce mixture. Place 6 of the corn tortillas over the sauce.
Top with half of the chicken mixture.
Top with the remaining sauce.
Top with half of the shredded cheese and half of the cilantro.
Top with the remaining 6 corn tortillas.
Top with the remaining chicken mixture.
Top with the remaining cheese and cilantro.
Bake for 30-45 minutes.
Allow the casserole to sit for 10-15 minutes before serving.
Nutrition Information:
Yield: 10
Serving Size: 1
Amount Per Serving:
Calories: 437
Total Fat: 24g
Saturated Fat: 14g
Trans Fat: 0g
Unsaturated Fat: 8g
Cholesterol: 93mg
Sodium: 1036mg
Carbohydrates: 31g
Net Carbohydrates: 0g
Fiber: 4g
Sugar: 3g
Sugar Alcohols: 0g
Protein: 27g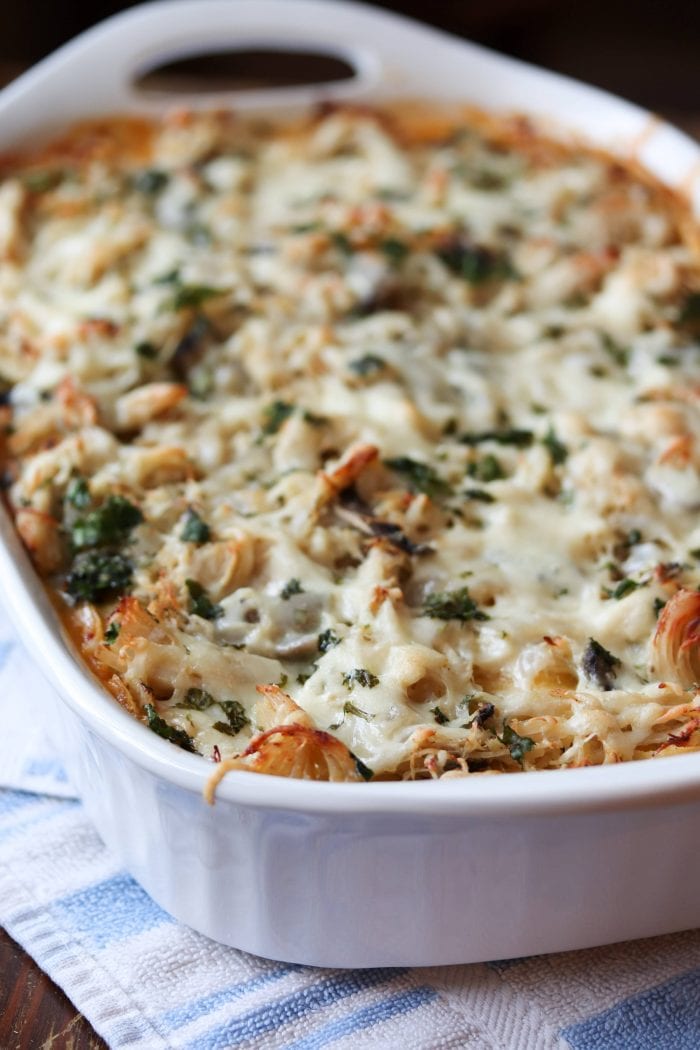 Did you make this recipe? I'd love for you to leave a comment and a rating below! 
Follow me on Instagram.