Crockpot Turkey Chili
The weather is starting to cool off and a big ole bowl of chili fits the bill! Make it hassle free with this Crockpot Turkey Chili!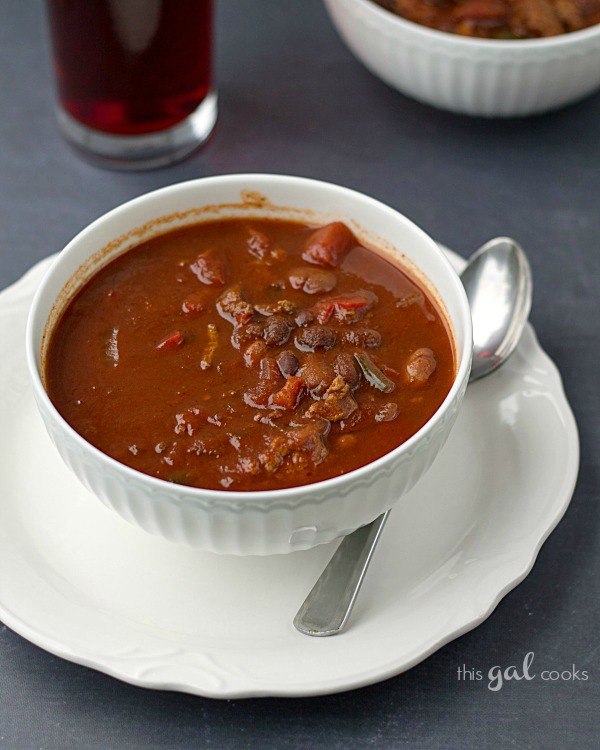 Happy Friday! This week has flown by and with it has brought cooler weather to south Florida. Finally! Now I know some of you northern folks are gonna laugh at this but it's dipped into the 60s for the low. A light jacket in the morning is a must. And the AC can finally be shut off and the windows can be opened. I love it. Fall in Florida is by far my favorite time of the year. Sure, we don't get to experience the changing colors of the leaves or apple picking but we have some darn beautiful weather. With palm trees. And beaches. And sun!
One of my favorite things to do when the weather gets cooler is to make soups. Now don't get me wrong, I will make soups all year long, even in the summertime when it's 90+ degrees outside. I am not one of those people who thinks that certain soups can only be enjoyed during the fall and winter seasons. In fact, I made this Crockpot Turkey Chili in August. But the keyword here is crockpot. The crockpot doesn't heat up my house like my stove or my oven does. And I don't have to stand over it during certain steps of the cooking process because well, there really are only two steps to the cooking process of this chili. Cook the ground turkey, throw everything into the crockpot, cook on low for 8-10 hours. It really is that simple. It's a win-win situation all around! So make this during the summer. Make this during the fall. Make it anytime that pleases you. Your crockpot will make it super simple! Enjoy!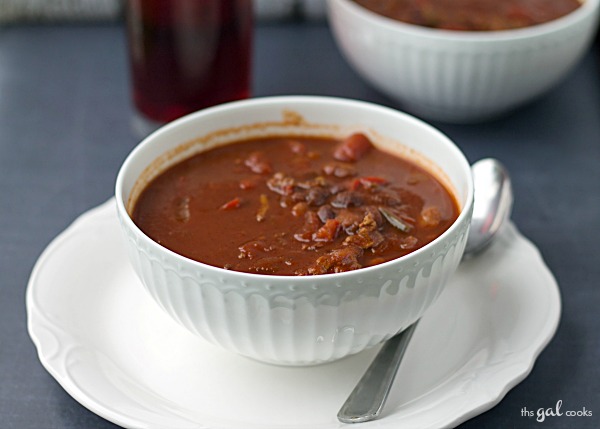 Crockpot Turkey Chili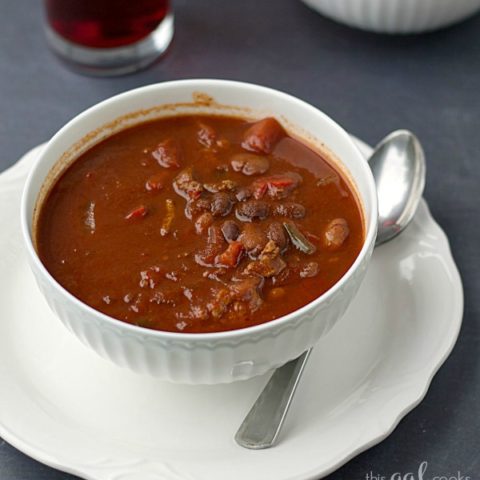 Crockpot Turkey Chili
Yield: 10

Prep Time: 15 minutes

Cook Time: 8 hours

Total Time: 8 hours 15 minutes
Ingredients
1 1/3lb ground turkey
1 onion, chopped
1 small poblano pepper, chopped
1 red pepper, chopped
1 C chopped celery
4 C tomato juice
1 29oz can tomato sauce
1 28oz can diced tomatoes
1 15oz can black beans, drained and rinsed
1 15oz can pinto beans, drained and rinsed
1/4 C chili powder
1 1/2tsp garlic powder
1 tsp seasoned salt
1/2 tsp pepper
1/2 tsp oregano
2 tsp cumin
1 tsp white sugar
1/4 tsp cayenne pepper
Instructions
In a large skillet over medium-high heat, cook the ground turkey until browned.
Spray your crockpot with cooking spray to coat the bottom and sides. Add the cooked ground turkey.
Add the remaining ingredients and mix well.
Cook on low for 8-10 hours
Garnish with cheese, sour cream, green onions and/or crackers
Notes
Total servings is approximate



What is your favorite soup to enjoy during the cooler weather?
Do you eat soups year round?
Do you prefer ground beef or ground turkey in your chili?
Do you like chili cheese nachos? Chili cheese tacos?
Do you want to eat a big ole bowl of chili right now since I've been talking about chili so much?
More from This Gal Cooks