Roasted Brussels Sprouts with Bacon
This easy side dish, Roasted Brussels Sprouts with Bacon, is low carb and oh so delicious! Pair it with your favorite main dish, serve it at your next holiday meal or just enjoy it by itself!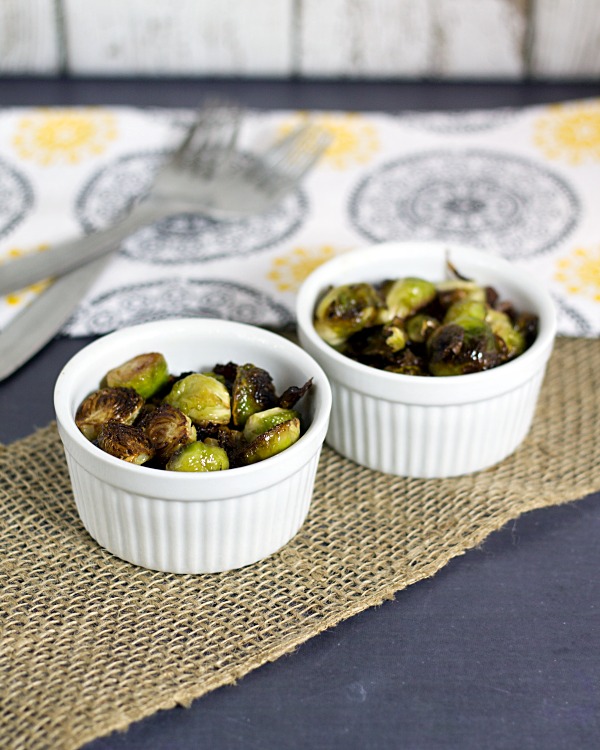 Funny story about brussels sprouts: I used to hate 'em. You could not get me to eat them. I remember when I was a kid, my mom used to make my brother and I try a little of each thing that she made, especially if the things she made were vegetables. When I had to eat brussels sprouts, right after I put one in my mouth I would pretend like I was coughing into my napkin. But I wasn't really coughing. I was spitting out that darn brussels sprout!  But those days are long gone and now, I actually enjoy brussels sprouts. In fact, recently I've been craving them. It all started with my birthday dinner about a month ago…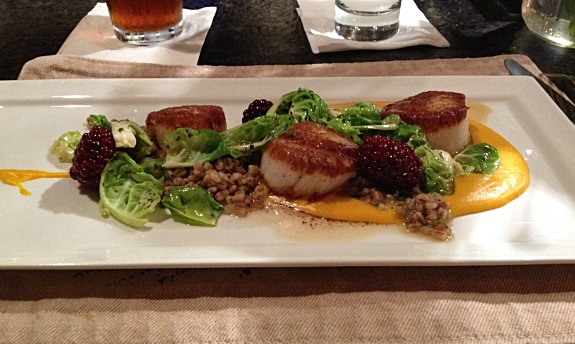 That was my birthday dinner. Diver scallops, pickled blackberries, barley, some type of squash (apologies, I cannot remember what it was called) and brussels sprouts cups. It was oh so delicious. I could eat that every day and not get sick of it! Anyways, ever since I ate that, I've been craving brussels sprouts. So I decided to make Roasted Brussels Sprouts with Bacon. Because who doesn't love bacon? We paired the brussels sprouts with some burgers, macaroni and cheese and roasted asparagus. I actually roasted the asparagus the exact same way I roasted the brussels sprouts. So there ya go, interchangeable veggies! Enjoy the recipe!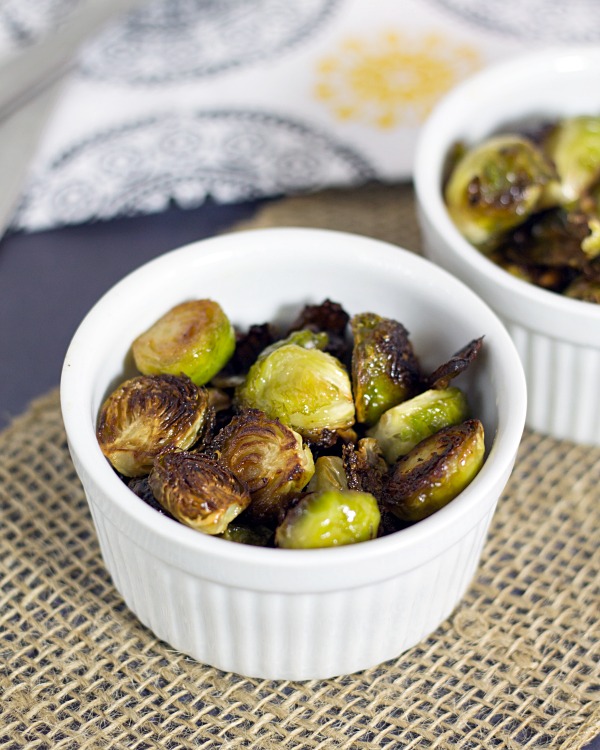 Roasted Brussels Sprouts with Bacon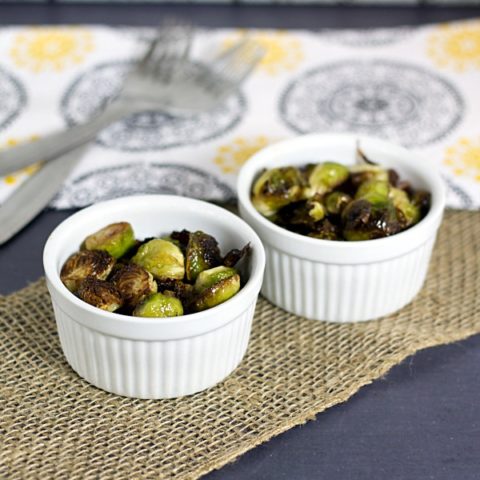 Roasted Brussels Sprouts with Bacon
Yield: 2 servings

Prep Time: 10 minutes

Cook Time: 40 minutes

Total Time: 50 minutes
Ingredients
1lb brussels sprouts, trimmed and sliced in half
3 slices of smoked bacon, diced
1/2 tsp kosher salt
2 tbsp melted butter
Instructions
Whisk together the salt and melted butter.
Add the brussels sprouts and bacon. Toss to coat.
Place on a foil lined baking sheet and spread out in a single layer.
Bake at 400 for 30 - 40 minutes, flipping the sprouts with tongs every 10 minutes.
What is your favorite vegetable?
Do you like brussels sprouts?
Which vegetable did you loathe when you were a kid?
Would you make this as a side dish for your Thanksgiving meal?