Ditch the store bought stuffings and dressings and make this simple Homemade Cornbread Dressing to accompany your next holiday meal. This dressing is made with homemade cast iron skillet buttermilk cornbread.
Homemade Cornbread Dressing
I have a sweet little confession to make. This is the first time that I've made a totally from scratch holiday dressing. I used to purchase a bag of dressing and make my own adjustments to it. But never again.
Never.
Making a homemade holiday dressing is totally worth the effort. And there really isn't much effort to it. Make your cornbread, which can be done a day ahead of time. Saute your sausage and veggies. Crumble your cornbread and then add the sauteed sausage and veggies. Add a little broth and then add the mixture to a baking dish and bake. It's just that simple. And oh so flavorful. The cornbread is a little sweet so it pairs pretty darn well with the mild Italian turkey sausage used in this dish.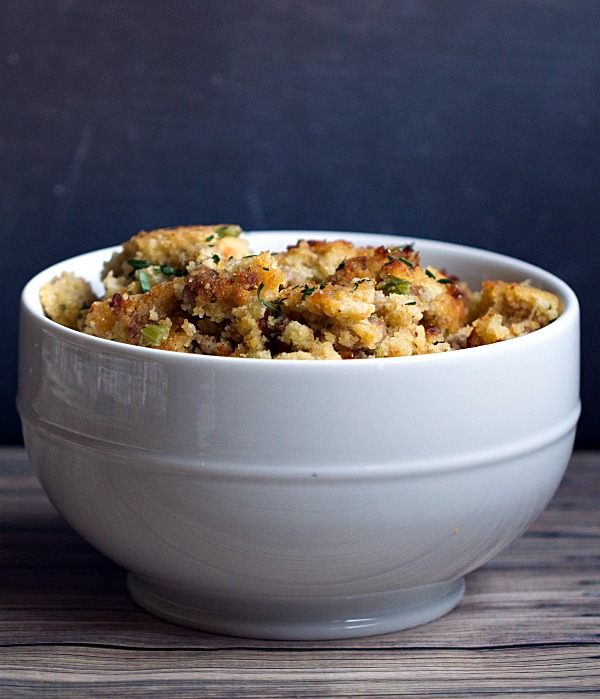 This year we are going to my mom's place for Thanksgiving. We have gone there every year for the past 4 years or so. It's a great time because I get to see my mom and my brother and his family. My brother and his wife have 5 year old twins. A boy and a girl. I told them they did family planning the right way…they had a boy and a girl in one shot!
Since I love cooking and baking, I make most of the sides and of course, the dessert. My mom makes a couple of the sides and then we cheat on the meat. Yep. We don't make our own meats. I know. It's a travesty for a food blogger to skip on making the meat. But it works out well for us. We order a small ham and turkey from Honey Baked Ham. The ham lovers get ham. The turkey lovers get turkey. And those that love both get the best of both worlds. Ordering the meats also means more quality family time for us. We don't have to watch the oven all day while the meat is baking. I make all of the sides the day before Thanksgiving so I'm not stuck in the kitchen on turkey day.
What are some of your holiday traditions?

Homemade Cornbread Dressing
Ingredients
3 mild Italian turkey sausage links, casings removed
1 prepared Cast Iron Buttermilk Cornbread, cooled
2 tbsp butter
2 tbsp olive oil
½ small onion, chopped
1 C celery, chopped
1 tsp fresh thyme, chopped
Sea salt and pepper for seasoning (a pinch of each)
1½ C turkey stock
2 tbsp minced fresh parsley
3 eggs, beaten
1 tbsp sherry
Instructions
Crumble your cooled cornbread and place in a large mixing bowl.
In a large skillet or pot over medium heat, melt the butter and the oil. Add the sausage and cook until browned, crumbling the sausage as it cooks. Add the onion, celery and sherry. Scrape the bits off the bottom of the skillet and then cook until the veggies are tender.
Add the sausage mixture to the crumbled cornbread and mix well. Allow to cool for a few minutes and then add the eggs, thyme, parsley, sea salt and pepper. Mix well. Stir in the turkey stock until moistened.
Place the dressing in a well greased 13x9 baking dish. Bake at 350 for 45 minutes or until the top is golden.
If desired, transfer to a serving dish.
Notes
Adapted from The Williams Sonoma Cookbook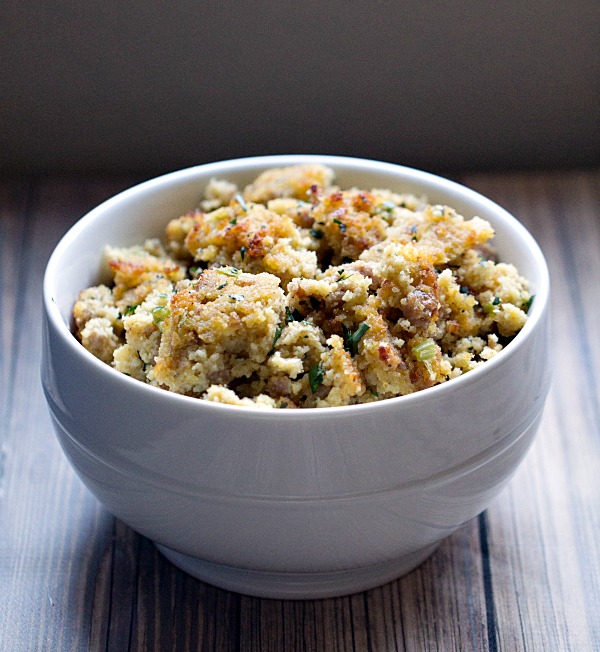 More from This Gal Cooks