Croissant French Toast Casserole with Blueberries and Cream Cheese
For breakfast: Croissant French Toast Casserole with blueberries and cream cheese. Made with reduced fat milk, reduced fat cream cheese and half and half. Use freshly baked croissants from your own kitchen or your favorite bakery.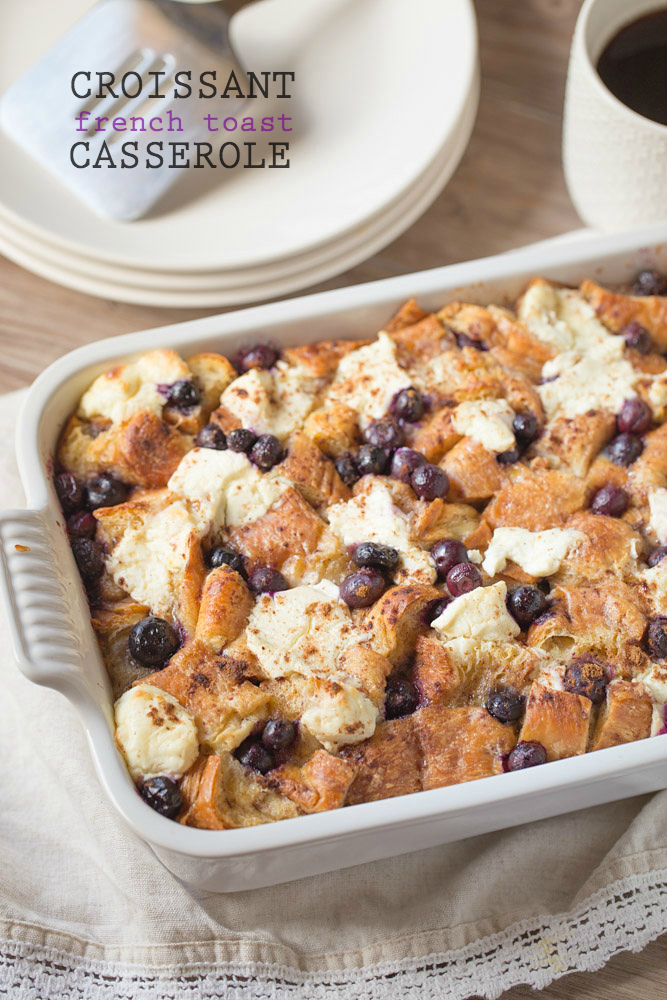 I believe every that everyone should have a go-to French toast casserole recipe in their recipe collection. I found the inspiration for this casserole while Ken and I were vacationing in Charleston during a weekend in September of 2014. It was a cloudy morning but thankfully, it wasn't raining so we decided to take a stroll downtown. After exploring the Historic Downtown Charleston City Market, we were both craving the rich, comforting taste of a latte.  We stumbled upon a little cafe called the East Bay Meeting House and decided to stop in. We had a seat at the coffee bar and ordered lattes. Although we had already eaten breakfast, the brunch menu piqued my curiosity. As I was reading the menu, a brunch entree caught my attention: Croissant French Toast. The recipe intrigued me; French toast made with croissants. The flaky, buttery crust of a croissant could be perfect in a French toast recipe.
Croissant French Toast Casserole
I've only made one French toast casserole in my entire life and it was an overnight casserole. Since I'm not an expert in the area of French toast casserole making, I needed inspiration for the custard base for the recipe I was making with the croissants. I found that inspiration on The Food Charlatan. I deviated from The Food Charlatan's recipe by using reduced fat milk and half and half rather than whole milk and cream. I used brown sugar rather than granulated sugar. I used apple pie spice in place of the cinnamon. I changed the quantity of butter used as well, reducing from 1/2 cup to 1/4 cup.
Of course, French toast is all about the bread and croissants were my bread of choice. You can make your own croissants or you can do what I did and pick up a package of fresh croissants from your local bakery or grocery store. I purchased a package of 13 mini croissants which totaled about 10 cups of cubed croissants.
I opted for frozen blueberries in this recipe because they are cheaper and at the time, I had 3 bags of them in my freezer. You can use fresh, if you prefer. As for the apple pie spice, I'm not sure why I chose to use it in this recipe but it worked out well.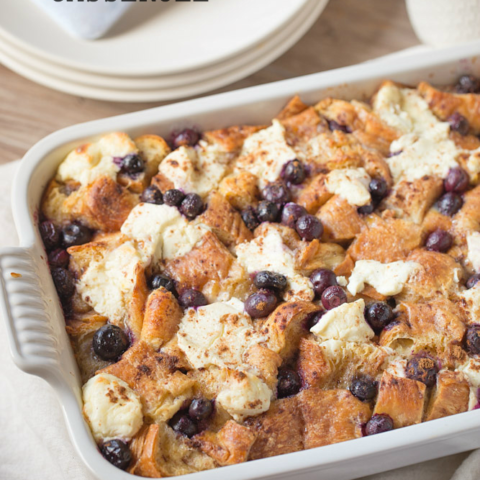 Croissant French Toast Casserole with Blueberries and Cream Cheese
Yield: 8 servings

Prep Time: 20 minutes

Cook Time: 50 minutes

Total Time: 1 hour 10 minutes
Ingredients
10 C of cubed croissants (about 13 mini sized croissants)
8 oz reduced fat cream cheese, cubed
1 C frozen blueberries
1/4 C unsalted butter
1 1/2 C reduced fat milk
1/2 C half and half
1/2 C light brown sugar
1/3 C maple syrup
1/2 tsp vanilla extract
8 large eggs
1 1/2 tsp apple pie spice plus more for sprinkling the top of the casserole
Instructions
Preheat oven to 350.
Prepare your baking dish. Spray a 8x11 baking dish with cooking spray. Wipe away excess with a paper towel. **See notes for instructions on how to bake in a 9x13 dish.
Prepare the custard mixture. Melt the butter in a large microwave safe bowl for about 1 minute in your microwave. Whisk in the milk, half and half, brown sugar, maple syrup, vanilla extract, apple pie spice and the eggs. Set aside.
Assemble the casserole. Place half of the cubed croissants in the bottom of the baking dish. Top with half of the cream cheese and half of the blueberries. Top with the remaining cubed croissants and then the remaining cream cheese and blueberries. Pour the custard mixture over the top of the casserole. Push down the top of the casserole with the back side of a spoon, making sure to get the custard mixture evenly distributed within the dish. Sprinkle the top of the casserole with apple pie spice, if desired.
Bake at 350 for 50 to 55 minutes. If the top of the casserole begins to become too dark, cover with aluminum foil.
Cool on a wire rack for 15 minutes before serving so the casserole has time to set.
Notes
**To bake in a 9x13 dish, follow instructions exactly as listed above but reduce the baking time to 35 to 40 minutes.

Make this recipe as close to real food as you can by using fresh baked croissants from your local bakery. If you have a favorite croissant recipe, you could make homemade croissants and use them in this recipe. If you don't want to use brown granulated sugar, you may substitute with coconut sugar.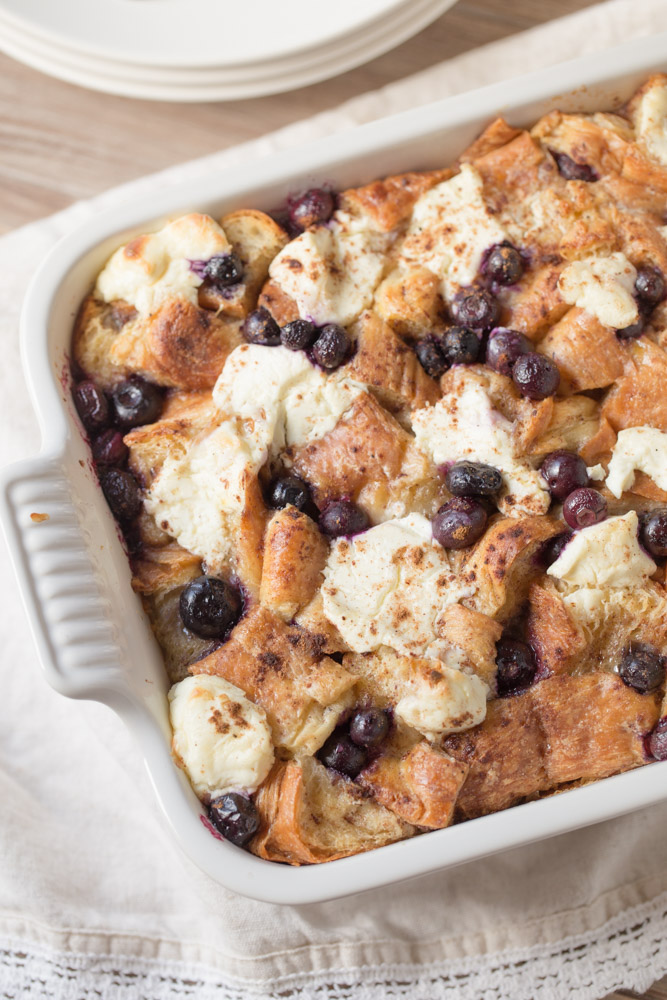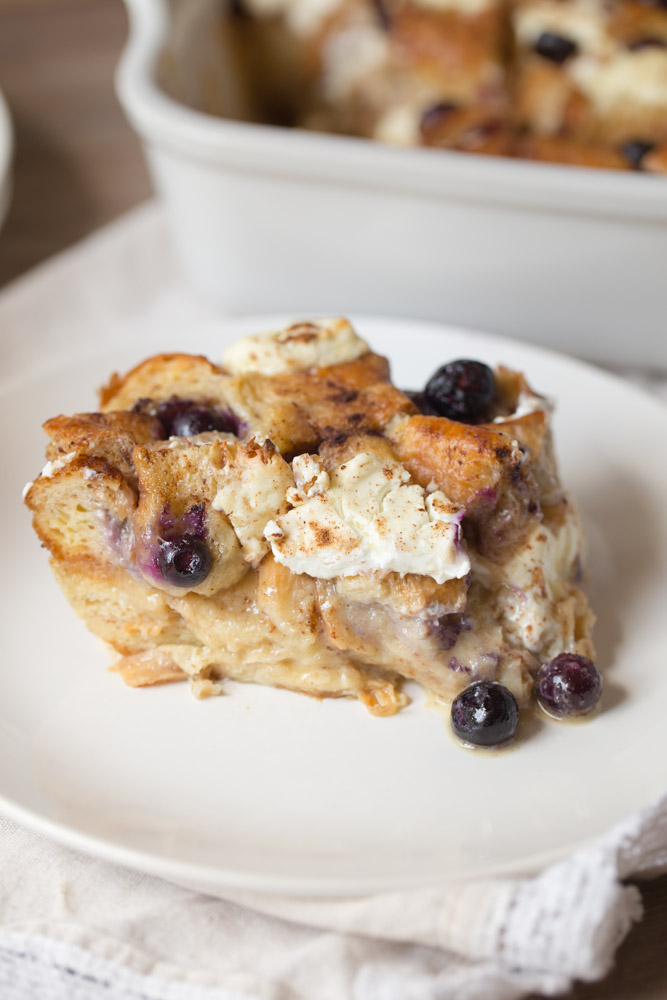 RELATED POSTS
Overnight Pecan Pie French Toast Casserole