Overnight Chocolate Pecan Pie French Toast Casserole
Enjoy all of the tasty flavors of pecan pie for breakfast with this Overnight Chocolate Pecan Pie French Toast Casserole!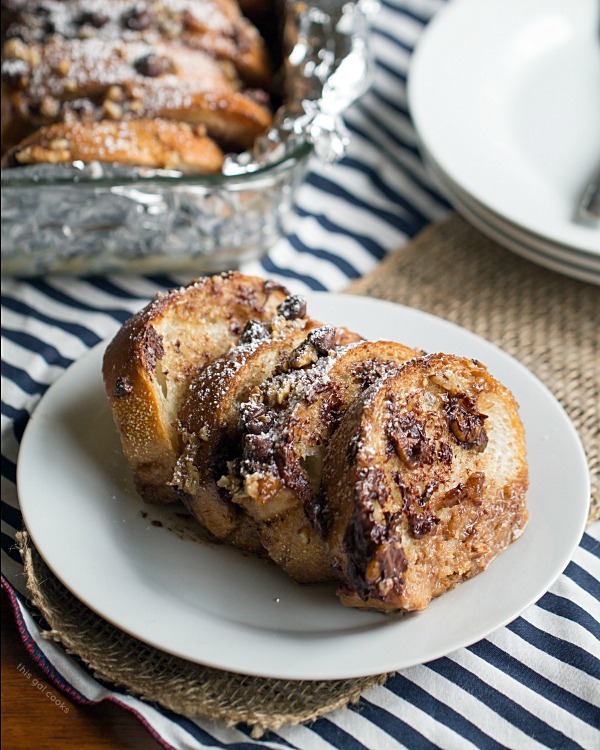 I know, I know. I was posting healthier recipes last week. But after I posted photos of this Overnight Chocolate Pecan Pie French Toast Casserole on my Facebook page and my IG account, I received some recipe requests from some of my followers. I just couldn't bear to make them wait any longer so I'm posting this tasty recipe today. I'm sure you don't mind, do you?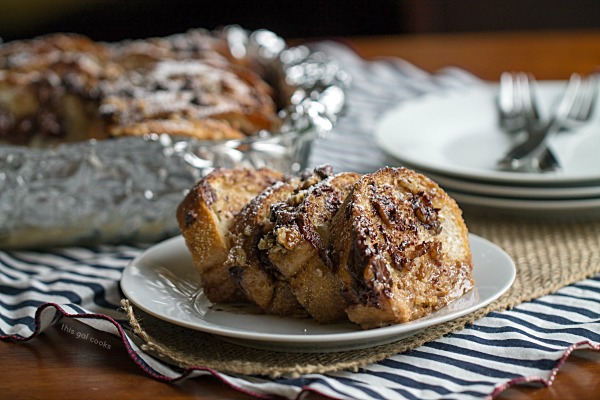 Overnight Chocolate Pecan Pie French Toast Casserole
A couple weeks ago I stumbled upon this Overnight Gingerbread French Toast Breakfast Bake by Averie from Averie Cooks. Yum. I thought to myself, I want to make that. I didn't get around to making that recipe, although it did inspire me to come up with my own recipe. My idea just sorta came to me one day while sitting at my desk at work.
Pecan pie. French toast. Casserole. Easy. Yum.
So I ran to the grocery store during my lunch break to pick up a loaf of French bread, since I didn't have any just sitting around my house. Everything else, well I already had that. Easy peasy.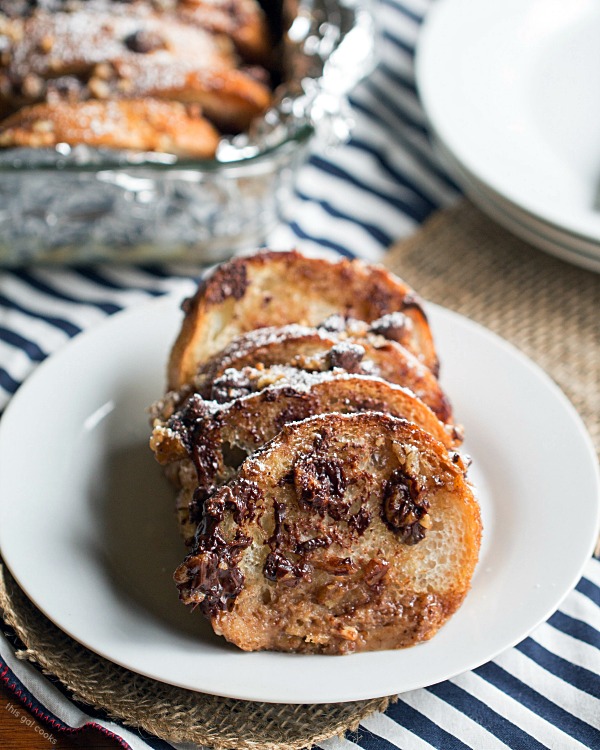 I made pecan pie for Thanksgiving and Christmas. It was a huge hit. I added spiced rum and cinnamon to my pie. I did the same thing with this french toast casserole. Throw in some cocoa powder and chocolate chips and you have a chocolate pecan explosion in your French toast!
And you won't regret it one bit.
Slice your bread. Mix all of your ingredients in a bowl. Stagger your bread in an 8×8 baking dish. Pour ingredients over bread. Cover and refrigerate over night. All you have to do in the morning is remove it from the fridge and bake at 325 for 30 minutes. Breakfast is so easy.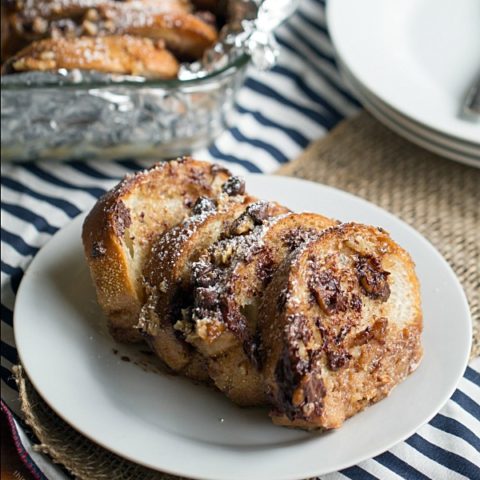 Overnight Chocolate Pecan Pie French Toast Casserole
Yield: 4-6

Prep Time: 10 minutes

Cook Time: 30 minutes

Total Time: 40 minutes
Ingredients
3 large eggs
1/4 C butter, melted
1 loaf French bread, sliced into about 1/4 inch thick slices
1/2 tsp cinnamon
2 tbsp spiced rum
1 tsp vanilla extract
1 C chopped pecans
1/2 C semi sweet chocolate chips
1/2 C milk
1/2 C granulated sugar
1/2 tbsp cocoa powder
1-2 tbsp maple syrup
Powdered sugar for dusting
Instructions
Line an 8x8 baking pan with foil. Place the bread in the pan in a staggared pattern. See photo below for an example.
Whisk the remaining ingredients together, minus the maple syrup and powdered sugar. Pour over the bread, making sure that the mixture goes between the slices of bread. Spread the pecans and chocolate chips over the top of the bread, if needed. Be sure to push some between the slices of bread as well.
Cover and refrigerate overnight.
In the morning, remove from the fridge. Spoon any liquid in the bottom of the pan over the bread and in between the slices.
Bake at 325 for 30 minutes. During the last 3 minutes of baking, remove from the oven, drizzle with 1-2 tbsp of maple syrup and then return to the oven and finish baking.
Remove from the oven and allow to cool for 5-10 minutes. Dust with powdered sugar. Enjoy.
Notes
Please note, this is an overnight recipe. You will need to plan accordingly to ensure that the is prepped the night before you want to enjoy it. There is a total of 10 minutes active time. The rest is marinating overnight and baking in the morning.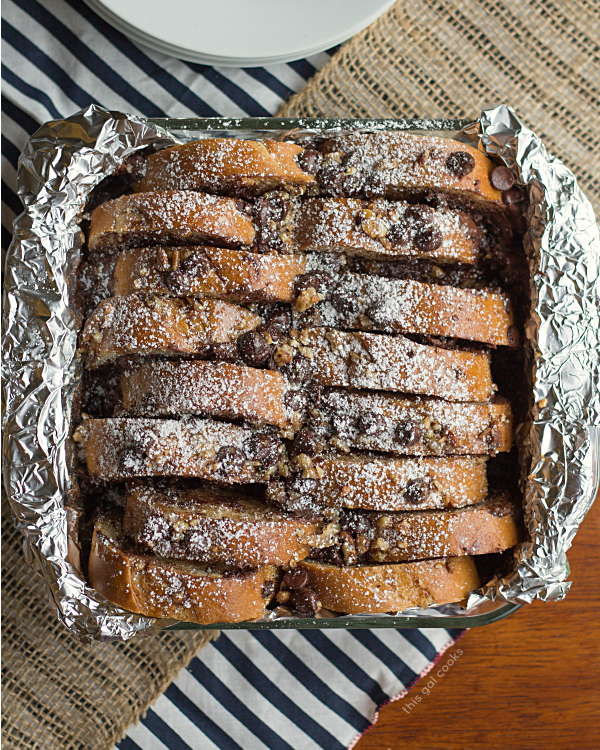 More from This Gal Cooks