Easy Chicken Enchilada Tortellini Bake
Easy Chicken Enchilada Tortellini Bake: dinner ready to serve in 30 minutes. Only 5 items from your pantry are needed to make this recipe.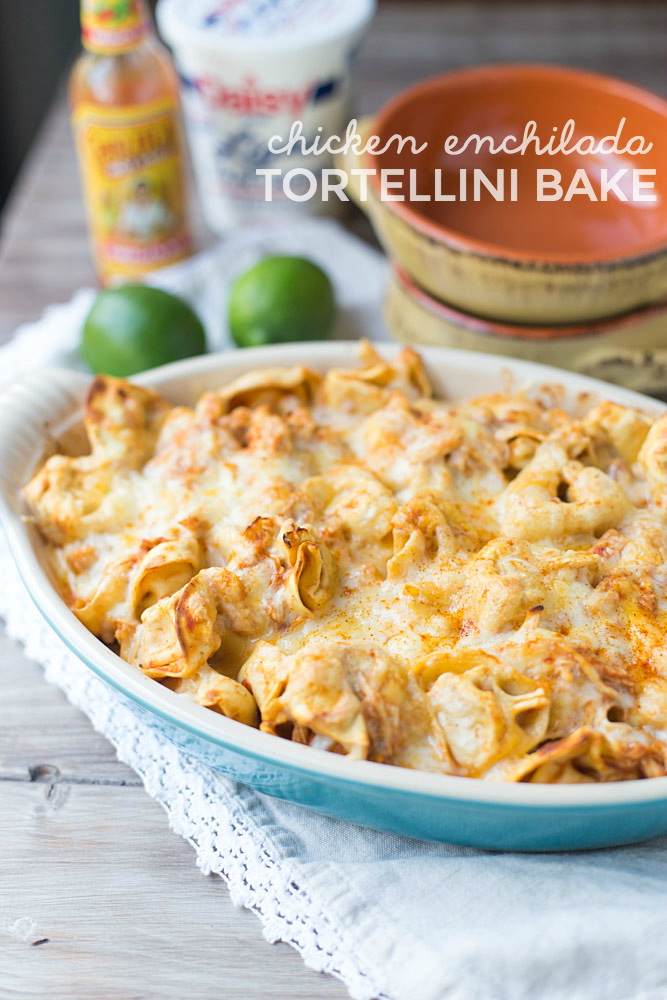 This chicken enchilada tortellini bake is a life saver because you only need to use 5 simple items from your pantry to make this recipe.
The recipe only takes about 25 minutes from prep to table. It's easy to make, too. I cooked the chicken in my slow cooker but leftover or rotisserie chicken works too.
I made the sauce with enchilada sauce and spicy red pepper diced tomatoes.
The pasta was simple: I used refrigerated garlic cheese tortellini because it cooks quickly. Once I mixed the tortellini and sauce together I poured it into a 1.5 quart baking dish. Then I sprinkled it with shredded Mexican cheese. Finally, I baked it at 400 for 10 minutes. When it was done baking, I turned on my broiler and broiled for 5 minutes until the cheese was slightly browned and bubbly.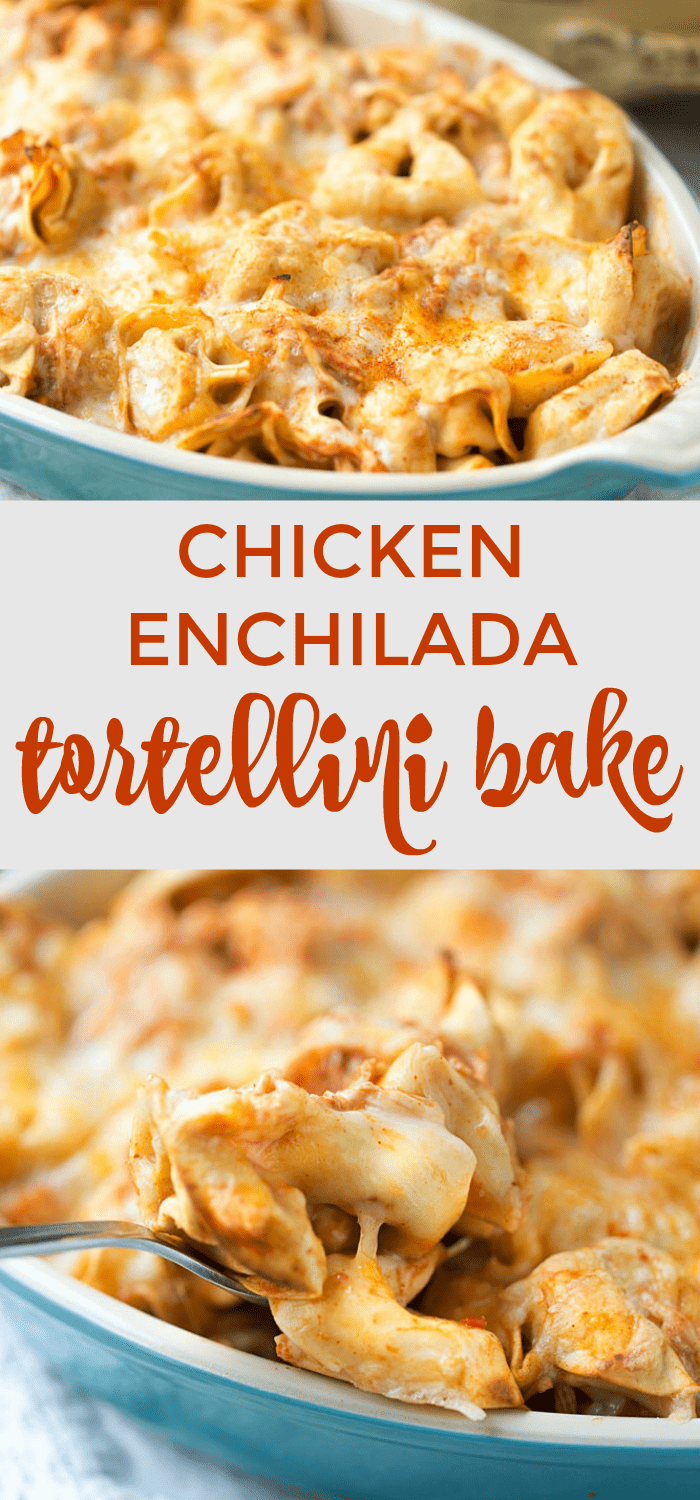 Easy Chicken Enchilada Tortellini Bake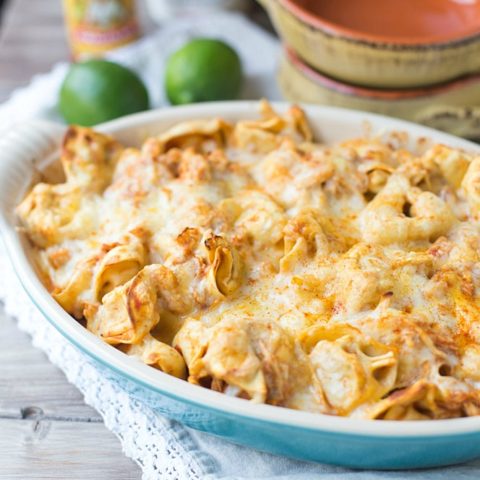 Chicken Enchilada Tortellini Bake
Ingredients
2 1/2 C of cooked chicken breast. I've included instructions below for slow cooking but you could use a rotisserie chicken, too.
2 9oz packages of refrigerated tortellini. I used Butoni Roasted Garlic and Cheese.
1 14.5 oz can of spicy red pepper diced tomatoes
1 15oz can of all natural enchilada sauce. I used [url:1]this[/url] brand.
1 1/2 C shredded Mexican Cheese (you can also used shredded cheddar)
Instructions
To Slow Cook the Chicken: If slow cooking the chicken, spray the inside of a slow cooker with cooking spray. Place two split chicken breasts (with the bones and skin - keeps it tender) in the slow cooker and sprinkle with salt, pepper and ground chipotle pepper, if desired. Place 1/2 C chicken broth in the slow cooker, cover and cook on low for 5-6 hours or until the chicken reaches an internal temperature of 165 degrees. Once the chicken is done cooking, remove from the bones, remove the skin and shred.
For using Rotisserie Chicken: Remove the skin from the rotisserie chicken. Pull the chicken breasts from the bones and shred with a fork.
Preheat oven to 400.
Cook the tortellini according to package directions. Once done cooking, drain and return to the pot.
Prepare the sauce. Place the enchilada sauce and the diced tomatoes into a blender and blend. You can also place these two items into a large bowl and blend with an immersion blender.
Prepare the tortellini bake. Add the chicken to the pot with the tortellini. Mix well. Then add desired amount of sauce to the pot. I used about 3/4 of the sauce. The remaining sauce can be stored in an air tight container in a refrigerator for up to a week. Mix everything well and then pour into a 1.5 quart baking dish. Sprinkle with the shredded Mexican cheese.
Bake at 400 for 10 minutes.
After baking, if desired, turn on the broiler to high and broil for about 5 minutes to brown the cheese.
Nutrition Information:
Yield: 6
Serving Size: 1
Amount Per Serving:
Calories: 604
Total Fat: 22g
Saturated Fat: 10g
Trans Fat: 0g
Unsaturated Fat: 9g
Cholesterol: 164mg
Sodium: 1338mg
Carbohydrates: 48g
Net Carbohydrates: 0g
Fiber: 3g
Sugar: 7g
Sugar Alcohols: 0g
Protein: 52g